When deciding between a projector for either gaming or home cinema, two exceptional models come to mind: the Optoma UHZ45 and UHD38. These projectors, both stellar offerings from Optoma, a top-notch projector manufacturer, deliver impressive performance. After extensive hands-on testing and comparison in real-life settings, we've determined that while both projectors have a lot to offer, the UHZ45 is our slightly preferred pick.  >>> Check the Latest Price on Amazon Now! In this guide, we provide an in-depth comparison of the Optoma UHZ45 vs UHD38, complete with detailed specifications and customer reviews.
Optoma UHZ45 vs. UHD38 Side-by-Side:
| | Optoma UHZ45 | Optoma UHD38 |
| --- | --- | --- |
| | | |
| Resolution | 3840x2160 | 3840x2160 |
| Contrast | 2,000,000:1 | 1,000,000:1 |
| Brightness (Lumens) | 3,800 ANSI | 4,000 ANSI |
| Lens | 1.1x manual zoom & focus; no lens shift | 1.1x manual zoom & focus; no lens shift |
| Input lag | 4ms - 16.7ms | 4.2ms - 16.7ms |
| Throw Ratio | 1.50:1 - 1.66:1 | 1.5:1 - 1.66:1 |
| Screen size | 33" - 300" | 33" - 300" |
| Speakers | 10.0 Watts × 2 | 10.0 Watts Mono |
| Today's Best Price | BHPhotoVideo.com | |
Optoma UHZ45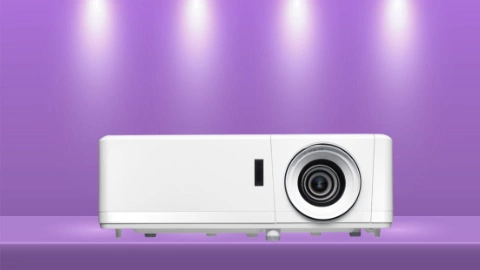 The Optoma UHZ45 is a feature-rich projector that delivers outstanding 4K UHD performance. Whether you are a home cinema enthusiast or a gamer, this projector serves up images with exceptional clarity and vibrancy. Its 3,800 ANSI Lumens is enough to ensure bright images in most environments.
One standout feature is the laser phosphor lamp that offers a stunning 30,000-hour lifespan. This not only contributes to the long-term cost-effectiveness but also guarantees consistent brightness over time. Gamers will appreciate the impressively low input lag, especially at 1080p/240Hz. However, the lack of choice between 'DLP-Link' or 'Vesa 3D' signals might be an issue for some 3D aficionados. Overall, the UHZ45 is a reliable and high-performing projector that offers value for money. Read our more in-depth Optoma UHZ45 review.
Pros
Delivers impressive 4K UHD resolution images.
Low input lag, ideal for gaming.
Long-lasting 30,000-hour laser phosphor lamp.
3D support adds to viewing experience.
Cons
Slightly heavier compared to UHD38.
No 'DLP-Link' or 'Vesa 3D' selection.
---
Optoma UHD38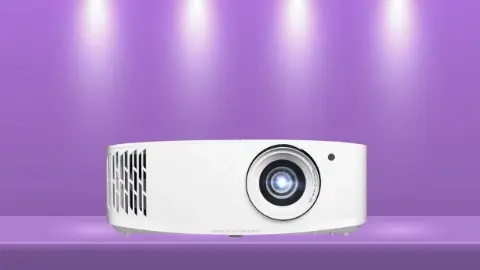 The Optoma UHD38 is a projector that delivers on all fronts, from gaming to home cinema. Its 4K UHD resolution and 4,000 ANSI Lumens combine to offer stunningly bright and detailed images, even in rooms with ambient light. This makes it an excellent choice for users seeking high-definition content in a variety of settings.
The UHD38 is more compact and lightweight than the UHZ45, making it a more portable option. One of its key features is its low input lag, which, coupled with a high refresh rate of 240Hz, provides a competitive gaming advantage. However, the 240W Metal Halide bulb has a shorter lifespan compared to the UHZ45's laser phosphor lamp, which may be a consideration for heavy users. Despite this, the UHD38 remains a powerful, versatile, and cost-effective solution for all your projector needs. Read our full Optoma UHD38 review
Pros
High brightness at 4,000 ANSI Lumens.
Support for 1080p 240Hz smooth gaming.
More compact and lightweight design.
Supports Full HD 3D.
HDR and HLG compatibility.
Cons
Shorter lamp life (4,000 hours / 15,000 in Eco).
Some customers reported sync issues.
---
Design and Build
The UHZ45 boasts a stylish design, measuring 4.70″ x 13.27″ x 10.43″ (HxWxD) and weighing 10.6 lbs. It's a solid unit that feels built to last. On the other hand, the UHD38, with dimensions of 4.60″ x 12.40″ x 10.60″ (HxWxD) and a weight of 8.6 lbs, is slightly more compact and lighter, making it more portable for users who might need to move their projector around frequently.
Brightness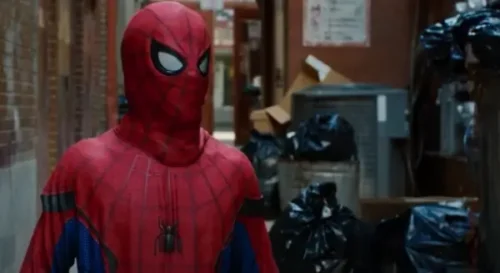 Brightness is a crucial factor to consider when choosing a projector, and it's here that the UHD38 takes the lead. With a brightness level of 4,000 ANSI Lumens, it outshines the UHZ45's 3,800 ANSI Lumens. This additional brightness makes the UHD38 more suited for viewing in rooms with ambient light.
Resolution and Display
Both the UHZ45 and UHD38 offer 4K UHD resolution (3840×2160), ensuring crystal clear images. However, they differ in display type. The UHZ45 employs a single DLP chip, while the UHD38 uses a smaller 0.47″ DLP chip. In practice, both deliver exceptional clarity and vibrancy, making it hard to distinguish based on display type alone.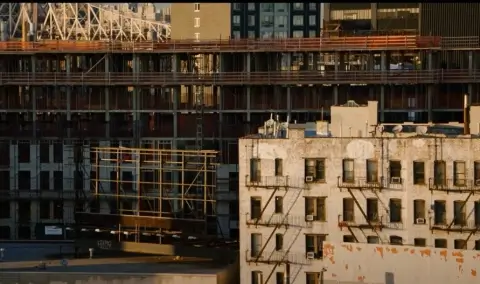 Lamp Type and Life
The UHZ45 utilizes a Laser Phosphor lamp, offering a whopping lamp life of up to 30,000 hours. This makes it a more cost-effective option in the long run. (Check out this roundup review if you're looking for the best laser projector) The UHD38, however, uses a 240W Metal Halide bulb, with a maximum lamp life of 15,000 hours in Eco mode. While this is shorter than the UHZ45's lifespan, some users may appreciate the cheaper upfront cost and replaceability of a traditional lamp.
Input Lag and Gaming Experience
Input lag and refresh rate are crucial for gamers. Both projectors impress in this regard, with the UHZ45 offering a 16.7ms response time in 4K at 60Hz and 4ms in 1080p at 240Hz. The UHD38 isn't far behind, offering similar response times with a slight edge in 1080p/240Hz mode at 4.2ms. This makes both projectors suitable for fast-paced gaming. However, the UHZ45's superior response time at 4K makes it the more attractive option for gamers seeking the highest resolution. (Check out this roundup review if you're looking for the best 4k projector under $2000)
Audio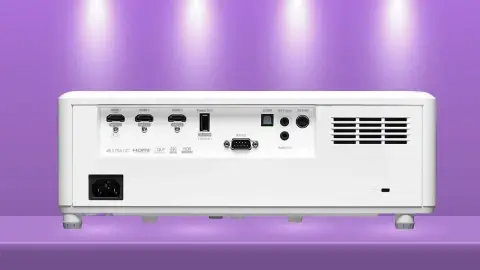 The UHZ45 comes equipped with two 10-watt speakers, offering stereo sound. In contrast, the UHD38 has a single 10-watt speaker, providing mono audio. While neither will replace a dedicated sound system, the UHZ45's dual speakers offer a more immersive audio experience straight out of the box.
Additional Features
Both projectors come with full HD 3D, geometric correction, HDR compatibility, and a host of connection options. One feature unique to the UHZ45 is its ability to operate 24/7 in standard orientation. This makes it suitable for commercial use or for users who want continuous operation.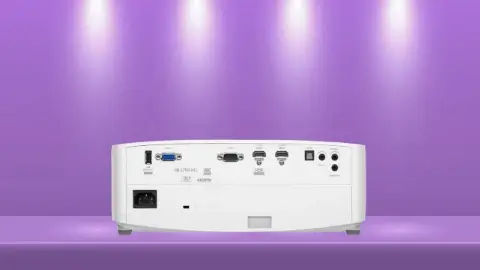 Customer Reviews
Customer reviews largely reflect our own experiences with these two projectors. UHZ45 users frequently praise its brightness and easy setup. However, one user noted an issue with the lack of a choice between 'DLP-Link' or 'Vesa 3D' signals, causing a red tint on the screen with RF 3D glasses.
On the other hand, UHD38 users appreciated the projector's high brightness and silent fan. However, a few users reported dead pixels and syncing issues. It's worth noting that these could be isolated incidents, but potential buyers should consider purchasing a warranty for peace of mind.
Final Thoughts
In conclusion, the Optoma UHZ45 and UHD38 projectors both deliver superb 4K UHD performance, and while they are suitable for gaming and home cinema alike, the UHZ45 comes out slightly ahead in our assessment. >>> Find on BHPhotoVideo! The UHZ45's attributes like the long-lasting laser phosphor lamp, quicker 4K response time, and 24/7 operational ability are particularly beneficial for gamers and heavy users.
While the UHD38 doesn't fall far behind, boasting higher brightness, a lighter weight, and a marginally lower price, making it appealing for those seeking portability or working with a stricter budget. However, we believe the UHZ45 provides slightly better value
Related Comparisons: