Navigating through the extensive projector market can be a complex endeavor due to the abundance of available options. In this comparison, we are examining two leading contenders – the Optoma UHZ45 vs the Epson 3800. Notably, the Optoma UHZ45 emerges as the superior pick due to its advanced features and newer model status, but we're here to dissect each aspect thoroughly. >>> Check the Latest Price on Amazon Now! Get ready for an enlightening exploration into the world of these high-performing projectors.
Optoma UHZ45 vs. Epson 3800 Specs:
| | Optoma UHZ45 | Epson 3800 |
| --- | --- | --- |
| | | |
| Resolution | 3840x2160 | 3840x2160 |
| Contrast | 2,000,000:1 | 100,000:1 |
| Brightness (Lumens) | 3,800 ANSI | 3,000 ANSI |
| Lens | 1.1x manual zoom & focus; no lens shift | 1.62x manual zoom & focus; with Horizontal +/-24% & Vertical +/-60% lens shift |
| Input lag | 4ms - 16.7ms | 20.6ms - 28ms |
| Throw Ratio | 1.50:1 - 1.66:1 | 1.32:1 - 2.15:1 |
| Screen size | 33" - 300" | 40" - 300" |
| Speakers | 10.0 Watts × 2 | 10.0 Watts Mono |
| Today's Best Price | BHPhotoVideo.com | |
Optoma UHZ45: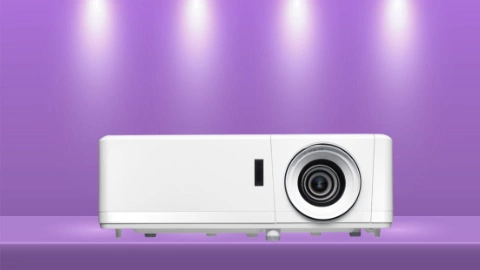 The Optoma UHZ45 is an outstandingly advanced projector that truly shines in a highly competitive market. Equipped with laser phosphor technology, it offers exceptional brightness and outstanding color accuracy, rendering it an excellent choice for cinephiles and gamers alike. Its 4K UHD resolution guarantees incredibly sharp images filled with rich details and vibrant colors, essentially delivering a high-quality, big-screen experience right at home.
Moreover, the UHZ45 proves to be an excellent companion for gamers, ensuring a seamless and responsive experience with an impressively quick response time of 16.7ms at 4K/60Hz and an even faster 4ms at 1080p/240Hz. Moreover, its ability to operate 24/7 and a whopping 30,000-hour maintenance-free laser light source make it an incredibly reliable choice. Although there's a slight issue with the 3D functionality with RF 3D glasses, most users have highlighted its ease of installation, user-friendly nature, and the impressive brightness of the laser display as key advantages. Read our full Optoma UHZ45 review.
Pros
Superior brightness with 3800 ANSI Lumens.
Delivers vivid 4K UHD resolution.
Exceptionally low input lag for gaming.
30,000 hours of maintenance-free laser light source.
Cons
No lens shift feature available.
3D functionality issues with RF 3D glasses.
---
Epson Home Cinema 3800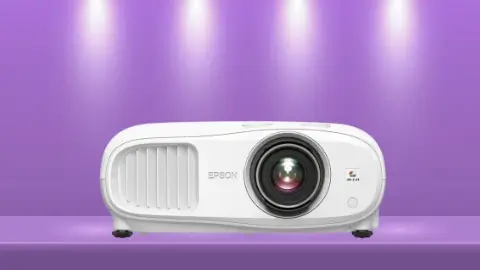 The Epson 3800 offers robust performance underpinned by its 4K PRO-UHD technology. It provides an exceptional 4K HDR home theater experience, attributing its prowess to advanced processing technologies for resolution enhancement, color, and image processing. The Home Cinema 3800 displays all your favorite content at an exceptional level of brightness and color accuracy. The projector also supports the latest 18 Gbps HDMI 2.0 specification, facilitating 4K HDR gaming at a full 60 fps from the latest generation of consoles and streaming devices.
However, compatibility with sound bars and the complication of the Wi-Fi connection setup can be a challenge for some users. Despite these minor setbacks, the Epson 3800 is praised for its image quality and is a worthy investment for streaming movies or gaming. Its lens flexibility and advanced image processing capabilities make it a strong competitor in the projector market. Read our more in-depth Epson Home Cinema 3800 review.
Pros
High color accuracy with 3LCD Chips.
Enhanced image processing with 4K PRO-UHD technology.
Generous lens shift: Horizontal +/-24% & Vertical +/-60%.
Full 10-bit HDR for superior image quality.
Advanced real-time, digital video processing.
Cons
Incompatibility issues with sound bars.
More complicated Wi-Fi setup process.
---
Detailed Comparison:
First Impressions
Opening the box of both projectors is a thrilling moment. The sleek design of the Optoma UHZ45 instantly captivates you, with its slim and stylish look. The Epson 3800, on the other hand, comes in a slightly bulkier package, but with a sturdy feel that oozes reliability.
Brightness and Resolution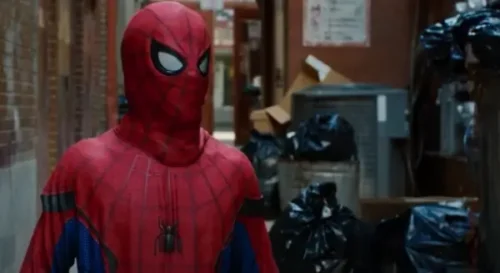 Comparing the brightness, Optoma UHZ45 comes out on top with 3,800 ANSI lumens versus the Epson 3800's 3,000 ANSI lumens. When testing, the UHZ45 performed well, with a notably brighter display, perfect for both daytime and night viewing.
In terms of resolution, while the Epson 3800 offers 4K using pixel shifting from its 1920×1080 native resolution, the Optoma UHZ45 boasts true 4K UHD resolution, making images incredibly crisp and vibrant. The UHZ45 clearly wins this round.
Display and Color Processing
The UHZ45 uses a DLP display, while the Epson 3800 utilizes 3LCD technology. Although both offer outstanding quality, the 3LCD technology of the Epson 3800 ensures that the colors are more vibrant and accurate, providing a slightly more superior image quality.
Both projectors boast 10-bit color processing, allowing for a broader range of colors and gradients. In real-life usage, we were impressed by the vividness and color accuracy of both projectors.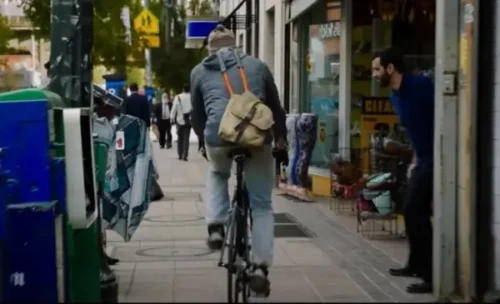 Gaming Performance
The Optoma UHZ45 shines in gaming performance. It has an impressive 16.7ms response time at 4K/60Hz and an even quicker 4ms at 1080p/240Hz. The Epson 3800, in comparison, has a slightly slower input lag at 20.6ms at 4K/60Hz and 28ms at 1080p/60Hz. Gaming on the Optoma UHZ45 was a delight, the fast response time made fast-paced gaming smooth and enjoyable.
3D Performance
Both projectors offer Full HD 3D support. However, one customer noted an issue with the UHZ45's simultaneous DLP-Link and VESA 3D signals, which caused a red tint when using RF 3D glasses. This wasn't a problem on the Epson 3800, making it the superior choice for 3D viewing.
Lamp Type and Life
One of the major advantages of the Optoma UHZ45 is its laser phosphor lamp, which offers 30,000 hours of life. (Check out our roundup review if you are in search of the best laser projector.) This surpasses the Epson 3800's 250W UHE bulb, which lasts for 3,500 hours, or 5,000 in Eco mode. We were particularly pleased with the UHZ45's ability to turn on and off without the need for the lamp to cool down, as highlighted by one of the customers.
Sound
Both projectors have integrated speakers with 10.0 Watts x 2. Although neither will replace a dedicated sound system, they provide decent audio quality for casual viewing. However, one customer expressed frustration with the Epson 3800's lack of sound bar compatibility, which could be a downside for some users.
Connectivity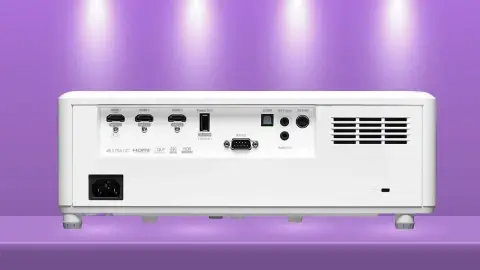 Both projectors offer ample connectivity options, including HDMI and USB ports. However, the Optoma UHZ45 takes a slight lead with three HDMI 2.0 ports as compared to Epson 3800's two. The Epson 3800, on the other hand, offers wireless networking, although one customer found the setup process somewhat complicated.
Lens and Image Size
The Optoma UHZ45 offers a 1.1x manual zoom lens and can project an image size of 33.01″ – 300.15″. On the other hand, the Epson 3800 offers a more generous 1.62x manual zoom and an image size of 39.70″ – 300.40″. The Epson 3800 also offers lens shift, a feature lacking in the UHZ45, providing greater flexibility in projector placement.
Noise and Weight
At full power, the Optoma UHZ45 operates at a quieter 29 dB, compared to the 35 dB noise level of the Epson 3800. It's also lighter, weighing 10.6 lbs against the Epson's 15.2 lbs. This makes the UHZ45 easier to carry around and less disruptive during quiet movie scenes.
Additional Features
Both projectors come packed with a range of additional features such as Full HD 3D, Geometric Correction, and HDR. The Optoma UHZ45 is designed for 24/7 operation, an impressive feature that ensures longevity. The Epson 3800, on the other hand, supports HLG and boasts real-time, digital video processing, which enhances its performance.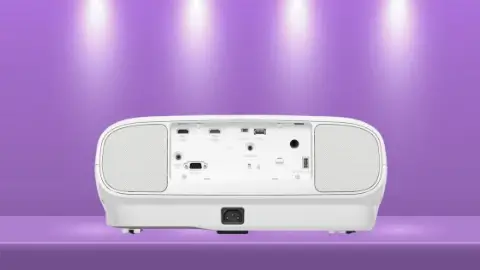 Final Verdict
The Optoma UHZ45 and the Epson 3800 both have unique strengths, with the choice ultimately being contingent on individual preferences and requirements. However, after our thorough examination, the Optoma UHZ45 emerges as the preferred choice for its superior brightness, true 4K resolution, significantly longer lamp life, and enhanced gaming performance, not to mention it being a much newer model. While the Epson 3800 has merits like high color accuracy, improved 3D performance, and advanced image processing, the overall benefits of the Optoma UHZ45 outweigh these advantages.
Despite the Epson 3800 offering better lens flexibility and superior image processing, the Optoma UHZ45 is the more holistic package. It ensures an immersive experience that transcends both viewing and gaming scenarios, proving to be a more well-rounded choice for modern users. >>> Find on BHPhotoVideo!  Remember, the best projector is the one that caters to your unique needs, but the Optoma UHZ45, with its latest features and newer model status, does appear to tick more boxes for the majority.