Optoma's line of laser home theater projectors bring cinema-quality big screen entertainment to everyday users at a great value. The UHZ45 lives up to this promise. This versatile projector has the high image quality you need in a home theater, along with a flexible installation and the responsiveness gamers look for. Of course, no projector is perfect for everyone, so how can you tell if it's the best model for you? We'll answer that question in this Optoma UHZ45 review (>>> Check on Amazon).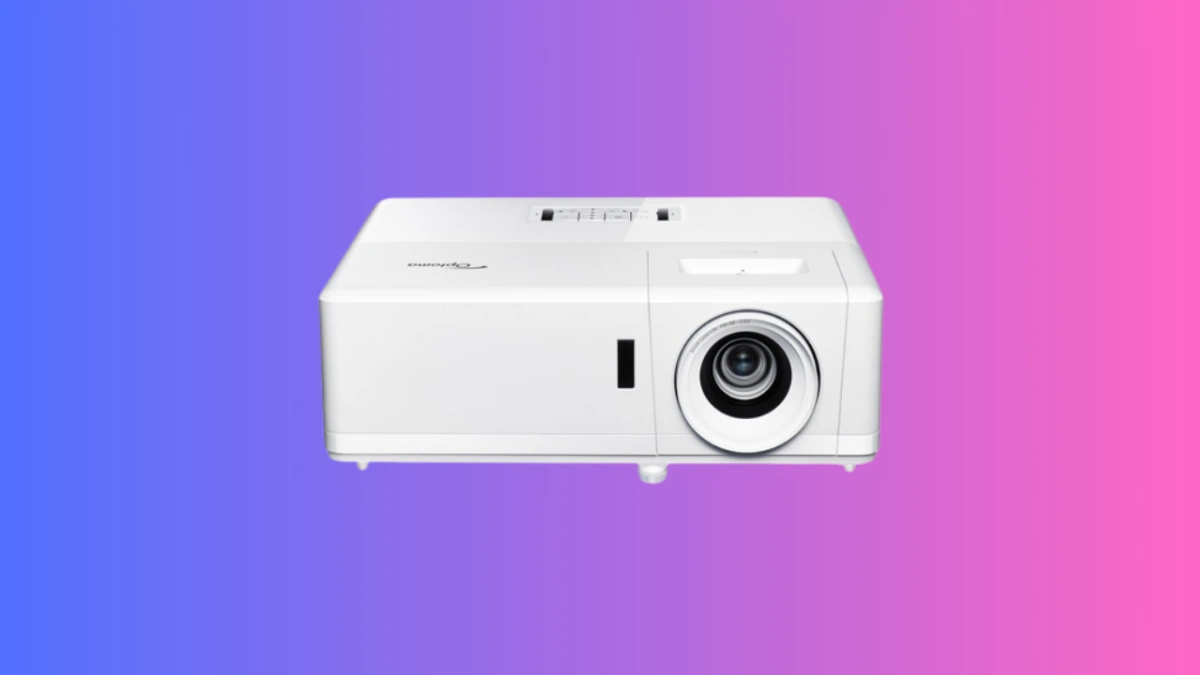 In This Review:
Optoma UHZ45 Review of Main Specs:
| | Optoma UHZ45 |
| --- | --- |
| | |
| Resolution | 3840x2160 |
| Contrast | 2,000,000:1 |
| Brightness (Lumens) | 3,800 ANSI |
| Input lag | 4ms |
| Throw Distance | 4.0' - 32.7' |
| Screen size | 33" - 300" |
| Speakers | 10.0 Watts × 2 |
| Today's Best Price | |
Design and Build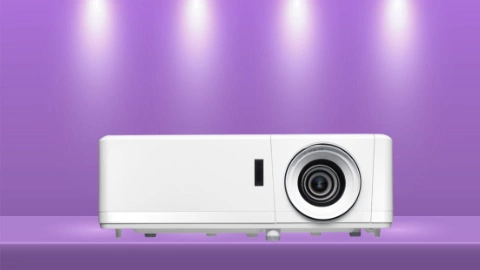 The Optoma UHZ45, from our firsthand experience, stands as a testament to seamless design integration and top-notch performance. Its sleek, modern facade, adorned with a pristine white finish, effortlessly blends into any setup, whether for professional presentations or intimate movie nights at home. Its compact dimensions, measuring 13.27 inches in width, 10.43 inches in depth, and a modest height of 4.7 inches, belie the powerhouse it truly is.
The conveniently positioned control buttons on top have streamlined our interactions with the device, making them smooth and intuitive. Throughout our use, the Optoma UHZ45 has consistently showcased a perfect balance of aesthetics and performance.
Space and Installation
Having had the opportunity to test and install the Optoma UHZ45 ourselves, we can confidently attest to its lights-on viewing capabilities. The projector's 3,800-lumen lamp dazzled us with its ability to maintain impeccable picture quality, even in environments with considerable ambient light. While we wouldn't recommend it for outdoor viewings under the scorching sun, in most indoor settings, there's seldom a need to fuss over light control.
Interestingly, despite its advanced laser phosphor light source, the Optoma UHZ45 aligns with many traditional lamp-based projectors when it comes to its throw distance. In our installations, we found that a minimum distance of 4 feet from the lens to the screen was essential for a crisp image. For a grand 100-inch screen display, the projector comfortably settled around the 11-12 feet mark.
One feature that considerably eased our installation process was its automatic 4-corner keystone correction, ensuring a perfectly squared image every time. However, potential users should be aware of its somewhat limited adjustment capabilities, restricted to a modest 1.1x zoom and manual focus tweaking.
Image Quality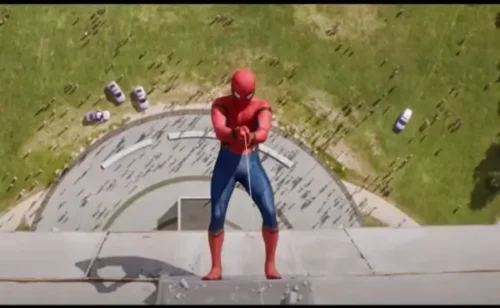 As with most Optoma home theater projectors, the UHZ45 boasts a DLP display, offering a sharp dynamic contrast and compatibility with image-enhancing technologies like HLG and HDR10. The result? An authentic Ultra HD display experience where we witnessed all 8.3 million on-screen pixels in their glory. Notably, the rich black levels and intricate details in the film's darker sequences were brilliantly captured.
Moreover, the color output of the Optoma UHZ45 left us thoroughly impressed during our Spider-Man screening. The projector rendered colors spanning the full Rec.709 spectrum – the benchmark for current broadcast standards. This ensured that the vibrant cityscapes and Spider-Man's iconic suit looked true-to-life, even without a specialized screen.
What further caught our attention was the Wall Color Adjustment feature. It adeptly auto-corrected the movie's visuals when projected on non-white surfaces, reinforcing the idea that one doesn't always need a dedicated screen to enjoy films in their optimal visual quality. >>> Check comparison vs. UHZ50
Gaming Performance
During our hands-on session with the Optoma UHZ45, we couldn't resist diving into some gaming, so we booted up NBA 2K23 on our PlayStation 5. To say we were impressed would be an understatement. Gamers, whether casual or hardcore, would relish playing on this expansive screen. The projector boasts a 120Hz refresh rate and an impressive 4ms input lag for full HD content. When we switched to 4K gaming mode, the gameplay remained smooth at 60Hz with a minimal 16.7ms lag. This performance is comfortably below the 30ms threshold that gamers typically seek in a projector. Our NBA 2K23 session was fluid, and the gaming experience was void of any noticeable hitches or delays.
Click here for our best gaming projector picks.
Navigation and Content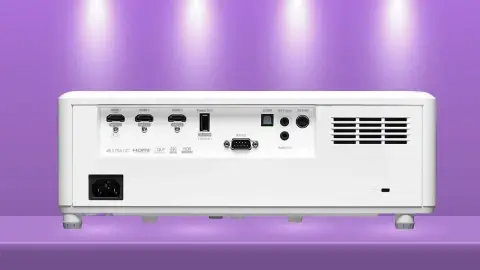 The rear panel of the Optoma UHZ45 has all the inputs most will need in a home theater. This includes 3 HDMI ports for content sources, along with a choice of 3.5mm or optical audio output and networking inputs like a 12-volt trigger or RS232.
Its main short-falling in this regard is that it has no wireless connectivity or options for mirroring content or streaming directly through the projector, so you will need to connect content sources the old fashioned way.
That lack of wireless connectivity also means no built-in hands-free voice control. It's still easy to use, though, with an intuitive button layout right on the projector as well as an included backlit remote.
Pros & Cons
Pros
Sharp and detailed true 4K resolution
Automatic keystone correction
Bright lamp suitable for any indoor space
Wall color adjustment for screenless setups
Good sound from built-in speakers
Low-maintenance with lamp lifespan up to 30,000 hours
Cons
Long throw distance with limited alignment features
No wireless connectivity
Optoma UHZ45 Review In Conclusion
Since it supports 3D content as well as 4K resolutions and fast-paced gaming, the Optoma UHZ45 can play just about any type of entertainment you want it to. You can enjoy it with the lights on, too, thanks to its powerful lamp.
It's also a great choice for first-time projector owners because you won't need to buy any extra accessories. The built-in speakers are powerful with great mid-range clarity for dialogue, and you don't need to invest in a screen before you start watching.
Where the Optoma UHZ45 may struggle is in smaller rooms or spaces with complicated layouts where it's tricky to install the projector head-on and far enough from the screen for a large picture.
It also lacks the wireless connectivity smart homeowners look for, and doesn't have the built-in streaming and voice control you'll find on other Optoma projectors at a similar price. We hope this breakdown of the UHZ45's strengths and weaknesses has helped you decide if it's the right choice for your home (>>> Find on Bhphotovideo)!
Comparisons: