Most consumers spend some time researching various options before making a purchase, especially when it's a home theater projector. You don't want to spend the money only to be disappointed by a lack of features or poor image quality. During your research one name probably keeps popping up. Optoma is well-known for its line of projectors, and two popular models are the UHZ45 and the slightly lower-priced UHD55.
It's not always easy comparing various projectors, especially if it's your first time purchasing one. It's why we conduct our tests, so you know exactly what you are paying for. We compared the Optoma UHZ45 vs the UHD55, keep reading to see which projector is the best choice for your home.
Optoma UHZ45 vs UHD55 Side by Side:
| | Optoma UHZ45 | Optoma UHD55 |
| --- | --- | --- |
| | | |
| Resolution | 3840x2160 | 3840x2160 |
| Contrast | 2,000,000:1 | 1,200,000:1 |
| Brightness (Lumens) | 3,800 ANSI | 3,600 ANSI |
| Input lag | 4ms | 4ms |
| Throw Ratio | 1.50:1 - 1.66:1 | 1.21:1 - 1.59:1 |
| Screen size | 33" - 300" | 34" - 302" |
| Speakers | 10.0 Watts × 2 | 10.0 Watts Mono |
| Today's Best Price | BHPhotoVideo.com | BHPhotoVideo.com |
Image Quality
It doesn't matter if you want to use a home theater projector for movies, TV shows, or games if the picture quality is subpar. Several factors determine image quality, and both Optoma models produce immersive pictures. However, comparing the two projectors side-by-side highlights a few differences.
4K resolution is becoming the new standard. You get rich, detailed, lifelike images with either model. The UHD55 uses a color wheel that accurately reproduces 97% of the DCI-P3 spectrum. With the UHZ45's 2,000,000:1 dynamic contrast ratio, colors are always crisp and bright regardless of the hue.
The UHZ45 does stand out with its high-lumens laser light source. It's a little better at counteracting ambient light than the 3,600 lumens light source on the UHD55.
Best Image Quality: Optoma UHZ45
Gaming Quality
Latency speeds and refresh rates are two aspects gamers look for on a home cinema projector. Without them, games are not going to function properly. Delays from the controller to the onscreen action can ruin the game, along with slow-to-load scenes.
We are pleasantly surprised by the performance of both projectors. In Gaming Mode, you will drop down to 1080p, but it's common with most projectors. You still get amazing images, and darker scenes are crisp and clear. Both Optoma projectors boast a 240Hz refresh rate and a 4.2ms input lag. You can forego the gaming mode to keep the 4K resolution, but latency speeds jump to around 15ms. It might be too slow for some multi-player and action-packed games.
Best Gaming Quality: A Tie
Ease of Installation and Set Up
Whether it's your first time installing a projector or you're an old pro, no one wants to spend hours trying to align onscreen images. Both projectors are lightweight and compact. You can easily use either model for outdoor movie nights. The UHD55 is noticeably smaller in size compared to the UHZ45. It's something to consider if you plan on using the projector outside.
Neither model is a short-throw projector, and it's something to keep in mind. You need around 10' of space to cast 120" images. These projectors are not the best options for small apartments and dorm rooms.
You get four-corner adjustment technology with both models. The UHD55 also comes with vertical and horizontal keystone correction and 1.3x zoom. 3×3 image warping technology makes it even easier to align images, but the UHZ45 takes it a step further. We like the geometric correction tool. It automatically centers onscreen images. It even has a wall color adjustment function. You don't need a white wall to cast immersive images.
Easiest to Install and Set Up: Optoma UHZ45
Connectivity
Not all projectors offer the same connectivity options. Some have limited ports, while others are not compatible with popular media streaming services. We are a little disappointed at the available in/outputs on these models. Both Optoma projectors have two HDMI ports, which can mean you are unplugging devices to connect new ones.
Fortunately, the projectors are compatible with most streaming services, including Amazon Fire, Chromecast Ultra, Apple TV, and more. Simply connect the streaming device or gaming console to access your favorite movies and shows. Our tests on the UHZ45 indicate that you can access most content by connecting a laptop and gaming console. Don't forget to install your streaming services on at least one of these devices. It may eliminate the need to constantly change out your connected devices.
It's a little different with the UHD55. It comes with a built-in media player. You can skip the laptop or gaming console. Instead, use the cloud-connected file manager or connect your USB stick.
Best in Connectivity: Optoma UHD55
---
Optoma UHZ45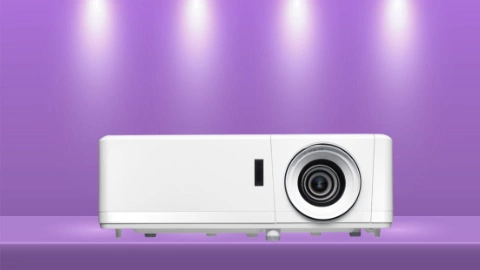 Pros
Lightweight and compact design
Long-lasting laser light source
Produces crisp, clear images
Dynamic contrast
Low input lag
Cons
Colors may have a bluish tinge requiring some manual adjustments.
Does not support wireless connectivity
Considering its price, we expect a lot from the UHZ45 and are not disappointed. The laser technology is rated at 3,800 lumens. It's bright enough for daytime viewing and can even handle moonlight when you take the lightweight projector outside. It is also designed to last for up to 30,000 hours.
It weighs slightly under 11 lbs., so it's light enough to easily move around. The wall color adjustment is a nice feature to have. You don't need a projector screen or white wall to cast immersive images. The technology automatically cancels out the color of the wall. It makes it a little easier to use the projector outside of your home.
Along with dynamic contrast, the projector also supports HDR10 and HLG technologies. Images have more depth and texture. 4k resolution ensures crisp, detailed images and a 240Hz refresh rate keeps action sequences playing smoothly.
---
Optoma UHD55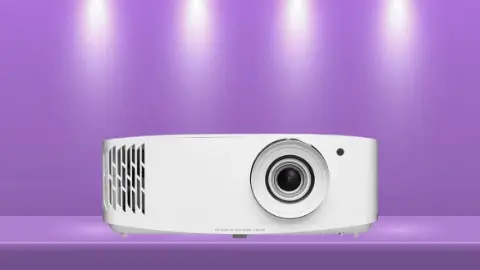 Pros
Onboard media player
Fast refresh rate and low input lag
HDR10 and HDR support
4K resolution
Compatible with most smart home devices
Cons
To ensure optimal image quality, consumers may have to plug into both HDMI inputs
The 240Hz refresh rate is limited to content supported by connected devices and not the built-in media player
Slightly lower in price than the UHZ45, the UHD55 boasts several of the same features. You get immersive 4K images in almost any lighting. You can also adjust image settings to match the content and your viewing preferences with its agile HDR adjustment function. Combined with the projector's dynamic black technology, you get realistic colors, bright whites, and deep blacks.
The built-in media player simplifies accessing streaming content. You can use either a USB stick or the cloud-connected file manager. It can eliminate the need to change devices according to the content you want to watch. The UHD55 is also compatible with most smart devices, including Alexa and Google Action. You can use your voice to control the projector.
---
Conclusion
Both Optoma home cinema projectors produce stunning images in most types of lighting. Latency speeds and refresh rates are also the same. The UHZ45 produces a slightly brighter picture, and its wall color function is a great feature (>>> Find on BHPhotovideo). You get more connectivity with the UHD55, thanks to its onboard media player and smart device compatibility. It's also priced slightly lower than the UHZ45. When it comes to choosing the best projector for your home, it often comes down to what you need and where you plan on using it.
Related Comparisons: