Anyone looking for a versatile 4K projector should definitely check out the Epson Home Cinema 3800. Priced comfortably in the mid-range, it's a good value for the picture quality and features, providing not only a stunning picture quality but also a fast processing speed and convenient, easy to use build.
Who is this projector designed for—and why do we think it's worth the investment? Let's take a closer look at what it can do to answer those questions. >>> Find how much it cost on Amazon
Epson Home Cinema  Review – Main Specs:
| | Epson Home Cinema 3800 |
| --- | --- |
| | |
| Resolution | 4K Ultra HD |
| Brightness (Lumens) | 3,000 ANSI |
| Contrast Ratio | 100,000:1 |
| Throw Distance | 6.2' - 28.8' |
| Screen size | 40"-300" |
| Input lag: | 16-28ms |
| Price | BHPhotoVideo.com |
Contrast and Color Accuracy
The 100,000:1 contrast ratio of the Epson 3800 gives viewers deep blacks and bright whites, with the same sharp detail in all screen areas. The pixel shifting technology it uses to provide a 4K resolution beautifully maintains that image clarity.
We also love the accuracy and depth of the colors from the Epson 3800. Its 3LCD chip design gives a broader range of tones than most projectors on the market. It also supports full HDR10 to reliably reproduce the colors of your content as they're meant to be seen. Users sensitive to image issues like the rainbow effect won't have to worry, either. The chip design of the Epson 3800 eliminates these common complaints against projectors.
The Epson 3800 also supports 3D content and gives you the same high color, contrast, and resolution when you're viewing it. Whatever you want to watch, you'll feel like you're in a movie theater when you're using this projector.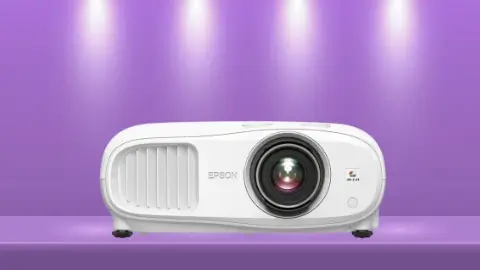 Pros
Native 4K resolution
Low input lag is great for gaming
Vibrant, accurate colors
No compression artifacts or rainbow effect
Supports 3D content with high visual performance
Lightweight and compact design
Bright enough to use in moderately-lit rooms
Cons
Needs a lot of space for a big picture
Fan is on the louder side
Processing Speed
Real-time 12-bit video processing gives viewers a smooth frame-to-frame experience. You'll also enjoy a full 60 FPS (frames per second) from all content sources. No more choppiness, banding, or other problems that can take you out of the movie.
Gamers should pay attention to these stats, too. The input lag on the Epson 3800 is impressively low, even when you're using the highest video quality settings. There's no noticeable delay between your input on the controller and what you see on the screen, so you'll avoid the frustration and lag common on other 4K projectors. Even competitive gamers can play on the Epson 3800.
Installation Flexibility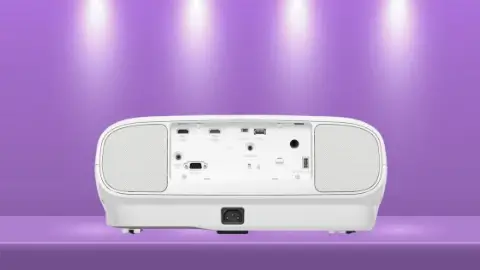 The lamp on the Epson Home Cinema 3800 produces 3,000 lumens of illumination. That's not the brightest on the market, but it's high enough you won't have to make the room completely dark to use it. You'll still want to cover up large windows if using it during the daytime, but it can compete with a moderate amount of ambient light without the picture washing out. Check the comparison vs. Optoma UHD55
The build of the Epson 3800 helps with the flexibility, as well. It's fairly compact and very sturdy. This allows you to use it for outdoor viewing if you want that option. You can get an image as large as 300" diagonal without losing image quality. In addition, it supports front viewing, rear viewing, and ceiling-mounted set-ups.
Now this is not a short-throw projector, so you do need a decent amount of space to get a large image. For a 100" image, you'll need about 12 feet of distance. That does limit its use in smaller spaces or oddly-shaped spaces where it's difficult to get a clear line of sight from the lens to the screen.
Having said that, we'd still call this a very flexible projector from both an installation and use standpoint. It has a wide array of connections, including USB and dual HDMI, letting you view content from cable boxes, gaming systems, or other devices like phones and laptops. Full 4K resolution is supported on all of them, as well, giving you the same low lag and high picture quality no matter what hook-up you're using.
The Verdict
For most gamers and home theater owners, the Epson 3800 checks all the boxes. It's bright enough you don't need a dedicated home theater to enjoy its stunning picture quality and vibrant colors. The relatively low input lag and high frame processing speed also make it just as suitable for gamers as it is for watching movies. >>> Find how much it cost on ProjectorScreen
While the throw distance is on the long side, this is the only potential complaint we have about this projector from a usability perspective. You will need a good amount of space to get a large image. If you have the space, though, the Epson 3800 is a great way to enjoy cinema-quality content from the comfort of your home.
REFERENCES AND FURTHER READING: