Getting a true 4K projector used to be a costly proposition. These days, though, you can find quite a few high-quality options in the mid-range price point that bring you the best resolution available on the market—along with other impressive image features. If you're comparing the Epson 3800 vs BenQ HT3550, you'll see they're comparably priced, and both are well-reviewed by users overall.
That being said, there are definitely some differences between them that you should be aware of if you're shopping for a projector. Neither one is definitively better than the other for all users. Instead, each one is tailored to a different kind of user and home. Overall, the Epson 3800 is a slightly better projector (>>> Check how much it cost on Amazon). Let's look at the details so you can see what we mean.
Epson 3800 vs BenQ HT3550 Side by Side:
| | Epson 3800 | BenQ HT3550 |
| --- | --- | --- |
| | | |
| Resolution | 4K ultra HD | 4K ultra HD |
| Brightness (Lumens) | 3000 | 2,000 |
| Contrast Ratio | 100,000:1 | 30,000:1 |
| Throw Distance | 6.2' - 28.8' | 3.2' - 16.4' |
| Input lag | 16.7ms | 50ms |
| Screen size | 40" – 300" | 30" – 200" |
| Price | BHPhotoVideo.com | BHPhotoVideo.com |
Brightness
Brightness isn't that much of a concern if you have a dedicated home theater space with light control—a projector as low as 1,500 lumens can cut it in this environment. For spaces with windows and other ambient light sources, however, you'll want a minimum of 2,500 lumens, and 3,000 lumens or higher is better. In this environment, the 2,000 lumens of the BenQ HT3550 could experience wash-out. The Epson 3800 produces 3,000 lumens and will stay looking more vibrant in higher light conditions.
Brighter projector: Epson 3800
Set-up Ease
Factors like the projector's throw distance, zoom, and lens shift determine how much time and effort it will take to get it set up. The BenQ HT3550 excels on all these points. It has a 5% vertical lens shift, a 1.3x zoom, and a comparatively short throw distance. The variety of picture preset modes it offers also allow you to better optimize the picture to your content. All told, you'll spend less time aligning the image and adjusting it to meet your needs.
Easier set-up: BenQ HT3550
Picture Quality
Both of these projectors have native 4K resolution, but that's not the only factor influencing the picture quality. The color accuracy is also key if you want to experience movies just like you would in the theater. The 3-chip color processing of the Epson 3800 gives you a wide color gamut, but the technology used in the BenQ HT3550 edges it out slightly. Features like HDR tone mapping and Dynamic Black, paired with the advanced 10-element lens array, will give you a better overall picture.
Best picture quality: BenQ HT3550
Viability for Gaming
A low input lag is the first requirement of any serious gamer. Ideally, you're looking for something with a lag of 30ms or lower. The Epson 3800 delivers that in all picture modes, and can get as low as 16ms with the right settings. It pairs this with a fast frame refresh rate and real-time 12-bit image processing. The result is smooth on-screen action that responds instantly to your input.
Better projector for gaming: Epson 3800
---
Full Reviews: Epson 3800 vs BenQ HT3550
Epson 3800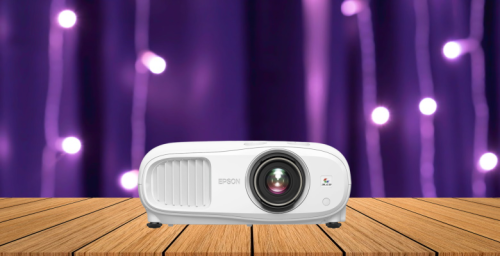 Let's start with the strengths of the Epson 3800. The picture quality is high, no matter what's on the screen. It uses a 3-chip color system and 12-bit video processing, which combine to eliminate common projector issues like blocking, banding, or the dreaded rainbow effect. It's bright enough for colors to stay vibrant in moderate lighting so you won't only get that great picture in a dedicated home theater.
Gamers will love the Epson 3800, too. Not only is the input lag in the range a serious gamer is looking for it also has a high processing speed, of 60 frames per second. This reduces lag and choppiness for fast-paced movies, as well, so it's a strength even for non-gamers.
The only thing limiting the Epson 3800's versatility is its throw distance. It's a standard throw projector, so you'll need quite a bit of space to get a large picture. You could theoretically get a great-looking image up to 300", but to do so you'd need about 35 feet of distance. Even a 100" screen will need about 12 feet. The adjustment options are limited, too, so setting up the Epson 3800 is on the whole trickier than with the BenQ HT3550.
Pros
Great for gamers
3LCD chip color eliminates rainbow effect
Real-time 12-bit processing smooths transitions
High contrast ratio
Enhanced 4K resolution with pixel shifting
Lamp bright enough for moderately lit rooms
Connects to content sources via Bluetooth or HDMI
Cons
Longer throw distance
Not as many image adjustment or picture mode options
---
BenQ HT3550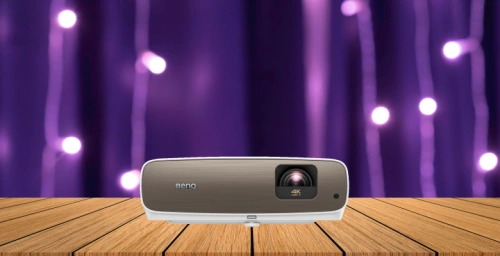 BenQ makes it easy to set up their HT3550 home theater projector anywhere. This starts with the short throw distance that gives a 100" image from around 8.2 feet away. Along with that, it includes a 1.3x zoom and a 5% vertical lens shift. You'll be able to quickly and easily align the image in any space.
In a dedicated home theater, the BenQ HT3550 gives you an incredible picture. The use of active tone mapping enhances the color accuracy from the 3-chip color technology. You'll get a lot more color options than from projectors with a Rec. 709 color wheel. While the contrast ratio is lower than on the Epson 3800, the Dynamic Black technology makes up for it. We didn't notice any drop in sharpness or detail in black areas of the screen.
We also appreciate the specialized lens array on the BenQ HT3550, which uses Active Iris control to limit the impact of ambient light on the picture. This helps make up for the relatively low lamp brightness (2,000 lumens), although we still wouldn't recommended it for well-lit rooms. Our only other quibble is with the input lag, which is a bit on the high side for gaming, especially if you like fast-paced or online multiplayer games. A more detailed review of BenQ HT3550.
Pros
Shorter throw distance
Includes vertical lens shift and 1.3x zoom
Factory-calibrated for precise picture accuracy
Good array of picture mode presets
10-element lens gives a sharper, more vibrant picture
DCI-P3 color technology with HDR tone mapping
Dynamic Black and Active Iris technology enhance color and co
Cons
Input lag too high for serious gaming
Lamp may be too dim to compete with ambient light
---
What's the Bottom Line?
Both the Epson 3800 and the BenQ HT3550 have their strengths and weaknesses. Picking the right one for your home is a matter of deciding what's most important to you. If you have a dedicated home theater, you'll get a faster set-up and a better picture from the BenQ HT3550. On the other hand, the Epson 3800 is more versatile thanks to its low input lag and higher lamp brightness (>>> Find on ProjectorScreen).
Of course, whichever way you go you'll get a bigger, better picture than you could ever hope to find in a standard television. We hope this side-by-side comparison helps you choose the perfect projector for you!
REFERENCES AND FURTHER READING: