The BenQ HT3550 uses the same display technology you'll find on projectors that cost twice as much. By the specs, it's an incredible value. But does it live up to that potential once you put it in action?
In this BenQ HT3550 review, we'll break down the functions and features of this projector to answer that question for you. While the BenQ HT3550 does get high marks for both picture quality and reliability, it does have some quirks and weaknesses you'll want to be aware of before you buy it. >>> Check how much it cost on Amazon
BenQ HT3550 Review of the Main Features:
| | BenQ HT3550 |
| --- | --- |
| | |
| Resolution | 4K ultra HD |
| Brightness (Lumens) | 2,000 |
| Contrast Ratio | 30,000:1 |
| Zoom | 1.3x manual |
| Throw Distance | 3.2' - 16.4' |
| Input lag | 50ms |
| Screen size | 30" – 200" |
| Speakers | 2 x 5.0 Watts |
| Price | BHPhotoVideo.com |
Installation
It's a bit of a misnomer for BenQ to call the HT3550 a short throw projector. It has a shorter throw than other standard-throw projectors, but you'll still need about 8 feet of distance to get a 100" screen. If you are looking for a real short throw project check this guide.
The bigger concern from a flexibility standpoint is the brightness. At 2,000 lumens, the lamp isn't designed to compete with a lot of ambient light. We will say the picture looks brighter than we expected given the specs, likely thanks to the advanced lens array. Even so, this is a projector best-suited to a home theater kind of environment.
On the plus side, the BenQ HT3550 is easy to install. It works well in both tabletop and ceiling-mounted installations, and it comes with a 1.3x zoom and a lens shift function for fine-tuning the image.
Pros
Cinematic color with high contrast
10-element lens improves sharpness and clarity of the picture
Zoom and lens shift make installation easier
Attractive, compact design
Long lamp life, especially on Eco Mode
Covered by 3-year limited warranty on parts and labor
Cons
Relatively dim lamp
3D plays in 1080p resolution (not 4K)
Input lag is on the high side
Picture Quality
You really have to see the picture of the BenQ HT3550 to believe it. BenQ calibrates the color of its projectors at the factory to ensure consistency and the results of that diligence are obvious in the image the HT3550 produces. The colors are stunning and the picture is crystal clear. That lens we mentioned above reduces blur, and it has a high enough processing speed for smooth fast-paced action.
The real star when it comes to the picture quality, though, is the Dynamic Iris technology used to improve the contrast. The black levels are sharp, with excellent detail and clarity in dark areas of the screen. We also appreciate that there are a variety of picture modes so you can easily optimize the settings to suit your content.
Reliability
BenQ is so confident in the build of the HT3550 they've backed it with a 3-year parts and labor warranty. On initial inspection, the projector is well-built, with an attractive matte housing and a metal faceplate around the lens. There's an attached cap to protect the lens when not in use, with three fans inside to keep things cool and prevent failure.
The long-term durability of the lamp on the BenQ HT3550 is high, as well. The lamp can last for up to 15,000 hours of use, so it's very possible you'll never have to replace it the whole time you own the projector.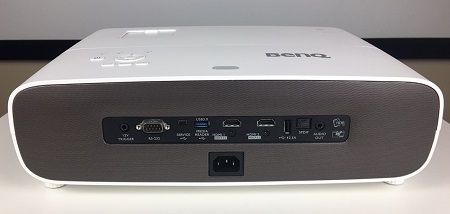 BenQ HT3550 connections
Performance and Ease of Use
The menu and overall navigation of the BenQ HT3550 is intuitive and the most common settings are easy to access using the included remote. It also has full 3D support from all content sources. While the picture is in a lower resolution for 3D content, the color accuracy and realism is just as high.
The input lag on the BenQ HT3550 is low enough it won't affect any movie or TV watching. That said, it's on the higher side at 50ms. Serious gamers look for an input lag of 30ms or below. Depending on what style of game you play (and how competitive you are about it), a 50ms lag may or may not be an issue for you, but it's certainly not ideal. Learn about better projector options for gamers here.
What's the Bottom Line?
If you're buying a projector for a dedicated home theater, the BenQ HT3550 is one of the best projectors you can get for your money >>> Check how much it cost on Bhphotovideo. It's not an especially versatile option, though, since it's not the best choice for gaming and it doesn't cope well with ambient light. If those weaknesses aren't a concern for you, the picture quality of the BenQ HT3550 is fantastic, especially for the price.
REFERENCES AND FURTHER READING: