In the world of 4K home theater projectors, BenQ is one of the leading names—and with good reason. Their projectors offer a phenomenal picture quality and performance for the price, making them a top choice of home theater owners who want the best bang for their buck.
One great thing about BenQ is that they offer a range of projectors at every price point. Comparing the BenQ HT5550 vs HT3550, you'll see the HT5550 has some extra features compared to the HT3550 and is the superior model looking just at performance. (>>> Find current price on Amazon) That said, the BenQ HT3550 is a strong projector in its own right, and the smaller price tag will be appealing for buyers on a budget.
Just what are the differences between the HT5550 and the HT3550? Let's take a look at the key features side-by-side before we get into the full reviews.
BenQ HT5550 vs HT3550 Side by Side:
| | BenQ HT5550 | BenQ HT3550 |
| --- | --- | --- |
| | | |
| Resolution | 4K ultra HD | 4K ultra HD |
| Brightness (Lumens) | 1,800 | 2,000 |
| Contrast Ratio | 100,000:1 | 30,000:1 |
| Zoom | 1.6x manual | 1.3x manual |
| Throw Distance | 9.5' - 29.6' | 3.2' - 16.4' |
| Input lag | 50-58ms | 60ms |
| Screen size | 60" – 300" | 30" – 200" |
| Speakers | Not available | 2 x 5.0 Watts |
| Price | BHPhotoVideo.com | BHPhotoVideo.com |
Picture Quality
Both the BenQ HT5550 and HT3550 have true native 4K resolution, a high contrast, and a broad color gamut. The difference between them is one of degree. The HT5550 supports 100% of the DCI-P3 color space, giving you the same range of colors you'd see in a movie theater. The HT3550 covers the Rec. 709 color space, which is about 95% of the DCI-P3 range—still good, just not quite as good.
The same is true when it comes to the contrast. Both projectors use Dynamic Iris technology to optimize the brightness and give you richer, more detailed blacks. With the HT5550, though, you'll get a more sophisticated lens array, for a higher contrast ratio and more vibrant colors across the image.
Better Picture Quality: BenQ HT5550
Throw Distance
The size of the image a projector can produce varies depending on how far the lens is from the screen. The BenQ HT5550 is a standard throw projector and will need quite a bit of space to operate—at least 7 feet, for a 60" screen.
The BenQ HT3550 can produce a clear image with less than 3 feet of distance from the screen and will give you a 60" image at about 5 feet away. This makes it a better choice for smaller spaces, like dorm rooms and studio apartments.
Shorter Throw Distance: BenQ HT3550
Gaming
Input lag is the main stat of interest for gamers. This tells you how long it takes your actions on the controller to appear on the screen. Pro gamers look for a lag down around 16ms, though anything under 30ms is suitable for serious gamers. For casual gaming, anything under about 60ms will let you play without frustrating delays, skips, and other issues.
While neither of these is a true gaming projector, the BenQ HT5550's input lag measures in the high 50s, just under the 60ms cutoff, that's supported by a fast signal processing rate. The higher lag on the BenQ HT3550 is just enough to be noticeable when you're playing, and makes it a less suitable option for gaming.
Better Gaming Performance: BenQ HT5550
BenQ HT5550 vs HT3550: Full Reviews
BenQ HT5550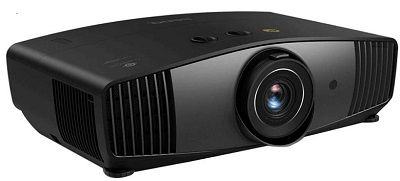 With the BenQ HT5550, you'll get a high-end projector that's easy to use right out of the box. You don't need to worry about professional calibration or installation. While it has a fairly long throw distance (you'll need about 12 feet of distance for a 100" screen), it also comes with both vertical and horizontal lens shift and a 1.6x zoom. That gives you a lot of flexibility during the installation.
The BenQ HT5550 is ideal for dedicated home theaters. It provides cinematic color and clarity, with a true 4K resolution and the full DCI-P3 color gamut. You'll get the same vibrant colors across the picture with no hot spots, and the high contrast gives you that same detail and depth in darker areas. It's also easy to adjust the image settings to fit your content, with optimized movie mode presets and automatic tone mapping that further improves the picture quality.
The brightness of the BenQ HT5550 is on the low side at 1,800 lumens. This is mitigated by the Dynamic Iris system, which improves the black levels and limits washout. While it's not the best choice for well-lit spaces, you can keep a few lights on while you watch. Since its input lag is low enough for casual gaming, this can make it a suitable choice for media rooms and other multi-purpose spaces. For more detailed BenQ HT5550 review click here.
Pros
Native true 4K resolution
Cinematic color with HDR10 and HLG support
Improved contrast and clarity with Dynamic Iris
Factory-calibrated for easy out of the box set-up
Lens shift and zoom give more installation flexibility
Low-maintenance and dust-resistant
Responsive enough for lag-free gaming
Cons
Relatively long throw distance
Lower lamp brightness
---
BenQ HT3550

The BenQ HT3550 is a compact and versatile projector. It has a shorter throw distance, producing a 100" image with between 8 and 10 feet of distance. Combined with the brighter lamp, that lets it work well in a wider range of spaces. Since it's about half the weight of the HT5550 and has an equally quick set-up, it's also a great choice for those who want a projector they can take outside for backyard movies.
You'll get the same 4K resolution from the BenQ HT3550. It uses a 10-element all-glass lens array to optimize the brightness and enhance the clarity, and includes Dynamic Iris technology for high contrast and deep black levels. It supports the full Rec. 709 color space and uses HDR-PRO tone mapping to optimize the hues frame-by-frame.
The BenQ HT3550 is unfortunately not the best projector for playing games. Its input lag is on the higher side, and even casual gamers may find it frustrating to use for shooters, racers, and other fast-paced games. For movie and TV watching, though, it's a great value for the quality of the picture and has the flexibility to work in almost any space. Click here if you want to read a more detailed BenQ HT3550 review.
Pros
Clear, detailed picture with true 4K resolution
709 color with HDR tone mapping
10-element lens array with Dynamic Iris
Easy to install right out of the box
Shorter throw distance
Compact and portable design
Cons
Smaller color gamut than the HT5550
Not a good option for gaming
---
What's the Bottom Line?
Both the BenQ HT3550 and HT5550 are well-built and user-friendly. Choosing between them really comes down to what you're looking for. If you want the best picture quality, the BenQ HT5550 is your answer, with more colors and better on-screen contrast. It's also the better choice if you use your projector to play games, with an input lag that's within the acceptable range for casual players. (>>> Check the current price on ProjectorScreen)
On the other hand, the lower price of the BenQ HT3550 isn't its only strength. The shorter throw distance and brighter lamp mean it can work in more spaces. It's also surprisingly portable, with a rugged build that you'll feel comfortable taking with you on the road (or just out to the back yard).
Once you know what you need from a projector, the choice between these two is easy! The best news is, you'll get a fantastic 4K projector no matter which way you go.
REFERENCES AND FURTHER READING: