Choosing the best home theater projector doesn't just mean finding the one with the best picture stats. More so than televisions, a projector's usability depends greatly on the environment where it's used. Looking at the Epson 5050UB vs. BenQ HT5550 is a clear example of this. Both of these projectors have a lot to offer buyers, and both are well-reviewed and highly-regarded by the home theater community. Neither one is a clear winner across the board. Let's take a closer look at each of their strengths so you can see what we mean.
Epson 5050UB vs BenQ HT5550 Side by Side:
| | Epson 5050UB | BenQ HT5550 |
| --- | --- | --- |
| | | |
| Resolution | 1920x1080 4K w/pixel shifting | 3840x2160 |
| Brightness (Lumens) | 2,600 ANSI | 1,800 ANSI |
| Contrast Ratio | 1,000,000:1 | 100,000:1 |
| Input lag | 29ms | 65ms |
| Throw Distance | 10.3' - 29.4' | 9.5' - 29.6' |
| Screen size | 50" - 300" | 60" - 300" |
| Speakers | No | No |
| Price | BHPhotoVideo.com | BHPhotoVideo.com |
Resolution
The Epson Home Cinema 5050UB uses pixel shifting technology to achieve 4K Ultra HD resolution. This is a definite improvement over a Full HD display, with about twice the on-screen pixels. However, it's not as sharp as the true 4K resolution produced by the BenQ HT5550, whose display has about 4 times the pixels of Full HD (twice as many as the Epson 5050UB).
Better resolution: BenQ HT5550
Color
The DCI-P3 color space is about 50% wider than that of the Rec. 709 spectrum, and is quickly becoming the new color standard for high-end home theater projectors. With its 3LCD chip display, the Epson 5050UB can produce the entirety of this color gamut, with full HDR10 color processing for accuracy.
The BenQ HT5550 also produces the full DCI-P3 color gamut. Adding to that, it has support for both HDR10 and HLG, and uses HDR-PRO and Enhanced Tone Mapping technology to further optimize the color for both vibrancy and authenticity.
Better color: BenQ HT5550
Brightness
The brighter the projector's lamp, the better it will be able to maintain the clarity of the picture when there are lights on in the room. A lumen rating as low as 1,000 is fine in dedicated home theater spaces. For rooms with windows—or lights-on viewing—you'll want to look for a projector brightness of 2,000 lumens or more.
The 1,800 lumens put out by the BenQ HT5550 are plenty for home theater spaces, and it works beautifully in that context. For other spaces, the 2,600 lumens of the Epson 5050UB will give you a better viewing experience.
Brighter projector: Epson 5050UB
Gaming Performance
The input lag or input latency of a projector tells you how long it takes your input on the controller to register on the screen. Anything below about 60ms is fine for casual gaming, though serious gamers look for a lag of 30ms or less.
The BenQ HT5550 is just outside of this acceptable range, with a measured input lag around 60-65ms. The Epson 5050UB is much more responsive, with a lag of only 25-30ms. Its fast image processing helps here, too, limiting the risk of frame tears and compression artifacts interfering with your game play.
Better gaming performance: Epson 5050UB
Full Reviews: Epson 5050UB vs BenQ HT5550
Epson 5050UB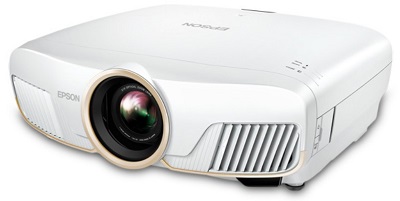 The Epson Home Cinema 5050UB is a versatile home theater projector. Its 250-watt UHE bulb puts out 2,600 lumens, bright enough to keep the image clear and saturated in low to moderate ambient light. While the standard throw distance means you'll need to use it in a larger room, it doesn't require the light control of a dedicated home theater space.
The wide range of image adjustment options on the Epson 5050UB give it a lot of installation flexibility. These include a wide 2.1x zoom, powered focus, vertical keystone correction, and 3D lens shift. You will need to use external speakers with this projector since it doesn't have any built in, so make sure you plan for that in your budget if you don't have speakers already.
Another thing that makes the Epson 5050UB so versatile is its gaming performance. It's very responsive, with a low input lag and a high frame rate. The use of real-time 12-bit processing ensures a smooth on-screen performance for both games and movies, with no compression artifacts or other issues that could disrupt the experience. Check our more in-depth review of the Epson 5050UB
The picture quality of the Epson 5050UB is impressive, as well. The use of dynamic iris technology enhances the contrast by suppressing stray light. The result is rich black levels and a remarkable sharpness and realism across the picture. Along with that, the use of a 3LCD chip design produces a wide color gamut with consistent brightness and no rainbowing.
Pros
Sharp, high-contrast picture
Wide color gamut (100% of DCI-P3 color space)
High frame rate and low lag for gaming
Wide array of image adjustment options
Bright enough lamp for lights on viewing
Cons
Resolution isn't as sharp as true 4K
No included speakers
---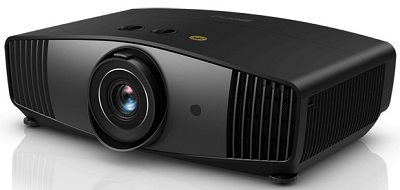 The BenQ HT5550 is an excellent projector for a dedicated home theater. Its picture quality is one of the best you'll find from a mid-range home theater projector. The all-glass lens array produces a true 4K resolution, with 8.3 million distinct on-screen pixels for a picture that's sharper with better realism than pixel-shifted 4K.
The color performance of the BenQ HT5550 is equally impressive. The proprietary CinematicColor technology covers the entire DCI-P3 color gamut, utilizing technology like Active Iris and Enhanced Tone Mapping to optimize your viewing experience. We also appreciate the wide range of viewing modes, allowing users to quickly customize the picture to their space and preferences.
Like the Epson 5050UB, the BenQ HT5550 has a standard throw distance. You'll need around 9-10 feet for a 100" picture, and for many users ceiling- or wall-mounted installations are the best choice. Within those limitations, though, the installation is flexible, with a 1.6x zoom and 3D lens shift, as well as vertical keystone correction and a manual focus control.
The main thing limiting the BenQ HT5550 to dedicated home theater spaces is its lamp brightness. Even with Active Iris technology, the 1,800 lumens put out by the lamp just aren't enough to compete with much ambient light. A fairly high input lag also limits its use for gaming, so it's not as suitable for multi-use spaces. If your main concern is picture quality, however, the BenQ HT5550 is an excellent choice. Click here if you want to read our more detailed review of the BenQ HT5550
Pros
True 4K resolution
Full DCI-P3 color space with HDR10 and HLG support
Optimized Movie Modes for quick image customization
Flexible installation with zoom and lens shift
Full 3D support
Cons
Best used in completely dark space
High input lag
---
What's the Verdict?
Once you compare them side by side, the choice between the Epson 5050UB and BenQ HT5550 is pretty straightforward. If you want the best picture quality in your dedicated home theater, the BenQ HT5550 is your answer. >>> Find on Amazon For gamers and multi-use spaces, go with the Epson 5050UB. Whichever one you buy, you'll get a user-friendly projector that will give you years of big-screen entertainment.
REFERENCES AND FURTHER READING