When you're choosing a projector, your space is just as important as its stats. That's particularly true if you're comparing the Sony VPL-VW295ES vs. Epson 5050UB. Both are impressive projectors with a high image quality and flexible installation. While the Sony is the better choice for a home theater, the Epson is more versatile in terms of both space and use.
Let's take a closer look at the key differences so you can see what we mean.
Sony VPL-VW295ES vs Epson 5050UB Side by Side:
| | Sony VPL-VW295ES | Epson 5050UB |
| --- | --- | --- |
| | | |
| Resolution | 4096x2160 | 1920x1080 4K w/pixel shifting |
| Brightness (Lumens) | 1,500 ANSI | 2,600 ANSI |
| Contrast Ratio | 350,000:1 | 1,000,000:1 |
| Input lag | 36ms | 23ms |
| Throw Distance | 12.3' - 30.1' | 10.3' - 29.4' |
| Screen size | 60" - 300" | 50" - 300" |
| Speakers | No | No |
| Price | Check on Amazon | BHPhotoVideo.com |
Brightness
In a completely dark room, a projector brightness as low as 1,000 ANSI lumens can produce a bright, colorful screen. Once you introduce ambient light, however, the lamp's strength requirements go up. For moderate indoor lighting, 2,000-3,000 lumens is a good range, with bright rooms and outdoor spaces requiring a lamp of 3,500 lumens or more.
The Sony VPL-VW295ES has a brightness of 1,500 ANSI lumens—enough for a home theater, but not ideal for other rooms in the home. The 2,600 lumens produced by the Epson 5050UB makes it a better choice, right in the ideal range for most indoor spaces.
Brighter lamp: Epson 5050UB
Resolution
The Epson 5050UB uses a technology known as pixel shifting. This roughly doubles the number of on-screen pixels compared to typical full HD displays but doesn't achieve the same level of detail as a true 4K display.
The SXRD technology employed on the Sony VPL-VW295ES gives it the capability to produce resolutions higher than 4K, with up to 8.8 million pixels that produce the full detail of 4K content. This is paired with an advanced Reality Creation system that upscales lower-resolution content to nearly 4K quality, providing superior resolution for any kind of content.
Higher resolution: Sony VPL-VW295ES
Gaming Performance
The input lag is the main specification gamers want to pay attention to. This tells you how much delay will be added to the signal between your controller input and what you see on the screen. For casual players, anything under around 60ms is low enough to avoid frustration. More serious gamers look for a lag of 30ms or lower, which is also crucial for playing over a network or graphic intensive games from the latest generation platforms.
The Sony VPL-VW295ES has a measured input lag of 36-55ms. That's low enough for casual play but may be too high for competitive players and reflex-based games like first-person shooters. The Epson 5050UB is a better choice for gamers, with an input lag of 23-29ms and a superior image processing speed that prevents blocking, banding, and other image issues.
Better gaming performance: Epson 5050UB
---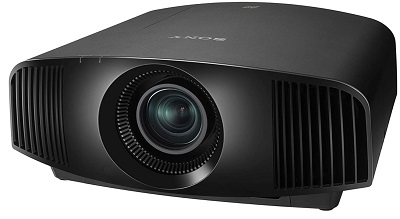 The Sony VPL-VW295ES is designed to provide a cinema-quality picture in dedicated home theater spaces—and it delivers on this promise. It uses a trio of SXRD imagers that enhance both the color and resolution beyond the capabilities of most home theater projectors. The Advanced Reality Creation upscales full HD content to near 4K quality, so in some cases movies and shows will look even better than intended.
You can watch any type of content with the VPL-VW295ES. It has full 3D support, reading a variety of 3D formats through HDMI. It's also great for live sports, action movies, and other fast-paced content, using Motionflow technology that reduces motion blur and keeps the image smooth, with crisp detail no matter what's happening on screen.
In the right space, the Sony VPL-VW295ES is relatively easy to install. Options for vertical and horizontal lens shift and a powered 2.06x zoom allow good flexibility while aligning the image. That said, it's meant to go in a dedicated home theater space. The lamp isn't bright enough to maintain the image quality in well-lit rooms, and the relatively long throw distance means you'll need a large space for a big image.
Pros
Colors are realistic and vibrant with 3 SXRD imagers
Sharp, detailed true 4K resolution
Advanced Reality Creation upscales images
Smooth on-screen action with Motionflow
Full 3D support
Powered zoom and lens shift
Cons
Requires a fully-dark room for the best picture
Input lag is too high for most gamers
---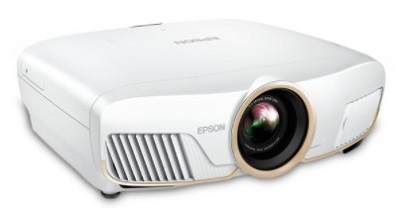 The Epson 5050UB uses pixel shifting to sharpen details and resolution beyond what you'll get from full HD projectors. Its 3-chip LCD display has full HDR10 support, accurately producing crisp, vibrant images from both 1080p and 4K content. Along with that, its full 3D support makes it a great choice for home theaters.
The Epson 5050UB performs just as well in gaming applications. This is partly thanks to its powerful image processing, with real-time 12-bit video processing that smooths the on-screen action and prevents compression artifacts and frame tearing. Its input lag is low enough most gamers won't notice a delay, even when playing games online or through the latest generation consoles.
In terms of the space and installation, the Epson 5050UB is relatively flexible. The lamp is bright enough to avoid washout in most indoor lighting environments, so it can be used in communal spaces like living rooms. It does have a fairly long throw distance and will be best in ceiling-mounted installations in many spaces. On the plus side, the 2.1x zoom and wide 2-dimensional lens shift along with vertical keystone correction, giving good flexibility for aligning the projector to the screen.
Pros
Crisp, detailed image with excellent contrast
Wide color gamut with no rainbowing
Easy installation with lens shift and wide zoom
Responsive processor is excellent for gaming
Full 3D support
Cons
Lower resolution than true 4K
Long throw distance
---
The Verdict
Those looking for cinema-level picture quality in a dedicated home theater will love the image they get with the Sony VPL-VW295ES (>>> Find on Amazon). In a side-by-side comparison, it excels across categories, with richer black levels, sharper resolution, and better overall color performance.
This isn't to say the Sony will be the best choice for everyone, though. Gamers will prefer the lower lag of the Epson 5050UB, while its brighter lamp also gives it more versatility in terms of where you use it around the house.
REFERENCES AND FURTHER READING: