Do you want to upgrade your home theater to a big-screen, projector-based set-up? Epson and Sony are two of the leading brands for getting the best image quality without needing to blow your entire entertainment budget.
Comparing the Epson 5050UB vs. Sony VPL-VW325ES, you'll see they have a similar throw distance and image alignment options, which gives them about the same installation flexibility.
While the picture quality of the Sony is better overall, the Epson 5050UB is more versatile, and that will make it the superior choice for many households (>>> Check on Amazon). Let's take a closer look at the key differences.
Epson 5050UB vs Sony VPL-VW325ES Side by Side:
| | Epson 5050UB | Sony VPL-VW325ES |
| --- | --- | --- |
| | | |
| Resolution | 1920x1080 4K w/pixel shifting | 4096x2160 |
| Brightness (Lumens) | 2,600 ANSI | 1,500 ANSI |
| Contrast Ratio | 1,000,000:1 | 9,000:1 |
| Input Lag | 23ms | 36ms |
| Throw Distance | 10.3' - 29.4' | 12.5' - 30.5' |
| Screen size | 50" - 300" | 60" - 300" |
| Speakers | No | No |
| Today's Best Price | BHPhotoVideo.com | BHPhotoVideo.com |
Resolution
The Epson 5050UB accepts content up to 4K resolutions, and it uses an advanced pixel-shifting technology to produce resolutions higher than the typical full HD display. Its native resolution is 1080p, however, and even with the pixel shifting it doesn't quite reach the detail of ultra HD.
The Sony VS325ES uses 3 SXRD imagers that produce a native 4K resolution. On top of that, it includes Reality Creation technology that upscales lower-resolution content, bringing more detail to everything you play through the projector.
Higher resolution: Sony VPL-VW325ES
Brightness
The 1,500 lumens put out by the lamp of the Sony VPL-VW325ES is the perfect level for using in a completely dark space, like a dedicated home theater. It's not designed to compete with ambient light, though. If you just have a couple of lamps on it'll still be fine, but it won't perform well in brighter spaces with ceiling light fixtures or large windows.
While the Epson 5050UB isn't the brightest projector on the market, its 2,600 lumens are much more suitable to use in rooms with low to moderate ambient light. This makes it the better choice for spaces like living rooms or bedrooms where you can't always eliminate all the light.
Brighter projector: Epson 5050UB
Gaming Performance
Most gamers will have no complaints about the Sony 325ES. Its X1 processor, high image contrast, and Motionflow technology are all equally beneficial for clear, blur-free game images as they are for home theater users. It's also reasonably responsive, with an input lag that hovers around the 30ms threshold most cite as the ideal for gaming.
While the Sony performs well, the Epson 5050UB is just a bit better from a gaming standpoint. This is in part thanks to its lower input lag, which measures around 23ms for most games and platforms. Its 12-bit analog-to-digital processing is helpful here, too, preventing image issues that could distract from your gameplay.
Better gaming performance: Epson 5050UB
---
Epson 5050UB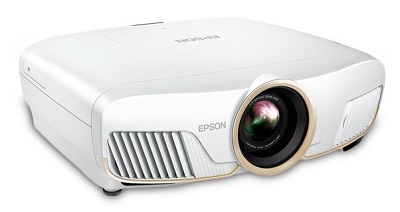 The Epson 5050UB is a great multi-purpose projector for use in any home entertainment system. It's bright enough for use in the majority of indoor spaces, with a responsive processor that keeps the input lag under 30ms, even for games in 4K. That's fast enough most gamers won't notice any kind of delay, even when you're playing reflex-based games from the latest consoles.
Now, as we mentioned above, the resolution of the 5050UB is between 1080p and 4K, so it's not quite as detailed as a true 4K projector. That said, though, it has a remarkably high dynamic contrast ratio, enhanced by Epson's UltraBlack technology.
The color performance is also exceptional thanks to the 3-chip display and HDR10 color processing. The realtime 12-bit video processing eliminates potential issues like color blocking or compression artifacts, creating an immersive and realistic image at all sizes and for all content.
Installing the Epson 5050UB is a breeze, too. While its throw distance is on the long side, it also has a wide zoom that can help to mitigate that extra required distance. Along with this you'll get a digital vertical keystone correction and a wide 2D lens shift, +/-47% horizontal axis and +/-96% on the vertical axis, allowing for good flexibility in the installation. It also has a good array of inputs, with dual HDMI ports as well as USB, VGA, and networking inputs. Click here for our more in-depth Epson 5050UB review.
Pros
Pixel shifting raises resolution above full HD
UltraBlack contrast
Full coverage of DCI-P3 color space
3-LCD display produces vibrant colors with no rainbowing
Easy installation with wide lens shift and zoom
Input lag is low enough for all styles of gaming
Cons
Not a true 4K resolution
Long throw distance
---
Sony VPL-VW325ES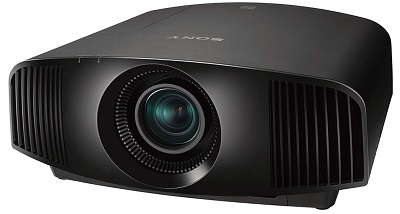 The Silicon X-tal Reflective Display (SXRD) technology employed by the Sony VPL-VW325ES produces one of the best picture qualities you'll find in this price point. Its resolution exceeds standard 4K, with 8.8 million pixels on the screen for Ultra HD content. While lower-resolution content won't be quite that sharp, the aspherical lens, X1 processor, and dynamic HDR enhancement give it superior sharpness, color, and contrast.
The Sony VW325ES also uses Motionflow technology to maintain this detail for action sequences, sports, and other fast-paced content. This is just as good for gamers as it is for movie watchers, ensuring a smooth on-screen response as you're playing. In terms of lag, it's a bit slower than the Epson above, though still certainly suitable for casual play, and most won't notice any difficulty playing.
A 31 pounds, the Sony VW325ES is a bit heavier than the Epson above, though not enough to exceed the weight limits of most ceiling mounts. It has a similarly long throw distance and will need a good amount of space for a large image. Adjusting the image is straightforward, though, with wide Zoom and lens shift controls (+/-31% horizontal, +/-85% vertical). Its main limitation from a flexibility standpoint is its brightness, which limits its use for rooms with much ambient light. Click here for our full Sony VPL-VW325ES review.
Pros
True 4K resolution and Reality Creation upscaling
Excellent color performance with no need for calibration
Smooth on-screen action with Motionflow
Works with IMAX Enhanced content and all 3D formats
Low enough lag for most gamers
Wide zoom and lens shift for flexible installation
Cons
Lower lamp brightness
Long throw distance
---
The Verdict: Epson 5050UB vs Sony VPL-VW325ES
If your main concern is the best picture quality, the Sony VPL-VW325ES is your winner. This doesn't only come down to its sharper resolution. It also has better colors and a sharper contrast thanks to its X1 processor and 3SXRD display, and in a fully-dark home theater space, it looks just as vibrant and realistic as if you were in a professional theater.
This doesn't mean it will be the best model for everyone, though. While the Epson 5050UB has a slightly lower overall image quality, it's also more responsive and brighter, great for gamers or spaces with some amount of ambient light (>>> Find on Bhphotovideo). Whichever one you buy, you'll be able to bring your favorite games and movies to the big screen from the comfort of your own home.
Related Comparisons: