Sony's VPL line of projectors aim to bring cinema-quality big screen entertainment into a home environment, putting advanced image technology in a user-friendly package. Their price point and performance makes them an ideal choice for a high-end home theater, especially if you don't want to worry about professional installation.
If you're considering a new projector, this Sony VPL-VW295ES review is a good place to start. We'll take an in-depth look at its features and limitations so you can decide if it's the best fit for your home. (>>> Check the current price on Amazon)
Sony VPL-VW295ES Review of Main Specs:
| | Sony VPL-VW295ES |
| --- | --- |
| | |
| Resolution | 4096x2160 |
| Brightness (Lumens) | 1,500 ANSI |
| Contrast Ratio | 350,000:1 |
| Input Lag | 36ms |
| Throw Distance | 12.3' - 30.1' |
| Screen size | 60" - 300" |
| Speakers | No |
| Price | Check on Amazon |
Set-up and Space Requirements
The Sony VPL-VW295ES is designed for use in dedicated home theaters, and it's at its best in large, dark rooms. Its throw ratio is long even for a standard-throw projector—you'll need around 13-15 feet for a 100" screen, depending on how you set the zoom, and that can limit its use in smaller spaces. Similarly, its 1,500-lumen light source is ideal in a light-controlled home theater space, but isn't bright enough to cope with lots of ambient light. If there are windows in your viewing area, expect to invest in black-out curtains.
This is a hefty projector, too, weighing more than 30 pounds, so you'll want to get a fairly heavy-duty ceiling mount to install it. You'll also need to invest in a soundbar or speakers if you don't have them already since there are non built-in on the VPL-VW295ES. Again, neither of these is a concern in a typical home theater space, where most people will want to use a surround sound system anyway, but can limit the portability and versatility of the projector.
Now onto the good news: as long as you have the right space to suit it, the Sony VPL-VW295ES is fast and flexible in its installation. It has a wide powered zoom, as well as both horizontal and vertical lens shift, helpful for fine-tuning the alignment of the image to the screen.
Pros
3 SXRD display provides sharp resolution with excellent contrast
Smooth on-screen action with Motionflow
Wide cinematic color gamut
Reality Creation enhances image for maximum quality
Flexible installation thanks to zoom and lens shift
Responsive enough for casual gaming
Cons
Requires a large, light-controlled space
No built-in speakers
Picture Quality
Here's where the Sony VPL-VW295ES is especially impressive. Its 3 SXRD imagers and Triluminos display produce stunning, fully-saturated hues across the color spectrum. The true 4K resolution and high contrast add depth and detail beyond what most projectors and TVs are capable of. The Reality Creation 4K upscaler can make content look even better than intended, mapping and analyzing every pixel to bring the image better texture, color, and realism.
You can watch any kind of content with the Sony VPL-VW295ES. It has full 3D support and is compatible with IMAX Enhanced content, truly replicating the big-screen movie theater experience. For sports and action sequences, it uses Motionflow to reduce blur, keeping the image sharp no matter what's happening on-screen.
Gaming Performance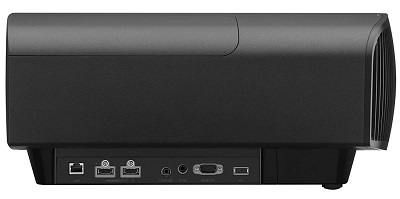 Serious gamers look for an input lag of 30ms or less, with the best gaming projectors offering a lag in the single digits. The Sony VPL-VW295ES doesn't quite live up to this standard, registering a lag of around 36-55ms, depending on your settings.
That said, while you wouldn't necessarily call it a "gaming projector," that's responsive enough for most players, especially if you gravitate toward RPGs and puzzle games. Even for those who play the latest first-person shooters, most won't notice lag as significant enough to be distracting. This makes the VPL-VW295ES a good choice for multi-use spaces and all-purpose home entertainment centers.
In Summary: Sony VPL-VW295ES Review
The Sony VPL-VW295ES won't be the best fit for every viewing space. If you have a bright space or smaller room, or if you plan to use the projector for competitive online gaming, you'll want to look elsewhere. However, its superior picture quality gives it excellent performance in a dedicated home theater, and its lag is low enough for most gaming uses. (>>> Check on Amazon)
REFERENCES AND FURTHER READING