A 3-chip projector eliminates the issue images associated with color wheels, providing a more consistent and realistic image ideal for the true home theater afficionado. Looking at the Epson 6050UB vs. Sony VPL-VW295ES, you'll see both utilize this advanced design to deliver a high-quality image for movies, shows and games.
If your main concern is picture quality, the Sony VPL-VW295ES is the superior projector of the two. The Epson 6050UB is more versatile, however, with a brighter lamp, lower lag, and easier installation (>>> Find on Amazon). Let's take a closer look at the features so you can decide which option is better or you.
Epson 6050UB vs Sony VPL-VW295ES Side by Side:
| | Epson 6050UB | Sony VPL-VW295ES |
| --- | --- | --- |
| | | |
| Resolution | 1920x1080 4K w/pixel shifting | 4096x2160 |
| Brightness (Lumens) | 2,600 ANSI | 1,500 ANS |
| Contrast Ratio | 1,200,000:1 | No data |
| Input lag | 23ms | 36ms |
| Throw Distance | 10.3' - 29.4' | 12.3' - 30.1' |
| Screen size | 50" - 300" | 60" - 300" |
| Speakers | No | No |
| Price | ProjectorScreen.com | Check on Amazon |
Installation Ease
The Sony VPL-VW295ES can be a bit tricky to install, especially for an A/V beginner. It needs a hefty ceiling mount with precise height adjustment to compensate for its lack of keystone correction, though it does have a wide vertical lens shift that can help fine-tune the alignment.
While the Epson 6050UB has a similarly long throw distance to the VPL-VW295ES, its wider range of alignment features make it more forgiving when you're setting it up. It also comes with a ceiling mount included, sparing you the hassle of picking a third-party mount to fit it.
Easier installation: Epson 6050UB
Picture Quality
The Epson 6050UB uses pixel shifting to double the resolution of 1080p projectors. Its advanced image technology is built around a 3LCD display, with HDR color processing and Dynamic Iris for exceptional contrast.
As strong as the picture of the 6050UB is, the Sony VPL-VW295ES exceeds it. The SXRD Trluminos Display is even sharper than most true 4K projectors, with three 8.8 million pixel imagers. IMAX enhancement and the Reality Creation engine deliver superior color accuracy and picture depth, and the Motionflow technology eliminates motion blur, so it's just as impressive whether you're watching movies or live sports.
Better picture quality: Sony VPL-VW295ES
Brightness
The 1,500 lumens of the Sony VPL-VW295ES is fine for a dedicated home theater but can't compete with much ambient light. For lights on viewing, the Epson 6050UB puts out about 2,600 lumens. That's enough to cope with indoor lighting, and makes it the better choice for spaces like living rooms where you can't completely control the light level.
Brighter projector: Epson 6050UB
Gaming Performance
For most players, an input lag of around 60ms or less is low enough you won't notice significant lag between your actions and what happens on-screen. The Sony VPL-VW295ES stays within this range, and has a fast processor and other enhancements that help it perform well for graphic-intensive games from the latest consoles.
More serious players look for an input lag of 30ms or less, especially those who play shooters and other reflex-based games online. For these uses, the Epson 6050UB is a better choice, with a lag time in the low 20s and a high contrast that makes it easy to see on-screen details.
Better gaming performance: Epson 6050UB
---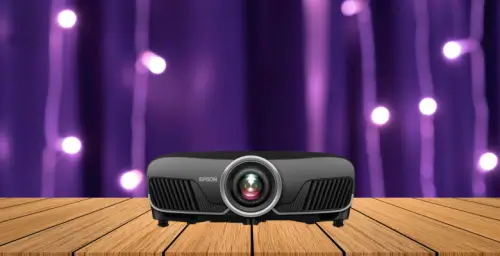 The advanced processors in the Epson 6050UB are its main strength for both home theater and gaming uses. Its PRO-UHD technology uses a 3LCD chip design for accurate artifact-free colors, while the dynamic iris and UltraBlack technology produce a sharp contrast with rich black levels. Since it uses pixel-shifting, the Epson 6050UB has a resolution between 1080p and full 4K—still plenty sharp for most, if not as detailed as a true 4K projector.
These advanced processors also keep the on-screen action smooth, preventing motion blur and other issues from interrupting your content. Its high frame rate makes it a good choice for 3D content and or gaming, with an input lag as low as 23ms even with pixel-shifting enabled.
The Epson 6050UB is made for installation in dedicated home theaters, and its design reflects this. It's on the larger side and will need to be ceiling-mounted in most spaces, with a fairly long throw distance. On the plus side, it comes with a mount so you won't need to buy that separately. It also has a good range of alignment options, including both horizontal and vertical lens shift and a powered 2.1x zoom, so fine-tuning the image isn't much of a hassle.
At 2,600 lumens, the lamp of the 6050UB is bright enough for spaces with some ambient light, though you'll still want black-out curtains if you have a lot of windows. Its range of inputs give it good flexibility for different home theater set-ups, with 2 HDMI ports and 3USB ports as well as network and audio connections, giving it high marks for usability across the board.
Pros
3-chip design for wider, more accurate color gamut
High contrast with UltraBlack enhancement
Responsive enough for gaming
Easy installation with lens shift wide zoom
Advanced digital imaging and HDR processors
Comes with a ceiling mount and spare bulb
Cons
Not as sharp as true 4K
Relatively short lamp lifespan
No built-in speakers
---
Sony VPL-VW295ES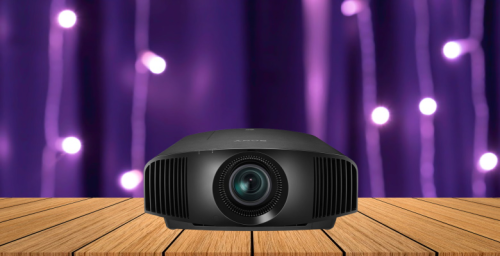 The Sony VPL-VW295ES was one of the first home theater projectors to make SXRD technology accessible to everyday users. Its resolution exceeds the on-screen pixels of most 4K projectors, producing one of the sharpest and most detailed pictures on the market. This is further enhanced by a high dynamic contrast with HDR enhancement and Advanced Reality Creation upscaling, and the Triluminos display produces a wide, accurate color gamut.
While the picture quality of the VPL-VW295ES is strong, you do need a certain kind of viewing area to see its full potential. It's built for large, dark rooms, with a long throw distance and a relatively low lamp brightness. Since it's on the heavier side you'll need to choose your ceiling mount carefully, and will need to be relatively precise in its placement, with no keystone correction to adjust the screen geometry.
The IMAX Enhanced VPL-VW295ES brings movies to life on the big screen, and that's where it's at its best. It can also be used for casual gaming, though its input lag may be a bit high for serious players. Still, this gives it more versatility in terms of its use than most projectors with a similar picture quality.
Pros
True 4K resolution with pixel mapping upscaler
3 SXRD display with HDR color
Smooth on-screen action with Motionflow
Low enough input lag for casual gaming
Wide zoom and lens shift
Cons
Low lamp brightness
No keystone correction
---
The Verdict
Choosing between the Epson 6050UB and the Sony VPL-VW295ES really comes down to how you plan to use it. For straight home theater use, the Sony's sharper resolution and superior color give it an edge. When you consider factors like usability and versatility, though, the Epson 6050UB comes out on top (>>> Check on ProjectorScreen).
REFERENCES AND FURTHER READING: