Do you want to update your home entertainment to a big screen 4K display? A few years ago, that was a luxury reserved for those who could afford a 5-figure price tag, but on today's market there are plenty of options that bring you this sharp resolution at a much more reasonable price. In this review, we'll compare the Epson 6050UB vs Sony VW325ES, two projectors that are at the top of the list when you're looking for an affordable 4K projector. While then Sony 325ES has the better overall picture quality, the Epson 6050UB will be the better choice for many (>>> Check on Amazon), with greater versatility, a brighter lamp, and a slightly lower typical price tag. Let's take a closer look at the key differences.
Epson 6050UB vs Sony VW325ES Side by Side:
| | Epson 6050UB | Sony VW325ES |
| --- | --- | --- |
| | | |
| Resolution | 1920x1080 4K w/pixel shifting | 4096x2160 |
| Brightness (Lumens) | 2,600 ANSI | 1,500 ANSI |
| Contrast Ratio | 1,200,000:1 | 9,000:1 |
| Input Lag | 23ms | 27ms |
| Throw Distance | 10.3' - 29.4' | 12.5' - 30.5' |
| Screen size | 50" - 300" | 60" - 300" |
| Speakers | No | No |
| Today's Best Price | | |
Resolution
The Epson 6050UB uses pixel-shifting technology to enhance its resolution. The result is a resolution roughly halfway between 1080p and 4K, so while it does accept 4K content, it won't necessarily show you the full detail and sharpness.
Conversely, the Sony VW325ES has a resolution that exceeds your typical Ultra HD projector, with 8.8 million on-screen pixels. It also features Sony's Reality Creation upscaling technology, enhancing full HD and lower content to a level of detail that's almost on par with 4K.
Higher resolution: Sony 325ES
Brightness
The Sony 325ES is intended for use in dedicated home theater spaces, and this is reflected in its lamp brightness. At 1,500 lumens, it's not powerful enough to compete with much ambient light, and will struggle in spaces with lots of windows or other light sources.
While the Epson 6050 isn't exceptionally bright, its lamp puts out a consistent 2,600 lumens. That's enough you can use it with the lights on, though you may still need to get some black out curtains for viewing areas with lots of windows.
Brighter lamp: Epson 6050
Installation Ease
Both of these projectors need a lot of space for a big picture—anywhere between 10 and 20 feet for a typical 100" screen, depending on how tightly you set the zoom. The Sony 325ES gives you some options for aligning the image once you have the projector mounted, including 2D lens shift (+/- 31% horizontal and +/- 85% vertical) along with a 2.06X zoom and powered focus with a digital focus optimizer.
The Epson 6050UB takes a slight edge in this category with its broader array of alignment options. This includes a wider 2D lens shift (+/- 47% horizontal and +/- 96% vertical) as well as digital vertical keystone correction.
Easier installation: Epson 6050
Gaming Performance
While neither the Epson 6050 nor the Sony 325ES could be called a true gaming projector, both can be used by casual players. You will need to activate Game Mode with the 325ES to do so—its input lag is upwards of 80ms if you don't toggle input lag reduction, but drops to a more reasonable 27-37ms once that's activated.
The input lag of the Epson 6050 is lower overall, and you won't need to activate any special settings to keep the lag under the 30ms threshold that's considered the standard for reflex-based and online gaming. It also measures around 27ms for gaming in 4K (although, as we said above, the resolution won't quite be at true 4K levels).
Better for gaming: Epson 6050
---
Epson 6050UB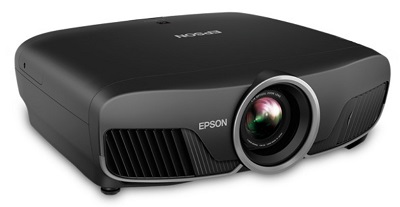 The Epson 6050 uses a 3-LCD chip display with a ZX Digital Imaging Processor and an S2 Pixel Shift engine. In layman's terms, this means bright, vibrant colors with none of the flickering or rainbow effect that can be caused by single-chip displays. While its native resolution is full HD, the pixel-shifting mechanism doubles the on-screen pixels for a resolution that's between 1080p and 4K, and it supports Ultra HD content.
Gamers can use the Epson 6050UB, too. Its measured input lag stays below 30ms even when you're gaming in 4K, so you won't need to worry about blurring, lagging, or frame tearing—you can just focus on your play.
The long throw distance of the Epson 6050 may be an issue for some spaces. You'll need at least 10 feet between the screen and lens for a 100" image (and maybe more, depending on how you set the zoom). On the plus side, it has a good array of options for aligning and adjusting the image, with digital vertical keystone correction, a 2.1X powered zoom, and both horizontal and vertical lens shift. At around 25 pounds, it's also light enough it won't need a heavy-duty ceiling mount. For our more in-depth review of this projector, click here.
Pros
Pixel-shifted 4K resolution
3LCD color with no rainbowing
Excellent image contrast with UltraBlack technology
Responsive enough for most gamers
Good variety of image alignment features
Bright enough for moderately lit environments
Cons
Not a true 4K projector
Long throw distance
---
Sony VW325ES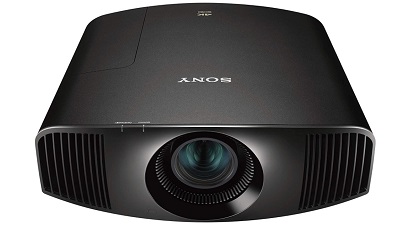 For picture quality, the Sony 325ES is hard to beat in the price range. Its X1 processor, SXRD display, and aspherical lens produce a true 4K resolution with remarkable clarity and detail. Not only does 4K content look great, the Reality Creation engine upscales lower resolution content, so you'll enjoy a sharper picture no matter what kind of content you're watching.
The Sony 325ES is equally impressive when it comes to the color and contrast. The Triluminos technology produces a wide color space, on par with what you'd expect from a professional projector. It also includes Motionflow technology that prevents blurring in fast-paced action sequences, maintaining crisp details when you're watching things like sports or action movies.
Where the 325ES suffers somewhat is its versatility. Its lamp only puts out around 1,500 lumens. That's perfect for a dark room, but it will struggle in spaces with ambient light. Its throw distance is relatively long, as well, and while it's responsive enough for casual gamers, its input lag may be too high for online multi-player or competitive players. For our more in-depth review of the Sony 325ES, follow this link.
Pros
True 4K resolution with Reality Creation upscaling
Exceptional color performance
Dynamic HDR enhancement with digital focus optimizer
Low enough input lag for most gamers
Wide zoom and 2D lens shift
Cons
Lamp isn't suitable for rooms with ambient light
No dynamic iris capability
---
Epson 6050 vs Sony 325ES: The Verdict
If you want a true 4K projector at a reasonable price, the Sony 325ES is an excellent choice. However, the Epson 6050UB out performs it on every metric aside from picture quality (>>> Find on ProjectorScreen), with a more responsive processor, a brighter lamp, and an easier installation. The Epson also has an MSRP that's about $1,500 lower than the Sony, so it's definitely the winner if you're looking for the best value.