There's more to the theater experience than just a big screen. For those who want theater-quality images in their home theater, there are two projectors you want to consider: the JVC DLA-NX5 vs Sony VPL-VW295ES.
While both the JVL and the Sony have native 4K resolution and superb color accuracy, they're not the same across the board. All things considered, the Sony VPL-VW295ES is the superior projector, in our opinion (>>> Find the current price on Amazon). Let's take a closer look at the factors that went into that decision.
JVC DLA-NX5 vs Sony VPL-VW295ES Side by Side:
| | JVC DLA-NX5 | Sony VPL-VW295ES |
| --- | --- | --- |
| | | |
| Resolution | 4K UltraHD | 4K UltraHD |
| Brightness (Lumens) | 1,800 | 1,500 |
| Throw Ratio | 1.26-2.75:1 | 1.36-2.79 |
| Screen size | 60"-200" | 60"-300" |
| Input lag: | 40-50ms | 27-40ms |
| Price | Check on Amazon | Check on Amazon |
Theater-Quality Picture
There are three main ingredients to a theater-quality picture: high resolution, high contrast ratio, and accurate colors. Since both these projectors offer 4K resolution, the decision comes down to color and contrast.
On those points, the Sony VPL-VW295ES excels. While both projectors are HDR compatible, the Sony makes better use of that wide contrast. It also has compatibility for IMAX Enhanced content and uses a more sophisticated color system for a wider range of available hues.
Projector with the better picture: Sony VPL VW295ES
Smooth Action
Eliminating motion blur is especially important for projectors. With the large screen size, action movies can become downright unwatchable if there's blur between frames.
Both the Sony and the JVC employ technology to overcome motion blur. While the Sony's MotionFlow is successful at limiting motion blur, the Motion Enhance feature of the JVC DLA-NX5 does a better job keeping the image sharp and clear while it's in motion. The difference is especially noticeable when watching fast-paced live sports.
Projector with the smoother on-screen movement: JVC DLA-NX5
Input Lag
Anyone who wants to use the projector for gaming should pay close attention to this spec. Generally speaking, the lower the better. Anything under about 30ms is considered to be low input, and suitable for high-graphic and high-speed gaming. Projectors with an input lag between 30ms and 60ms are acceptable for gaming, though not ideal.
While you could play games on either the Sony or the JVC, the input reduction feature on the Sony VPL-VW295ES lowers the input lag to around 27ms. It also provides the same high picture quality for games as for home theater content.
Best projector for gaming: Sony VPL-VW295ES
---
JVC DLA-NX5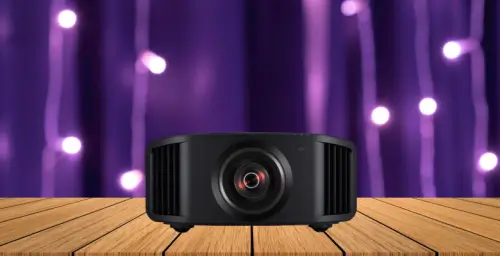 The JVC DLA-NX5 brings stunning realism to larger than life images. It's on the cutting edge of home theater technology, compatible with Hybrid Log-Gamma and HDR technology. You'll get the best resolution currently available and be able to support content as it changes in the future.
One warning: you will need a lot of space to use the JVC DLA-NX5. It needs a lot of throw distance, even compared to other standard throw projectors. The good news is it comes with 9 image adjustment settings for fine-tuning the image to your space. You can access all of them at once in the handy Installation Mode. Thanks to this feature, you don't need to be a tech expert to install the JVC DLA-NX5.
The 4K resolution of the JVC DLA-NX5 applies to all content you play through it. This includes 3D content, which is often neglected by other 4K projectors. The picture's not just sharp, either. The JVC DLA-NX5 produces some of the smoothest action we've seen from a projector, with no blur or detail loss no matter what's happening on screen.
The JVC DLA-NX5 ticks all the boxes you'd expect for a high-end projector. The contrast ratio is on par with movie theater projectors, giving deep blacks with consistent clarity and detail. And it's built to last, too, providing years of big-screen entertainment for your home.
Pros
Can view 3D content in 4K
Auto Tone Mapping for HDR10 content
Motion Enhance reduces motion blur
Easy image adjustment in Installation Mode
Stunning vibrant colors
High native contrast ratio
Cons
Not bright enough to compete with ambient light
Long throw distance requires a large space
---
Sony VPL-VW295ES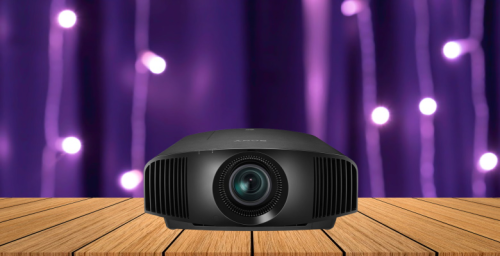 The Sony VPL-VW295ES is designed for use in true home theaters. By that, we mean a large, light-controlled space. In the right room, the Sony VPL-VW295ES is capable of reproducing an IMAX experience right in your home, complete with 4K definition and 3D capability.
The Sony VPL-VW295ES is a beast of a projector that's best utilized in a permanent installation—this isn't a model you'll want to use for backyard movie nights. The throw ratio is standard, and it has both horizontal and vertical keystone adjustment, as well as zoom and lens shift, so you can easily fine tune the image to your space.
Gamers will love the Sony VP-VW295ES, too. With the input reduction feature turned on, the lag drops to as low as 27ms. That's low enough to satisfy even competitive gamers. The Sony VP-VW295ES also has the same 4K resolution and 3D support for gaming as it offers for home theater users. >>>Find a list of best 4k projectors for gaming
Which brings us to the most impressive feature of the Sony VP-VW295ES: the picture quality. Sony thought about every aspect of the image when designing this projector. It uses MotionFlow technology for smoother action and a triluminous color display that produces more hues than standard color wheels. The only place to find a better picture is in a movie theater—and the Sony VP-VW295E even gives some of those projectors a run for their money. Click here for our more in-depth Sony VP-VW295ES review.
Pros
Capable of producing IMAX visuals
Smooth on-screen action for both games and movies
Robust image adjustment features
Enhanced imaging for the sharpest 4K resolution available
Impressive life-like color
Low input lag for gaming
No hot spots or rainbow effect
Cons
Requires light-controlled space
Relatively short lamp lifespan
---
Final Thoughts
Both of these are excellent projectors, but they need the right space to reach their full potential. Before you buy a new projector, take some measurements in your home theater to make sure its dimensions accommodate the screen size you want to achieve. Getting either of these projectors is a big investment, so it's smart to do your research first.
While gamers will definitely prefer the Sony VPL-VW395ES, for watching movies and TV it's a much tighter contest. Some users like the tighter, sharper image of the JVC DLA-NX5, while others prefer the vibrant colors and IMAX-like visuals of the Sony VPL-VW395SE (>>> Find price on Amazon). Our best advice is to check out the picture on both before you make your decision if you're still on the fence after reading the reviews.
REFERENCES AND FURTHER READING: