JVC's DLA line of home theater projectors bring high-end, professional image technology to everyday users. With a sophisticated lens and advanced processor, the DLA-NX5 or DLA-NX7 provide cinema-quality performance ideal for dedicated home theater spaces.
Comparing the JVC NX5 vs. NX7, the JVC NX7 has a higher picture quality and is the better projector based solely on the stats. (>>> Find on Amazon) This doesn't necessarily mean it's the best choice for every buyer, though. Let's take a quick look at how these projectors differ so you can find the perfect one for your needs.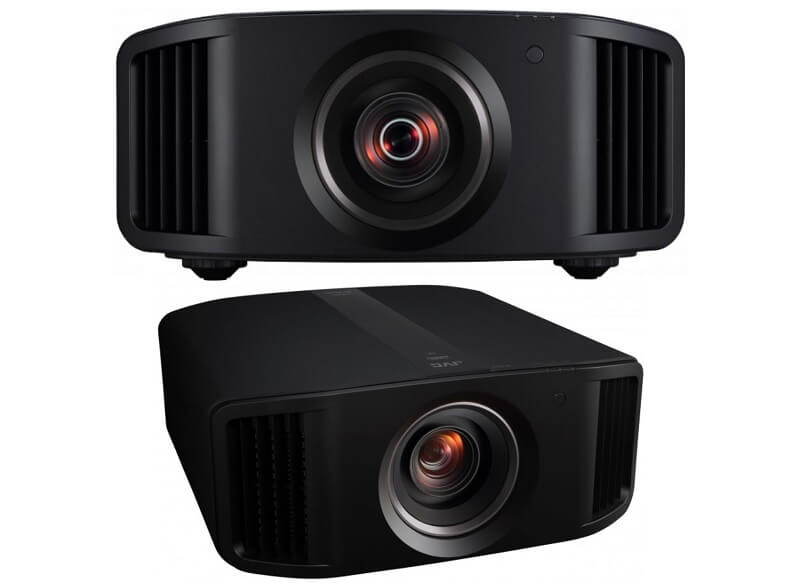 JVC NX5 vs NX7 Side by Side:
| | JVC NX5 | JVC NX7 |
| --- | --- | --- |
| | | |
| Resolution | 4096x2160 | 4096x2160 |
| Brightness (Lumens) | 1,800 ANSI | 1,900 ANSI |
| Contrast Ratio | 400,000:1 | 800,000:1 |
| Input lag | 40ms | 40ms |
| Throw Distance | 12.3' - 20.7' | 12.3' - 20.7' |
| Screen size | 60" - 201" | 60" - 201" |
| Speakers | No | No |
| Price | Check on Amazon | ProjectorScreen.com |
Color
The JVC NX5 supports visual formats like HDR10, and uses image technology such as Automatic Tone Mapping to enhance the color performance. The result is a relatively wide color gamut with a high degree of accuracy.
As strong as the NX5's color is, the JVC NX7 exceeds it. Its color gamut is even wider than the DCI-P3 spectrum, the current high-end standard for cinema color.
Better color: JVC NX7
Contrast
Both the JVC NX5 and NX7 use an advanced lens with Dynamic Iris control to further increase the contrast. The difference is the JVC NX7 uses a dual-iris system, while the NX5 uses a single iris. This gives the NX7 roughly twice the contrast since it can adjust more effectively in response to brightness changes, something you'll especially notice during dark scenes.
Better contrast: JVC NX7
Brightness
You'll want a dim room for both of these projectors since neither one has the lamp power to compete with big windows or bright ambient light. The 2-iris system of the NX7 comes into play here too, though, allowing it to compensate a little better for light pollution and giving it a slightly higher lumen rating of 1,900 ANSI lumens. That's bright enough you can keep a couple of lights on in the room, though you'll still need to use blackout curtains for daytime viewing.
Brighter projector: JVC NX7
Value
Many of the most impressive aspects of the NX7 are also included on the NX5, which retails for a significantly lower price. For those who want the absolute best possible picture quality, that extra expense is worth it. Even the NX5 is a significant improvement over most home theater projectors, however, so it's a more appealing option from a value perspective.
Better value: JVC NX5
JVC NX5 vs NX7: Full Review
JVC NX5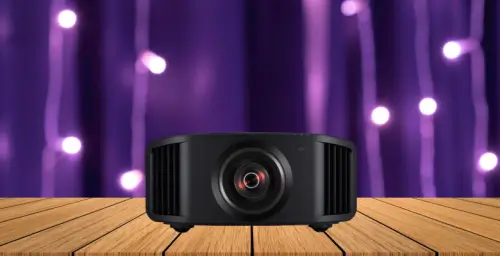 The JVC DLA-NX5 uses a 17-element all-glass lens with Dynamic Iris control. This maximizes the resolution and contrast of the image, giving you an image that's not just true 4K but has some of the best depth and richest black levels you'll see from a home theater projector. The color is equally impressive. It supports HDR10, with Auto Tone Mapping to optimize the picture frame by frame.
The JVC NX5 is a great choice for 3D content, too. It can play multiple 3D formats, including side-by-side and frame packing. The on-screen movement is smooth no matter what you're watching thanks to the improved Clear Motion Drive. Gamers will appreciate this as well, and its input lag is low enough for all but the most serious competitive gamers, even if you're playing reflex-based games on the latest consoles.
Installing the JVC NX5 is relatively easy. Its interface is plug-and-play and functions like keystone correction and lens shift help to fine-tune the alignment. Having said that, this projector is designed for permanent installation in a home theater. It has a fairly long throw distance and its lumen rating is on the low side. The NX5 is a sizeable projector, too, weighing over 40 pounds, something to keep in mind as you're shopping for projector mounts.
Pros
Sharp true 4K image
Supports HDR10 with Automatic Tone Mapping
Clear motion technology for smooth on-screen action
Supports multiple 3D formats
Low enough lag for most gamers
Flexible installation with wide zoom and lens shift
Cons
May be too heavy for some ceiling mounts
Requires a large light-controlled space
---
JVC NX7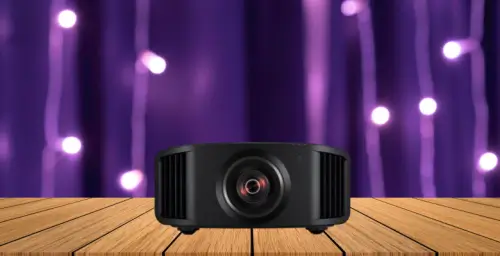 Many of the image specifications of the JVC DLA-NX7 will look familiar. Like the NX5, it uses a 65mm 17-element glass lens, with support for HDR10, HLG, and Automatic Tone Mapping. The NX7 takes the picture quality a step further with a wider color gamut and higher dynamic contrast, for a remarkably life-like image from all content sources that's accurate to the source material thanks to the Multiple Pixel Control processor.
The limitations of the JVC NX7 are similar, as well. While the lamp is slightly more powerful at 1,900 lumens, it's still not the best choice for well-lit spaces, and it's equally bulky at 44 pounds. Adjusting the image is relatively easy as long as you have a room to suit it, but it's more limited in terms of where it will work than other projectors.
One other note about the installation: while it's mostly plug-and-play, some users need to install the 3.1 software update manually. This update improves your control over the image quality, allowing scene-by-scene adjustment. The NX7 will still work without this update but installing it allows you to maximize its exceptional picture quality. Click here for our more in-depth review of the DLA-NX7
Pros
Excellent sharpness and contrast
Supports HLG and HDR10
Vibrant, accurate colors (exceeds DCI-P3 spectrum)
Clear Motion Drive with Motion Enhance
Supports multiple 3D formats in full HD
Low noise level during operation
Cons
May require a software update before installing
Not the best choice for well-lit spaces
---
The Verdict
Choosing between the JVC NX5 and NX7 comes down to your expectations for the picture quality. Both have true 4K resolution and a high contrast, and exceed the performance of most home theater projectors. In the end, though, the expanded color gamut and improved contrast of the NX7 give it a slight edge in this regard. (>>> Check on ProjectorScreen)
That said, the NX5 has an MSRP about $3,000 lower than the NX7. This can make it a more viable option for buyers working in a budget, giving you high-end home theater performance at a more affordable price. Whichever model you go with, prepare to be impressed by the immersive image it produces.
REFERENCES AND FURTHER READING: