Lots of projectors promise a cinema-quality picture for your home theater, but the JVC DLA line is one of the few that delivers on this promise. The NZ7 and NX7 are both licensed by the Imaging Science Foundation, using a sophisticated all-glance lens and 3-chip display that combine for an exceptional overall image quality.
Of course, both of these models also occupy the high end of the price range, so you want to make sure it's right for you before you buy. The 8K-capable NZ7 out-performs the NX7 on most metrics, and will be the better buy for most debating the JVC NZ7 vs. NX7 (>>> Check on Amazon). Let's take a closer look at why and where these two models differ.
JVC NZ7 vs NX7 Side by Side:
| | JVC NZ7 | JVC NX7 |
| --- | --- | --- |
| | | |
| Resolution | 4096x2160 8K w/pixel shifting | 4096x2160 |
| Brightness (Lumens) | 2,200 ANSI | 1,900 ANSI |
| Contrast Ratio | 40,000:1 | 80,000:1 |
| Input Lag | 37ms | 40ms |
| Throw Distance | 12.3' - 20.7' | 12.3' - 20.7' |
| Screen size | 60" - 201" | 60" - 201" |
| Speakers | No | No |
| Today's Best Price | ProjectorScreen.com | ProjectorScreen.com |
Brightness
The 265-watt NSH bulb in the JVC NX7 is rated for 1,900 lumens. That's bright enough for the dedicated home theater spaces it's designed for, but not suitable for well-lit viewing areas. The laser phosphor light source in the JVC NZ7 isn't much brighter, at 2,200 lumens, but that's enough to keep the picture fully saturated in low to moderate light levels.
Brighter lamp: JVC NZ7
Lamp Lifespan
One key advantage of laser light sources over bulbs is that they last longer. The light source in the NZ7 lasts around 20,000 hours on average, and maintains a consistent brightness over the course of its lifespan. Conversely, you can expect the bulb in the NX7 to last 3,500-4,500 hours on average, and you'll likely notice some dimming as it ages, even before it burns out.
Longer lamp lifespan: JVC NZ7
Resolution
Both the NZ7 and NX7 have a native resolution of 4K. The difference here is that the JVC NZ7 has a pixel-shifting engine, effectively doubling the on-screen resolution. It also accepts 8K content, where the NX7 maxes out at 4K. This isn't a huge concern for the present since most content maxes out at 4K, as well, but does give the NX7 a long-term advantage, ready to do full justice to 8K content as it becomes more widely available.
Higher resolution: JVC NZ7
Color and Contrast
The 6-axis Color Management System used in both these JVC projectors gives them a wide color gamut and impressive realism and accuracy. In addition, both support HDR dynamic tone mapping and Frame Adapt HDR, with dynamic iris contrast for superior sharpness.
Where the JVC NX7 takes the slight edge is its optical sensor. This allows for automatic calibration, optimizing the color space and balance to match the content. It also has an ISF C3 mode that calibrates the picture to the viewing environment, ensuring you'll see your shows and movies at their best.
Better color and contrast: JVC NX7
Installation
The initial installation of the NX7 and NZ7 is nearly identical. Both have a powered lens with horizontal and vertical lens shift, and a similarly long throw distance. Design-wise, they're also equally hefty, and will require a heavy-duty mount. On the plus side, both include an Installation Mode that gives users access to a host of adjustment options.
The JVC NZ7 offers 10 memory slots for installation settings, something you won't get with the NX7. This is helpful for those using multiple content sources since you can quickly switch between them, rather than changing your settings manually every time.
Easier installation: JVC NZ7
---
JVC NZ7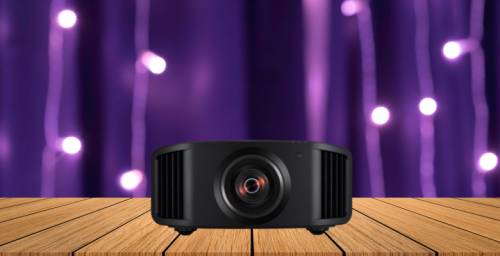 The JVC NZ7 gives users a truly cinema-quality image in the comfort of their home theater. It has a native resolution of 4K, which it doubles to 8K quality through the use of JVC's proprietary 2-direction e-shift technology. The BLU-Escent light source and 17-element all-glass lens give it contrast and clarity to match the resolution, while the 3 D-ILA chip display supports the entire DCI-P3 color gamut, with support for HDR10+ tone mapping and Frame Adapt HDR to ensure optimal color, contrast, and clarity for all content.
The JVC NZ7 does have some limitations as far as what rooms it works best in. Its throw distance is on the long side, needing 13-14 feet for a 100" screen depending on your other settings. As to the light level, its 2,200-lumen lamp works well in low to moderate light levels, but you will need light control in brighter spaces. It also requires the use of external speakers since none come built in.
These limitations aside, the NZ7 has a relatively flexible installation. The motorized lens includes a powered 2x zoom and both horizontal (+/- 34%) and vertical (+/- 80%) lens shift. Installation Mode lets you adjust 8 settings, including the keystone, aspect, and pixel adjustment. These settings can be saved to one of the 10 memory slots, letting users quickly change settings to match their content.
Pros
Supports resolutions up to 8K
HDR10+ and Frame Adapt tone mapping
Wide color gamut and Color Management System
10 memory slots for saving image and alignment settings
Low enough input lag for casual gamers
Flexible installation with lens shift and wide zoom
Cons
No built-in speakers
Long throw distance
---
JVC NX7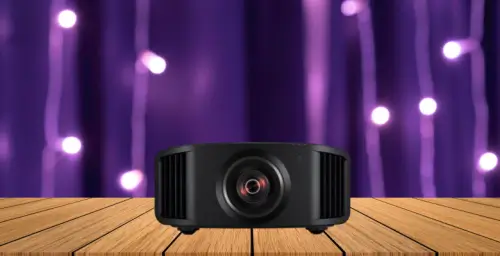 The JVC NX7 uses the same 17-element lens as the NZ7 above, and is similarly impressive from a picture quality standpoint. Its color gamut exceeds the DCI-P3 spectrum, with HDR10 Auto Tone Mapping to optimize the hues and ensure the accuracy of the signal. A high native contrast ratio means rich black levels and impressive image depth and texture. The only place it falls short of the NZ7 from a picture standpoint is its resolution, which maxes out at 4K since it lacks a pixel-shifting engine.
The NVC NX7 uses a NSH bulb lamp that puts out around 1,900 lumens. That's ideal for a dedicated home theater space but will struggle in well-lit areas, especially natural light from any windows. It also has a long throw distance and weighs over 40 pounds, heavier than the maximum weight limit of many ceiling mounts.
As long as you have the space and accessories to support it, though, the NX7 has a similarly flexible installation to the NZ7, with the same 2D lens shift and 2x powered zoom. The built-in optical sensor allows for automatic tone mapping, optimizing settings like the color balance and gamma characteristics in real time. The 9 settings in Installation Mode still give you control to manually adjust the picture if you'd prefer. For our more in-depth review of the JVC NX7 click here.
Pros
Sharp, high-contrast true 4K image
Wide color gamut with advanced color management system
Automatic real-time tone mapping with optical sensor
Wide zoom and 2D lens shift
Suitable for casual gaming
Cons
Shorter lamp lifespan
No 8K resolution
---
The Verdict: JVC NZ7 vs NX7
If your goal is to get the absolute best picture quality for your content, the JVC NZ7 is the better choice (>>> Find on ProjectorScreen). While it lacks automatic tone mapping, you can still get the same optimized color and contrast if you know how to adjust the settings manually, and its 8K resolution will become more of a factor as technology continues to advance. It's also brighter, with a longer-lasting lamp, so while it's a bit more expensive than the NX7, it's a smarter long-term investment.