The JVC NX7 is a high-end projector designed for use in dedicated home theaters. By the stats, it's definitely impressive. But does it live up to those expectations—and is it worth the relatively high price tag it carries? We'll answer those questions in this JVC NX7 review. Overall, it fulfils its promise to deliver a cinema-quality picture for the home theater, but it does have some limitations that you'll want to be aware of before you bring it home. (>>> Check on Amazon)
JVC NX7 Review of Main Specs:
| | JVC NX7 |
| --- | --- |
| | |
| Resolution | 4096x2160 |
| Brightness (Lumens) | 1,900 ANSI |
| Contrast Ratio | 800,000:1 |
| Input Lag | 40ms |
| Throw Distance | 12.3' - 20.7' |
| Screen size | 60" - 201" |
| Speakers | No |
| Price | ProjectorScreen.com |
Installation and Flexibility
The JVC NX7 is plug-and-play and ready to start using right out of the box. It also has a good range of image adjustment and alignment options, with a wide 2x manual zoom and both horizontal and vertical lens shift. This gives it a good amount of flexibility for set-ups where the projector can't be completely centered on the screen.
Unfortunately, the JVC NX7 is more limited when it comes to its flexibility across different types of spaces. It performs best in large rooms with good light control measures. Partially this is due to its longer throw distance—you'll need at least 10 feet of distance for a 100" screen, and potentially as much as 20 feet, depending on the lens settings. It's not a particularly bright projector, either, putting out around 1,900 lumens. That's ideal for dark spaces, and can still work in low levels of ambient light, but will start to lose contrast and depth if there's too much light in the room.
There are no speakers built in to the JVC NX7, another side effect of it being intended for dedicated home theater spaces—typically these spaces already have a surround sound system (or plans to install one), so the speakers on the projector are useless. For those who don't already have speakers that will work, that's something you'll want to factor into your budget.
Pros
High-quality 17-element all-glass lens
Native 4K resolution with high dynamic contrast
Full HDR10 support with tone mapping
Color gamut exceeds the DCI-P3 spectrum
Wide lens shift and zoom for easier installation
Low enough input lag for casual gaming
Supports 3D content in full HD
Cons
Not the best choice for use in rooms with ambient light
No built-in speakers
Picture Quality
This is where the JVC NX7 is really impressive, exceeding the performance of even many cinema projectors. It uses a triple .69" D-ILA display and all-glass 65mm lens. Together, these produce a remarkably detailed picture with rich black levels that give the picture more depth.
The color production of the JVC NX7 is equally impressive. Its capable of producing more hues than even the DCI-P3 color space that's the cinema standard. Support for HLG and HDR10 with Dynamic Tone Mapping ensures the picture's hues are accurate to the source material, playing content the way it was meant to be viewed.
The D-ILA design also makes this a responsive projector and it performs well for fast action sequences. It uses a combination of Clear Motion and Motion Enhance technology to prevent motion blur and keep the image sharp no matter what's happening on screen. The JVC NX7 also supports 3D content, playing it in full HD, so it's a versatile projector when it comes to what content you can watch with it.
Gaming Performance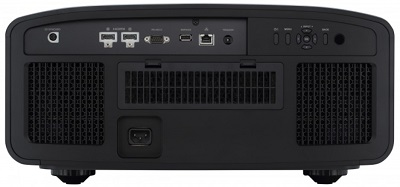 Serious gamers look for an input lag of 30ms or lower but for more casual players, anything under about 60ms is responsive enough to play without any noticeable lag. The input lag of the JVC NX7 measures around 40ms—just outside the range for competitive gaming but definitely within the acceptable range for most people.
The high processing power and anti-blur technology used in the JVC NX7 are helpful when you're gaming, too. It's not prone to frame tears, color blocking, or other annoying image issues. While it's primarily a home theater projector, its gaming performance is high enough to use in media rooms and other multi-use spaces.
The Verdict: JVC NX7 Review
It's easy to get immersed in movies, games, and TV shows you play through the JVC NX7. Its picture quality is one of the best you'll find from a consumer projector—as long as you have a space that will support it. (>>> Check the current price on ProjectorScreen)
REFERENCES AND FURTHER READING: