If you're setting up a luxury home theater, you're willing to pay a bit more to get the absolute best equipment. The projectors in JVC's DLA line are made with just this use in mind, with superior craftsmanship and theater-quality color, contrast, and resolution. But what's the difference between the JVC NX7 vs. NX9—and which one is best for you?
The short answer to this question is that the NX9 is essentially an upgraded version of the NX7, with a sharper resolution and more sophisticated lens and lamp. While this makes the NX9 the better projector overall, the picture quality of the NX7 is still leaps and bounds above what you'll get from most home theater projectors.
Let's take a more in-depth look at the main differences between them before we get into the full reviews.
JVC NX7 vs NX9 Side by Side:
| | JVC NX7 | JVC NX9 |
| --- | --- | --- |
| | | |
| Resolution | 4096x2160 | 4096x2160 |
| Brightness (Lumens) | 1,900 ANSI | 2,200 ANSI |
| Contrast Ratio | 80,000:1 | 100,000:1 |
| Input Lag | 40ms | No data |
| Included Lens | 2x manual zoom | 2x manual zoom |
| Throw Distance | 12.3' - 20.7' | 11.9' - 19.9 |
| Screen size | 60" - 201" | 60" - 200" |
| Speakers | No | No |
| Price | ProjectorScreen.com | ProjectorScreen.com |
Resolution
The current highest resolution available for home theaters is 4K Ultra HD. With roughly 8.3 million on-screen pixels, this resolution is about 4 times sharper than full HD. While content today maxes out at 4K, the next evolution in the pipeline is 8K, which doubles the on-screen pixels of 4K.
Both the JVC NX7 and NX9 play 4K content, but the NX9 uses technology known as pixel shifting to double the on-screen pixels for even more detail.
Highest resolution: JVC NX9
Brightness
For a dedicated home theater with complete light control, a lamp brightness of around 1,500-2,000 lumens is ideal—bright enough for a saturated picture but not so bright it hurts your eyes in a dark viewing area. Once you introduce ambient light to the space, you'll need a more powerful lamp—between 2,000 and 3,000 lumens for low to moderate light levels, and as much as 3,500 lumens or more in bright spaces.
The lamp of the JVC NX7 is rated at around 1,900 lumens. That's great for a dark space but not ideal if you want to keep the lights on. The 2,200-lumen lamp of the JVC NX9 gives you more flexibility in this regard and can be used in rooms with low indoor lighting without impacting the picture quality.
Brightest lamp: JVC NX9
3D Performance
Both the NX7 and NX9 support 3D content at full HD resolution. The JVC NX7 comes 3D ready and is made to work with 3D systems like the Nvidia Shield. In contrast, you can play 3D content on the NX9 without extra accessories, and it also supports more 3D formats.
Best 3D performance: JVC NX9
Installation Ease
The JVC NX7 has the image adjustment features you'd expect from a high-end projector, with a powered zoom and focus as well as vertical keystone correction for adjusting the geometry and lens shift for centering the image to the screen. This gives it a relatively flexible installation.
Where the JVC NX9 takes the edge here is with its Installation Mode. This simplifies the set-up, guiding you through the process of aligning and optimizing the image. Along with that, the 10 memory settings let you save customized picture settings so you can quickly switch them to suit the kind of content you're watching.
Easier to install: JVC NX9
JVC NX7 vs NX9: Full Reviews
JVC NX7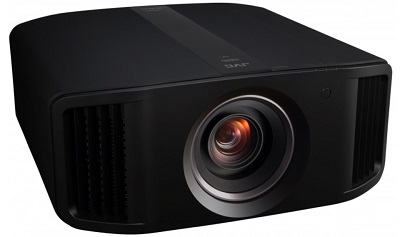 The JVC NX7 is an exceptional projector for a high-end home theater. You'd be hard pressed to find a projector that can match its picture quality on the home projector market. This starts with its advanced 17-element 65mm lens with Dynamic Iris for enhanced contrast. The 10-bit 3-chip color processing gives you more hues than other projectors for more nuanced and realistic color. HDR10 Tone Mapping ensures what you see is true to its source material.
Keep in mind the JVC NX7 is built for permanent installation in a dedicated home theater. It's a bulky projector, weighing over 40 pounds, so once you get it in place you probably won't want to move it. The throw distance and lamp are optimized for a large space with good light control and it doesn't have any speakers, instead meant to work well with surround sound systems. It has a good amount of installation flexibility, with vertical keystone, horizontal and vertical lens shift, and a powered focus and zoom. When it comes to versatility for different spaces, though, it does have limitations.
As long as you have the space to support it, the JVC NX7 is a great choice. Its immersive high-contrast and high-resolution picture will make movies look as good as they would in a commercial theater and it plays 3D movies in full HD. You can even use it for casual gaming thanks to the Clear Motion Drive with Motion Enhance optimization and acceptably low input lag, a feature that's lacking from many high-end home theater projectors. Click here for our more in-depth review of the JVC NX7.
Pros
17-element all-glass lens
Supports HDR10 with automatic tone mapping
Exceeds color gamut of DCI-P3 spectrum
Full HD 3D
Wide 2x zoom and 2D lens shift
Low enough input lag for casual gaming
Cons
No built-in speakers
Not a great choice for small or well-lit spaces
---
JVC NX9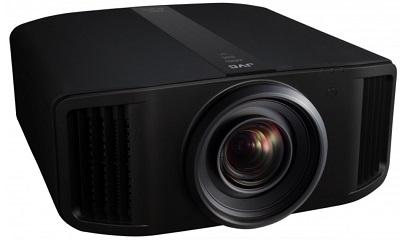 The JVC NX9 is the first home theater projector capable of image resolutions beyond 4K. While it doesn't accept 8K input, it uses e-shift technology to play 4K content at 8K resolutions for an even sharper, more detailed image. Along with that, it uses the same wide color gamut and Auto Tone Mapping as the NX7, with a high native contrast and a brighter lamp to give the image full, even saturation.
Like the NX7, the JVC NX9 is intended for use in dedicated home theater spaces. It offers a bit more versatility on that front, however, with a more powerful lamp and more sophisticated 18-element lens array. While you'll still want to limit ambient light, you don't need to keep the room completely dark to get a great picture. Its Installation Mode is a handy feature here, too, with 10 user-customizable picture setting presets so you can easily choose the right one for your content.
The JVC NX9 supports multiple 3D formats, with a 3-pin 3D-compatible input built in, no need to buy a transceiver. Its Clear Motion Drive prevents blur from all content sources, something you'll particularly notice during live sports, 3D movies, and video games. The hand-picked components and high construction give it a great long-term performance, too, though you will need to replace the bulb fairly often. Its maximum lifespan s around 4,500 hours, even in low-energy modes. Click here for our more in-depth JVC NX9 review
Pros
8K resolution
Accurate, vibrant colors with high contrast
100mm 18-element all-glass lens
Smoother on-screen action with Motion Drive
Installation Mode with customizable pre-sets
Supports Top/Bottom, Side-by-Side, and Frame Packing 3D formats
Cons
Relatively short lamp lifespan
High cost
---
What's the Verdict?
Both the JVC NX7 and NX9 have the performance and build quality you want in a high-end home theater. Looking just at their features and picture quality, the JVC NX9 is hands down the best projector. It's also about twice the price, though, and could be outside your budget even if you're setting up a luxury home theater.
If you're looking for 8K resolution, there's no substitute for the JVC NX9 (>>> Check current price on ProjectorScreen). Having said that, the color and contrast of the NX7 are equally impressive, making it an equally great centerpiece for any cinema-quality home entertainment set-up.
REFERENCES AND FURTHER READING: