The JVC DLA-NX9 is the first home theater projector to hit the market capable of producing 8K resolutions. It's impressive in other areas, as well, with exceptional color performance, an intuitive installation, and a high build quality. In short, the JVC NX9 is a high-end home theater projector—and it's priced to match, with an MSRP on par with what you'd pay for some compact cars. That makes it especially important to know if it's the right model for you before you buy. Let's take a look at its features and performance so you can answer that question!
(>>> Check the current price on Amazon)
JVC NX9 Review of Main Specs:
| | JVC NX9 |
| --- | --- |
| | |
| Resolution | 4096x2160 8K w/pixel shifting |
| Brightness (Lumens) | 2,200 ANSI |
| Contrast Ratio | 100,000:1 |
| Included Lens | 2x manual zoom |
| Throw Distance | 11.9' - 19.9' |
| Screen size | 60" - 200" |
| Speakers | No |
| Price | ProjectorScreen.com |
Room Flexibility
The JVC NX9 is made to use in dedicated home theaters, and this is reflected in its design. It's a bulky projector, first of all, weighing 48 pounds—not an issue in a permanent installation, though potentially an issue for those who want a more portable projector. Similarly, the throw distance of the JVC NX9 is on the long side. You'll need at least 10 feet of distance for a 100" screen. Like the weight, this won't be an issue for most home theater spaces, but it's something to keep in mind if you have a smaller or oddly-shaped room. One advantage the NX9 has over other projectors in JVC's catalog is a brighter lamp. It puts out 2,200 ANSI lumens, which is enough to compete with low to moderate light levels without any washout or picture issues. This gives it more flexibility for use in living rooms and other multi-use spaces. You'll still need to use blackout curtains if your space has a lot of windows, but it's not as sensitive to ambient light as other high-end projectors.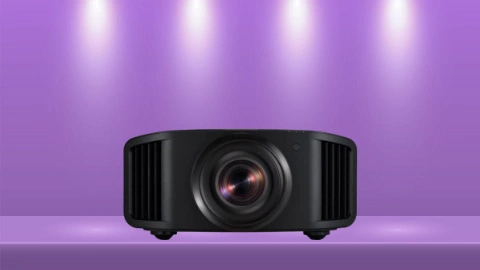 Pros
100mm 18-element all-glass lens
4K resolution with 8K e-shifting
Wide color gamut with Auto Tone Mapping
10 customizable lens settings in Installation Mode
Flexible installation with zoom and lens shift
Bright enough for use in moderate light conditions
Supports multiple 3D formats
Cons
May be too heavy for some ceiling mounts
Long throw distance
Installation Ease
The JVC NX9 has a plug-and-play installation for the software. You can fiddle with the picture settings if you want to, but you can get an exceptional picture just plugging it in and turning it on. It also has a dedicated Installation Mode, with 10 memory slots where you can save your picture and alignment settings, so you can easily switch from one mode to another to match your content. Aligning the image with the screen is also fairly straightforward using the JVC NX9. It has a broad lens shift (up to 100% vertical and 43% horizontal) along with a manual 2x zoom and vertical keystone correction. This gives you a lot of flexibility when you're aligning the image to the screen and makes it easier to achieve your ideal set-up.
Picture Quality
This is where the JVC NX9 really shines. To start with, it has the sharpest resolution of any home theater projector, with a native 4K resolution that can be expanded to 8K through pixel shifting technology. While it can't accept 8K input, that's not an issue yet, since 4K is the current cinema standard. The color of the NX9 is exceptional, as well. It supports both HLG and HDR10 to ensure the accuracy of the content, with 10-bit color processing and a wide color gamut that exceeds even the DCI-P3 spectrum that's used in professional contexts. The addition of Automatic Tone Mapping further optimizes the color within each frame. The JVC NX9 also has one of the highest native contrast ratios you'll find among home theater projectors. Combined with the impressive resolution, the picture is remarkably sharp and detailed, with excellent depth and rich black levels. Clear Motion Drive and Motion Enhanced technology keep the picture equally sharp during quick action sequences, with no motion blur, frame tearing, or other annoying issues.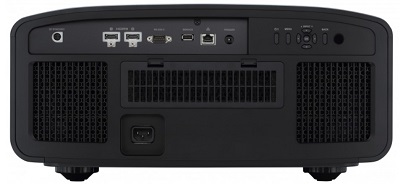 JVC NX9 Review: The Bottom Line
The JVC DLA-NX9 is an exceptional projector. The picture is immersive and high-quality at all screen sizes, effectively replicating the movie theater experience in your home. Its build quality matches its technology, and the full 4K support with 8K upscaling means it won't become outdated for years to come. The obvious downside is that the
NX9
is also an investment. That said, it's in the same price category as other high-end projectors, so it more comes down to your expectations and budget range. We hope this review has helped you decide if you're ready to take the plunge.
(>>> Check on ProjectorScreen)
FAQ:
What is the native contrast of JVC NX9?
The JVC NX9 has a native contrast ratio of 100,000:1  & dynamic of 1000,000:1.
What is the warranty on a JVC DLA NX9?
The JVC offers an Advanced 3 Year Warranty for this projector.
REFERENCES AND FURTHER READING: