With the advancement of technology, 8K resolution is quickly becoming the new standard for high-quality displays. For those looking to bring the ultimate viewing experience to their home theater, a 8K projector is the way to go. However, with so many options available, it can be difficult to know which one to choose. In this article, we will provide a comprehensive guide to help you find the best 8K projector.
If you're looking for 8K resolution in 2023, JVC is the brand you'll want to check out. Their DLA line of 8K-ready projectors give high-end home theater owners several appealing options to choose from. Performance-wise, the DLA-NZ9 is the clear winner—if your budget can handle it (>>> Check on Projectorscreen). Let's take a closer look at how these models stack up side-by-side.
Best 8K Projector 2023 – Top Picks:
| | JVC DLA-NZ7 | JVC DLA-NZ8 | JVC DLA-NZ9 | JVC DLA-NX9 |
| --- | --- | --- | --- | --- |
| | | | | |
| Resolution | 4096x2160 8K w/pixel shifting | 4096x2160 8K w/pixel shifting | 4096x2160 8K w/pixel shifting | 4096x2160 8K w/pixel shifting |
| Brightness (Lumens) | 2,200 ANSI | 2,500 ANSI | 3,000 ANSI | 2,200 ANSI |
| Contrast Ratio | 40,000:1 | 80,000:1 | 100,000:1 | 100,000:1 |
| Input Lag | 36ms | 38ms | 38ms | 35ms |
| Throw Distance | 12.3' - 20.7' | 12.3' - 20.7' | 11.9' - 19.9' | 11.9' - 19.9' |
| Screen size | 60" - 201" | 60" - 201" | 60" - 200" | 60" - 200" |
| Speakers | No | No | No | No |
| Today's Best Price | ProjectorScreen.com | ProjectorScreen.com | ProjectorScreen.com | ProjectorScreen.com |
Brightness
The 2,200 lumens produced by the NZ7 and NX9 is enough for a dedicated home theater space or other dim viewing areas, but will struggle in bright rooms. The DLA-NZ9 is more powerful, at 3,000 lumens, which is bright enough for use in the majority of indoor lighting environments.
Brightest projector: JVC DLA-NZ9
Picture Quality
All of these JVC models blow the typical home theater projector out of the water, and not just because of their 8K resolution. In terms of their relative comparison, however, you'll get the sharpest contrast and most brilliant color performance from the DLA-NZ9 and DLA-NX9.
Both utilize advanced tone mapping, with automatic picture optimization and Motion Enhance technology to ensure you're seeing all content at its best.
Highest picture quality: JVC DLA-NZ9, JVC DLA-NX9
Price
All of these projectors are designed for high-end home theaters and have a price tag that reflects this. Between them, however, the NZ7 has the lowest price by far and is comparatively the most affordable way to bring 8K resolution into your home theater.
Lowest price: JVC DLA-NZ7
---
JVC DLA-NZ7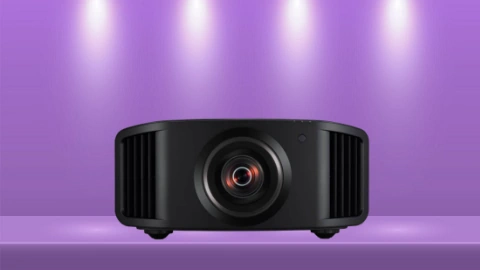 Pros
8K content support and display
High image contrast with wide color gamut
Frame Adapt and HDR10+ dynamic tone mapping
Installation mode with 10 memory presets
Low enough input lag for casual gamers
Flexible installation with zoom and lens shift
Ideal brightness for moderately-lit spaces
Cons
Needs a lot of space for a big picture
Not suitable for bright spaces
The JVC DLA-NZ7 uses a BLU-Escent laser phosphor light source, paired with a 3-chip D-ILA display and an all-glass 15-group lens. This combination of technology produces a sharp and highly detailed image, no matter what resolution your content is intended for.
Its color performance is especially impressive, with coverage of the DCI-P3 color space and two dynamic tone mapping options through HDR10+ or JVC's Frame Adapt HDR.
Thanks to this technology, the content you see is optimized to your space and the source signal, for an accurate, realistic image every time.
Now, like all of the projectors on this list, the DLA-NZ7 is a hefty piece of equipment, weighing just under 50 pounds. It also needs a lot of space to operate, with a throw distance that's on the long side even compared to most standard-throw projectors.
With its 2,200-lumen lamp, the DLA-NZ7 is at its best in low to moderate light conditions. While it may struggle in particularly bright spaces, it doesn't require a fully dark room to produce a clear picture.
As another plus, it's responsive enough for casual gaming, with an input lag of around 36ms and a 120Hz refresh rate for full HD content. For our more in-depth review of the JVC NZ7, click here.
---
JVC DLA-NZ8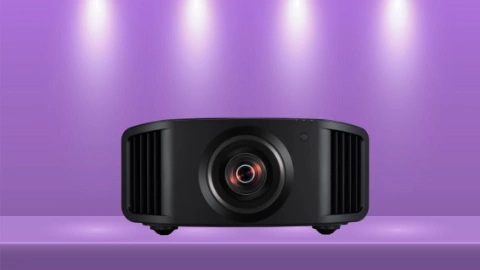 Pros
Exceptional native contrast
6-axis color management system with HDR tone mapping
Good lamp brightness for most indoor spaces
8 Installation Mode settings with 10 memory presets
Lens shift and zoom give it a flexible installation
Responsive enough for casual gamers
Cons
Long throw distance
Steep price increase for the performance improvements it offers
The next model up in JVC's 8K projector lineup is the DLA-NZ8, which uses a similar lens and 3-chip D-ILA display to the NZ7 but with extra technology that improves the picture even further.
It also has a Low Latency Mode that drops the input latency down to a reasonable range for casual gamers, with a 120Hz refresh rate for both full HD and Ultra HD content for smooth, blur-free on-screen movement.
From a picture standpoint, image contrast is the biggest improvement with the DLA-NZ8. Its native contrast is double that of the NZ7, and this is further enhanced with Infinite Black dynamic contrast technology. This means noticeably richer black levels, even in rooms with some ambient light, as well as better image depth and texture for a more immersive viewing experience.
While the JVC DLA-NZ8 still uses a laser phosphor light source, it's more powerful than the one on the NZ7, producing a consistent 2,500 lumens. This gives it a higher picture quality in spaces with ambient light, making it a better choice for lights-on viewing.
The 8 Installation Mode settings give users a lot of control over the picture and alignment settings, with memory slots that let you save customized profiles specific to different rooms or types of content. Along with these settings, it offers the same powered zoom, focus, and lens shift as the NZ7.
---
JVC DLA-NZ9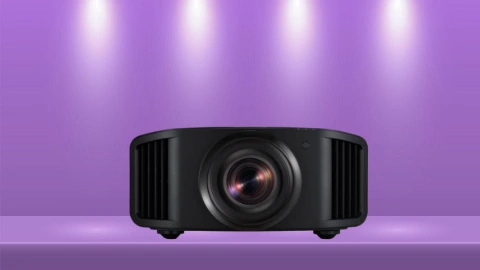 Pros
Phenomenal contrast with automatic HDR10+ optimization
Advanced color management with automatic calibration
Ideal lamp brightness for lights-on viewing
8 Installation Mode settings with 10 memory slots
Shorter throw and wider lens shift than other models
Suitable for casual gaming with 4K/120Hz refresh rate
Cons
High cost, even compared to other 8K projectors
The top-of-the-line model released by JVC in early 2022 is the DLA-NZ9. It offers the most space versatility of the brand's 8K projectors. The lamp is more powerful, for one thing, with a 3,000-lumen brightness that keeps the picture fully saturated even in well-lit rooms.
The throw distance is also slightly shorter and its lens shift is broader (+/-43% horizontal and +/-100% vertical), expanding its installation flexibility.
The JVC DLA-NZ9 is designed for those who want the best possible picture quality in their home theater, and it delivers on this promise. Its wider 100mm 18-element lens produces an even sharper picture with a higher contrast, and HDR10+ content is automatically reproduced using the signal metadata to ensure it displays true to the producer's intent.
It uses a similar DCI-P3 Cinema Filter and Frame Adapt tone mapping to the NZ8, but adds an Auto-Calibration Function that tracks the color and other image settings and optimizes them in real time. The Clear Motion Drive and Motion Enhance technology is also improved, for smoother action and movement when playing Ultra HD content.
For our more in-depth review of this projector, click here.
---
JVC DLA-NX9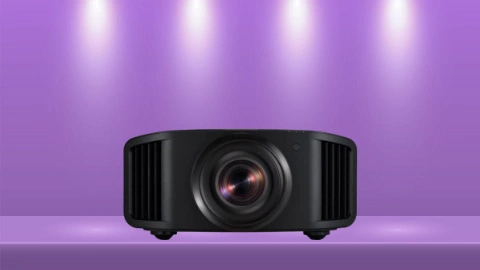 Pros
Incredible sharpness with advanced 10mm lens array
Upscaling for 4K and full HD content
DCI-P3+ color gamut with automatic tone mapping
Motion Enhanced and Clear Motion Drive for smooth action
Wide lens shift and zoom for flexible installation
Reasonable input lag for casual gamers
Cons
Significantly shorter lamp lifespan
Not suitable for bright spaces
Released in late 2018, the JVC DLA-NX9 was one of the first home theater projectors to offer 8K resolution. The biggest difference compared to JVC's NZ models is that the DLA-NX9 uses a NSH bulb instead of a laser to produce the image.
Its brightness is comparable to the NZ7, ideal for dim rooms and usable with some ambient light, though not ideal for well-lit spaces. It's much less durable, however, with a maximum lifespan of around 4,500 hours, compared to the 20,000 hours or more you can expect from a laser phosphor light source.
The main advantage of the JVC DLA-NX9 is that it produces a similarly stunning picture to the NZ9 but at the lower price point of the NZ8. Its 100mm all-glass lens matches the NZ9 for sharpness and contrast.
Its broad color gamut exceeds the DCI-P3 space and users can easily optimize the color performance with the Auto Tone Mapping function. Gamers will appreciate the low latency mode and Clear Motion Drive that prevents on-screen blur.
JV DLA-NX9 also performs similarly to the NZ9 when it comes to the installation. The 9 Installation mode settings and powered lens with zoom and lens shift make it relatively easy to install compared to other projectors of its caliber.
---
So What's the Best 8K Projector Available Today?
Since 8K resolution is still relatively new technology, the projectors that offer it are still limited—and tend to cost a pretty penny.
Choosing which 8K projector to buy ultimately comes down to your budget and how much you're prepared to spend for the picture quality you need. If money is no object, the JVC DLA-NZ9 is the best model you can buy (>>> Check on Projectorscreen).
REFERENCES AND FURTHER READING: