Are you looking for a projector suitable for a high-end home theater? The JCV NZ8 represents a new wave in home theater projectors, with pixel-shift technology that gives it a resolution sharper than 4K and exceptional color and contrast for all types of content. It also doesn't come cheap, though, with an MSRP of about $15K. So is it worth the price? We'll answer that question and check out all the details in this JVC NZ8 review (>>> Check on ProjectorScreen.com).
JVC NZ8 Review of Main Specs:
| | JVC NZ8 |
| --- | --- |
| | |
| Resolution | 4096x2160 8K w/pixel shifting |
| Brightness (Lumens) | 2,500 ANSI |
| Contrast Ratio | 80,000:1 |
| Throw Distance | 12.3' - 20.7' |
| Screen size | 60" - 201" |
| Speakers | No |
| Today's Best Price | ProjectorScreen.com |
Picture Quality
The NZ8 uses the same 18-element, all-glass lens that you'll find on the previous generation of JVC luxury home theater projectors. This starts the picture with an exceptional amount of clarity and detail, optimizing the light output to maintain consistent sharpness across the image.
Where the JVC NZ8 exceeds previous models is its resolution. The native 4K resolution is paired with a pixel-shifting engine that uses a 120H, two-phase pixel shift, producing roughly 17.7 million discreet on-screen pixels. This means you'll get the full detail of 8K input you play through the NZ8 and brings even more detail to lower-resolution content. For more 8K projector options, click here.
The contrast and color of the NZ8's image are equally exceptional. Its Cinema Filter and 3 D-ILA display produces a color gamut wider than the DCI-P3 spectrum that's the current professional cinema standard. Combined with the infinite dynamic contrast, this means a realistic picture with exceptional texture and depth. Technology like dynamic HDR10+ tone mapping and Frame Adapt HDR further optimize the picture, for the sharpest, most accurate image you'll find from a home theater projector.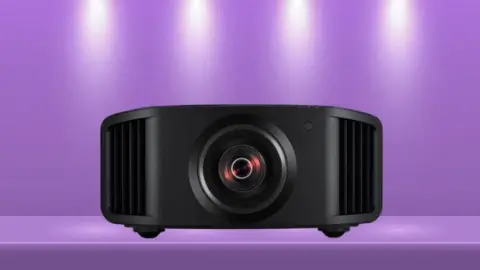 Pros
8K e-shift with HDR10+ support
Wide color gamut (exceeds DCI P3 spectrum)
Dynamic HDR tone mapping
Automatic calibration with built-in sensor
10 lens and installation memory settings
4K/120Hz input with low latency for gamers
Full HD 3D support
Long lamp lifespan and fast lamp startup/shutdown
Cons
Long throw distance
Weight is too high for many projector mounts
No built-in speakers
Space Requirements
The JVC NZ8 is intended for use in dedicated home theaters, and this is reflected in its design. The first thing you'll notice is that it's a hefty machine, weighing more than 50 pounds. That can make it tricky to choose a suitable mount since many top out at a weight limit of around 30 pounds.
Most users will find a mount necessary for their installation, too. The throw distance of the NZ8 is long even compared to other standard-throw projectors. In the average set-up, you'll need about 14 feet for a 100" screen, and as long as 20 feet depending on your picture settings.
That long throw also makes the NZ8 susceptible to light pollution. The lamp is more powerful than previous JVC models, putting out a consistent 2,500 lumens, which is enough to maintain a saturated picture with some lights on in your space. You'll still need light control measures in brighter spaces, though, and that includes black-out curtains on any windows in the space.
Something else to keep in mind: there aren't any speakers built in to the JVC NZ8. This isn't a huge loss for most with dedicated home theaters, where you'll likely want a surround sound speaker system anyway, but does mean you'll need to invest in external speakers if you don't already have them on-hand.
Installation Ease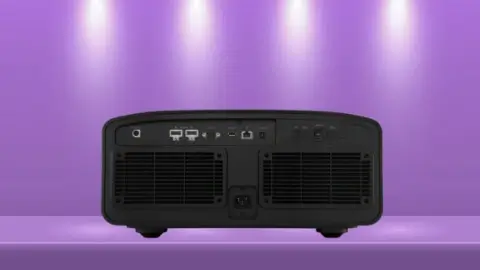 The high weight and long throw of the JVC NZ8 are the main challenges from an installation standpoint. Aside from these potential issues, the projector includes a robust range of features for adjusting and aligning the image. There are 8 distinct settings in Installation mode, ranging from basic settings like lens control and keystone to pixel adjustment and anamorphic settings. Once you have your picture set correctly, you can save these settings to one of the 10 memory slots.
The Auto-Calibration Function of the NZ8 helps projector beginners get the most out of the picture quality. The built-in optical sensor analyzes the color, balance, and other essential image elements, automatically optimizing them for your space and content.
You'll also get a good range of manual image adjustment options on the JVC NZ8. This includes a 2X powered zoom and wide horizontal and vertical lens shift, along with the keystone and aspect adjustments available in installation mode. All-told, most users find they can get up and running quickly with the NZ8.
JVC NZ8 Review: The Bottom Line
The JVC NZ8 is definitely an investment, but it's worth it for those who want the ultimate image quality in their home theater. With 8K upscaling, cinema-level color and contrast, automatic calibration, and a long-lasting laser phosphor light source, it checks all the boxes for a high-end home theater projector (>>> Check the current price on ProjectorScreen.com).