It wasn't too long ago that 4K resolution was the pinnacle, but today's top projectors go a step further by supporting 8K content. As you might expect, though, projectors with the capability don't come cheap, so it's important to make sure it meets your needs before you buy. We're breaking down the features of one of these new 8K-friendly projectors in this JVC NZ9 review. While it's definitely an investment, those who want the absolute best picture quality will be impressed by its performance. Let's dig in! (>>> Check on ProjectorScreen.com)
JVC NZ9 Review of Main Specs:
| | JVC NZ9 |
| --- | --- |
| | |
| Resolution | 4096x2160 8K w/pixel shifting |
| Brightness (Lumens) | 3,000 ANSI |
| Contrast Ratio | 100,000:1 |
| Input Lag | No data |
| Throw Distance | 11.9' - 19.9' |
| Screen size | 60" - 200" |
| Speakers | No |
| Today's Best Price | ProjectorScreen.com |
Resolution
The JVC NZ9 accepts content up to true 8K (8192X4320), but is not technically a native 8K projector. It has a native resolution of 4K which is enhanced by a technology known as pixel shifting or e-shift. This uses a multi-axis shift approach to double the on-screen pixels, effectively providing an 8K resolution.
What does this mean for viewers? The resolution you'll see is basically 8K, and is definitely sharper than a 4K image. While it's not as fully-authentic to the source as a native 8K projector, the differences are too subtle for most to notice, and it provides a cinema-quality level of detail for content of all resolutions.
Pros
Sharp pixel-shifted 8K resolution
Optimized image with dynamic tone mapping
Automatic calibration with integrated sensor
10 programmable lens setting memory slots
Flexible installation with lens shift and wide zoom
Bright lamp ideal for most indoor light environments
Full 3D support (frame packing, side-by-side, or top/bottom)
Cons
Long throw distance
No built-in speakers or streaming
Color and Contrast
The all-glass, 18-element 100mm lens on the JVC NZ9 is part of what gives it such exceptional image clarity Along with this, it uses a 3 D-ILA chip display and dynamic iris technology to bring a superior color and contrast that match the resolution. Its color gamut exceeds the DCI-P3 spectrum, with a BLU-Escent laser phosphor light source that gives it a high native contrast ratio.
The imaging technology used by the NZ9 is equally impressive. It uses Frame Adapt ADR with two dynamic tone mapping options and a Multiple Pixel Control processor. This means automatic optimization of the content based on the input signal, playing movies and shows the way they were meant to be seen.
Calibrating the image for your space or the content is simple with the NZ9, too. The optical sensor lets its Auto-Calibration Function adjust the color space, balance, and other image elements on a scene-by-scene basis. Put it in ISF C3 mode to adjust the image for your space's unique needs and lighting conditions.
Space and Installation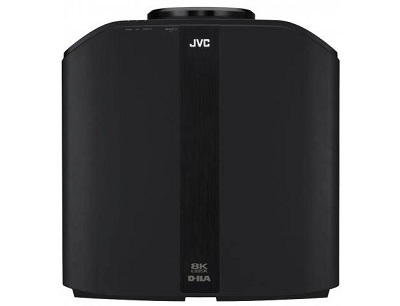 The 8K projectors on the current market are made for use in high-end home theaters, and the JVC NZ9 is no exception. It works best in larger spaces, needing at least 8 feet of distance to produce a clear image and around 13 feet for a 100" screen.
You'll also need a few extra accessories to use the JVC NZ9, even aside from the usual screen. It's a hefty projector, weighing more than 50 pounds, so choosing a ceiling mount to suit it can be tricky. There also aren't any built-in speakers or streaming apps since it's intended to be used as part of a full entertainment system.
On the plus side, the NZ9 has a brighter lamp than many high-end projectors. Its BLU-Escent light source produces a consistent 3,000 lumens, allowing for lights-on viewing without disrupting the picture quality. This expands its use to multi-purpose spaces like living rooms, not just dedicated home theaters.
As long as you have the space for it, the NZ9 has a relatively flexible and straightforward installation. Putting it in Installation Mode gives you access to 8 settings for the screen, lens, and picture. This includes a wide 2x zoom and lens shift (43% horizontal and 100% vertical) that gives it good flexibility in terms of projector placement. These settings can be saved to one of the 10 installation memory slots, letting users quickly switch profiles to match their content and room.
JVC NZ9 Review: The Bottom Line
Image quality is the main strength of the JVC NZ9. It was one of the first projectors to bring 8K resolution to the home theater market, and it matches this sharp resolution with exceptional color and laser-sharp contrast. With its long throw distance and high price point, it's definitely not the best projector for everyone. For those who want a true theater experience, however, few projectors can compete with the NZ9's performance. (>>> Check the current price on ProjectorScreen.com)