Until recently, 4K was the upper standard for home theater resolutions. The JVC NZ7 represents the next wave in display technology, using a BLU-Escent laser light source and e-shifting for an 8K resolution with twice the on-screen pixels of 4K. There's no denying that the picture quality of the NZ7 is fantastic—but does it live up to its hype (and high-end price tag)? We'll break down the details in this JVC NZ7 review so you can see if it's a worthwhile investment for your home theater (>>> Check on Amazon.com).
JVC NZ7 Review of Main Specs:
| | JVC NZ7 |
| --- | --- |
| | |
| Resolution | 4096x2160 8K w/pixel shifting |
| Brightness (Lumens) | 2,200 ANSI |
| Contrast Ratio | 40,000:1 |
| Input Lag | 37ms |
| Throw Distance | 12.3' - 20.7' |
| Screen size | 60" - 201" |
| Speakers | No |
| Today's Best Price | ProjectorScreen.com |
Space Flexibility
The JVC NZ7 is designed with high-end home theaters in mind, and this is reflected in its design. It uses a standard throw distance, requiring around 13-14 feet on average for a 100" screen, so it's at its best in relatively large spaces. You should also plan on using an external sound system since there aren't any speakers built into the NZ7.
One thing we appreciate about the BLU-Escent light source is that it's a bit brighter than many high-end laser phosphor projectors, putting out 2,200 lumens. You'll still want to dim the lights and cover any windows, but you won't need a completely dark space.
Installation and Connectivity
Most users will want to ceiling-mount the JVC NZ7, given its relatively long throw distance. Finding a mount that works can be a hassle—at almost 50 pounds, the NZ7 is too heavy for many projector mounts. The JVC mount designed to work with its 8K models costs more than some projectors, so that's something you'll want to research and include in your budget. Check comparison versus Sony VPL-XW5000ES
Once you have a suitable mount, the NZ7 has a relatively straightforward and flexible installation process. It has a wide 2x zoom along with both horizontal and vertical lens shift, with more options to adjust the keystone, aspect, or lens in Installation Mode. The connection panel is fairly standard, with 2 HDMI inputs for content sources along with networking and USB inputs.
The NZ7 does require calibration before you use it the first time. The good news is, it has an optical sensor for automatic calibration of the color balance, gamma levels, and other key image elements. Those who'd prefer to fiddle with their own settings will have tons of options to play with, with pixel adjustment and anamorphic on/off settings along with the typical contrast and brightness controls. All of these settings can be saved to one of the 10 installation memory slots, letting you quickly adjust your settings to suit your content.
Pros
8K resolution
Dynamic tone mapping optimizes picture
Exceptional black levels
Save up to 10 alignment settings in Installation Mode
Flexible installation with lens shift
Auto-calibration sensor
Low enough lag for casual gaming
Cons
Long throw distance
No built-in speakers
Image Quality
The all-glass 65mm lens of the NZ7 produces a clear, sharp picture, and is backed by some of the most advanced image technology you'll find on the home theater market. Along with support for HDR10+, it uses Frame Adapt HDR tone mapping to enhance the color and contrast in each scene, and has an infinite dynamic contrast that brings incredible depth and richness to the black levels.
You'll get that same high image quality from all kinds of content on the NZ7. This includes 3D movies, with support for the 3 most common formats (frame packing, side-by-side, and top & bottom). Its clear motion drive and Motion Enhance technology prevents motion blur, for smooth action during fast-paced live sports and action scenes.
Gaming Performance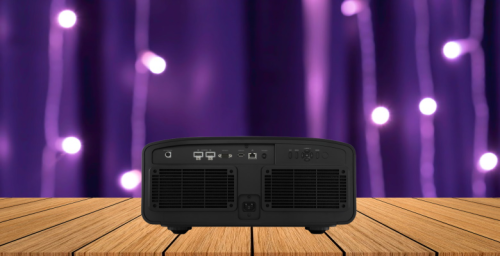 The JVC NZ7 is relatively responsive. With the right settings, it has a measured input lag as low as 37ms. That's just over the recommended 30ms for serious gamers, but is still fast enough most players won't notice a lag. Basically it's not a "gaming projector" but it will work fine in multi-use entertainment spaces.
JVC NZ7 Review: The Bottom Line
If you want the absolute best picture quality—and are willing to pay a premium to get it—the JVC NZ7 is an excellent option. Not only does it support 8K resolution, its infinite dynamic contrast, tone mapping, and advanced color management ensure an immersive, authentic picture every time. It's also a smart long-term investment, with a long light source lifespan and cutting-edge technology that lets you use it longer before it becomes obsolete. For those who are setting up a luxury home theater, the NZ7 is worth its cost (>>> Check the current price on projectorscreen.com).