Any home theater projector can give you a big screen image, but that doesn't mean they can truly replicate the cinema experience. For that, you need the advanced image processing, professional components, and robust signal support of a high-end home theater projector like the two we're comparing here. The first difference you'll notice between the Sony VPL-WX5000ES vs JVC NZ7 is the price, with the JVC selling for roughly twice the price of the Sony. (>>> Check on Amazon)
Who should spend the extra cash for the NZ7, and who's better off with the WX500ES? That's the question we'll answer in this article. Let's start by seeing how they stack up on some key features.
Sony VPL-XW5000ES vs JVC NZ7 Side by Side:
| | Sony VPL-XW5000ES | JVC NZ7 |
| --- | --- | --- |
| | | |
| Resolution | 3840x2160 | 4096x2160 8K w/pixel shifting |
| Contrast | No data | 40,000:1 |
| Brightness (Lumens) | 2,000 ANSI | 2,200 ANSI |
| Input lag | 13-21ms | 36-44.7ms |
| Throw Distance | 6.5' - 20.1' | 12.3' - 20.7' |
| Screen size | 40" - 200" | 60" - 201" |
| Speakers | No | No |
| Today's Best Price | BHPhotoVideo.com | ProjectorScreen.com |
Brightness
The Sony VPL-XW5000ES has a brightness of 2,000 lumens. That's ideal for a typical home theater space, and puts out enough light it won't get washed out by a few lamps. However, it's not a great choice for bright spaces or rooms with lots of windows.
The JVC NZ7 is a bit brighter, at 2,200 lumens. It also uses a more advanced lens system and an integrated optical sensor that lets it automatically adjust the image to the viewing environment. While you'll still likely want black-out curtains on any big windows, it's capable of adapting to brighter environments than the Sony.
Brighter projector: JVC NZ7
Installation Ease
Each of these projectors has its challenges when it comes to installation. They're both standard-throw models, and will need around 12-14 feet to fill a 100-inch screen. The JVC NZ7 does have a very robust Installation Mode with memory slots to save your lens and picture settings, and has wide lens shift and zoom options that help users align the image to their screen quickly. It's also a beast of a projector, though, large enough it can be tricky to install in some spaces.
While the Sony VPL-XW5000ES lacks the in-depth Installation Mode options and memory slots of the NZ7, it still has useful features like lens shift and zoom. It's also much more compact, coming in under the 30-pound weight limit on many standard ceiling mounts, and supports a variety of home automation systems, giving it the edge for its ease of installation in a wider array of homes.
Easier to install: Sony VPL-XW5000ES
Picture Quality
The image quality of the Sony VPL-XW5000ES blows most home theater projectors out of the water. Its 3-chip SXRD display produces a native 4K resolution, with wide dynamic range optics and Triluminos Pro color that covers 95% of the DCI-P3 color gamut. Features like its IMAX Enhanced support, Montionflow blur reduction, and True Theater Mode make it very appealing to movie buffs.
As strong as the Sony performs here, the JVC NZ7 goes a step further, adding a pixel-shifting technology to produce 8K resolution. Its BLU-Escent laser phosphor light source and all-glass lens further enhance the clarity and color of the image, with features like Frame Adapt Tone Mapping and HDR10+ support to ensure you're seeing content at its best every time.
Better picture quality: JVC NZ7
Gaming Performance
You can do some gaming on the JVC NZ7. It has a 120Hz frame refresh rate for full HD content (60Hz for 4K), and an average measured input lag of around 40ms. That's responsive enough casual players shouldn't find it annoying, especially those who mostly play RPGs or other games that don't require fast reflexes.
For more serious players, though, you'll want to look for a projector that has an input lag under 30ms. The Sony VPL-XW5000ES meets that standard for both full HD and 4K content, with the same 4K/60Hz and 1080p/120Hz refresh rate as the NZ7.
Better for gaming: Sony VPL-XW5000ES
---
Sony VPL-XW5000ES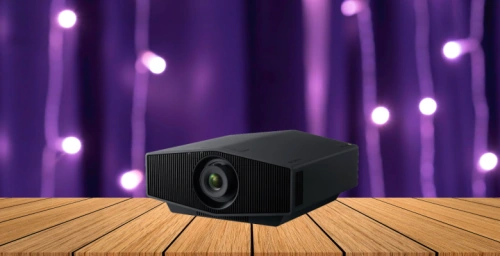 The VPL-XW5000ES uses Sony's flagship X1 Ultimate processor in conjunction with an SXRD panel that delivers native 4K resolution. The result is a stunningly detailed and realistic picture with inky blacks, vibrant color, and true-to-life textures that will make you feel like you're right there in the action.
The Dynamic HDR Enhancer adds scene-by-scene contrast adjustments, with object-based super resolution that enhances the accuracy of key details and Motionflow to maintain those details no matter how fast things are moving on screen.
The Sony VPL-XW5000ES brings that same high picture quality to all types of content. Movie buffs will love features like the True Theater Mode, which shifts the settings to see films in their original form.
It's also compatible with IMAX Enhanced content when you want to replicate the cinema experience at home. It also has the responsiveness you need for gaming, with a 4K/60Hz refresh rate (1080p/120Hz) and an input latency as low as 13ms for frustration-free playing sessions with no lagging or frame tears.
Unfortunately, the XW5000ES doesn't offer that same versatility when it comes to your viewing area. It has a long throw distance and a fairly low lamp brightness, so it's at its best in a large, dim space and paired with a high-quality screen.
That said, it is bright enough you can leave a few lights on while you watch. It also has a 1.6x zoom along with 2D lens shift (+/-25% horizontal and +/-71% vertical) so it's fairly flexible in its installation as long as you have enough space for the screen size you want. Smart home owners will also appreciate how easy it is to integrate into their networks, and it supports a range of automation systems including Control4, Savant, Crestron, and several others.
Click here for our more in-depth Sony VPL-XW5000ES review.
Pros
Sharp true 4K detail, even during fast action sequences
Exceptional color and contrast
Responsive enough for gaming
Easy integration with smart home systems
Flexible installation with zoom and lens shift
Compact and light enough to fit standard ceiling mounts
Cons
No 8K support
Needs a large, dim space
---
JVC NZ7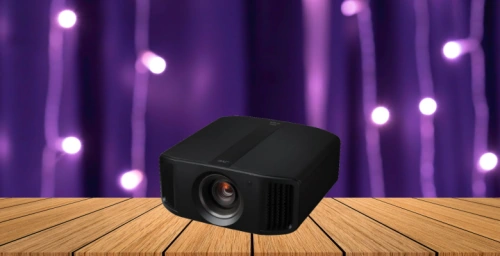 The JVC NZ7 was one of the first home theater projectors to offer 8K resolution, and every component is designed to maximize the clarity and quality of images. Light from the BLU-Escent laser is focused thorugh a 17-element all-glass lens, while the 3-DILA chipset is paired with proprietary e-shift technology to achieve an 8192X4320 resolution.
It also has a wide color gamut, covering the full DCI-P3 spectrum, with a 6-axis Matric Color Management System and Frame Adapt Dynamic Tone Mapping to further optimize the image color. The Auto-Calibration Function is a helpful feature, tracking the image using the built-in sensor to adjust the color balance and other settings to the room and screen.
While the JVC NZ7 is a bit brighter than the Sony, it will still be at its best in low ambient light levels. It also needs a lot of space. Not only is its throw distance long, it's also a hefty projector, weighing almost 50 pounds. That can be an issue for ceiling-mounted installations, while its large dimensions can limit where it fits on entertainment centers and shelves.
On the plus side, its Installation Mode gives users tons of options for adjusting the projector to your space, including a 2x zoom, 2D lens shift (+/-34% horizontal and +/-80% vertical), keystone and aspect ratio adjustment, and many more options. You can save up to 10 different settings, too, so you can quickly change to match whatever and wherever you're watching.
While the JVC NZ7 excels in a home theater, it's not as good of a choice for gamers. Its input lag is just over 30ms for full HD content, and around 45ms for 4K gaming. That's low enough casual players may not notice but is high enough to potentially be an issue for more serious gamers. It's also more limited when it comes to network and smart home integration, lacking the wide support you'll get from the Sony above. For our more in-depth review of the JVC NZ7, follow the link: http://projectortop.com/jvc-nz7-review/
Pros
8K resolution with HRD10+ support
Cinema-quality color and contrast
Automatic image optimization
Supports multiple 3D formats
Flexible installation
Save up to 10 settings profiles in Installation Mode
Cons
Too heavy for many ceiling mounts
Input lag is too high for serious gamers
---
So Which Projector Should You Buy?
The main strength of the JVC NZ7 is its 8K resolution, and it's a great projector for those who want the ultimate immersive viewing experience. That 8K support is also what gives it a 5-figure price tag, though, so if you find 4K to be plenty sharp, you can save a few grand with the Sony VPL-WX5000ES.
You'll also get more features for your money with the WX5000ES, such as robust smart home integration options and the capacity for fast-paced gaming. Because of this, the Sony is the better value for most buyers (>>> Find on Bhphotovideo.com).
References & Further Reading: