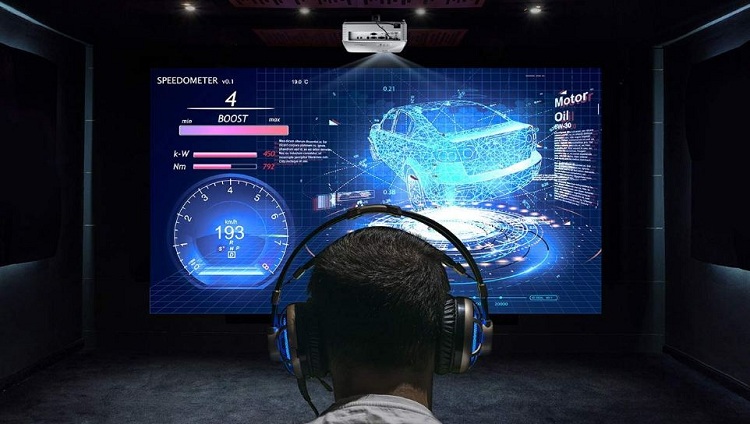 A projector-based set-up can be ideal for gaming, giving you lots of screen to get fully immersed in the world. Not every home theater projector is going to be the right choice to hook up to your Xbox or PlayStation. The best 4K projector for gaming has a low input latency, a high contrast ratio, and a flexible set-up that will fit into your gaming room.
We've rounded up our five favorite 4K projectors for gamers and reviewed them below. Taking everything together, the Optoma UHD52ALV True 4K UHD Smart Projector is our top choice. There are a lot of factors that might go into your decision, though.
Best 4K Projector for Gaming 2020 – Top 5 Options:
| | Epson 5050UB | Optoma UHD52ALV | Optoma UHD60 | BenQ HT3550 | BUDGET OPTION:ViewSonic PX747 |
| --- | --- | --- | --- | --- | --- |
| | | | | | |
| Brightness | 2,600 lumens | 3,500 lumens | 3,000 lumens | 2,000 lumens | 3,500 lumens |
| Contrast ratio | 1,000,000:1 | 500,000:1 | 1,000,000:1 | 30,000:1 | 12,000:1 |
| Lag time | 27ms | 8.4ms | 50ms | 50ms | 43ms |
| Color accuracy | DCI-P3 | DCI-P3 | DCI-P3 | DCI-P3 | DCI-P3 |
| Max screen size | 300" | 300" | 300" | 200" | 300" |
| Price | Find Best Price | Find Best Price | Find Best Price | Find Best Price | Find Best Price |
Compatibility
One of the most important things to consider is how your projector will work with your gaming system and other equipment. Most modern gaming systems hook up via HDMI, which is available on all of the models below. Some will also offer a USB hook-up for peripherals and Wi-Fi dongles.
Lag Time
Input lag is one of the most important considerations in a gaming projector. If it's too high, there will be a noticeable delay between your actions and what you see—and that's no good for fast-paced, modern games. Anything from around 50ms and lower is acceptable for most gamers. The faster the better, though, especially if you enjoy multi-player games that require quick reactions.
Projector with the lowest input lag: Optoma UHD52ALV True 4K UHD Smart Projector
Contrast Ratio
A higher contrast ratio gives better detail in dark parts of the screen. This is important for seeing all the details whether you're playing games or watching movies. For gaming, you'll want a contrast ratio of at least 10,000:1. The higher the ratio, the deeper and more detailed the black parts of the image will be.
Projector with the best contrast ratio: Epson Home Cinema 5050UB 4K Pro-UHD Projector
Brightness
You might turn the lights off when you play, but many gamers like being able to play in any lighting conditions. A brighter lamp will be better able to compete against the ambient light in the room, giving you a clearer, more visible image.
Brightest projector: ViewSonic PX747-K 4K Projector
Full Reviews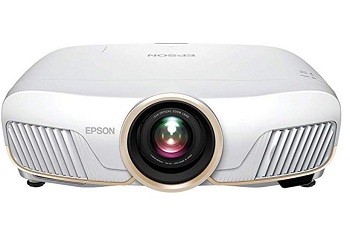 Let's start off with the Epson Home Cinema 5050UB. This projector is an ideal choice for anyone who wants the best possible image quality when they're gaming. It has a full 4K native definition, allowing for the sharpest image you'll get on today's projector market.
The contrast ratio is the most impressive feature of the Epson 5050UB. You'll get truly deep and complex black tones in the darker areas of your screen—very important for seeing clearly in all levels. Combined with the low lag time, this makes it ideal for RPGs, first-person shooters, and even as the projector in simulator games.
There are only two potential negatives of the Epson 5050UB. The first is that it's in the higher end of the price range for 4K projectors —likely priced out of the budget of most gamers. The brightness of 2,600 lumens is also a bit on the low side, especially for the price. It's best for rooms with low ambient light and gamers who want the ultimate clarity.
Enhanced resolution and image processing
Has full HD even in 3D
Wider color accuracy and detail than other projectors
Super high contrast ratio makes it easy to see the on-screen action
Offers 2 HDMI ports as well as USB for attachments and dongles
Most expensive option
Screen not bright enough to compete with high ambient light
---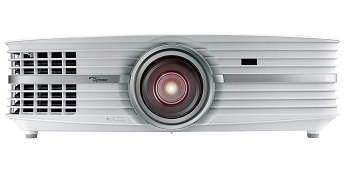 Optoma as a brand often strikes a great balance between value and quality, and they've accomplished this feat again with the Optoma UHD60 projector. While it's designed for movies, it's just a great for games, with the speed and clarity gamers need.
Image-wise, the color gamut is on par with what you'll get from pricier projectors. You don't have to kill all the lights to get a good picture, either. With a brightness of 3,000 lumens, you can use it in your living room and keep the lights on while you play.
We also appreciate how user-friendly the Optoma UHD60 is. There's a lot of flexibility in the installation thanks to a wide throw ratio and the inclusion of vertical keystone correction and lens shift. With two HDMI ports, you can use it for your game system and your TV viewing easily.
High enough brightness to use with the lights on
Flexible throw ratio for more installation options
Includes vertical keystone correction for ceiling-mounted set-ups
Lamp lasts up to 15,000 in eco mode
Excellent contrast ratio and color accuracy
Input lag is on the upper end of the acceptable range
Screen can't get as large as other projectors
No 3D capability
---
BenQ HT3550

4K Home Theater Projector

If you want a 4K projector for a smaller room, the BenQ HT3550 is a great choice for you. It has a short-throw ratio so you can get a 100" screen with just 8 feet of space. This lets you game on a big screen even in a dorm room or bedroom. (Find our top choices of ultra-short-throw projectors here)
The BenQ HT3550 has an impressive image quality, too. The black contrast is sharp, with high brightness and clarity. It's not the brightest projector—if you prefer the lights on while you play, the colors will get a bit washed out. We didn't lose any of the clarity, however, so while it's not the best for well-lit rooms it's functional in any space.
As short-throw projectors go, the BenQ HT3550 is the best for gamers. It has the clarity and connection compatibility you'll need for any modern gaming system. The input lag, while not ideal, is acceptable for most gamers.
Excellent contrast in dark scenes
High image sharpness in all light conditions
Perfect for smaller spaces
Supports 3D in 1080p
Lens shift helps make it easy to install
Lower brightness intended for use in dimmer rooms
Input lag on the higher side for gaming
---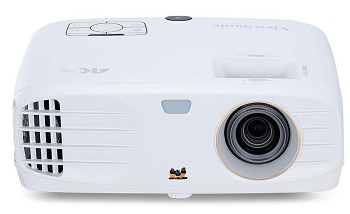 If you're a gamer on a budget, the ViewSonic PX747-4K is the projector you want. Don't under-estimate it because it's a great value, either. The stats on this projector are on par with models that cost twice as much or more, which is what makes it a good buy in our book.
You can use the ViewSonic PX747-4K in both bright and dim rooms. The brightness of 3,500 lumens is among the highest on the list. While it has fewer image adjustment options than costlier projectors, it's still relatively flexible and easy to set up.
The ViewSonic PX747-4K has multiple HDMI ports so you can use it for multiple systems. The lamp is durable, too, saving you money on recurring costs. All-told, this ViewSonic projector offers great gaming on a budget without feeling like you're sacrificing quality.
Best value
Very bright lamp for the price
Large screen with good throw ratio
Super eco mode extends lamp life over 15,000 hours
Versatile connection options for a variety of set-ups
Compatible with popular gaming systems and media players
Black contrast isn't as sharp
Not as many image adjustment options
No extended color wheel
---

Finally, let's look at the Optoma UHD52ALV. Like others on this list, it has a high image quality and is flexible in regards to room placement and installation. In addition, it has the lowest input lag of any projector we've seen in the price range. At only 8.4ms, it's as close to instantaneous as you get, giving you a competitive advantage in your gaming sessions.
The image from the Optoma UHD52ALV is sharp and bright. With 3,500 lumens, it will stay clear and colorful in all lighting conditions. It also as a high contrast ratio and extended color reel—you'll see every moment the way it's meant to be seen.
You get a variety of installation options with the Optoma UHD52ALV, too. Vertical lens shift allows for ceiling mounting, and it has a relatively short throw ratio. It also has nice extra features you might not expect for the price, like built-in voice control compatibility. It's not the cheapest option, but the cost is worth it for what you get.
Ultra-low input lag
Built in compatibility with Alexa and Google voice command
Bright lamp can compete with ambient light
Flexible installation
Excellent image quality
More depth to images with dynamic black technology
A bit pricier than other options
---
So what's the best 4K projector for gaming?
You can use any of these five projectors for gaming and have a fantastic experience. It really comes down to what you need in your set-up. Think about how large and bright your gaming room is to figure out if you need a short-throw projector or a lamp on the brighter side. We hope these reviews have helped you figure out the right 4K projector for you!
REFERENCES AND FURTHER READING: