For gamers, having a high-quality 4K projector can bring their gaming experience to the next level. From larger-than-life displays to immersive visuals, a great 4K gaming projector can enhance the overall gaming experience.
So what does make a good gaming projector? The short answer is a low input latency, a high frame rate, and a high contrast ratio. A projector with a bright lamp and flexible installation options is also helpful for making sure it'll work right in your gaming room.
We've picked out our favorite 4K projectors for gamers and reviewed them here.
If pressed to pick a winner, we'd say the Optoma UHD55 is the best overall choice based on its low lag, high picture quality, installation flexibility, and modern connectivity (>>> Check how much it cost on Amazon).
That said, each of the projectors below has its strengths and could be the ideal projector for the right kind of user. Let's take a deeper look at the features so you can see the difference.
Best 4K Projector for Gaming 2023 – Top Options:
| | Optoma UHD35 | Optoma UHD50X | Optoma UHD55 | Optoma GT1090HDR | BenQ TK700STi | ViewSonic PX748-4K |
| --- | --- | --- | --- | --- | --- | --- |
| | | | | | | |
| Resolution | 4K | 4K | 4K | 1920x1080 4K w/pixel shifting | 4K | 4K |
| Brightness (Lumens) | 3,600 ANSI | 3,400 ANSI | 3,600 ANSI | 4,200 ANSI | 3,000 ANSI | 4,000 ANSI |
| Contrast Ratio | 1,000,000:1 | 500,000:1 | 1,200,000:1 | 300,000:1 | 10,000:1 | 12,000:1 |
| Input Lag | 4.2ms in 1080p 16.7ms in 4K | 15.7ms in 1080p 25.8ms in 4K | 4ms in 1080p 16.9ms in 4K | 16ms in 1080p | 4ms in 1080p 16ms in 4K | 4.2ms in 1080p 16ms in 4K |
| Refresh Rate | 240Hz | 240Hz | 240Hz | 120Hz | 240Hz | 240Hz |
| Throw Distance | 4.0' - 32.7' | 4.0' - 26.6' | 3.9' - 26.6' | 1.3' - 10.9' | 2.4' - 19.6' | 3.2' - 24.7' |
| Image Size | 33" - 300" | 34" - 302" | 34" - 302" | 36" - 301" | 30" - 300" | 30" - 301" |
| Price | Check on Amazon | ProjectorScreen.com | ProjectorScreen.com | Check on Amazon | ProjectorScreen.com | BHPhotoVideo.com |
Input Lag
This is the most important stat for gamers. A high input lag can make a projector functionally useless for gaming, creating a noticeable delay between your input on the controller and what you see on the screen.
For casual gaming, anything under about 60ms is acceptable. Serious gamers will want an even lower lag, something around 30ms or less.
All 6 of these projectors can get an input lag as low as 16ms with the right picture settings.
That said, the input lag of the Optoma UHD35, BenQ TK700STi, and Optoma UHD55 register as low as 4ms for full HD content, and match that 16ms input lag mentioned above for 4K gaming. This is as close to instant as you're likely to find from a projector and makes them ideal options for gamers.
Lowest input lag: BenQ TK700STi
Contrast Ratio
The contrast ratio is a measure of how much difference there is between the light and dark areas of the screen. It's the most important picture stat for gamers because it determines how much detail you'll see in shadowed areas of the picture.
Optoma projectors that use their Dynamic Black technology are the strongest in this regard.
The rich black levels you get from these projectors match the brighter screen areas in detail and clarity, helping you catch every clue in RPGs and every enemy in first-person shooters regardless of whether it's day or night in-game.
Best contrast ratio: Optoma UHD50X
Brightness
In a home theater, you have the option of watching with the lights off and can get away with a projector brightness as low as 1,500 lumens. While some people don't mind gaming in the dark, though, most prefer to keep a few lights on.
This means you'll need a brighter lamp, especially if you want to play during the daytime in a room with lots of windows.
All of these projectors put out at least 3,000 lumens, which will be enough to support lights-on viewing.
For semi-outdoor or particualrly bright spaces, the 4,200 lumens of the Optoma GT1090HDR make it the brightest option on the list. The ViewSonic PX748-4K is a close second, at 4,000 lumens, and will perform equally well in bright viewing areas.
Brightest lamp: Optoma GT1090HDR
Connectivity
Most people aren't getting a projector to use with just one gaming system, either because they also want to use it for movies or because they're multi-platform gamers with multiple consoles to connect.
All of these projectors have at least 2 HDMI ports for content sources. Whether or not that's enough depends on your set-up.
The Optoma GT1090HDR does deserve a shout-out here for its robust rear panel, which includes VGA and composite inputs.
This makes it a better choice for players of older systems or PC gamers (though you'll find VGA inputs on all Optoma projectors on this list, too).
For more modern home theater set-ups, the Android TV streaming and device mirroring of the BenQ TK700STi is a big plus, saving the HDMI ports for your gaming systems.
However, the Optoma UHD55 has the best connectivity for modern setups thanks to the robust voice control through the Optoma app, which includes IFTTT support for more complex home automation routines.
Most modern connectivity: Optoma UHD55
---
Optoma UHD35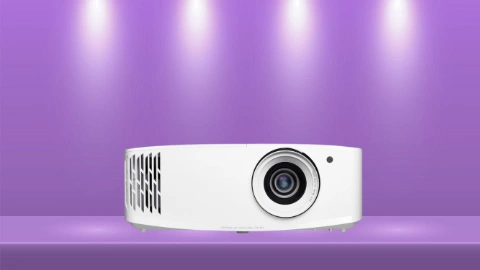 Pros
Super-low input lag in Enhanced Gaming Mode
True 4K resolution with HLG and HDR10 support
Dynamic Black contrast for sharper on-screen detail
Bright lamp can be used in any indoor light level
Excellent value for the image quality
Cons
Long throw distance
Limited alignment options
The Optoma UHD35 would be an excellent 4K gaming projector at any price, so it's especially impressive that it's also one of the most affordable options on the market.
Using Enhanced Gaming Mode drops the input lag down to just over 4ms in full HD (16ms in 4K). That's as close to instant as you're likely to find from a projector.
Paired with the high frame rate, this make it a suitable option for even pro-level gamers, with no worry of lag or frame tears interrupting your flow.
The picture quality of the UHD35 is on par with other Optoma 4K projectors, and it utilizes much of the same technology. This includes Dynamic Black contrast enhancement, delivering rich black levels and full detail in shadows.
The colors are vibrant, too, with an 8-segment color wheel and a bright lamp that keeps those hues saturated in any light level.
Now you will need a good amount of space to use the Optoma UHD35—about 11-12 feet for a 100" screen. You'll also need to be fairly precise if you're ceiling-mounting it.
It does have some installation flexibility, working in table-top or mounted set-ups and with a 2D keystone correction, but the zoom is narrow and there aren't options like rotation or lens shift to fine-tune the alignment.
---
Optoma UHD50X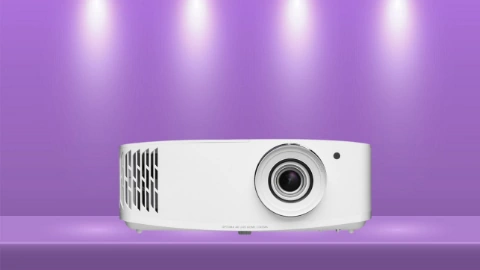 Pros
True native 4K resolution
8-segment color wheel with UltraDetail technology
Excellent contrast thanks to Dynamic Black technology
Enhanced Gaming Mode gives you 15.7ms response time (25.8ms in 4K)
User-friendly and easy to install
Includes lens shift, vertical keystone correction, and 1.3x zoom
Cons
Fairly long throw distance
Some users report seeing rainbow effect or lines on screen
Here's another top choice from Optoma, which is a brand you'll see featured a lot on this list. Optoma is a leader in the projector market for a reason. Their projectors are reliable and durable and represent a great value for the specifications they offer.
In the case of the Optoma UHD50X, it's one of the best 4K projectors for gaming period, and certainly one of the strongest contenders in the under-$2,000 price point.
The Optoma UHD50X has a true native 4K resolution, with 8.3 million on-screen pixels. You can game in either 1080p or 4K and the input lag will be unnoticeable regardless.
Along with this, it offers a 240Hz processing speed for unmatched on-screen smoothness. We also love the use of Dynamic Black contrast technology for gaming.
Dark areas and shadows have the same depth and clarity as bright, colorful areas of the screen, allowing you to get immersed in your game with no annoyances.
We also appreciate how easy it is to get started with the Optoma UHD50X, even if you've never used a projector before. It has robust alignment and adjustment options, including an optical zoom and vertical lens shift as well as 40° keystone correction.
The flexibility of the installation means it will work in all but the smallest spaces, despite the comparatively high throw distance.
---
Optoma UHD55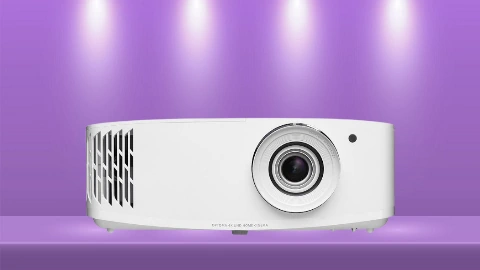 Pros
Colorful and sharp true 4K image
Powerful lamp suitable for bright viewing areas
Super responsive with low lag
Flexible installation
Voice control through multiple services
Supports 3D content from all sources
Cons
The Optoma UHD55 is a versatile projector ideal for multi-purpose entertainment spaces. Its native 4K resolution is paired with a wide color gamut, covering 97% of the DCI-P3 color space.
It also supports HLG and HDR with impressive dynamic contrast and a bright lamp that will maintain that image quality in any indoor light environment.
You can further tweak the picture with calibrated ISF modes for day time and night time, optimizing the picture to your space.
Gamers won't have to worry about lag with the Optoma UHD55, either. Both its HDMI inputs support 4K signals at a 60Hz refresh rate (240Hz for full HD content). It also has the lowest measured input lag on the list, at 4ms for 1080p content.
PureMotion frame interpolation ensures smooth on-screen action, too, with no motion blur or other issues that will interrupt your playing session.
The Optoma UHD55 is also a very user-friendly projector with the connectivity you need in a modern home theater.
While it does need a larger space, features like 1.3x zoom, 2D keystone correction, and vertical lens shift give users a good range of options for aligning the image to the screen.
You can also connect it to the Optoma app to add voice control and automation through services like Amazon Alexa, Google Assistant, and IFTTT, so it's a smart choice for a smart home.
For our more in-depth review of this projector, follow the link: http://projectortop.com/optoma-uhd55-review/
---
Optoma GT1090HDR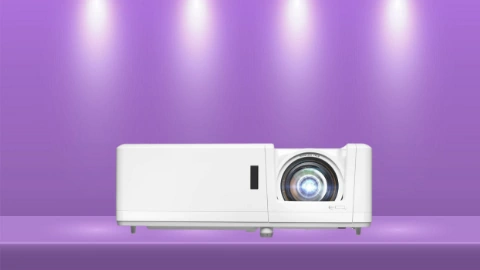 Pros
Content has great definition without any compression
Bright, vibrant colors
Short throw increases set-up flexibility
Automatic keystone and four-corner correction make installation easy
Capable of competing with daytime natural light
Durable lamp with high dust resistance
Cons
No native 4K resolution
Some users report rainbow effect issues
Let's be up-front about one thing here: the Optoma GT1090HDR does not have a native 4K resolution. It does, however, accept 4K content, meaning it's still suitable for playing 4K games.
We included it on this list because it has two things you won't find on any other gaming projector in the mid-range prince point: a short throw distance and an ultra-bright lamp.
Even without 4K resolution, the picture quality on the GT1090HDR is fantastic. It uses both HLG and HDR10 color technology and the contrast ratio is impressively high, as well.
The DuraCore laser light source will put out up to 30,000 hours of illumination with no maintenance, and is bright enough you can use it in well-lit rooms without a hassle.
All-told, the Optoma GT1090HDR is the most flexible gaming projector on the list from an installation perspective. It's easy to set up, too, with image alignment options like 4-corner correction and a 1.3x zoom that take guesswork and frustration out of the equation.
---
BenQ TK700STi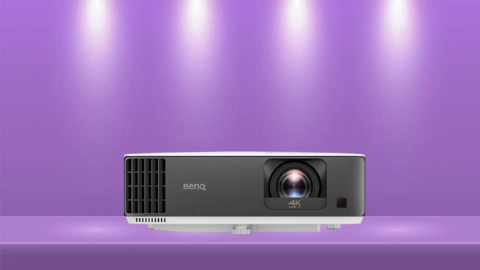 Pros
Low input lag even in 4K
Dedicated modes optimize picture to your gaming style
Excellent detail, color, and contrast
Stream content directly using Android TV interface
Wirelessly cast through Chromecast or AirPlay
Flexible set-up with picture rotation and keystone correction
Cons
Will need to use external speakers for immersive sound
The BenQ TK700STi matches the single-digit input lag and 240Hz refresh rate of the Optoma UHD35. That means no delay and smooth action at both full HD and 4K.
The 3 dedicated game modes (RPG, FPS, and sports) optimize the picture settings to the game style, so it's even easier to get immersed in the action no matter your gaming style.
The BenQ TK700STi doesn't need as much space as most options on the list, producing a 100" screen with as little as 6.5 feet of distance.
Its Corner Fit Correction rotates the picture, letting it be installed on uneven or slanted surfaces, with 2D keystone correction for squaring the geometry. This flexibility is ideal for smaller spaces and unusual layouts, and it has the lamp brightness to support lights-on use.
For multi-use spaces, the Android TV streaming interface and wireless casting of the TK700STi can free up the HDMI inputs for your game systems, sparing you the need to mess with wires when you switch from one to the other.
You will want to use external speakers for the sound—the 5-watt speaker on this projector can't do justice to sound effects, and its maximum output is relatively low. This minor issue aside, the BenQ TK700STi is arguably the best 4K gaming projector out there today.
---
ViewSonic PX748-4K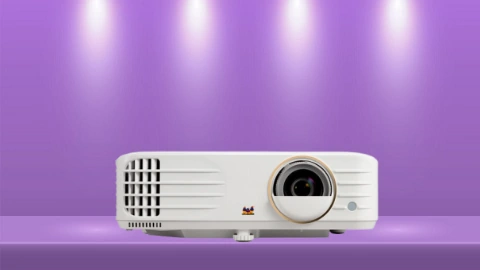 Pros
Sharp XPR 4K image for movies and video content
Bright lamp works in any ambient light level
Low lag and high refresh rate for gaming
Charges devices while playing content via USB-C
Automatic warp and keystone correction
Cons
Only supports gaming up to full HD
No voice control or smart features
The ViewSonic PX748-4K uses XPR technology to shift the picture, producing the full 8.3 million pixels of a true 4K display without using a 4K chipset. This gives it a faster processing speed than many 4K projectors, and its input lag is among the lowest on the list as a result.
The downside of this is that it doesn't support 4K resolutions for gaming. You can play 4K games but they'll be at a Full HD resolution.
This ViewSonic projector is a top choice for use in bright spaces. Its 4,000-lumen lamp keeps the image bright and sharp even in rooms with lots of natural light.
One thing it does offer is USB-C connectivity, allowing you to play consoles like the Nintendo Switch quickly and easily.
One thing we love about the ViewSonic PX748-4K is the value it offers for the price. It's rare to find this combination of picture quality, responsiveness, and lamp brightness for less than $1,500.
The image is on par with what you'll get from projectors at twice the price, with HDR10 compatibility for detailed, realistic image and accurate, vibrant colors that bring both games and movies to life. For our more in-depth review of the ViewSonic PX748-4K, click here.
---
So What's the Best 4K Projector for Gaming?
Any of the 6 projectors above will give you a fantastic gaming experience. Choosing between them really comes down to figuring out what you need for your space.
Consider the size and ambient lighting in your gaming room. A small room will call for a short throw ratio, while a bright lamp will help the most in a room with lots of natural light.
If pressed to pick a winner, we'd say the Optoma UHD55 is the top option both for picture quality and gameplay, and has the flexibility and connectivity for multi-use spaces (>>> Check how much it cost on ProjectorScreen.com).
On the other hand, gamers on a budget can get a similarly impressive input lag from the Optoma UHD35 or ViewSonic PX748-4K for a few hundred dollars less. The truth is, any of these projectors can be an excellent option for gaming. It all comes down to your space and budget.
FAQ
Is a 4K projector good for gaming?
Many 4K projectors are a strong choice for gaming, but that doesn't mean they'll always be the best options. If you want to play modern games with 4K graphics, obviously you'll need a 4K projector to get the full effect of these high-level graphics.
 
On the other hand, though, full HD projectors tend to be more responsive. Even if you have a 4K projector, you'll need to switch to a full HD mode to enjoy the lowest input lag and highest frame refresh rate.
What to look for in a 4K projector for gaming?
The input latency and frame refresh rate are the first things you should check when shopping for a gaming projector.
 After this, the next thing you should consider is the projector's connectivity. It's not going to do you much good if you can't hook up your gaming systems to it.
 
Finally, once you've confirmed that the projector has the connectivity and responsiveness you need, you should consider the brightness and image contrast.
How to set up a 4K projector for gaming?
The projector's throw distance and the layout of your space will determine whether a tabletop or ceiling-mounted installation is better for your needs.
Once you know that, you can evaluate the distance you'll need to get the screen size you're looking for and how you'll need to set things like the zoom, keystone, and lens shift to get an ideal alignment.
 
One other thing to check before you start playing is whether the projector has a Game Mode. This setting will often turn off features that slow down the image processing and may also adjust the picture or other settings to optimize them for gaming.
REFERENCES AND FURTHER READING: