Optoma is the top-selling brand of home theater projectors in the United States. When you look at models like the UHD50X, it's easy to see why. This versatile projector is the first to include both 4K resolution and a high 240Hz frame refresh rate.
What's that mean in layman's terms? Basically, the Optoma UHD50X has a sharp picture and smooth action, both things you'll want from a home theater projector. It's also a great option for media rooms since its low input lag makes it just as suitable for playing games.
Of course, as impressive as this projector is, no unit is perfect. Let's dig deeper into the performance and specs of the Optoma UHD50X so you can better judge if it's the right projector for you. (>>> Find it's pricing on Amazon)
Optoma UHD50X Review of Main Specifications
| | Optoma UHD50X |
| --- | --- |
| | |
| Resolution | 3840x2160 |
| Brightness (Lumens) | 3,400 ANSI |
| Contrast Ratio | 500,000:1 |
| Input Lag | 16-25ms |
| Refresh Rate | 240 Hz |
| Throw Distance | 4.0' - 26.6' |
| Screen size | 34" -302" |
| Internal Speakers | 5.0 Watts Mono |
| Price | ProjectorScreen.com |
Installation
Setting up the Optoma UHD50X is easy and straightforward. Since it uses a 1-chip system for the image projection, it has an alignment-free installation process, letting you get right to watching movies more quickly than with more complicated projectors. It also has a good range of options for fine-tuning the size and placement of the image, including a 1.6x zoom, vertical keystone correction, and vertical lens shift.
The Optoma UHD50X is relatively flexible in terms of installation, as well. The lamp is bright enough to compete with ambient light, making it less prone to wash-out in bright rooms. You won't have to worry as much about controlling light in your viewing area as you do with other projectors.
Since this projector has a standard throw distance, ceiling mounting set-ups are recommended for many spaces. You'll need around 9-10 feet to get a 100" screen, so it's not the ideal option for smaller rooms. As long as you have the space for it, though, mounting and setting up the projector takes mere minutes for most users.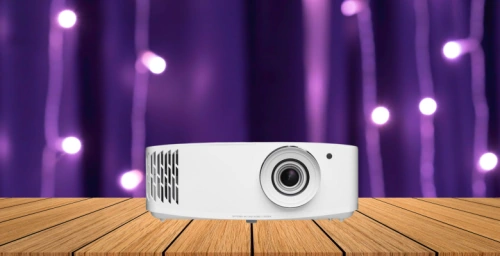 Pros
Native 4K resolution with HDR10 support
Excellent picture quality and color accuracy
1-chip design makes set-up easy
Good range of image adjustment options
Lamp is bright enough to use in moderately-lit rooms
Low input lag is suitable for gamers
Cons
Some users experience issues with the HDMI ports
Picture Quality
With 4K resolution, you know the Optoma UHD50X has a clear, sharp picture with excellent detail. It also has a high contrast ratio, so the details are just as good in the darker areas of the screen. You'll get a fully immersive and realistic picture at all image sizes, too, even when you push it all the way to its 300" maximum.
Color accuracy is another big piece of the puzzle when it comes to image quality, and the Optoma UHD50X excels at that, as well. It uses a DCI-P3 color gamut, supporting the full range of colors for your content, and is HDR10 compatible, as well. The color depth and vibrancy of the hues is on par with what you'd experience at a movie theater, letting you enjoy truly cinema-quality content at home.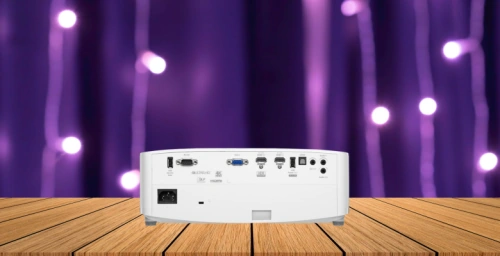 Build and Reliability
The lamp on the Optoma UHD50X has a relatively long life-span, lasting up to 15,000 hours under ideal use conditions. That's more than 10 years of use for most people. As impressed as we are by the internal construction, the outer casing does leave something to be desired. The plastic case feels a bit flimsier than we'd like for a projector in this price point. This shouldn't be an issue if it's staying put in one room, but we wouldn't feel comfortable taking it outside or transporting it often.
We should also point out that there's a recurring problem with the HDMI ports on the Optoma UHD50X. Some users reported one or both ports stopped working after just a few months of use. The good news is, Optoma will repair them for free under the 2-year manufacturer warranty if this happens to you.
Is the Optoma UHD50X Good for Gamers?
The Optoma UHD50X is the first 4K home theater projector with a 240Hz frame refresh rate. Combined with the high contrast ratio and sharp picture, this translates to a smooth, detailed on-screen action ideal for fast-paced modern games.
You won't have to worry about frustrating lag with the Optoma UHD50X, either. When it's in Enhanced Gaming Mode, the average input lag is down around 25ms. Not the lowest you'll find, true, but low enough to feel smooth and instantaneous, even for serious players of graphic-intensive games. Find the list of other 4K projectors for gaming here.
What's the Verdict?
The Optoma UHD50X is both versatile and high-performing. While we would prefer the unit to feel a bit sturdier, if you'll be using it in one spot that's not much of an issue, especially in ceiling-mounted applications. Movie buffs and gamers alike will find a lot to love about this top of the line projector. (>>> Find it's pricing on ProjectorScreen)
REFERENCES AND FURTHER READING: