Optoma's 4K gaming projectors are top sellers for a reason. These versatile projectors put high-performance gaming and cinema-level picture quality into the reach of the average consumer, with user-friendly features that make them easy to install. But what's the difference between the Optoma UHD30 vs UHD50X—and which one is better?
The short answer is the Optoma UHD50X performs slightly better than the UHD30 across the board and is the better projector for most users. Before we jump into the full reviews, let's take a look at which factors had the most influence in our decision (>>> Check the price on Amazon).
Optoma UHD30 vs UHD50X Side by Side:
| | Optoma UHD30 | Optoma UHD50X |
| --- | --- | --- |
| | | |
| Resolution | 3840x2160 | 3840x2160 |
| Brightness (Lumens) | 3,400 ANSI | 3,400 ANSI |
| Contrast Ratio | 500,000:1 | 500,000:1 |
| Input Lag | 16-25ms | 16-25ms |
| Refresh Rate | 240 Hz | 240 Hz |
| Throw Distance | 4.2' - 33.0' | 4.0' - 26.6' |
| Screen size | 34"-302" | 34" -302" |
| Internal Speakers | 5.0 Watts Mono | 5.0 Watts Mono |
| Price | Check on Amazon | ProjectorScreen.com |
Installation Ease and Flexibility
You can use both of these projectors in either ceiling-mounted or table-top installations. They have a similarly broad range of screen sizes, too, giving them the flexibility for a variety of spaces and uses.
The Optoma UHD30 has some options for adjusting the picture, including a 1.1x zoom and a 40° vertical keystone correction. The Optoma UHD50X expands on this with more zoom (1.3x) and a lens 5-15% lens shift, which can help speed up and simplify the installation.
Easiest to install: Optoma UHD50X
Picture Quality
Brightness, resolution, color, and contrast ratio all have to be considered when you're talking about a projector's picture quality. These two projectors are evenly matched on many of the specs, with similarly bright lamps, vibrant colors, and high contrast.
While both these projectors have native 4K resolution, the image looks slightly sharper on the Optoma UHD50X. It uses tone mapping to optimize the colors on a frame by frame basis, giving it a slight edge when it comes to the realism and clarity of the picture. For more projectors with 4k resolution check this buyer's guide. 
Best picture: Optoma UHD50X
Suitability for Gamers
Gaming projectors reduce the delay between the player's input and what you see on the screen. A good rule of thumb is to look for an input lag under 30ms for smooth, delay-free gaming. Both of these projectors can get down to 16ms, so they're in the recommended range.
The only caveat is you'll need to switch to 1080p HD for that super-low input lag. If you want to game in 4K, the Optoma UHD50X is the better choice. Even when you switch to 4K resolution, the input lag measures around 25ms.
Best projector for gamers: Optoma UHD50X
Price
Here's the one place where the Optoma UHD30 is the better option. While both these projectors are in the mid-range price point but the UHD30 typically retails for a few hundred dollars less. The difference is relatively small in the grand scheme but can be a big factor for buyers with limited budgets.
Better value: Optoma UHD30
---
Optoma UHD30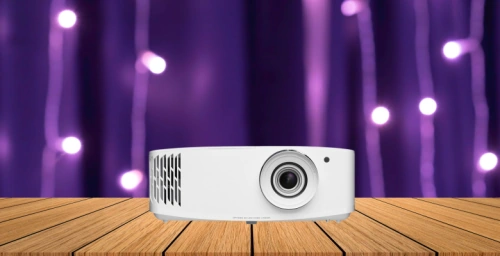 For a 4K gaming projector, the Optoma UHD30 is an excellent value. It has an input lag as low as 16ms, as well as a high 240Hz refresh rate. You won't experience any annoying lag, stutters, or other image issues that can impede your gameplay. We also appreciate the high contrast ratio for gaming, giving you the same clarity and detail in dark areas of the screen that you get in the brighter spots.
That high contrast ratio is great for watching movies and TV, too. The picture quality on the Optoma UHD30 is cinema-quality with vivid colors thanks to the 8-segment color wheel. Since the lamp is nice at bright, the picture quality won't change due to ambient light in the room, either. It stays as sharp at 300" as it is at smaller sizes, too, making it a good option for outdoor movies and other large-scale applications.
You'll get some image adjustment options with the Optoma UHD30. It does have a 1.1x zoom and a 40° vertical keystone correction for ceiling-mounted installations. The long throw distance can be a hassle in smaller spaces, but for most homes it's a user-friendly and flexible projector for all your entertainment needs. The more detailed Optoma UHD30 review can be found here.
Pros
Great for gaming
4K resolution with HDR10 and HLG color support
Dynamic Black technology improves contrast ratio
Versatile design suitable for indoor or outdoor use
Cons
---
Optoma UHD50X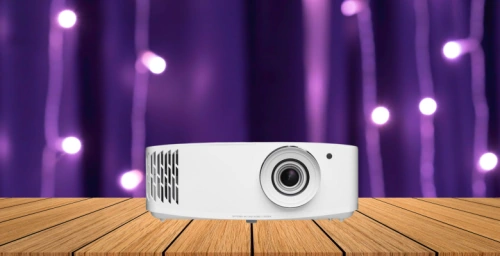 The Optoma UHD50X has the same strengths as the UHD30 above but exceeds its performance on a number of key points. It's easier to install, first of all. The throw distance is shorter, and it also has a tighter zoom and a vertical lens shift. That's helpful when you need to fine-tune the image and makes installing the projector faster and less frustrating.
The picture quality on the Optoma UHD50X is slightly better, too. It uses the same basic technology, including the Dynamic Black contrast enhancement and an 8-segment color wheel. The frame rate is higher, however, and it adds UltraDetail technology to the 4K resolution to enhance the sharpness of the image. Relevant comparison: Optoma UHD35 vs. UHD50X
This higher frame rate is also good for gamers. It has the same low 16ms input lag on lower resolution settings as the Optoma UHD30. The difference is that input lag stays low when you up the picture quality, measuring at around 25ms at 4K resolution. That's still well within the acceptable range for high-speed competitive gaming. Click here for more information about Optoma UHD50X.
Pros
Lower input lag at 4K resolution
Bright lamp for a great picture in all light levels
Improved clarity with UltraDetail technology
8-segment color wheel for vivid, accurate colors
Easy to install with helpful image adjustment features
Cons
---
What's the Verdict?
Looking strictly at performance, the Optoma UHD50X edges out the UHD30 (>>> Check price on ProjectorScreen). Having said that, the Optoma UHD30 sells for slightly less than the UHD50X and is one of the best values in 4K gaming projectors you'll find. If cost is a factor, you'll be happy with the versatility and performance from the UHD30.
We hope this comparison has helped you choose the perfect projector for your home! Honestly, you can't go wrong with either of these models, whether you're an avid gamer or a home theater enthusiast.
REFERENCES AND FURTHER READING: