Optoma projectors are a great choice for everyday home theater owners, bringing the image quality and big-screen capability you're looking for at a good value. Comparing the Optoma UHD35 vs UHD50X, you'll see they're similarly priced with a street price under $1,500, far more affordable than most 4K projectors.
Based on their overall performance, we give the Optoma UHD35 (>>> Check how much it cost on Amazon). While it's the better choice for most buyers, though, the UHD50X also has its strengths. Read on to see these two models compared side by side so you can choose the one that meets your needs.
Optoma UHD35 vs UHD50X Side by Side:
| | Optoma UHD35 | Optoma UHD50X |
| --- | --- | --- |
| | | |
| Resolution | 3840x2160 | 3840x2160 |
| Contrast | 1,000,000:1 | 500,000:1 |
| Brightness (Lumens) | 3,600 ANSI | 3,400 ANSI |
| Input lag | 4.2ms | 15.7ms |
| Throw Distance | 4.0' - 32.7' | 4.0' - 26.6' |
| Screen size | 33" - 300" | 34" - 303" |
| Speakers | 10.0 Watts Mono | 5.0 Watts Mono |
| Today's Best Price | BHPhotoVideo.com | Check on Amazon |
Gaming Performance
Both the Optoma UHD35 and UHD50X are responsive with a strong image contrast and high 240Hz frame rate for Full HD content, delivering blur-free, frustration-free gaming. However, the input lag of the UHD35 is lower across the board, as low as 4.2ms for 1080p content.
Better for gaming: Optoma UHD35
Installation Flexibility
The powerful lamp of the Optoma UHD35 gives it some installation flexibility, but it does have a long throw distance and a narrow 1.1x zoom. The wider zoom of the Optoma UHD50X makes it a better choice in smaller spaces, producing a 100-inch image with as little as 8'9" of space, compared to the 10-12 feet you'll need for the UHD35. The UHD50X also has vertical lens shift, an option you won't get from the UHD35.
More flexible installation: Optoma UHD50X
Image Quality
The Optoma UHD50X has a true 4K resolution paired with UltraDetail and Dynamic Black technology and dynamic tone mapping to ensure accurate, vibrant colors in every scene. For Ultra HD content, these projectors are evenly matched. However, the Optoma UHD35 adds upscaling, bringing 1080p or lower resolutions to nearly 4K levels of detail.
Better image quality: Optoma UHD35
---
Optoma UHD35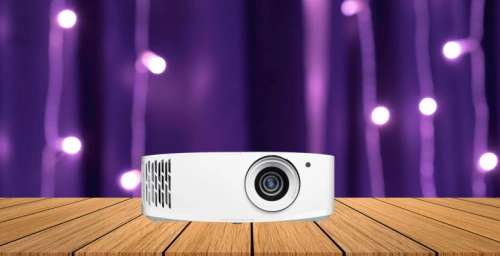 The Optoma UHD35 is one of the best projector for gaming that you're likely to find. Not only does it have a super-speedy input latency for both Full HD and 4K content, but it also uses Dynamic Black contrast for a stunning contrast and detail in dark screen areas.
That impressive contrast is just one ingredient in the Optoma UHD35's picture quality. It has a true 4K display with HLG and HDR10 compatibility and UltraDetail enhancement to guarantee a sharp picture. Along with this, its XPR technology can upscale lower resolution content to nearly 4K quality.
The 8-segment color wheel covers the DCI-P3 spectrum, going beyond the Rec.709 gamut that's the broadcast standard. You can also enjoy 3D content with the UHD35 using DLP link 3D glasses.
With a 3,600 lumen lamp, the Optoma UHD35 can be used in just about any indoor light environment without losing image quality. While you will need a large space for a big-screen experience, its 4-corner correction gives it good flexibility within that space.
It's also relatively lightweight and compact compared to other 4K projectors, a great choice for traveling, presentations, or anyone who needs a portable projector. For our more in-depth review of the UHD35, click here.
Pros
4K resolution with upscaling for lower-resolution content
Wide color gamut and high contrast
Bright lamp
Ideal for gaming
Supports 3D content
Lightweight and compact
Cons
Long throw distance
More limited image adjustment options
---
Optoma UHD50X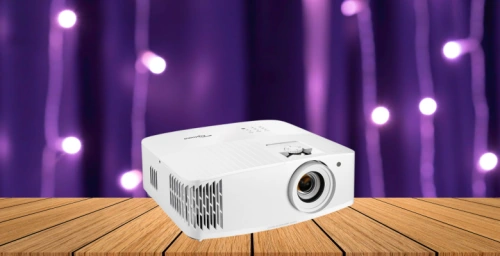 The Optoma UHD50X is almost as strong as the UHD35 for gaming. Its input lag is under the 30ms threshold for serious gamers, for both 4K and 1080p content, with a frame refresh rate up to 240Hz to ensure a smooth on-screen response with no motion blur.
It also uses the same Dynamic Black and UltraDetail technology for the color and contrast, adding Dynamic Tone Mapping for scene-by-scene color optimization.
Where the Optoma UHD50X takes the edge is its installation flexibility. Along with 40° keystone correction and a wider 1.3x zoom, it also has a vertical lens shift of 5-15%. The only issue is that these functions are disabled when you go into Enhanced Gaming Mode, which does limit its use as a gaming projector.
The Optoma UHD50X is equally portable to the UHD35, with a comparable lamp brightness. That's great news for backyard movies, as well as travelers and presenters, who can't always control the light level in the space where they'll be using the projector. For a full review, follow the link: http://projectortop.com/optoma-uhd50x-review/
Pros
True 4K resolution for both movies and games
Excellent color and contrast
Bright lamp
More installation flexibility
Low enough lag for most gamers
3D ready
Cons
Alignment settings disabled in Enhanced Gaming Mode
No 4K upscaling
---
Optoma UHD35 vs UHD50X: The Verdict
With its high image quality, bright lamp, and excellent gaming performance, the Optoma UHD35 is a versatile option for all your big-screen entertainment needs (>>> Check price on Bhphotovideo). That said, the more flexible Optoma UHD50X could be a better fit in some homes.