Gaming projectors combine massive high-quality pictures with fast processing and low lag to give you a truly immersive big-screen experience. The Optoma UHD30 is one of the strongest contenders in this field. It's priced similarly to other 4K projectors but is arguably a better value, integrating features that serious gamers will love. (>>> Check UHD30 price on Amazon) In this Optoma UHD30 review, we'll break down the details so you can see why we love this projector.
Optoma UHD30 Review of Specifications:
| | Optoma UHD30 |
| --- | --- |
| | |
| Resolution | 4K Ultra HD |
| Brightness (Lumens) | 3,400 ANSI |
| Contrast Ratio | 500,000:1 |
| Throw Distance | 4.2' - 33.0' |
| 3D | YES, Full HD 3D |
| Screen size | 34"-300" |
| Input lag: | 16-25ms |
| Price | Check on Amazon |
Image Quality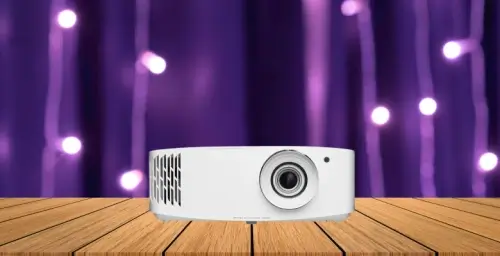 Any 4K projector is going to have a nicely detailed and crisp picture. The Optoma UHD30 takes this a step further with their UltraDetail technology. A high frame rate and enhanced sharpness gives you even more clarity than you'd get from other 4K projectors. (Find a review of the best 4K projectors here)
The color and contrast of this projector are just as impressive. It uses an 8-segment color wheel that's compatible with both HGL and HDR10 color sets. This means the Optoma UHD30 has rich colors that match what you'd see in the theater, no matter what kind of content you're using. The UHD30 also includes Optoma's Dynamic Black technology which enhances the image's depth and contrast. Blacks are darker and whites are brighter, without losing any detail from either.
The Optoma UHD30 supports 3D content from most sources. You'll get the same high 4K image clarity in 3D that you do in other formats, too. That's great news for anyone who wants to replicate the movie theater experience in their own home.
Pros
Low input lag and high refresh rate
High brightness for use in any light conditions
Keystone correction and zoom for easier set-up
8-segment color wheel compatible with HGL and HDR10
UltraDetail technology improves image clarity
Wide screen size options
Lightweight and portable design
Cons
Only includes HDMI connections
Longer throw distance
Installation Flexibility
Lamp brightness is one big piece of the puzzle when you're deciding where you can use the projector. The lamp on the Optoma UHD30 puts out 3,400 lumens. That's enough to let it compete with ambient light and not be concerned with picture wash-out. You don't need a dedicated home theater to get a great picture from this projector, and that's key for people who want a projector for their living room or gaming room.
The image set-up on the Optoma UHD30 is quick and easy, as well. It has a 40° vertical keystone correction and a 1.1x zoom, making it less of a struggle to align the image. It's lightweight enough you can move it easily from one room to another—or even outside—and get it ready to go quickly.
Now the throw distance on this projector is considered standard, and that means it needs a lot of space. For a 100" image, you'll need about 11.5 feet of distance. This is the only potential difficulty from an installation perspective, however, and it can generate a clear picture with as little as 4 feet of distance—you just won't get a very large screen at that distance.

Optoma UHD30 Connections
The only other thing to mention from an installation standpoint is that you'll only get HDMI inputs to connect your content. There are dual hook-ups so you can use a streaming stick and a gaming system at the same time, for example, but there's no on-board wireless, and no options for older systems that use VGA and other connections. HDMI is the standard so for most people this won't be an issue, but it's something to keep in mind if you want to use more diverse content sources.
Gaming Performance
Lag is an incredibly frustrating thing for a gamer to experience and can be a deal-breaker for serious gamers. The Optoma UHD30 is designed with gamers' needs in mind. This starts with the ultra-low 16ms lag time in Enhanced Gaming Mode, which gives you a nearly instantaneous response. Find the list of top gaming projectors
You don't have to sacrifice picture quality to get this fast response, either. Even in higher image quality modes, the lag time stays under the 30ms benchmark that's suitable for professional gamers. This is paired with a 240Hz processing rate for the image. There will be no blurring or choppiness to distract you from playing, no matter what platform or resolution you're using.
What's the Verdict?
The Optoma UHD30 isn't perfect, but it's as close to it as you're likely to find in the price range. (>>>Check UHD30 price on Amazon) While the long throw distance can be a bit of an annoyance, the things it does well are more important, in our book. Both gamers and movie buffs will appreciate the smooth on-screen action and high resolution. If you're looking for a versatile projector for your media room that can work just as well for outdoor movie nights, the Optoma UHD30 is an excellent choice.
REFERENCES AND FURTHER READING: