Upgrading your home theater to 4K resolution used to be a costly and complicated endeavor, especially if you want the versatility for gaming as well as watching movies. This has started to change in recent years, though, thanks largely to the growing number of reasonably-priced 4K projectors you'll find on the market.
The question of which 4K projector to get can still be a confusing one for consumers, though. When you're comparing the Optoma UHD30 vs Epson 3800, their stats initially look very similar, making it tricky to figure out which one offers the best performance for your home.
Taking all factors together, the Optoma UHD30 is the better choice of the two in our opinion. (>>> Find price on Amazon) While the Epson 3800 is by no means a bad projector, the UHD30 simply out-performs it when it comes to both the quality of the image and its suitability for gaming. Let's take a deeper look at what each projector can do so you can see the difference.
Optoma UHD30 vs. Epson 3800 Side by Side:
| | Optoma UHD30 | Epson 3800 |
| --- | --- | --- |
| | | |
| Resolution | 3840x2160 | 3840x2160 |
| Brightness (Lumens) | 3,400 ANSI | 3,000 ANSI |
| Contrast Ratio | 500,000:1 | 100,000:1 |
| Input Lag | 16-25ms | 16-28ms |
| Zoom | 1.1x manual | 1.62x manual |
| Throw Distance | 4.2' - 33.0' | 6.2' - 28.8' |
| Screen size | 34" -302" | 40"-300" |
| Internal Speakers | 5.0 Watts Mono | 2 x 10 Watts |
| Price | Check on Amazon | BHPhotoVideo.com |
Picture Quality
Both of these projectors advertise themselves as having 4K resolution, but they don't achieve this in the same way. The Optoma UHD30 uses processing chips to generate the 4K resolution, while the Epson 3800 achieves it through pixel shifting. Because of this, the resolution isn't quite as sharp with the Epson 3800. If you are looking for an affordable 4K projector – check this guide.
There's also a slight difference in brightness between these two projectors. The Epson 3800 puts out about 3,000 lumens, while the Optoma UHD30 has a higher brightness of 3,400 lumens. Both work well for lights-on viewing, but for those who have a lot of windows in their space, the Optoma UHD30 will be able to compete with more light.
Better picture: Optoma UHD30
Installation
Here is one area where the Epson 3800 is the stronger performer. Both projectors use a standard throw distance and work best in ceiling-mounted installations. You'll get a few options to adjust the alignment and focus on the Optoma UHD30, including a 1.1x zoom and a 40° vertical keystone correction. The options on the Epson 3800 are more robust, though, including a vertical and horizontal lens shift. This gives you more flexibility to adjust the placement of the projector to suit your space.
Easier installation: Epson 3800
Gaming Performance
Input lag is one key stat gamers want to pay attention to. You won't notice any lag with either of these projectors, both of which have a latency as low as 16ms with the right picture settings. The main difference is that the Optoma UHD30 gives you lag-free gaming even at a 4K resolution.
The Optoma UHD30 also has a higher frame refresh rate than the Epson 3800. This is critical to avoid blurring, blocking, or other image issues during fast-paced gaming sequences, and gives it an overall better performance for graphic-intensive and competitive games.
Better for gamers: Optoma UHD30
Optoma UHD30 vs Epson 3800: Full Reviews
Optoma UHD30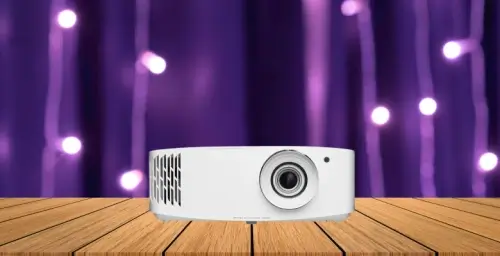 The Optoma UHD30 is a versatile and high-quality projector. This starts with the native true 4K resolution, bringing true-to-life detail and clarity to whatever you're watching. It has a high contrast ratio, too, with Dynamic Black technology that makes sure details are just as crisp and sharp in dark areas of the screen.
We're also impressed by the colors produced by the Optoma UHD30. It uses an 8-segment color wheel for the widest possible range of hues. Along with that, it's compatible with HDR10 and HLG, so you'll see images the way they were intended when you use this projector. Best of all, you'll get those vivid colors in any viewing circumstance. With a 3,400 lumen lamp, the UHD30 can compete with most ambient light sources without the picture getting washed out.
Gamers will love the Optoma UHD30, as well. It has the lowest 4K input lag of any projector we've seen, only 26ms even at this high resolution. That drops even lower if you're playing in a lower resolution. It pairs this low input lag with a high frame refresh rate, keeping the on-screen action smooth no matter what kind of game you're playing.
Pros
Great response time for gaming
Bright lamp doesn't require light control in viewing area
High contrast ratio and color accuracy
Easy installation with both zoom and keystone correction
True 4K resolution for both movies and gaming
Good array of inputs and connection options
Cons
Not as many image adjustment options
3D content can get blurry in fast-paced scenes
---
Epson 3800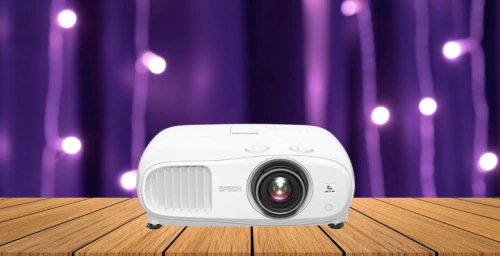 The gaming stats of the Epson 3800 are on par with those of the UHD30 above. It has a low input lag, as low as 16ms depending on the mode and resolution settings. The high frame refresh rate and smooth transitions from the real-time digital video processing help here too, eliminating blurring, color blocking, and other visual issues that can impair your play.
When it comes to watching movies and TVs, the picture quality of the Epson 3800 is good—just not quite as good as what you'll get from the Optoma projector above. The main difference is that the Epson 3800 uses pixel shifting to produce its 4K resolution. This gives a resolution that's sharper than 1080p but not quite as sharp as true 4K, a difference that becomes more noticeable the larger you make the image.
The Epson 3800 has full HDR10 support from all content sources and uses a 3 LCD chip system for generating the color. This eliminates the risk of the rainbow effect, producing a picture everyone can enjoy. The contrast ratio is high, as well, and while the lamp isn't quite as bright as with the UHD30, its 3,000 lumens will keep the picture clear and bright in most lighting environments.
Pros
Low input lag for gaming
12-bit processing for smooth on-screen transitions
High color accuracy
No image compression issues or rainbow effect
Full 3D support
Easy to focus and adjust the image
Cons
Pixel-shifting for 4K means resolution isn't as sharp
Fan is on the loud side
---
What's the Verdict?
Not only does the Optoma UHD30 have a higher picture quality and a better gaming performance than the Epson 3800, it also typically sells for a couple hundred dollars less. In our minds, this makes the choice a no-brainer for most users. With the Optoma UHD30, you'll get a brighter lamp, sharper resolution, and faster performance, all for a better value. (>>> Find the current price on Amazon)
The more robust image adjustment options on the Epson 3800 are its main advantage. If you have an oddly-shaped or otherwise difficult space, having the option of a lens shift may be worth sacrificing some picture quality and spending a bit of extra money.
For most users, though, we wholeheartedly recommend the Optoma UHD30. It's equally strong for both movie watching and gaming, and a great way to bring 4K picture quality to your home theater.
REFERENCES AND FURTHER READING: