Most people don't have a dedicated home theater space, but that doesn't mean you're out of luck if you want big screen entertainment. There are several projectors in the mid-range price point that give users a high picture quality, a low lag for gaming, and the installation versatility to work in everyday spaces.
Comparing the Optoma UHD35 vs. Epson 3800, the UHD35 will be the better choice for most (>>> Check on Amazon). This isn't to say the Epson is a bad projector, though, and it does have a few advantages over the Optoma that will make it the superior option for certain setups and viewers. Let's take a closer look at the key areas where they differ.
Optoma UHD35 vs Epson 3800 Side by Side:
| | Optoma UHD35 | Epson 3800 |
| --- | --- | --- |
| | | |
| Resolution | 3840x2160 | 1920x1080 4K w/pixel shifting |
| Brightness (Lumens) | 3,600 ANSI | 3,000 ANSI |
| Contrast Ratio | 1,000,000:1 | 100,000:1 |
| Input Lag | 4ms | 21ms |
| Throw Distance | 4.0' - 32.7' | 6.2' - 28.8' |
| Screen size | 33" - 300" | 40" - 300" |
| Speakers | 10.0 Watts Mono | 10.0 Watts × 2 |
| Today's Best Price | BHPhotoVideo.com | BHPhotoVideo.com |
Brightness
At 3,000 lumens, the lamp of the Epson 3800 is bright enough for most viewing areas, and can compete easily with moderate levels of ambient light. For brighter spaces, or rooms with lots of large windows, the 3,600-lumen lamp of the Optoma UHD35 has the extra power to prevent image washout and saturation loss, even during daytime viewing.
Brighter projector: Optoma UHD35
Gaming Performance
For most players, the 23-29ms input lag of the Epson 3800 is low enough to avoid any frustrating delays between your input and what you see on the screen. This is combined with 12-bit video processing for smooth, blur-free on-screen action, giving it overall strong performance in a gaming context.
As well as the Epson performs in this category, the Optoma UHD35 is an exceptional projector for gamers. Its input lag is as low as 4.2ms in full HD, and its frame refresh rate is among the highest on the market at 240Hz. It also has better connectivity for gamers, with a VGA input along with dual HDMI inputs, putting it in the category of true gamer projectors usable by competitive or professional players.
Better gaming performance: Optoma UHD35
Picture Quality
The 3LCD display and pixel shifting engine of the Epson 3800 produce an overall picture that exceeds the quality of a typical HD TV, with vibrant colors, rich black levels, and a good amount of sharpness and detail. Having said that, though, its resolution is only about double full HD, not quite to the 8.3 million pixels you'll get from a true 4K image.
With the Optoma UHD35, you will get that full detail of Ultra HD, along with a dynamic contrast that's roughly 10 times that of the Epson 3800. While some users may see color issues because of its use of a color wheel, most viewers will find its color performance to be on par with that of the Epson in terms of accuracy and saturation.
Higher picture quality: Optoma UHD35
Installation Ease
You won't need a professional to install the Optoma UHD35. While its long-ish throw distance means most users will want to mount it, it's lightweight and compatible with the majority of universal projector mounts. For adjusting the image, it includes a digital zoom as well as horizontal and vertical keystone correction, so you can make it work in any space fairly easily.
While the Optoma is relatively easy to install, the Epson 3800 gives users more installation flexibility. It adds a 2D lens shift to the keystone correction and zoom of the Optoma (+/-24% horizontal and +/-60% vertical). At about 15 pounds, it's a bit heavier than the UHD35 but still well under the weight limit of most ceiling mounts.
Easier installation: Epson 3800
Built-in Speakers
The speakers of the Optoma UHD35 are on par with what you'd expect from a typical flatscreen TV. They have the volume capacity to fill most viewing areas and are clear in the mid-range for hearing dialogue, though they lack a bit of low-end power and movie sound effects may not have their full effect.
The dual 10-watt speakers in the Epson 3800 are superior in this regard. Their overall sound quality is on par with most standalone Bluetooth speakers, and definitely loud enough to use on their own for both movie watching and gaming.
Better sound: Epson 3800
---
Optoma UHD35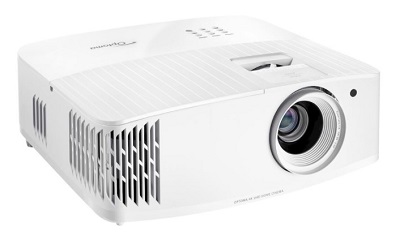 The Optoma UHD35 is an excellent multi-purpose projector for all types of home entertainment systems. For movies and shows, it has a native 4K resolution with a sharp dynamic contrast and compatibility for visual technology like HLG and HDR10. UltraDetail enhancement and an 8-segment color wheel give it color performance on par with its detail and clarity, and it supports a range of 3D formats so you can use it for all styles of content.
Gamers will be just as happy with the Optoma UHD35's performance. Its input lag is an incredibly 4.2ms in full HD, and a very reasonable 16ms in Ultra HD. Along with this, its fast 240Hz refresh rate prevents blur and other image issues, letting even competitive gamers stay immersed in their play with no lag or frustration.
The bright lamp of the UHD35 is also ideal for multi-use spaces because it won't require any light control measures and you can watch with the lights on without sacrificing picture quality. Since it's a standard throw projector you will need a decent amount of space for a big picture, around 11-12 feet for a 100" screen, though the digital zoom and 2D keystone correction give it good flexibility for correcting the image after it's installed.
Pros
True 4K resolution with high dynamic contrast
Compatible with HDR and HLG
Bright lamp suitable for any indoor light environment
Low input lag and high refresh rate for gamers
Dual HDMI and VGA inputs
Full 3D compatibility
Cons
Use of color wheel may cause rainbowing
No lens shift options
---
Epson 3800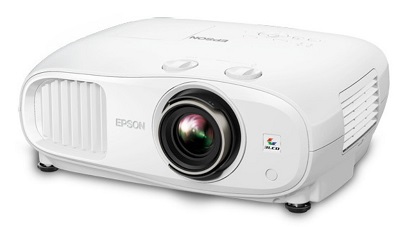 The 3-chip LCD display of the Epson 3800 produces some of the most accurate and vibrant colors you'll find in the price point. It's perfect for those sensitive to the rainbow effect, with none of the flickering or brightness hotspots that can plague other displays. The picture is also relatively detailed and crisp, though bear in mind it uses a pixel-shifting engine rather than a native 4K display, so its resolution won't be quite as sharp as a true Ultra HD projector.
Casual gamers will get an exceptional playing experience from the Epson 3800. Its input lag is in the mid-20 millisecond range, low enough most won't notice any delay even when playing reflex-based games. The fast processor helps here, too, with 12-bit real time video processing that prevents issues like blocking or color banding.
At 3,000 lumens, the Epson 3800 is bright enough for use in moderate ambient light. If your room has a lot of windows you may still need to invest in black out curtains, but you won't need to turn off lamps or other artificial light sources to get a clear picture. Features like 2D lens shift and keystone correction, along with a wide manual zoom, give it a flexible installation, though its long throw distance will require a relatively large space. Click here for our more in-depth Epson 3800 review.
Pros
Sharper resolution than full HD through pixel shifting
Supports 4K content
Vibrant 3LCD color with no rainbowing
Low enough lag for most gamers
Robust image alignment features
Powerful speakers with decent sound quality
Cons
Not a true 4K display
Low lamp lifespan (5,000 hours max in Eco Mode)
---
Optoma UHD35 vs. Epson 3800: The Verdict
With a sharper picture, more responsive processor, and brighter lamp, the Optoma UHD35 is the overall winner of this comparison (>>> Find on Amazon). There are some users who will still prefer the Epson 3800, however. Its built-in sound is better, its installation is a bit more flexible, and its 3-chip display will be more comfortable to watch for those sensitive to the rainbow effect. We hope this side-by-side has helped you decide which one is the best fit for your home!