The world of 4K projectors has changed dramatically over the last 5 years. The first home projectors to offer this resolution were expensive, bulky, and intended for high-end dedicated home theater spaces. While you'll still pay a slight premium for 4K resolution, companies like Optoma and BenQ have a number of appealing models that cost less than $2,000 and are far more versatile than their forerunners.
Comparing the Optoma UHD30 vs BenQ HT3550, it's hard to declare one the clear winner. Each of them has clear advantages. While the Optoma UHD30 is the more versatile choice, (>>> Find its current price on Amazon)  the BenQ HT3550 is more user-friendly, with a better image quality in-home theater settings.
Choosing between these UHD30 and HT3550 comes down to how you plan to use the projector. Looking for more details on their differences? Here's a side-by-side breakdown on the major stats so you can see how these two models compare.
Optoma UHD30 vs BenQ HT3550 Side by Side:
| | Optoma UHD30 | BenQ HT3550 |
| --- | --- | --- |
| | | |
| Resolution | 3840x2160 | 3840x2160 |
| Brightness (Lumens) | 3,400 ANSI | 2,000 ANSI |
| Contrast Ratio | 500,000:1 | 30,000:1 |
| Input Lag | 16ms | 60ms |
| Included Lens | 1.1x manual zoom | 1.3x manual zoom |
| Throw Distance | 4.2' - 33.0' | 3.2' - 16.4' |
| Screen size | 34" - 302" | 30" - 200" |
| Speakers | 5.0 Watts Mono | 5.0 Watts × 2 |
| Price | Check on Amazon | BHPhotoVideo.com |
Brightness
Ambient light is enemy number one for a projected image. This is especially true for standard-throw projectors since the lamp's output has to travel further before reaching the screen, presenting more opportunities for light pollution to interfere.
The 2,000-lumen BenQ HT3550 is at its best when used in a room with light control, such as a dedicated home theater space. The brighter 3,400 lumen lamp of the Optoma UHD30 is powerful enough to compete with other light sources, and can even work well in a room with windows and natural daylight.
Brighter projector: Optoma UHD30
Picture Quality
These two projectors are more evenly matched on the question of picture quality. Both have a native 4K resolution with a full 8.3 million on-screen pixels. They also both exceed the Rec. 709 color space, covering most of the wider DCI-P3 gamut that's the new standard for cinema-quality color.
The BenQ HT3550's lens array produces a sharper image than the Optoma UHD30, despite the UHD30's higher Dynamic Black contrast. The BenQ also uses more advanced image processing, including HDR tone mapping and DLP technology. Overall, this generates a picture that's more realistic and authentic for a truly cinema-quality movie experience.
Better picture quality: BenQ HT3550
Installation Ease
Any standard-throw projector is going to take a bit of effort to install, and in many homes will call for a ceiling-mounted set-up. That is the case for both the BenQ HT3550 and the Optoma UHD30 if you want a large screen of 100" or more. Having said that, the throw of the BenQ HT3550 is slightly shorter (about 8 feet for a 100" screen, compared to 11-12 feet for the Optoma UHD30) and will be the more flexible option for smaller spaces.
Along with that shorter throw, the BenQ HT3550 also has a better array of adjustment features. Most notably, it uses an automatic vertical keystone correction, eliminating skew and warp without any user input. There are also manual controls for the zoom, focus, and lens shift. On the Optoma UHD30, the keystone correction is manual, the zoom is narrower, and there's no lens shift option.
Easier installation: BenQ HT3550
Gaming Performance
The main stat of interest to gamers is the input lag, particularly for those who play reflex-based games on modern graphic-intensive consoles. Ideally, you want an input lag of 30ms or less for gaming, which is fast enough to avoid noticeable lag. For slower-paced games (and less serious players), that can go as high as about 60ms before it starts to seriously impact your playing ability.
The input lag of the BenQ HT3550 measures an average of around 50ms—low enough for RPGs and casual players, but too higher for most. With the Optoma UHD30, the input lag is an impressive 16ms in full HD, and only goes up to about 26ms in 4K. Paired with that is the projector's fast 240Hz refresh rate, ensuring smooth on-screen action for all kinds of content.
Better gaming performance: Optoma UHD30
Optoma UHD30 vs BenQ HT3550: Full Reviews
Optoma UHD30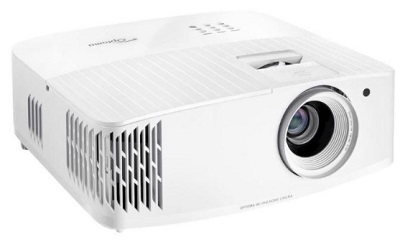 The Optoma UHD30 has the advanced image processing and signal support you need for a modern home theater. Its true 4K resolution is paired with UltraDetail and Dynamic Black technology, enhancing the contrast and sharpness of the image. The 8-segment enhanced color wheel delivers a wide color gamut, covering the DCI-P3 spectrum. Since it also supports HDR10 and HLG, you can count on it to show movies and TV the way they were meant to be viewed.
The Optoma UHD30 is a highly responsive projector, too. Its 240Hz refresh rate is great for both home theater use and gaming, preventing blur and other image issues no matter what is on the screen. Speaking of gamers, they'll love the low input lag. Even at 4K resolutions it stays under the 30ms cutoff for serious reflex-based gaming.
With a 3,400 lumen lamp, the Optoma UHD30 can be used in any light conditions without sacrificing the quality of the picture. It does have a fairly long throw, limiting its use in smaller rooms. Its image alignment options are also somewhat limited, which can make it more difficult to install especially for inexperienced users. The built-in speaker is also pretty weak so most people will want to pair it with external speakers—something to keep in mind as you're planning your budget. Once it's set up, though, the visual and gaming performance are worth the effort. Click here for our more in-depth review of the UHD30.
Pros
True 4K resolution with high dynamic contrast
Broad color gamut from 8-segment color wheel
Bright lamp can be used in any light level
3D ready (full HD resolution for 3D content)
High frame refresh rate with low input lag
Cons
Long throw distance
Weak built-in sound
---
BenQ HT3550
The BenQ HT3550 is one of the best home theater projectors you'll find in the mid-range price point. This starts with the true 4K resolution from its all-glass lens array, which also enhances the sharpness and color of the image. Its factory-calibrated color covers 95% of the DCI-P3 spectrum, with advanced technology like the DLP display and HDR-PRO tone mapping to give you the same viewing experience you'd get in a movie theater.
Installing the BenQ HT3550 is easy, as well. Its throw distance is a bit shorter than other standard-throw projectors, producing a 100" image with around 8 feet between the lens and screen. Aligning the image is a quick process too, with automatic vertical keystone correction as well as robust manual image adjustment options.
Where the BenQ HT3550 falls a bit short is its versatility. Its 2,000-lumen lamp is bright enough for light-controlled spaces but struggles once you introduce ambient light to the environment. The input lag is on the high side for serious gamers, too, which can limit its use in media rooms and other multi-purpose spaces. This is why we mostly recommend the BenQ HT3550 for dedicated home theater spaces where you can enjoy the full potential of its impressive picture quality.
Pros
All-glass lens array for true 4K resolution
Cinematic color with tone mapping
Flexible installation with wide zoom and lens shift
Automatic keystone correction
Covered by 3-year warranty
Cons
Not great for lights-on viewing
Input lag is too high for serious gamers
---
The Bottom Line
For gamers, the Optoma UHD30 is the obvious best choice. If you'll mostly be watching TVs and movies, the decision is less clear-cut. Consider your space and your home theater experience. The BenQ HT3550 has a faster set-up, with a shorter throw and better sound that could reduce how many accessories you need. Conversely, the UHD30's brighter lamp gives it more versatility for different light levels. >>> Find it on Amazon
Whichever one you buy, both the BenQ HT3550 and Optoma UHD30 have a wide color gamut and sharp resolution and are an excellent value at the price.
REFERENCES AND FURTHER READING: