Optoma's UHD like of home theater projectors are versatile and user-friendly media machines, designed to bring big-screen entertainment to everyday homes. The main difference between the Optoma UHD30 vs UHD35 is that the UHD35 is the more recent model, released in March 2021, and offers some upgrades compared to the older UHD30.
Looking strictly at performance, the Optoma UHD35 is the winner across all categories and the better projector overall. Having said that, though, the UHD30 is still a strong performer. Let's take a look at the key specs so you can see how they differ (>>> Find on Amazon).
Optoma UHD30 vs UHD35 Side by Side:
| | Optoma UHD30 | Optoma UHD35 |
| --- | --- | --- |
| | | |
| Resolution | 3840x2160 | 3840x2160 |
| Brightness (Lumens) | 3,400 ANSI | 3,600 ANSI |
| Contrast Ratio | 500,000:1 | 1,000,000:1 |
| Input lag | 16ms | 4ms |
| Throw Distance | 4.2' - 33.0' | 4.0' - 32.7' |
| Screen size | 34" - 302" | 33" - 300" |
| Speakers | 5.0 Watts Mono | 10.0 Watts Mono |
| Price | Check on Amazon | BHPhotoVideo.com |
Installation Ease
Most users will want to use a ceiling mount with both the Optoma UHD30 and UHD35 since their throw distances are on the longer side. The UHD30 offers some image alignment options, including a relatively wide 40° vertical keystone correction and a somewhat more limited 1.1x digital zoom.
The Optoma UHD35 adds to these alignment options with both vertical and horizontal keystone correction. That full 4-corner geometry correction gives it more flexibility. It can also be used without a screen thanks to the wall color adjustment feature, allowing for unobtrusive installations in common spaces.
Easier installation: Optoma UHD35
Picture Quality
The Optoma UHD30 has native 4K resolution and an 8-segment color wheel that can produce most of the DCI-P3 color space. It uses Dynamic Black technology and HDR tone mapping to optimize the image. Overall, the picture is realistic and immersive, with excellent detail and clarity at all image sizes.
As good as the picture from the UHD30 is, the Optoma UHD35 takes it even further. Its dynamic contrast is roughly double that of the UHD30, with UltraDetail technology for ultimate sharpness and clarity.
Better picture quality: Optoma UHD35
Gaming Performance
Serious gamers look for an input lag of 30ms or lower. For competitive or professional gamers, the lower the better, and many pro gamers expect a lag in the single digits.
The Enhanced Gaming Mode on the Optoma UHD30 supports both full HD and 4K gaming, with an input lag low enough players won't notice a delay even if you're playing on the latest consoles. For pros, the 4.2ms lag of the Optoma UHD35 is an even better choice, especially since this is paired with a fast processor and high contrast.
Better for gaming: Optoma UHD35
3D Support
The Optoma UHD30 comes 3D ready, and may require you to buy extra accessories before playing 3D content from devices like Blu-ray players. With the Optoma UHD35 you'll get full 3D compatibility, with support for all 3D formats enabled in HDMI 1.4 (top/bottom, side-by-side, and frame packing). That means you can play 3D content from most sources right out of the box, no accessories required.
Better 3D support: Optoma UHD35
---
Optoma UHD30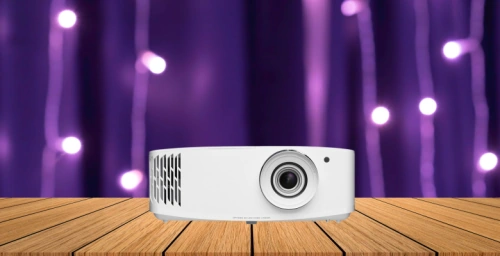 The Optoma UHD30 is a great choice for mixed-use communal spaces like living rooms or media rooms. While it does have a long throw distance (10-12 feet for a 100" screen) you won't need to employ light-control measures thanks to the 3,400 lumen lamp, and it has helpful alignment features like vertical keystone correction and a digital zoom to ease the set-up process.
The Optoma UHD30 is also versatile in terms of its functionality. Enhanced Gaming Mode drops the input lag down as low as 16ms, and the high 240Hz refresh rate keeps the action smooth while you're playing. Home theater users will appreciate the true 4K resolution and wide, vibrant color gamut, which supports the DCI-P3 spectrum as well as technology like HDR10 and HLG.
Another great thing about the Optoma UHD30 is its portability. It weighs less than 10 pounds and has a relatively quick set-up and bright lamp. This makes it a perfect choice for backyard movies, camping trips, and other outdoor excursions. The high build quality gives it the durability you need to take on the road, too. Click here for our more in-depth review of the Optoma UHD30.
Pros
True 4K resolution with good dynamic contrast
8-segment color wheel with wide color gamut (DCI-P3 spectrum)
HDR tone mapping for improved color accuracy
Low enough input lag for smooth gaming
Strong lamp performs well even in well-lit rooms
Relatively easy to set up
Cons
Doesn't have full 3D support
No horizontal keystone correction
---
Optoma UHD35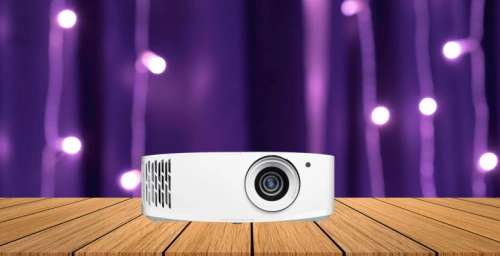 The Optoma UHD35 is arguably the best gaming projector on the current market. This starts with its impressively low input lag—as little as 4.2ms in full HD, and a still-low 16ms for 4K gaming. It also has a fast 240Hz refresh rate, reducing the risk of motion blur and keeping the on-screen action smooth. The high Dynamic Black contrast ratio is a plus for gamers, too, giving the image excellent clarity in both bright and dark areas of the screen.
The fast refresh rate and high contrast ratio are good news for home theater use, too. For color, it uses an 8-segment color wheel with UltraDetail enhancement, producing a wide color gamut that's accurate and realistic. The UHD35 also has true 4K resolution, as well as full 3D support, so it checks all the boxes most are looking for in a home theater projector.
Something else we love about the Optoma UHD35 is its user-friendly set-up. The four-corner keystone correction makes it easy to correct the image geometry. The wall color adjustment feature is especially handy if you don't have a screen, letting you adjust the image to compensate for non-white walls. It's also nice and bright, at 3,600 lumens, giving it a lot of flexibility as far as your space. You'll still need a good amount of room to get a large screen, but you won't need to worry about light control measures or complicated screen installations. Click here for our more in-depth Optoma UHD35 review.
Pros
Super-low input lag for gamers
Bright enough for lights on viewing
Supports HDR10 and HLG
Wall color adjustment for screenless installations
Four-corner correction for easy set-up
Full HD support
Cons
Long throw distance
Weak built-in speakers
---
What's the Verdict?
The super-low input lag, flexible installation, and superior picture quality of the Optoma UHD35 give it the definite edge over the UHD30 in a side-by-side comparison (>>> Check on Bhphotovideo). Since it's a bit older, though, you can often find the Optoma UHD30 for a significantly lower price. This can make it the better value for buyers on a budget.
The good news is, both of these projectors have a sharp, colorful picture and are responsive enough to play the latest games. You really can't go wrong, whichever projector you choose to buy.