For home theater owners, BenQ projectors are some of the best options on the market. They combine a rugged, user-friendly design with high picture quality at an excellent value. The BenQ HT5550 is one of their latest and most advanced models and definitely lives up to the company's impressive reputation.
Of course, as strong as this projector is there's no one model that's perfect for everyone. In this BenQ HT5550 review, we'll break down its specs and features so you can see just what it can do and decide if it's the right choice for your home theater. (>>> Check the price on Amazon)
BenQ HT5550 Review of Specifications:
| | BenQ HT5550 |
| --- | --- |
| | |
| Resolution | 4K ultra HD |
| Brightness (Lumens) | 1,800 |
| Contrast Ratio | 100,000:1 |
| Zoom | 1.6x manual |
| Throw Distance | 9.5' - 29.6' |
| Input lag | 50-58ms |
| Screen size | 60" – 300" |
| Speakers | Not available |
| Price | BHPhotoVideo.com |
Installation and Set-up
Part of what makes the BenQ HT5550 so user-friendly is that it doesn't require a professional installation. It's designed to be plug-and-play and has helpful image alignment features that make it more flexible in terms of placement. This includes both horizontal and vertical lens shift, as well as keystone correction and a 1.6x zoom.
The throw distance is on the longer side, which for many will mean a ceiling-mounted installation is the best option. This can also limit the use of the BenQ HT5550 in smaller spaces. You'll need at least 7 feet of distance for a 60" screen, or around 12 feet for a 100" screen, so keep that in mind if your viewing area is on the smaller side.
Connecting your content sources to the BenQ HT5550 is straightforward, too, with 2 HDMI ports and 2 USB inputs. It also has a 12-volt trigger and network connections that allow you to easily integrate the HT5550 into more sophisticated control systems than the standard included remote.
Our only quibble with the BenQ HT5550 from an installation perspective is that it's not great for rooms with lots of light. Between the longer throw distance and the dimmer lamp, it can experience wash-out in well-lit rooms. The Active Iris lens alleviates this slightly, and the projector copes better with low light levels than we expected given its lumen rating, but it's not the best choice for bright spaces or rooms with lots of natural light.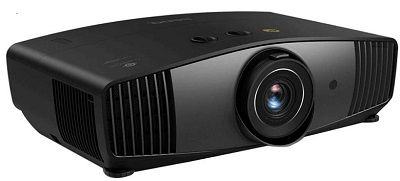 Pros
True native 4K resolution
Wide color gamut with HDR-PRO tone mapping
Dynamic Iris technology for exceptional contrast
Smooth picture even during fast-paced action
Durable and low-maintenance
Flexible installation thanks to zoom and lens shift
Cons
Fairly low lamp brightness
Throw ratio is on the long side
Picture Quality
The high picture quality on the BenQ HT5550 starts with a native 4K resolution, the highest you'll find on the current home theater projector market. It pairs this with BenQ's proprietary Dynamic Iris technology. This enhances the clarity even further and provides exceptional on-screen contrast, with rich black levels and consistent brightness across the picture.
The color performance of the BenQ HT5550 is equally impressive. It's truly cinematic color, with 100% of the DCI-P3 color gamut that's calibrated at the factory for accuracy and realism. Along with that, HDR-PRO tone mapping optimizes the color frame by frame for the most vivid hues possible. If you want to adjust the picture settings, there are optimized picture modes that make it easy.
We also appreciate that the BenQ HT5550 does justice to any kind of content. A high frame processing rate keeps the on-screen action smooth and free of compression artifacts. Motion blur is further reduced with Frame Interpolation, which fills in gaps between the frames for a truly fluid viewing experience.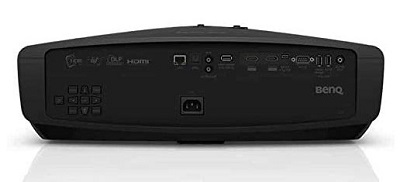 Is the BenQ HT5550 Suitable for Gaming?
We wouldn't call the BenQ HT5550 a gaming projector. Serious gamers look for an input lag that's lower than 30ms, ideally down around 16ms. For casual gaming, though, a projector with an input lag around 60ms or lower will suffice. Most players won't notice any delay between their controller input and what they see on the screen.
While the BenQ HT5550 has a high processing speed and frame rate, its input lag registers at around 50ms at its lowest. This makes it an acceptable option for casual gaming and a great choice for multi-use spaces like living rooms and media rooms. Even when playing first-person shooters on the latest consoles, this lag is low enough it doesn't affect your play.
What's the Bottom Line?
For a dedicated home theater, the BenQ HT5550 is an excellent choice, providing the kind of movie theater picture quality you're looking for. It's also easy to set up and control and durable enough to give you years of enjoyment. While those with small or bright spaces may want to look elsewhere, it's a great option for those who want a professional-level projector at a mid-level price. We hope this review of the BenQ HT5550 has helped you decide if it's the right choice for you! (>>> Check the price on ProjectorScreen)
REFERENCES AND FURTHER READING: