If you're setting up a high-end home theater, picture quality is your main concern when you're buying a projector. Ideally, you want something that can produce a true 4K resolution with high contrast and accurate colors. Both the BenQ HT5550 and the Optoma UHD65 can deliver on all these points. Along with that, they're user-friendly and easy to install, making them a good option for both beginning and experienced home theater enthusiasts. In a side-by side comparison of the BenQ HT5550 vs Optoma UHD65, the Optoma comes out on top as the best 4K projector thanks to its brighter lamp and superior contrast. (>>> Check current price on Amazon) Let's take a closer look at where these projectors differ before diving into the full reviews.
BenQ HT5550 vs Optoma UHD65 Side by Side:
| | BenQ HT5550 | Optoma UHD65 |
| --- | --- | --- |
| | | |
| Resolution | 3840x2160 | 3840x2160 |
| Brightness (Lumens) | 1,800 ANSI | 2,200 ANSI |
| Contrast Ratio | 100,000:1 | 1,200,000:1 |
| Input Lag | No data | 74ms |
| Throw Distance | 9.5' - 29.6' | 4.3' - 30.5' |
| Screen size | 60" - 300" | 26" - 302" |
| Speakers | No | 4.0 Watts × 2 |
| Price | BHPhotoVideo.com | Check on Amazon |
Brightness
The brighter a projector's lamp is, the less the picture will be affected by ambient light in the viewing area. In a completely dark room, you can get away with a brightness as low as 1,000 lumens without the picture suffering. Once you introduce light to the space, though, you should look for a projector that puts out 2,000 lumens or more to avoid image wash-out.
The 1,800 lumens produced by the BenQ HT5550 is sufficient for home theater spaces but will require a predominantly dark space, which can limit its use in living rooms and other areas. The 2,200 lumens of the Optoma UHD65 make it a more versatile choice. While it's certainly not the brightest projector out there, you can use it with low ambient light levels without issue.
Brighter projector: Optoma UHD65
Color and Contrast
The DCI-P3 color gamut is wider than that of the Rec. 709 spectrum, giving a broader range of hues for more accurate, vibrant colors. While both of these projectors support the full DCI-P3 color space, the 6-segment color wheel and UltraDetail enhancement on the Optoma UHD65 make the colors clearer and more vibrant.
You'll get better contrast with the Optoma UHD65, as well, which uses the company's proprietary Dynamic Black technology for an impressive 1,200,000:1 dynamic contrast ratio. That gives you significantly richer black levels and sharper details than the 100,00:1 contrast of the BenQ HT5550.
Better color and contrast: Optoma UHD65
Ease of Use
Here's another place where these two projectors are very similar, although in this case, it's the BenQ edging the Optoma out by a nose. Both these projectors have a wide 1.6x zoom and vertical lens shift for image alignment. The BenQ HT5550 also has digital vertical keystone correction for adjusting the image geometry, a feature notably absent from the Optoma UHD65.
The picture settings are also more robust and easier to adjust on the BenQ HT5550. Its multiple picture modes make it easy to optimize the image to your space and content, with more in-depth customization options available for those who like to get into the nitty gritty of their picture settings. See how it compares to the BenQ HT4550i in terms of performance.
Easier to use: BenQ HT5550
---
BenQ HT5550
The BenQ HT5550 is an excellent option for any dedicated home theater. Its picture quality is phenomenal across the board. The HT5550 has true 4K resolution with Dynamic Iris technology and support for both HLG and HDR10. Its advanced color technology can display the full DCI-P3 color gamut, for accurate and vibrant colors from all content sources. The use of frame interpolation keeps the on-screen action smooth, making it great for live sports as well as movies and TV.
Don't take all this advanced technology to mean the BenQ HT5550 is a complicated device. This projector is very user-friendly, as well. While the image settings can be adjusted to optimize the picture quality to your space, precise factory calibration means you don't need to fiddle with the settings before you start watching. It also has robust options for aligning the image, including 2D lens shift and a 1.6x zoom.
Our only quibble with the BenQ HT5550 is that it's not the most versatile projector in terms of the viewing area. Its lamp only puts out about 1,800 lumens—plenty for a dark home theater, but not enough to compete with much ambient light. Its throw distance is on the long side, too, so you'll need a large room to use it properly. Still, if you're looking for a projector for a dedicated home theater, the BenQ HT5550 is one of the best you'll find. For a more detailed BenQ HT550 review click here.
Pros
True 4K resolution with high contrast
Displays 100% of the DCI-P3 color gamut
Supports HDR10 and HLG
Fluid on-screen action with frame interpolation
Good array of image adjustment options
Factory calibrated for use right out of the box
Cons
Not ideal for well-lit viewing areas
Long throw distance
---
Optoma UHD65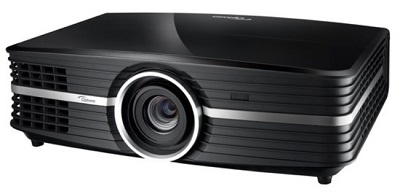 The Optoma UHD65 uses different visual technology than the BenQ above, but the results are the same: a vibrant and sharp picture with remarkable realism and depth. It uses a DLP chipset with HDR10 support that produces the full range of the DCI-P3 color space. PureMotion technology ensures smooth frame-to-frame motion, with no blurring or choppiness even in fast action sequences.
Like the BenQ HT5550, the Optoma UHD65 is a standard-throw projector, meaning it's best utilized in larger spaces. Its lamp is a bit brighter, though, at 2,200 lumens, giving it more versatility for lights-on viewing. It's also versatile when it comes to the input options, supporting VGA and USB connections along with dual HDMI ports.
As long as you have enough space, the Optoma UHD65 is easy to install. Its wide 1.6x zoom and lens shift let you quickly fine-tune the image alignment, and the settings are intuitive to navigate using the included remote. That makes the Optoma UHD65 an excellent way to get cinema-quality large screen entertainment, even if you don't have a dedicated home theater space in your home.
Pros
True 4K resolution with Dynamic Black contrast
PureMotion technology eliminates blur and juddering
Wide color gamut with HDR10 support
Zoom and lens shift for easy image alignment
Lamp is bright enough to use with low ambient light
Cons
Fewer picture modes and adjustment options
Color wheel may cause rainbow effect
---
What's the Bottom Line?
For picture quality and versatility, the Optoma UHD65 is the winner over the BenQ HT5550. It will perform beautifully in a dedicated home theater but isn't as limited to that type of space thanks to its brighter lamp. (>>> Find on Amazon)
This isn't to say the BenQ HT5550 is a bad projector. For some users, it will be the better choice, especially if you're buying it for a home theater and have the space and light control you'll need to get the most out of it. Whichever way you go, you'll get 4K resolution and a wide color space so you can enjoy movies the way they were meant to be seen.