Projectors in Epson's Home Cinema line use true 3LCD technology to produce vivid, consistent colors with no flickering or hot spots, letting you get truly immersed in your movies. Comparing the Epson 2250 vs. 3800, the Epson 3800 performs better overall, with sharper resolution, more powerful lamp, and lower input lag (>>> Check on Amazon).
On the other hand, the Epson 2250 could be a better value, depending on what you need in a projector, and has some features you won't find on the 3800. Let's take a closer look at the key differences between these models.
Epson 2250 vs 3800 Side by Side:
| | Epson 2250 | Epson 3800 |
| --- | --- | --- |
| | | |
| Resolution | 1920x1080 | 1920x1080 4K w/pixel shifting |
| Brightness (Lumens) | 2,700 ANSI | 3,000 ANSI |
| Contrast Ratio | 70,000:1 | 100,000:1 |
| Input Lag | 28ms | 21ms |
| Throw Distance | 4.7' - 29.0' | 6.2' - 28.8' |
| Screen size | 30" - 300" | 40" - 300" |
| Speakers | 10.0 Watts Mono | 10.0 Watts × 2 |
| Price | BHPhotoVideo.com | BHPhotoVideo.com |
Installation
From an installation standpoint, there are a lot of similarities between the 2250 and 3800. On the plus side, they're similarly compact with intuitive controls. Both also have a relatively long throw distance and will probably require a ceiling mount, but are otherwise fast and easy to set up.
The biggest difference from an installation standpoint is the options each projector gives you for adjusting the image. The Epson 2250 has a decent array of options, including horizontal and vertical keystone correction and a 15% vertical lens shift.
The Epson 3800 has a more expansive lens shift, up to 60% vertical, and adds a 24% horizontal shift, giving it more flexibility during installation.
Easier Installation: Epson 3800
Brightness
The 2,700 lumens of the Epson 2250 is bright enough for most indoor spaces. You'll still want heavy curtains for any windows if you plan to watch it during the day, but you don't need to turn all the lights out for a vibrant picture.
The lamp on the Epson 3800 is more powerful, putting out 3,000 lumens. That makes it a better choice for bright spaces where you can't control the light.
Brighter projector: Epson 3800
Image Quality
This is where the Epson 3800 has the clearest advantage over the 2250. Its resolution is sharper, first of all, using pixel-shifting technology to double the on-screen pixels of a full HD display.
The 3800 also supports HLG and HDR10 for better detail and authentic color, with a high image contrast ratio for richer black levels and a sharper overall image.
Now, this isn't to say the Epson 2250 has a poor image quality. It's a solid full HD projector and uses Image Enhancement to optimize the color, with Frame Interpolation for smooth, blur-free movement.
In a side-by-side comparison, however, it simply falls short of the superior technology used in the 3800.
Better image quality: Epson 3800
Smart Features
The Epson 3800 isn't the winner across every category. While it does have wireless networking capability, it lacks an integrated streaming interface. The Android TV system on the Epson 2250 is easy to navigate with the included remote, and supports all the most popular streaming services as well as voice searches through Google Assistant.
Better smart features: Epson 2250
---
Epson 2250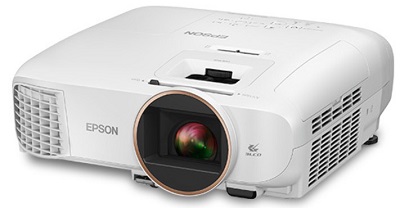 Pros
Realistic and detailed full HD image
Smooth action with no motion blur
Built-in streaming interface with voice search
Relatively flexible and easy to install
Accepts 4K input
Responsive enough for casual gamers
Cons
4K content plays at 1080p
Only 1 HDMI input
The Epson 2250 is a solid all-purpose full HD home theater projector. It's plug-and-play right out of the box and fits most standard ceiling mounts. The simple lens shift and zoom controls on the top make it easy to align the image to the screen.
Once you're ready to start watching, it's easy to navigate menus and streaming apps with the included remotes, or using your voice through Google Assistant. The only potential issue here is there's only one HDMI port. You may not need more thanks to the built-in streaming, but this could be an issue in more complicated home theater set-ups.
The Epson 2250 is also relatively versatile. Its input lag is low enough it can be used for gaming. It also has good content versatility for home theaters. You can use it to watch 3D movies and it will accept 4K content, though downgraded to a full HD resolution. While you need a fairly large space for the 2250, light control isn't a big concern in most rooms.
The color performance of the Epson 2250 is phenomenal, and its full HD resolution stays consistent and crisp at all screen sizes. Between the high image contrast and the smoothness of the display, the picture is remarkably realistic, especially when you're watching things like live sports.
All of these features together make it an exceptional value at the price and a great option for buyers setting up a home theater on a budget. Click here for our more in-depth Epson Home Cinema 2250 review.
---
Epson 3800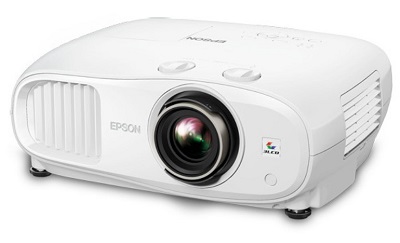 Pros
Sharp Ultra HD resolution
Excellent color performance with high dynamic contrast
Low lag and smooth action for modern gaming consoles
Robust alignment and adjustment options
Full 3D support
Bright enough lamp for any indoor environment
Cons
No built-in streaming or voice control
In many respects, the Epson 3800 builds on the best qualities of the 2250. It's similarly plug-and-play in its design, with intuitive top-mounted controls and 2D lens shift and keystone correction. While it's heavier than the 2250, it's still well under the weight limit of most ceiling mounts. Even a first-time projector owner can be up and running quickly.
Now the pixel-shifting method used by the Epson 3800 isn't quite as detailed as true 4K displays. That said, it's noticeably sharper than 1080p, and looks especially sharp produced by Epson's PRO-UHD technology, which takes the image enhancement of the 2250 even further, with a higher image contrast and more authentic colors.
Gamers will appreciate the real-time 12-bit video processing and low input lag, which make it responsive enough for any style of game.
Since there's no built-in streaming interface on the Epson 3800, you'll need to use an external content source. On the flip side, its rear panel has a lot more connection options, with dual HDMI ports as well as USB, audio, and network ports.
This makes it more versatile across different home theater configurations, especially since its brighter lamp can be used in a wider array of rooms. Click here for our more in-depth Epson Home Cinema 3800 review.
---
What's the Bottom Line?
For most people, the Epson 3800 will be the better choice, and from a performance standpoint it's a winner for both gaming and home theater use (>>> Find on ProjectorScreen). That said, if you want the option of built-in streaming, or if you're looking for something in the under-$1,000 price point, the Epson 2250 is the one you'll want to go with.
REFERENCES AND FURTHER READING: