Epson's Home Cinema line of projectors are an excellent option for casual home theater owners looking for a mix of quality and value. Their distinctive 3LCD display provides consistently vibrant colors across the entire image, with a straightforward design that's accessible even for home theater beginners. Comparing the Epson 2250 vs. 3200, there isn't a clear-cut winner for every buyer. While the Epson 3200 has a higher picture quality, the 2250 has all-in-one potential that could make it the better choice for many (>>> Check on Amazon). Let's take a closer look at each model so you can decide which one fits your needs.
Epson 2250 vs 3200 Side by Side:
| | Epson 2250 | Epson 3200 |
| --- | --- | --- |
| | | |
| Resolution | 1920x1080 | 1920x1080 4K w/pixel shifting |
| Brightness (Lumens) | 2,700 ANSI | 2,900 ANSI |
| Contrast Ratio | 70,000:1 | 40,000:1 |
| Input Lag | 27ms | 25ms |
| Throw Distance | 4.7' - 29.0' | 6.2' - 28.8' |
| Screen size | 30" - 300" | 40" - 300" |
| Speakers | 10.0 Watts Mono | No |
| Today's Best Price | BHPhotoVideo.com | BHPhotoVideo.com |
Resolution
Though the Epson 2250 accepts 4K content, its native resolution is 1080p (full HD). This means any Ultra HD content you play on the projector will be downgraded and lose some of its detail.
The Epson 3200 is also technically a 1080p projector, but it adds pixel shifting to the equation. This gives it a resolution closer to true 4K, with roughly 4 million addressable pixels, and content is noticeably sharper with more depth and texture compared to the 2250.
Sharper resolution: Epson 3200
Installation
The throw distance of these models is similar, with both requiring around 10-12 feet on average for a 100" screen. The difference between them from an installation standpoint mostly comes down to the image adjustment options. The Epson 2250 has a 15% vertical lens shift, 2D keystone correction, and a 1.6x zoom, giving it a decent amount of installation flexibility. The Epson 3200 expands on this with both horizontal and vertical lens shift, along with similar keystone correct and zoom options, so it's easier to fit into a wider variety of spaces.
Easier installation: Epson 3200
Sound
The built-in speakers on the Epson 2250 are on-par with what comes installed on most TVs in terms of sound quality and output. While they're a bit thin in the low end, the mid-range clarity is good for dialogue, and they're loud enough to enjoy shows and movies without an external speaker—something you'll definitely need to use the Epson 3200, which doesn't have any speakers built in.
Better sound: Epson 2250
Streaming and Voice Control
The Epson 2250 has an Android TV operating system, with an intuitive user interface and straightforward remote for navigating it. Along with downloading streaming apps, this interface has built-in Google Assistant support for hands-free searches and control. The Epson 3200 lacks both a streaming interface and built-in voice control.
Better streaming and voice control: Epson 2250
---
Epson 2250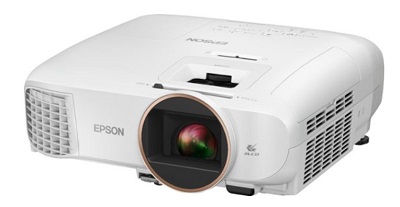 The Epson 2250 uses a 3-chip LCD display with dynamic iris contrast. The result is a smooth and colorful image, with none of the flickering or rainbowing that can happen from projectors that use color wheels. Frame Interpolation maintains that same clarity during fast-paced on-screen movement. Its main weakness from a picture standpoint is that, while it accepts 4K content, its maximum resolution is full HD (1080p).
If you're looking for a user-friendly projector, the Epson 2250 is a great choice. While it does have a fairly long throw distance, the inclusion of a 15% vertical lens shift and 1.6x zoom along with 2D keystone correction gives it good set-up flexibility. You also may not need external speakers or content sources. The built-in 10-watt speakers aren't super powerful but they're fine for basic TV watching or gaming, while the Android interface supports streaming through the most popular apps.
The measured input lag of the Epson 2250 is around 27ms, low enough for reflex-based or multi-player online gaming. This makes it a good choice for living rooms and other multi-use spaces. Its only limitation here is its brightness. You can leave a few lights on without reducing the picture quality but you will need light control measures to avoid washout in brighter spaces. Click here for our more in-depth Epson Home Cinema 2250 Review.
Pros
High image contrast and strong color performance
Android TV streaming interface
Vertical lens shift adds installation flexibility
Accepts 4K content
Built-in speaker
Lag is low enough for most gamers
Cons
Maximum resolution of 1080p
Not suitable for bright spaces
---
Epson 3200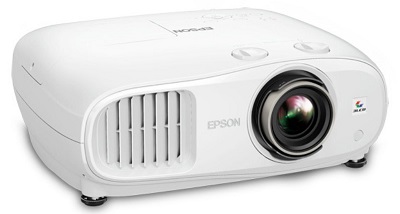 The Epson 3200 uses a similar 3-chip display to the 2250, but pairs it with a more advanced pixel-shifting processor. This doubles the on-screen pixels for a sharper, more detailed picture. Support for HLG and 10-bit HDR technology ensures a similarly high contrast and color performance, with real-time digital video processing that eliminates motion blur, blocking, and other issues.
This real-time digital processing is also good news for gamers. It's very responsive, with a low 25ms input lag and a 60Hz refresh rate even when playing in 4K. Along with this, the Epson 3200 is relatively flexible in terms of where you use it, with a brighter lamp and more image adjustment options.
The only caveat here is that you will need external speakers and content sources to use the Epson 3200. It supports Bluetooth for wirelessly connecting speakers and peripherals, but doesn't have a streaming interface or built-in sound. If you're integrating the projector into an existing home theater set-up this likely isn't an issue, but it does mean you'll need to buy more accessories if you're starting from scratch. Click here for our more in-depth Epson Home Cinema 3200 Review.
Pros
Pixel-shifted 4K resolution
Vibrant, realistic colors with 3LCD display and HDR10
Robust alignment options, including 2D lens shift
Bright enough for most indoor viewing areas
Great choice for gaming
Wireless connectivity through Bluetooth
Cons
No built-in speakers
No streaming interface
---
What's the Bottom Line?
The Epson 3200 and 2250 share a lot of strengths. Both have a flexible installation and are suitable for either movie watching or gaming. The built-in speakers and streaming interface of the 2250 make it the more convenient choice (>>> Find on Bhphotovideo). On the other hand, those most concerned with picture quality will appreciate the sharper resolution and contrast of the 3200.