The Epson Home Cinema line of projectors are top sellers for a reason. These versatile projectors combine cinema-level picture quality with the performance you need for playing games. If you need a projector for your living room or media room, this makes them a very appealing choice.
Picture quality is the main strength of the Epson Home Cinema 3200. While it's a great choice for dedicated home theaters, it's certainly not limited to that application. Let's take a closer look at what it does well (and what it could do better) so you can decide if it's the right projector for your home. (>>> Check it's pricing on Amazon)
Epson Home Cinema 3200 Review of Main Specs:
| | Epson Home Cinema 3200 |
| --- | --- |
| | |
| Resolution | 1920x1080 with 4K pixel shifting |
| Brightness (Lumens) | 2,900 |
| Contrast Ratio | 40,000:1 |
| Zoom | 1.62x manual |
| Throw Distance | 6.2' - 28.8' |
| Input lag | 16.7-30ms |
| Screen size | 16.7" – 300" |
| Price | BHPhotoVideo.com |
Installation and Flexibility
The Epson Home Cinema 3200 works well in ceiling-mounted installations. It's not recommended for table-top set-ups, mostly because it has a fairly long throw distance. For a 100" screen, you'll need somewhere between 10 and 15 feet, depending on how you set the zoom.
Like most modern projectors, the Epson 3200 is designed to be quick to set up straight from the box. It comes with a nice array of image adjustment features that help with fine-tuning, including 4-direction lens shift, vertical and horizontal keystone correction, and a 1.62x zoom. The zoom will be most useful for you at screen sizes 150" and smaller. With bigger screens, it can be very tricky to get the focus right, especially if you need to be able to read on-screen text like subtitles.
As far as light levels, you don't need a completely dark room to use the Home Cinema 3200. The lamp puts out about 2,900 lumens, which is enough to compete with low to moderate ambient lighting. That said, it will get washed out by brighter light, so if you have a lot of windows in your viewing area, black-out curtains are a smart investment.
Pros
Sharp picture with smooth frame-to-frame transitions
Excellent contrast and black level detail
Not prone to visual issues like rainbow effect or compression artifacts
Low input lag is great for gaming
Easy to install and adjust image
Cons
Not the best choice for bright or small spaces
Focusing the lens can be tricky at larger screen sizes
Image Quality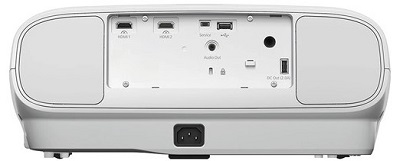 Epson Home Cinema 3200 connectivity
The Epson Home Cinema 3200 uses pixel-shifting control of three HD LCD chips to display millions of pixels on the screen. This Ultra HD detail is clearer and sharper, and the frame motion is smooth, as well, so it will keep that detail even when you're watching sports, car chases, and other fast sequences. Find more projector options for sports here.
Anyone can enjoy the picture on the Epson Home Cinema 3200. Since it uses three chips, there's no risk of rainbow effect. The powerful video processor also prevents color blocks and other annoying issues caused by slow processing. You'll be floored by the vibrant colors, too. The Home Cinema 3200 displays the full spectrum of available hues, all with the same brightness and accuracy.
Gaming Performance
The same real-time processing that gives you smooth on-screen action is great for gaming. Modern games have advanced graphics some

projectors can't handle well, but the Epson Home Cinema 3200 performs beautifully.
A low input lag helps here, too. On the fastest setting, the lag is as low as 16.7ms. That's one of the lowest you'll find on the market and is low enough you won't notice any delay between your input and what you see on the screen. Click here for more gaming projector options.
What's the Bottom Line?
One thing we haven't mentioned yet: the price. The Epson Home Cinema 3200 is in the low-end of the budget range for 4K projectors. While we wouldn't go so far as to put it in the "budget" range, it's priced very competitively and is an excellent value for the quality and performance.
No projector is purpose, and the main limitation of the Home Cinema 3200 is versatility. If you're using it in a game room, living room, home theater, or similarly sizable space, you'll have no issues getting the large screen you're looking for. It's not the best choice for smaller spaces, though, and the lower lamp brightness can be limiting in spaces with a lot of windows. (>>> Check it's pricing on Bhphotovideo)
That said, if your main goal is to find a projector that performs just as well for gaming as it does for watching movies, you'll love what you get with the Epson 3200. We hope this review has helped you decide if it's the best choice for you!
REFERENCES AND FURTHER READING: