A projector can be an excellent choice for a sports bar. In terms of price per inch, they're by far the most affordable way to get both a massive screen and the vivid detail you need to see every play. The best projector for a sports bar is one that has a low lag time, high contrast, and decently bright bulb, so you can actually see what's going on in the game.
We've picked out our five favorite projectors for sports bars and reviewed them below. The best news is there's something here for every use case and price point. Read on below to find the perfect option for your establishment. Before we get into the full details, lets look at some of the most important specs you need to consider. (>>> Check it's pricing on Amazon)
Find your best projector for sports in 2021
| | Optoma UHD50x | Optoma UHD30 | BenQ TH685 | Optoma GT1090HDR | ViewSonic PX703HD |
| --- | --- | --- | --- | --- | --- |
| | | | | | |
| Native Resolution | 3840x2160 | 3840x2160 | 1920x1080 | 1920x1080 | 1920x1080 |
| Brightness (Lumens) | 3,400 ANSI | 3,400 ANSI | 3,500 ANSI | 4,200 ANSI | 3,500 ANSI |
| Contrast Ratio | 500,000:1 | 500,000:1 | 10,000:1 | 300,000:1 | 12,000:1 |
| Throw Distance | 4.2' - 33.0' | 4.0' - 26.6' | 3.2' - 24.6' | 1.3' - 10.9' | 3.2' - 24.7' |
| Screen size | 34"-302" | 34"-302" | 30"-300" | 36" - 301" | 30"-300" |
| Built in Speakers | 5.0 Watts | 5.0 Watts | 5.0 Watts | 2 x 10.0 Watts | 10.0 Watts |
| Price | Check on Amazon | Check on Amazon | Check on Amazon | Check on Amazon | Check on Amazon |
Top Picks:
Brightness
Some home theater projectors are designed for use in completely dark rooms, and that won't do in a sports bar. While the light level in sports bars is usually lower than in many restaurants, stores, and other public spaces, you'll still need a relatively bright lamp on whichever projector you buy.
For most sports bars, a brightness of 3,000 lumens or more should do the trick. All of the projectors below meet this standard. If your bar is on the brighter side, or you want the option of using the projector in outdoor spaces, you'll want a brightness of at least 4,000 lumens to compensate. At 4,200 lumens, the Optoma GT1090HDR is our top pick for use in well-lit spaces.
Brightest projector: Optoma GT1090HDR
Picture Quality
A high picture quality comes from a combination of factors. For clarity and detail, look at the resolution. Projectors with 4K ultra HD use more pixels, giving the picture more realism when you're watching sports. Color accuracy is another big part of this equation. A wider color gamut gives the projector more hues to pick from and enhances the realism of what you're viewing.
Another thing to consider is how well the projector handles fast on-screen movement. Stats like a low input lag and high frame refresh rate are often talked about more in the context of gaming but are just as important for getting smooth performance from any content.
Best picture quality: Optoma UHD50X
Installation Ease and Flexibility
A wide range of screen sizes helps make a projector more flexible, especially in sports bars where you might want different-sized screens in different areas. While all of these projectors are relatively simple to set up, there are some key features on the UHD50X that give it the leg up over the other models. Along with keystone correction and a 1.3x zoom, the inclusion of lens shift is helpful for fine-tuning the image placement quickly.
Throw distance is often less of a concern for commercial spaces than it is in home theater use. Many bars can accommodate even the 30-foot or longer throw distance most projectors need to generate a huge 300" picture, and you may not even need a screen that large depending on your space. That said, the Optoma GT1090HDR has a short throw distance if that's something you need.
Easiest installation: Optoma UHD50X
Price and Budget
If you're just buying one projector, a $1,500 price tag doesn't sound too unreasonable. If you're outfitting a sports bar with multiple projectors, though, something in the under-$1,000 range might be more your speed.
Most projectors that cost less than $1,000 are going to have full HD definition rather than ultra HD. You can still get a great picture at this resolution, though, especially if you find an option with a high color accuracy and contrast ratio.
Most affordable: ViewSonic PX703HD
Best Projector for Sports Bars: Full Reviews
Optoma UHD50X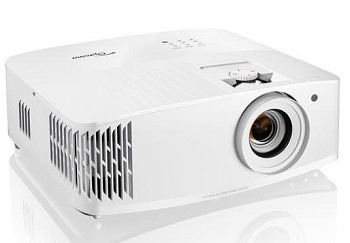 For the best picture quality in a sports bar, the Optoma UHD50X is our top choice. It pairs a native 4K resolution with Dynamic Black enhancement of the contrast ratio. Colors are bright and true to life, as well, thanks to the 8-segment color wheel and UltraDetail technology. You'll especially appreciate the high frame rate when you're watching sports, eliminating motion blur and choppiness so you can stay focused on the action.
Flexibility is another point in favor of the Optoma UHD50X. It's bright enough to compete with the ambient light level of a sports bar. You can get a truly massive screen with it, too, up to 302" on the diagonal. While the throw distance is on the long side, it has the image correction options you need for ceiling-mounted installations or off-center placement. On the whole, it's easy to set up in any space.
If you're on a tight budget, the higher cost of the Optoma UHD50X could give you pause. That said, the performance and picture quality of the UHD50X are worth the price, especially if you want to give your customers the best viewing experience possible. A more detailed review of the Optoma UHD50x can be found here.
---
Optoma UHD30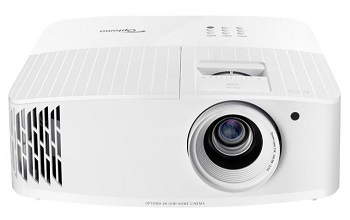 Another great option from Optoma is their UHD30. It's similar to the UHD50X in many respects, including a bright lamp, native 4K resolution, and an 8-segment color wheel. Overall, the picture is as realistic and smooth as what you'd see in a movie theater. >>> Check detailed Optoma UHD30 vs UHD50x comparison.
The Optoma UHD30 doesn't quite match the flexibility of the UHD50X. It has the same wide range of screen sizes but also shares the long throw distance. The zoom is more limited and there's no lens shift, though there is still a vertical keystone correction and it can be ceiling mounted easily.
If you don't need a lens shift, the Optoma UHD30 is basically the same projector as the UHD50X when it comes to picture quality and performance, but at a slightly lower price. That makes the UHD30 an exceptional value and a great choice for most sports bars. Click here for the full UHD30 review.
---
BenQ TH685

The BenQ TH685 is designed for gaming, and sports bar owners have a lot of the same needs from projectors as gamers, including a bright lamp and a high frame refresh rate. This BenQ projector delivers on both points. It's responsive with almost no lag, and you can watch it in any light level, too.
Budget-conscious bar owners will appreciate the value they get with the BenQ TH685, which costs about half as much as the Optoma projectors above. The main reason it's so affordable is the lower resolution. It can accept 4K input but plays it at full HD (1080p) so details aren't quite as sharp. The contrast ratio is on the lower side, too, though this is less of an issue for sports bars than home theater use.
A standard throw distance means most bar owners will want to ceiling-mount the BenQ Th685. Some users report difficulty getting content hooked up through the HDMI cable, though for most it's a quick and easy set-up process. All in all, it's the best choice if you're looking for the best sports viewing on a budget. Read our full review of the BenQ TH685 here.
---
Optoma GT1090HDR

The cost of the Optoma GT1090HDR is a bit on the high side for a full HD projector. In terms of picture quality, it's similar to what you'll get on the BenQ above. If that's the main thing you're concerned about, the GT1090HDR isn't a great value. Having said that, it's a durable projector with a long lamp lifespan, as long as 30,000 hours. That makes it a great choice if you're looking at the long-term value.
One reason to consider the Optoma GT1090HDR is if your sports bar is brightly lit, or if you want to use the projector in an outdoor space. At 4,200 lumens, the picture will stay bright even outside in the day as long as you're under a patio or awning.
The other main advantage of the GT1090HDR is its short throw distance. You can get a massive 300" picture from only 11 feet away. This makes the Optoma GT1090HDR an excellent choice for small spaces or unusual layouts. The inclusion of automatic 4-corner correction also makes it easier to set up and align the image, so it's a user-friendly way to bring big screen entertainment to your bar. For the full review of this projector click here.
---
ViewSonic PX703HD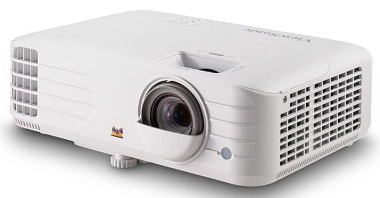 Finally, if you're looking for the most affordable projector suitable for a sports bar, the ViewSonic PX703HD is the model for you. It produces a screen up to 300" at 3,500 lumens of brightness, making it suitable for the majority of sports bars.
This is another projector designed for gamers, giving it a low lag and smooth performance. It also has a dedicated Sports Mode that optimizes the picture for fast-paced sports, enhancing the clarity and realism of the image.
While the full HD on the ViewSonic PX703HD doesn't have quite the detail you'd get from a 4K projector, we still found the picture quality high overall. The colors are particularly impressive for the price, with a fairly wide color gamut thanks to ViewSonic's SuperColor technology. Our full review of the PX703HD can be found here.
---
The Verdict
In terms of performance and value, the Optoma UHD50X is our top choice for a sports bar. (>>> Check the current price on Amazon)  It has the best overall picture quality, including sharp 4K resolution that maintains its clarity even during fast-paced action. >>> 4K projector buyer's guide.
Remember not every projector is ideal for every space, though. Before making your choice, there are two big questions you need to ask yourself: what kind of space you're working with and what kinds of sports you're watching. If you need to be able to track small or fast-moving objects, the frame refresh rate is a spec you'll want to consider.
In a commercial space, throw distance isn't normally a big concern. If you have a small bar with a cramped or complicated layout, though, make sure you figure out how much space you have to get the screen size you're looking for.
Any of these five projectors will serve you well for watching sports and can be a great alternative to traditional TVs, giving you a bigger screen for less money. We hope this article has helped you figure out which projector is ideal for your needs!