A projector can be an excellent choice for a sports bar. In terms of price per inch, they're by far the most affordable way to get both a massive screen and the vivid detail you need to see every play. The best projector for a sports bar is one that has a low lag time, high contrast, and decently bright bulb, so you can actually see what's going on in the game.
We've picked out our four favorite projectors for sports bars and reviewed them below. The best news is there's something here for every use case and price point. Read on below to find the perfect option for your establishment.
Find your best projector for sports in 2020
| | BenQ HT2050A | Optoma HD27HDR | Optoma HD143X | Budet option:DBPOWER 2019 |
| --- | --- | --- | --- | --- |
| | | | | |
| Native Resolution | 1920x1080 | 1920x1080 | 1920x1080 | 800x480 |
| Brightness (Lumens) | 2,200 | 3,400 | 3000 | 2000 |
| Contrast Ratio | 15,000 : 1 | 50,000 : 1 | 23,000 : 1 | 2,000 : 1 |
| 3D | | | | |
| Lamp life (Hours) | 7,000 | 15,000 | 15,000 | 50,000 |
| Built in Speakers | 10W | 10W | 10W | 2W |
| Price | Find Best Price | Find Best Price | Find Best Price | Find Best Price |
[toc]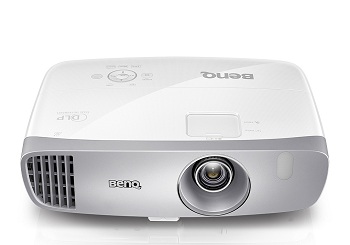 Let's kick things off with the HT2050A from BenQ. This company is a leading name in home theater projectors, bringing you some of the most advanced technology and features you'll find in the modern market. With this model, they bring you an impressive projector with the resolution, brightness, and responsiveness you need for watching sports.
This is a 1080p projector with 3D capability. In terms of the stats, it has a contrast ratio of 15,000:1 and a brightness of 2,200 lumens—plenty for you to get a crystal clear image. What's most impressive about the visuals for a sports fan, though, is its low lag. It has an input lag of only 16 milliseconds when you're using it in 2D. That's low enough even for high-resolution gaming, so you won't have any trouble catching fast sports plays.
The BenQ HT2050A is also an excellent choice from a usability standpoint. It has a very short throw ratio—you can get a 100" image from a distance of eight feet, great news if your bar's on the smaller side. It's also designed to be more efficient than most projectors. Between the Auto Standby mode and the SmartEco technology, you'll waste a lot less energy. Not only does this save you money on your electric bill it also puts less wear and tear on the lamp. This is a lot of why it has such an impressively long life—up to 7,000 hours, in ideal conditions.
In terms of cost, we definitely wouldn't call this projector cheap, but it out-performs projectors that cost a thousand dollars or more. Considering the energy efficiency and long lamp life, it'll end up saving you even more in the long run. That makes it the best projector for sports bar use since it's dependable and high-performance without costing a fortune.
Bright image with a low contrast ratio
Super-low lag time so you'll catch every play
Short throw ratio makes it more versatile across spaces
3-year warranty
SmartEco lamp has a life of up to 7,000 hours
Priciest option on the list
Lamp can run hot after extended use
---
Optoma is another leading name in the home theater market, known for both their reliability and their value. With the HD27HDR projector, Optoma brings you something that's very similar to the BenQ model above in terms of performance, but for about a hundred dollars less.
We actually think the picture is a little better on the Optoma HD27HDR than it is on more expensive projectors. The lamp has a brightness of 3,400 lumens and the contrast ratio is an impressive 50,000:1. That translates to stunning colors, deep blacks, and great definition for all your content. And the low lag time is on par with more expensive projectors, too, especially when you put it on Gaming Mode.
This is also one of the lowest-maintenance projectors you'll find. The lamp has a lifespan of up to 15,000 hours. Even if you have it running for ten to twelve hours a day, you won't need to change your lamp for a year or more. The high-efficiency design of the lamp also means it uses less energy and stays cooler while it's running.
Our only major quibble with this projector is in terms of its installation. It looks great once you get it set up right, but doing that can be a bit tricky. It has a somewhat more limited throw range than what we'd expect at the price range. You can use it with screens up to 300" but you won't get as much versatility in terms of placement and screen distance.
Despite this limitation, we'll still call this one of the best values you'll find in 1080p projectors. If you're looking for a great image at a great price and aren't limited in terms of the placement, this is definitely a good choice for you. Related Guide: Best 1080p Projector Under 500
Exceptional color quality and brightness
One of the most efficient projectors in the industry
Gaming mode practically eliminates lag time
3D capable display
Extremely low maintenance with a super-long lamp life
On-board speakers are low quality
Throw range limits your placement options
---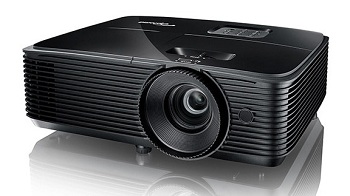 If the Optoma projector above is a bit out of your budget, you might want to consider the HD143X. It brings you the same quality construction and 1080p resolution but for less than $500. The multiple display modes and wide compatibility options make it a great choice for all of your home theater needs.
You'll get the same REC.709 color accuracy with this model as you'd find in the HD27HDR. The brightness and contrast ratio aren't quite as high, but it was still plenty sharp enough for our tastes, even in a viewing environment that's not completely dark. It even still gives you full 3D capability.
This isn't a short-throw projector. You'll need a distance of around 10 feet to get a 100-inch screen, so if you're working with a smaller space you may not get quite the massive screen you're hoping for. It's also a bit limited when it comes to keystone correction and zoom options, which can make it tricky to align the picture with the screen.
You can get a brighter image and lower lag time if you're willing to spend more for it. In the under-$500 category, though, it's hard to beat the Optoma HD143X. The wide compatibility means it will give you the same great picture no matter how you get your content.
BriliantColor feature gives you vibrant, accurate hues
Lamp puts out 3,000 lumens in Bright Mode
Lamp life of up to 12,000 hours
Great value for the picture quality and resolution
Compatible with the full complement of content sources
Won't work in smaller rooms
Aligning the picture with the screen is difficult
---
Low budget option:
DBPower 2019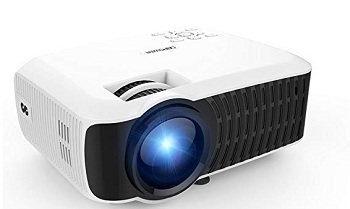 If your budget has you looking more in the $200 or less category, you should definitely take a look at this model from DBPower. It has a full 1080p resolution, a remarkably long lamp life, and surprisingly good speakers. All of this together gives you a projector that's undeniably the best value on the list, both in terms of the initial purchase and over the life of the device.
Let's start with the pros. The cooling fan is much quieter than what you'll get with other models of projector. It also has better on-board speakers than what most projectors offer, giving you sound that's both louder and clearer—clear enough, in fact, you won't need to invest in external speakers in smaller spaces. This efficient machine also has a very impressive lamp life of up to 50,000 hours. Basically, the lamp will probably out-live the projector itself. Related Guide: How Long Do Projector Bulbs Last?
Now here's the catch: the reason it's so quiet and efficient is because the lamp in this projector uses an LED bulb. This only gives you about 120 lumens of brightness, too dim to be seen clearly in all but the darkest environments. The ambient light level in most restaurants will overwhelm the bulb, but it may be suitable for darker bar environments.
If you don't mind these limitations, you'll definitely save yourself a lot of money going with this projector. It's also relatively user-friendly, and though it does need a larger space to operate, installation is easy, even for those who aren't technologically inclined.
Most affordable option on the list
Quiet fan operation
Lamp life is long enough it might never need to be replaced
Impressive speakers with about 50% more output than most projectors
Flexible screen size of up to 176 inches
LED bulb won't get bright enough for most users
Lower contrast ratio and color accuracy than pricier projectors
---
The Final Verdict
There are two big questions you need to ask yourself: what kind of space you're working with and what kinds of sports you're watching. If you need to be able to track small or fast-moving objects, the lag time of the projector is a stat you'll want to keep in mind. Also figure out how much distance you'll need between the screen and projector to get the screen size you want, and whether you'll need a short-throw projector for your layout.
Like we said before, any of these four projectors will serve you well for watching sports and can be a great alternative to traditional TVs, giving you a bigger screen for less money. Hopefully, this article has helped you figure out which projector is ideal for your needs!