Projectors used to need a dedicated dark space to operate correctly, but more and more options are coming out that have a bright enough lamp to use in any room. That's definitely the case with the Optoma GT1090HDR, a versatile and user-friendly projector suitable for both gaming and home theater uses. In this Optoma GT1090HDR review, we'll look at the stats from top to bottom so you can get a better sense of just what it can do. While it might not be the ideal projector for everyone, we think you'll agree the combination of features is impressive at the price. Let's dig in so you can decide for yourself (>>> Check its pricing on Amazon).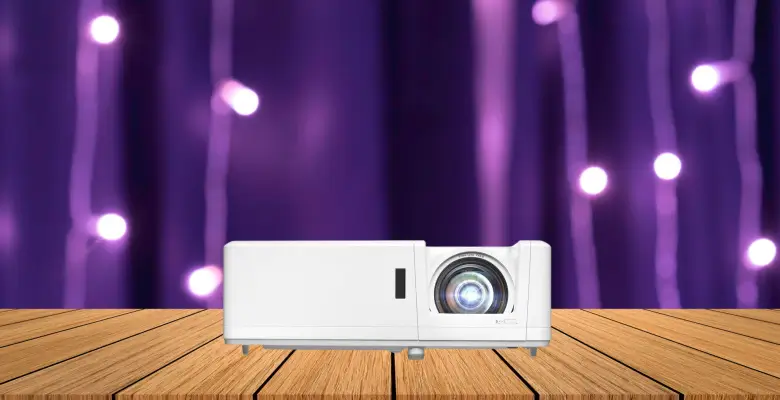 Optoma GT1090HDR Review of Specs:
| | Optoma GT1090HDR |
| --- | --- |
| | |
| Resolution | 1920x1080 |
| Brightness (Lumens) | 4,200 ANSI |
| Contrast Ratio | 300,000:1 |
| Throw Distance | 1.3' - 10.9' |
| 3D | YES, Full HD 3D |
| Screen size | 36" - 301" |
| Input lag: | 16ms |
| Price | Check on Amazon |
Set-up and Installation
The combination of a short throw ratio and a high lamp brightness allows the Optoma GT1090HDR to work in any space, regardless of the room's size or light level. You can get a 100" image from less than 4 feet away. In most cases, that will also eliminate the need for ceiling mounts or other complicated installations.
It's easy to align the image with the Optoma GT1090HDR, as well. Features like 4-corner correction and automatic keystone correction take a lot of the work out of setting up the picture. There is also a manual keystone correction, both horizontal and vertical up to 30°, as well as a 2x digital zoom. All told, that's a very helpful array of adjustment options, more than you'll get from some pricier projectors.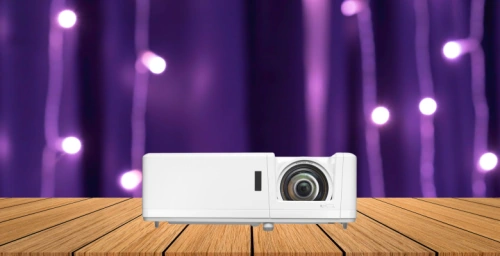 Pros
Great picture quality with high contrast ratio
Bright enough for use day or night, in any room
Short throw distance
Easy to align the image
Full HD 3D support
Low input lag for gaming
Durable build with a long lamp life
Cons
No true 4K resolution (only 4K input)
Picture Quality
The contrast ratio on the Optoma GT1090HDR is impressive. You'll love the consistency of the detail and picture across both bright and dark areas of the screen. It's also compatible with HDR10 and has a 4-segment color wheel. With more than 1 billion displayable colors, you'll see your content the way it's meant to be viewed.
Now the resolution on the Optoma GT1090HDR is full HD (1080p) but not 4K ultra HD. If you're used to watching content on an HD TV, you'll get the same sharpness and detail you're used to, even if it's not the highest possible resolution on the market. You can also view 4K content on the Optoma GT1090HDR, so you won't be limited in that regard. From a picture quality perspective, the lack of 4K resolution is the only potential complaint.
Performance and Reliability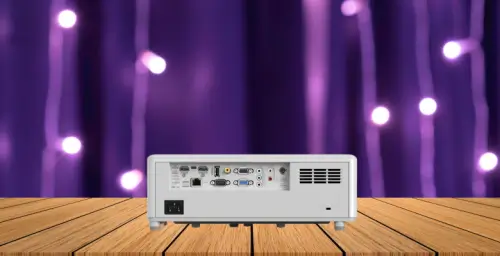 The DuraCore laser light source on the GT1090HDR has a long potential lifespan—as much as 30,000 hours in Eco Mode and up to 20,000 hours in higher performance modes. That makes it a very low-maintenance projector, allowing the lamp to last for years even if you use it every day.
Gamers especially will appreciate the responsiveness of the Optoma GT1090HDR. It has an input lag as low as 16ms, eliminating the frustrating delay some projectors have between what you do on the controller and what you see on the screen. You can play fast-paced and competitive games with this projector easily.
The high frame rate helps here, too. It can process visual information at a rate of up to 144Hz, so you don't have to worry about compression, skips, or choppiness on the screen. That's great for both gamers and home theater users, since it also affects the quality of the 3D picture. You'll get the same high-quality picture for 3D content you enjoy with other programs.
The Verdict
The Optoma GT1090HDR is a versatile and high-quality projector for use in any home. The flexible, easy installation and high level of performance are its main selling points. Thanks to the bright lamp, you'll get the same great color and picture quality no matter what space you're using it in. It's also ideal for media rooms, living rooms, and other multi-purpose spaces since it's just as viable for gaming as it is for home theaters. You can also find it among the best outdoor movie projectors here.
The only reason you might not want the Optoma GT1090HDR is if you need the ultimate 4K resolution. By using standard HD, though, Optoma is able to drop the price on this projector to less than $2,000, a very reasonable price for a model with this brightness, responsiveness, and short throw distance. It might not be the perfect projector for everyone, but the impressive specs on the GT1090HDR at least make it worth checking out (>>> Find on Amazon)
REFERENCES AND FURTHER READING: