Optoma's GT line of home theater projectors are versatile, high-performing options to bring big-screen entertainment to anyone who wants them. If you're comparing the Optoma GT1090HDR vs. Optoma GT1080HDR, you'll see both have a short throw ratio, an impressively low input lag, and a bright lamp that produces a sharp, realistic image.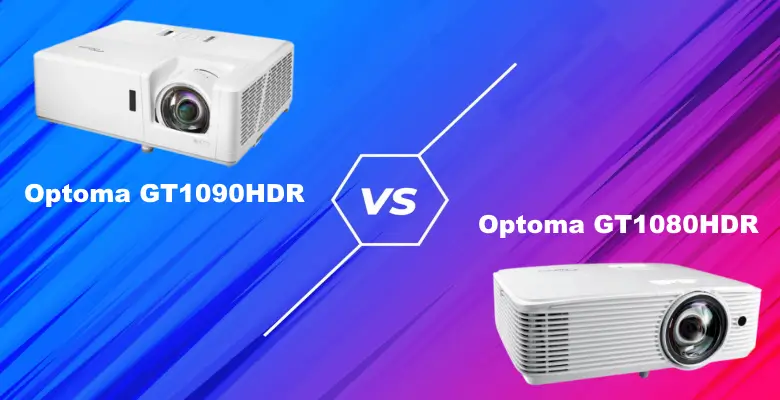 Looking at all factors together, the Optoma GT1090HDR is the overall better projector (>>> Check the current price on Amazon). Having said that, though, it's not the clear winner across all performance categories, and some buyers will find the GT1080HDR better suited to their needs.
Wondering which one is right for you? Let's compare their key features side by side so you can get a sense of the most significant differences.
Optoma GT1090HDR vs Optoma GT1080HDR Side by Side:
| | Optoma GT1090HDR | Optoma GT1080HDR |
| --- | --- | --- |
| | | |
| Resolution | 1920x1080 | 1920x1080 |
| Brightness (Lumens) | 4,200 ANSI | 3,800 ANSI |
| Contrast Ratio | 300,000:1 | 50,000:1 |
| Throw Distance | 1.3' - 10.9' | 1.3' - 11.1' |
| Screen size | 36" - 301" | 36" - 307" |
| Input Lag | 16ms | 8.4ms |
| Speakers: | 10.0 Watts × 2 | 10.0 Watts Mono |
| Price | BHPhotoVideo.com | BHPhotoVideo.com |
Installation Ease
The Optoma GT1080HDR comes with a standard array of image adjustment options. This includes a digital zoom and a vertical keystone correction up to 40°. Its short throw ratio is also a factor here, letting you get a big screen with less space. That can spare many users the need for ceiling mounts and other complicated installations.
The Optoma GT1090HDR matches its competition on the short throw distance and the inclusion of zoom and keystone correction. It then adds to this with an automatic 4-corner correction system that instantly aligns the image to your screen. Neither one is difficult to set-up, but between the two the GT1090HDR is easier.
Easier installation: Optoma GT1090HDR
Picture Quality
Full HD resolution and HDR10 contrast and color support are the foundation of the picture quality from both of these projectors. The Optoma GT1080HDR has a 3,800 lumen lamp and a dynamic contrast ratio of around 50,000:1, which give a sharp picture with deep black levels even in low to moderate light levels.
As good as the picture on the Optoma GT1080HDR is, that of the GT1090HDR is even better. Its laser light source is brighter, at 4,200 lumens, and its contrast ratio is higher, as well. It also supports more advanced color production technology, including HLG, with a wider color gamut.
Better picture quality: Optoma GT1090HDR
Gaming Performance
Serious and professional gamers look for a projector with an input lag of 30ms or lower. Both of these projectors meet those standards, and either one will give you lag-free performance for even graphic-intensive, reflex-based games like modern first-person shooters.
Having said that, the Optoma GT1080HDR has the advantage here. Its input lag is about half that of the GT1090HDR when you put it in Enhanced Gaming Mode. This is paired with a high frame refresh rate that prevents blurring and other image issues.
Better gaming projector: Optoma GT1080HDR
Durability
The primary difference between these projectors is the light source. The Optoma GT1080HDR uses a standard lamp, while the GT1090HDR uses a laser light source, with a maximum lifespan about twice that of the GT1080HDR. Many users never have to replace the light source of the Optoma GT1090HDR for the entire life of the projector.
Along with that, the GT1090HDR has better systems in place for protecting the engine and internal workings of the projector. This includes its high dust resistance, which is rated to meet IPX6 standards. All-told, it's a lower-maintenance and longer-lasting option.
More durable projector: Optoma GT1090HDR
Full Reviews: Optoma GT1090HDR vs Optoma 1080HDR
Optoma GT1090HDR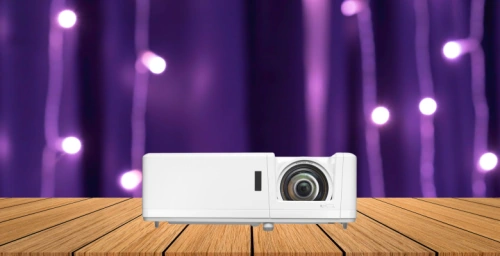 The Optoma GT1090HDR is user-friendly from the moment you take it out of the box. With a digital zoom and automatic horizontal and vertical keystone correction, it's a quick process to align the picture to the screen. A short throw distance also gives it more set-up versatility. You'll only need about 4 feet of distance for a 100" screen, which is great news for those in small spaces but a helpful feature for any user.
We're also impressed by the picture quality from the Optoma GT1090HDR overall. It's compatible with HDR10 for enhanced contrast and better color accuracy. Images are vibrant and detailed, and stay that way even when the lights are on thanks to the 4,200 lumens put out by the laser light source. While it's native resolution is Full HD (1080p), it supports 4K input and displays all content with the same level of accuracy and realism. It also works well with 3D content, with a 120Hz refresh rate that eliminates flickering or choppiness from the picture. Related comparison: Optoma HZ39HDR vs GT1090HDR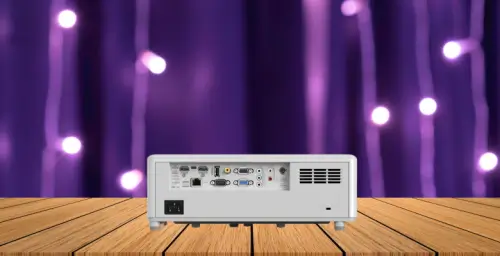 You won't need to do much ongoing maintenance with the Optoma GT1090HDR. Its light source lasts a long time, first of all—up to 30,000 hours in Eco Mode, and around 20,000 hours in higher performance modes. It's also dust-resistant so you won't need to worry about cleaning vents or filters to keep the engine running smoothly. It's also both portable and durable, weighing just 10 pounds with a high level of build quality. Taking all these factors together, it's an excellent choice for home theaters, media rooms, backyard movies, or anywhere you want easy access to big screen entertainment.
Read our full review: Optoma GT1090HDR
Pros
Supports 4K input
HDR10 and HLG technology for deeper blacks and vibrant colors
Low maintenance design with IPX6 dust resistance rating
Bright enough for lights on viewing
Easy installation with automatic keystone and 4-corner correction
Full 3D support from any content source
Cons
Higher cost
Can cause rainbow effect for those sensitive to it
---
Optoma GT1080HDR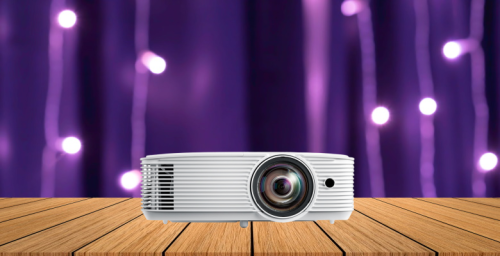 The Optoma GT1080HDR is hands down one of the best projectors you can get for under $1,000. Along with 4K input support and HDR10 technology, it uses a 6-segment color wheel that gives you the full color gamut of the Rec. 709 spectrum. That means you'll see on-screen colors they way they were intended. The Full HD resolution and strong contrast ratio keep images sharp and clear from all content sources.
Where the Optoma GT1080HDR really shines is for playing games. Turn on the Enhanced Gaming Mode to drop the input lag down to 8.4ms—as low as you'll find from any home theater projector. This is paired with a fast 120Hz refresh rate that keeps the on-screen action smooth, eliminating annoyances like banding or choppiness.
Installing the Optoma GT1080HDR is easy, too. Its throw distance is comparable to the GT1090HDR above, and it also includes a digital zoom and vertical keystone correction. While it doesn't have automatic 4-corner correction, we still found the installation process quick and easy compared to most home theater projectors. It's just as portable, too, making it a great option for watching movies or playing games anywhere, as well as an outstanding value for the price.
Pros
Sharp, clear picture and wide color gamut
Easy set-up with short throw distance
Bright enough to compete with ambient light
Superb gaming performance
Full 3D and 4K input support
Excellent value
Cons
Lower lamp lifespan
No lens shift or 4-corner correction
---
What's the Bottom Line?
If picture quality and durability are your main concerns, the Optoma GT1090HDR is the best projector for you (>>> Check current price on Amazon). On the other hand, the GT1080HDR will appeal to both serious gamers and budget-conscious buyers, offering both the lowest input lag and the lower price tag.
The good news is, both of these projectors are user-friendly, versatile, and will produce a stunningly true-to-live image. We hope this review has helped you decide which one is the best choice for you!