One of the main advantages of a projector over a TV is that the image size is variable. Many can produce pictures of 300" or larger. This is bigger than you likely need (or even want) for indoor home theaters but makes them more suitable for outdoor use. While not all projectors are designed to work outside, there are a lot of great options that give you that versatility.
The best outdoor movie projector is one that's bright, durable, portable, and easy to set up. All of the projectors on this list fit those criteria, but the BenQ LH930 is the best all-around option for outdoor use because it's relatively lightweight, easy to set-up, and has a bright light source with built-in protection from dust and smudges.
This doesn't mean the BenQ LH930 is the best choice for everyone, though. (>>> Find on Amazon) Before we get into the full product reviews, let's break down the key specs to pay attention to when you're shopping for an outdoor movie projector.
Best Outdoor Movie Projector Options for 2022:
| | Optoma GT1090HDR | Epson LS500 | Epson Pro EX10000 | BenQ LH930 | Optoma ZH406 |
| --- | --- | --- | --- | --- | --- |
| | | | | | |
| Brightness (Lumens) | 4,200 ANSI | 4,000 ANSI | 4,500 ANSI | 5,000 ANSI | 4,500 ANSI |
| Resolution | 1920x1080 | 1920x1080 4K w/pixel shifting | 1920x1080 | 1920x1080 | 1920x1080 |
| Input Lag | 16ms | 27ms | No data | No data | No data |
| Screen size | 36"-301" | 70" - 130" | 40" - 500" | 30" - 300" | 32"-301" |
| Throw distance | 1.3' - 10.9' | 0.7' - 1.9' | 6.3' - 48.3' | 4.8' - 29.7' | 5.2' - 30.6' |
| Internal Speakers | 10.0 Watts × 2 | 10.0 Watts × 2 | 16.0 Watts Mono | 10.0 Watts × 2 | 15.0 Watts × 2 |
| Price | Check on Amazon | Check on Amazon | Check on Amazon | Check on Amazon | Check on Amazon |
Set-up Ease
In a home theater, you can permanently install your projector and only have to set it up once. You don't want to leave electronic equipment like projectors outside all the time, though. You'll likely need to set it up every time you want to use it, and that means a quick, easy set-up is especially important.
Image adjustment features like keystone correction and lens shift are helpful in outdoor set-ups, where you may be dealing with sloped terrain and may not be able to control the projector's height. Other options like zoom and lens shift can help with the fine-tuning of the image, getting you up and running faster when it's time for a backyard movie night.
Projector with the easiest set-up: BenQ LH930
Portability
Some home theater projectors are too delicate to be constantly moved from place to place, especially those that use traditional lamps for the projection. Others are durable, but heavy and bulky, which is annoying at best and, at worst, increases the likelihood of drops and other damage. The best outdoor movie projector is both lightweight and rugged, allowing you to take it outside easily and not worry about it breaking in the process.
Most portable projector: Epson Pro EX10000 (9.5lbs)
Brightness
You can control the light level in an indoor home theater, but that's not always the case when you go outside. Even at night, those who live in urban areas especially will have some light pollution to contend with. That makes a bright lamp even more important than it is for many indoor applications. A brightness of at least 3,000 lumens is a requirement for outdoor use. In this context, brighter is definitely better, especially if you don't want to wait for the sun to go down to start your movie.
Brightest projector: BenQ LH930 (5,000 ANSI lumens)
Throw Distance and Image Size
You might think throw distance isn't an issue outside—after all, where else can you get that kind of uninterrupted space? The issue is that, with no ceiling, it's harder to have an elevated projector set-up. This makes it more likely people, animals, and other objects will pass between the projector and the screen, interrupting the movie. With a shorter throw distance, that's less space you need to keep clear.
Generally speaking, you'll also want a larger image outdoors than you use inside—and the larger the image, the more space you'll need to get it. A combination of short throw ratio with large maximum screen size is the best for an outdoor movie projector. Find top options or outdoor projector screens here
Best throw distance and size combination: Optoma GT1090HDR (301" image at 10'11")
Best Outdoor Movie Projector: Full Reviews
Optoma GT1090HDR

Optoma makes some of the best projectors on the market for both outdoor and indoor use. The Optoma GT1090HDR makes an excellent outdoor projector because of its easy set-up, high brightness and contrast ratio, and short throw distance.
The set-up of the Optoma GT1090HDR is quick and easy—one of the main things you need in an outdoor projector. Adjusting the image is simple with the four-corner and auto keystone correction. It also has the connections you need for any content source, whether that's a streaming stick or a gaming system. Click here if you want to check our list of the top 4k gaming projectors. The short-throw lens gives you a 120" image from just over 4 feet away so it's not as limited by space as other options. At just over 13 pounds, the Optoma GT1090HDR is very portable, and it's durably built, so there's no worry you'll damage it by moving it between your indoor home theater and your outdoor viewing area.
We also love the picture quality of the Optoma GT1090HDR for outdoor use. The high brightness means you can use it even in areas where you can't control the light level. While it's not the highest resolution on the list, the high contrast ratio and color accuracy mean you'll still get an immersive, beautiful image. What content you view won't be limited, either. It supports 4K content (though it displays it in 1080p) and has full 3D support. This makes it one of the best projectors out there for backyard movie nights.
Pros
High brightness and contrast ratio
True 3D content from all sources
Supports both 4K and HDR content
Auto keystone correction makes set-up easy
Short throw ratio gives big image with less distance
Low-maintenance with a long light source lifespan
Lightweight and portable
Cons
Doesn't display 4K resolution
Screen sometimes flickers on ECO mode
---
Epson EpiqVision Ultra LS500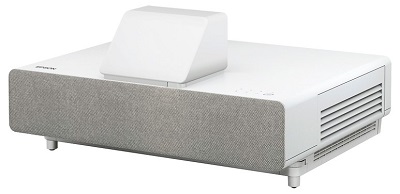 With the Epson EpiqVision Ultra LS500, you can get a 130" screen with less than two feet of distance. That makes it much simpler to set-up and align the projector, especially since it includes a digital zoom and 2D keystone correction. It powers up quickly and has an intuitive menu interface that supports direct streaming through its Android TV system as long as you're in Wi-Fi range.
The picture quality of the Epson LS500 is top-notch, too. It uses 3-chip LCD technology with 10-bit HDR processing and an advanced laser array. All together, that gives you a sharp 4K image with the full Rec. 709 color gamut and a high dynamic contrast. This is a responsive projector, too, with smooth onscreen action and a low 16.7ms input lag (21ms in 4K). That means you can use it for outdoor gaming sessions along with backyard movies.
The main potential downside of the EpiqVision LS500 is that it's not the most portable model on the list. It's a heftier unit, weighing over 20 pounds. Its range of screen sizes is also more limited, topping out at around 130". That's plenty big for indoor home theaters and can be fine outdoors for smaller groups but can be a deal-breaker for those looking to fill a 300" inflatable screen. Still, if you're looking for the outdoor projector with the best picture quality, the LS500 is a strong contender. For our more in-depth Epson LS500 review click here.
Pros
Bright enough to use in any light level
Built-in Android TV interface
Low input lag, even at 4K
Short throw and instant on/off for a fast set-up
Full HD 3D support
Cons
Maximum image size of 130"
Not as portable as other options
---
Epson Pro EX10000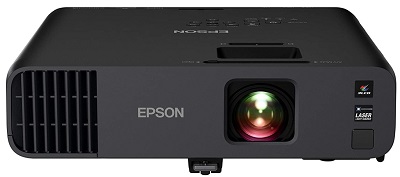 Here's another excellent option from Epson. The Epson Pro EX10000 uses similar 3LCD-chip display technology to the LS500 above. Its long-lasting laser light source puts out an impressive 4,500 lumens, making it one of the brightest projectors you'll find. You can use it outside day or night and still get a saturated, detailed picture.
The Epson Pro EX10000 is the perfect projector for those who want the biggest possible screen. It can produce images up to 500". Granted, you'll need a lot of space (59 feet) to get it, but the throw distance isn't unreasonable at smaller screen sizes—around 10 feet for a 100" screen, or 29-35 feet for a 300" screen. The manual focus, 1.6x zoom, and other image adjustment functions give it a relatively quick set-up process at all distances.
We also recommend the Epson Pro EX10000 for those who don't have Wi-Fi in their outdoor viewing space. Its connection panel has far more options than the 2 HDMI ports you'll find on most projectors, including VGA, RCA, and USB inputs. It has wireless connectivity, as well, and supports Miracast and Chromecast. That gives it a lot of versatility for use both indoors and out. Click here for our more in-depth Epson Pro EX10000 review.
Pros
Super-bright lamp
Wide color gamut with no distracting image issues
Supports Miracast for wireless screen sharing
Screen sizes up to 500"
Low-maintenance with 20,000-hour light source lifespan
Robust connectivity
Cons
No 4K support
Needs a lot of space for larger screen sizes
---
BenQ LH930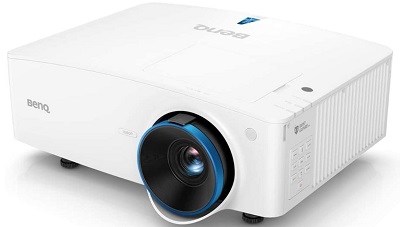 The BenQ LH930 was designed as a conference room projector for business presentations or large displays. The same things that make it appealing to business leaders also make it an excellent outdoor projector. Its laser light source generates 5,000 ANSI lumens and has a long lifespan up to 20,000 hours. It's also sealed, protecting the lens from dust, dirt, or pollen that could be floating around in the outdoor air.
The DLP technology used in the BenQ LH930 produces a Full HD resolution image, with a color gamut that covers about 92% of the Rec. 709 spectrum. In practical terms, this translates to an image quality on par with what you'd expect from a flatscreen HD TV. It's great for details like on-screen text, if not quite as impressive in terms of realism as some of the other options reviewed here.
Where the BenQ LH930 really excels is its installation flexibility. It can be used at any angle and has a wide horizontal and vertical lens shift, as well as both vertical and horizontal keystone correction. That makes it much easier to get the image just right, especially in yards that aren't completely flat. It's versatile from a connectivity standpoint, as well, with a range of video, audio, and network inputs to support any device or set-up.
Pros
Advanced BlueCore laser with ambient light detection
Certified IP5X dustproof lens
Bright enough for daytime use
Horizontal and vertical lens shift and keystone correction
360° installation
Cons
Maximum resolution of 1080p
No wireless connectivity
---
Optoma ZH406

Last but not least, the Optoma ZH406 is a fantastic indoor/outdoor projector. It uses a laser light source that lasts longer than traditional lamps and provides up to 4,500 lumens of brightness. Your picture won't suffer from streetlights or even sunlight. In addition, it's dust-resistant and very durable, letting you take it outdoors without fear it'll break.
Easy image alignment is something else you'll get with the Optoma ZH406. It has automatic keystone correction, as well as manual zoom and lens shift. The 4-corner adjustment is especially helpful at eliminating distortion when the projector can't be centered completely on the screen. These options help to overcome the limitations of the standard throw ratio. For the full review of this projector click here.
One of the best features of the Optoma ZH406 is its flexibility. Its inputs for content include VGA and USB along with HDMI. There are also dual audio ports—which, to be honest, you'll need to use. The 15-watt speakers don't have the power to compete with outdoor noise.
Like other laser projectors at this price point, the Optoma ZH406 supports 4K content but has a native 1080p resolution. Find our top picks if you are looking for a 4k projector. The picture quality is acceptable, if not the best on the list. Still, the versatility and durability of the Optoma ZH406 mean it's worth considering when you're looking for an outdoor projector.
Pros
Light source is durable and dust-resistant
Vertical lens shift with 4-corner correction
Wide range of image size options
Input options include USB, VGA, and HDMI
Easily portable
Cons
Built-in speakers are too weak for outdoor use
High throw distance
---
The Verdict
We said at the beginning that the BenQ LH930 is the best overall outdoor movie projector, but as you can see it's not the winner in each category. (>>>Check on Amazon)The Epson LS500, for example, is a better choice for gamers and movie buffs, with its high processing speed and superior picture quality. On the other hand, those in need of the largest possible screen will find the Epson Pro EX10000 more suitable.
Whichever way you go, we hope this review has helped you pinpoint what's most important for your outdoor movie projector. Whether you're looking for the shortest throw or the best picture quality, one of the six options above will fit your needs.
REFERENCES AND FURTHER READING