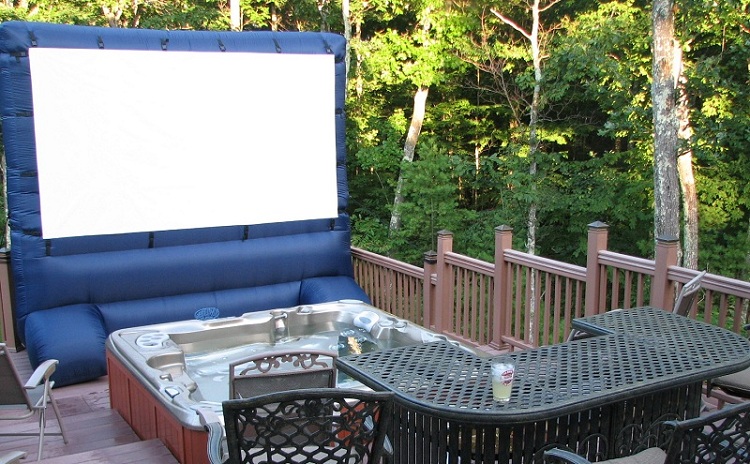 One big advantage of a projector over traditional TV screens is that you can take it anywhere. Combined with the larger screen, this makes projectors perfect for backyard movie nights, camping and beach trips, and other outdoor venues. The best projector screen for outdoors is built to stand up to the wind is easy to carry and can be set up quickly.
All of the projector screens on the list below fit these criteria. Before we dig into the full reviews, let's look at some of the factors that will help you decide which outdoor projector screen is right for you.
Stability
One big concern when you're using a projector screen outside is how well it resists the wind. Staking screens down will keep them from blowing over, but it won't always prevent wobbles and other movements that can be very annoying when you're watching a movie.
While inflatable screens generally do better in this regard, frame stands can work well if they're designed right. The tripod design on the Vamvo Outdoor Projector Screen helps hold it steady, for example, though the heavy wind may still impact your viewing experience.
Most stable screen: VIVOHOME 14ft Blow up Mega Movie Projection Screen
Viewing experience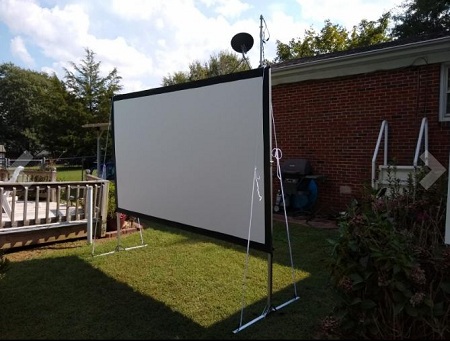 There's a reason you want a screen instead of just a white sheet. The best projector screens use a reflective material that gives you equal brightness across the entire image. This is especially important if you want to watch 3D movies, or get a true 4K UltraHD resolution.
If you'll be using your projector for large groups, get a screen with a 160° viewing angle. This will ensure the view is the same even if you're not directly in front of the screen.
Best viewing experience: Elite Screens Yard Master 2
Portability
A projector can be handy on family vacations or camping trips. Weight isn't usually too much of a factor. Even the heaviest screen on this list is only 23 pounds, still fairly easy to carry. The size of the screen when it's broken down is more important. Make sure it will fit in your trunk if you plan to take it on the road.
Most portable screen: Vamvo Outdoor Projector Screen
Best projector screen for outdoors: full reviews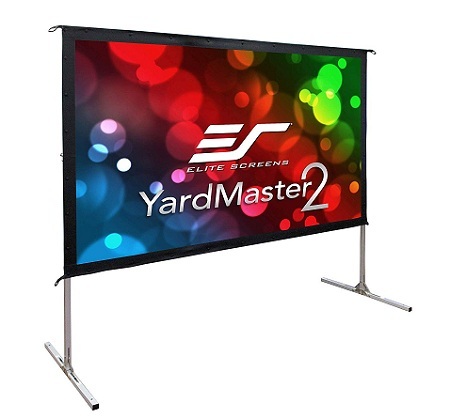 Specs:
Screen size: 120" diagonal
Aspect ratio: 16:9
Weight: 23lbs
If you want a screen that you can use outside that still gives you a great picture quality, you'll love this screen from Elite Screens. It uses a CineWhite screen material that makes the most of the image sent from your projector, giving you true, sharp images up to a 4K UltraHD resolution. Find our list of top outdoor projectors here
Now you don't want to install this screen permanently outside. It's not built to resist all weather conditions in the long-term. It is resistant to mildew, so you can clean and store it easily. It is a bit heavier at just over 20 pounds. It does fold up into a very compact package, though, so it's still fairly portable and convenient.
This screen is a bit on the pricier side compared to the other options here. It does give you the best image quality of all the options, though. If you want to watch movies using 4K or 3D outdoors, this screen is an excellent choice.
160° viewing angle
CineWhite screen maximizes projector's lamp brightness
Can be cleaned easily with soap and water
Simple snap-button frame easy to set up without tools
Compact when folded
A bit pricier than other outdoor screens
Not as portable as other options
---
Specs:
Screen size: 168" diagonal
Aspect ratio: 16:9
Weight: 8.5lbs
Carrying dimensions: 18" X 8.5" X 14"
Inflatable screens have the advantage of being usable anywhere and super easy to transport. There's no long screen roll or bulky frame pieces with this inflatable screen from EasyGo. It comes with a storage bag for one-handed carrying and weighs right around 10 pounds, making it super easy to take on the road.
The only downside of the lightweight of this product is that it is susceptible to being blown around by the wind. You'll need to take the time to stake it down, which does add to the set-up time. These ground stakes come with the screen, though, and the only tool you'll need is a hammer to pound them in.
The material used in this inflatable screen is both durable and easily cleaned. (Our guide on how to clean the projector screen can be found here). If you want a long-lasting screen that's easy to take with you anywhere, the EasyGo inflatable screen is a great choice.
Sets up in 2 minutes or less
Built-in fan automatically inflates when you plug it in
Included tie-downs and ground stakes for stability
Easy to transport in included storage bag
Completely waterproof
Will need to stake down, adding to set-up time
Inflation fan is on the loud side
---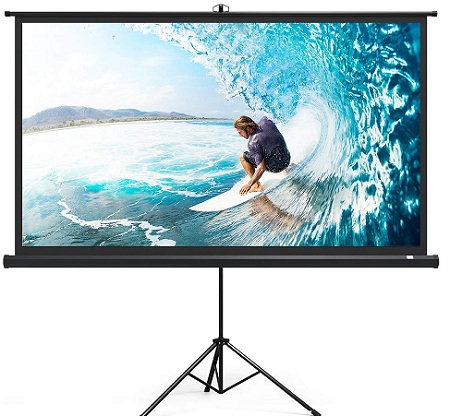 Specs:
Screen size: 100"
Aspect ratio: 16:9
Weight: 21lbs
Carrying dimensions: 97" X 7.5" X 5"
Here's another affordable outdoor screen option with a built-in foldable frame. The best thing about this TaoTronics model is the screen itself. It's made of a material that is resistant to both stains and discoloration. The screen is also wrinkle-free, so you can store it wherever and still use it as soon as you want it.
The PVC fabric of this screen is easy to clean, too and is waterproof enough to leave outside without worrying about damage. On the flip side of this, the frame is not incredibly stable, and there are no included stakes for tying it down. You'll want to secure it to a tree or other stable structure if you're using it in windy conditions.
Wrinkle-free design for no-worry storage
Resistant to staining and discoloration
Sets up in 2 minutes with no screws or tools
160° viewing angle for more seating versatility
Low gain screen compensates for dimmer projector lamps
Screen will need to be secured in windy environments
Too long to transport in many cars even when folded
---
VIVOHOME 14ft

Inflatable Blow up Mega Movie Projection Screen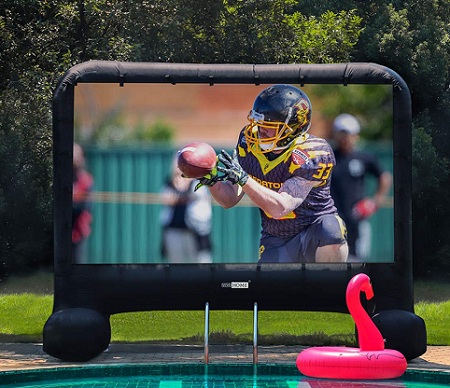 Specs:
Screen size: 168" diagonal
Aspect ratio: 16:9
Weight: 10lbs
Carrying dimensions: 18" X 15" X 8.5"
A lot of inflatable screens are built as a single piece. With the VIVOHOME projector, though, you get the best of both worlds. The frame inflates quickly and easily and the screen can be removed when it's time to clean it.
This projector is fully weather-resistant, as well. You can use it in any conditions without concern. It can't be used for permanent installations only because it needs to be plugged in to inflate. It's ideal for taking with you on family trips, too, because it packs up into a convenient, portable carrying bag.
While this VIVOHOME projector screen isn't the cheapest item on the list, there's no question it's worth the money. It gives you a massive screen in an easy-to-carry package, and it's durable enough you'll enjoy it for years to come.
Oxford cloth screen is fully weather-resistant
Built-in fan pump inflates screen in minutes
Free-standing mount and yard stakes included
Screen is removable for easier cleaning
Fan is quiet and doesn't interfere with viewing experience
Easy to carry and store
Requires constant power source to stay inflated
Set-up is a bit longer due to staking
---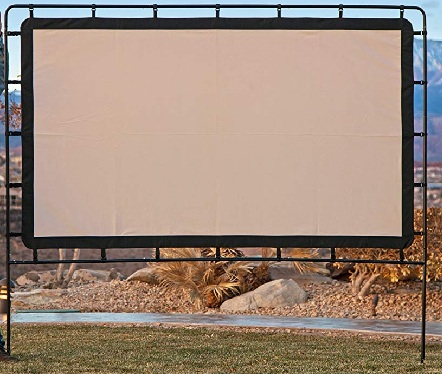 Specs:
Screen size: 92"
Aspect ratio: 16:9
Weight: 16lbs
Carrying dimensions: 36.5" X 4" X 11.5"
Here's another one you'll want to check out if your main concern with an outdoor screen is picture quality. The screen material used by this Camp Chef big screen is highly reflective, designed to give you bright colors and a clear image in all conditions.
The frame on this screen isn't our favorite. The steel tubing is lightweight and durable, but it isn't very stable. Even staked down it has a tendency to get blown around by the wind if you don't have it in front of something solid.
Assembling this screen can take a bit of time, especially if you need to stake it down for windy conditions. If you're more concerned with picture quality than convenience, this is the screen for you.
Oxford nylon screen gives high-resolution picture
Easy to assemble without tools
Includes carrying bag for easy transport
Lightweight, durable frame
Screen is difficult to clean
Frame isn't very stable
---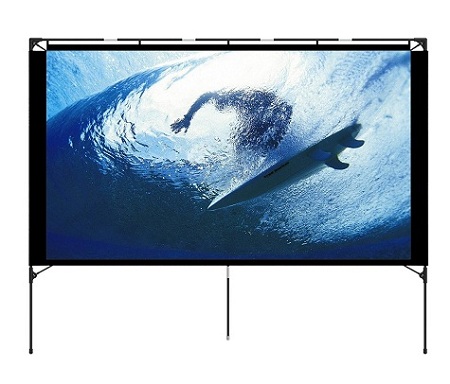 Specs:
Screen size: 74.4" diagonal
Aspect ratio: 16:9
Weight: 6lbs
Carrying dimensions: 18" X 7" X 3.5"
If you're looking for big-screen home entertainment on a budget, this projector screen from Vamvo is right up your alley. For less than sixty bucks you'll get a projector screen that's portable, durable, and easy to set up—a bargain by anyone's estimation.
This is the smallest screen on the list. It's still larger than most TVs, with a diagonal of 74 inches, but it's intended more for outdoor family movie nights than large group screenings. The flip side of this is it's also the lightest product on the list and in our opinion the easiest to transport.
We were surprised by how sturdy the frame feels, given how light-weight it is. You'll still need to stake it down in windy conditions or on unstable ground, but it's better in this regard than some screens that cost twice as much.
Very affordable
Sets up in less than 3 minutes
Frame is relatively stable, even in wind
Super lightweight
Fits easily in most car trunks when folded
Smallest screen on the list
May need to iron out wrinkles after storing
---
The bottom line on outdoor projector screens
Choosing the right screen really depends on how you plan to use it. If you'll be mostly watching movies in your backyard, the portability of the screen won't be as much of a factor. The same goes for the screen size. Bigger isn't always better. For smaller groups, the 74" Vamvo screen may be large enough.
Taking all the factors together, our top pick is the EasyGo Mega Movie Screen. It's large, easily portable, and stands up well to wind and weather. Any of these screens is a great choice for the right customer, though. Hopefully, this article has helped you pick out the perfect one for you!
REFERENCES AND FURTHER READING: