Tired of your projector screen taking up an entire wall of your living room? A motorized screen is an excellent alternative, keeping the screen out of sight when it's not in use and quickly extending it when it's movie time.
Choosing the right model can be tricky, however. Most screens are designed to work in a certain light level, or with specific styles of projector, so there's no one best motorized projector screen for everyone. That said, there are some universal factors that you should consider when you're screen shopping. Let's take a quick look at how these models stack up before getting into the full reviews.
Top picks in 2023: Best Motorized Projector Screens:
| | VIVIDSTORM S PRO | VIVIDSTORM-Deluxe Tensioned Screen | VIVIDSTORM PRO Slimline | VIVIDSTORM Deluxe | Aoxun 120" Motorized Projector Screen |
| --- | --- | --- | --- | --- | --- |
| | | | | | |
| Screen size | 100" | 84" | 120" | 150" | 120" |
| Aspect ratio | 16:9 | 16:9 | 16:9 | 16:9 | 4:3 |
| Viewing angle | 170° | 160° | 170° | 160° | 160° |
| Ambient light rejecting | Yes | Yes | Yes | No | No |
| Projector compatibility | Ultra-Short Throw laser projectors | Standard-throw and short-throw | Ultra-short throw laser projectors | Standard-throw/short-throw projectors (not UST) | Standard-throw and short-throw projectors |
| Price | ProjectorScreen.com | Check on Amazon | Check on Amazon | Check on Amazon | Check on Amazon |
Reviews of the Best Motorized Projector Screens
VIVIDSTORM S PRO Motorized Projector Screen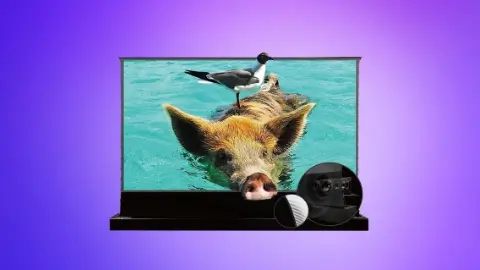 The VIVIDSTORM S Pro is an ideal choice for home theaters built around an ultra-short throw laser projector. Its flexibility is its main advantage. The screen material has a sawtooth structure that allows sound waves to get through without impacting the quality of the image, allowing for speakers to be installed behind the screen.
This unique screen material is also good news for the picture quality. It rejects ambient light, especially light that comes in from above the screen. Thanks to this, you'll see improved color and contrast even when it's used in well-lit rooms. It's also capable of supporting the latest in home theater technology, like 8K resolution and 3D content.
Setting up the VIVIDSTORM S Pro is easy. Just put it where you want it and plug it in—no need for screws or other hardware. While this gives it excellent versatility in terms of where you use it, it's not as versatile when it comes to your projector.
It's made to use with ultra-short throw laser projectors, and its light-rejecting design can cause image issues with traditional lamp-based projectors or ceiling mounted setups. Click here for our more in-depth Vividstorm S Pro 120 Review.
Pros
Excellent image contrast and color
Perforated design is sound transparent
Easy setup with no required hardware
Wide viewing angle
Works well with 3D content
Silent motor operation
Cons
Use is limited to laser projectors
Can't be used in ceiling-mounted setups
---
VIVIDSTORM-Deluxe Tensioned Screen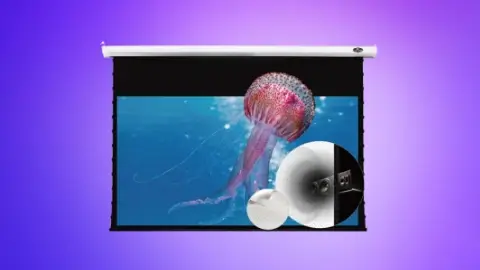 The VIVIDSTORM-Deluxe Tensioned Screen is one of the top options for smaller spaces. It comes in a range of sizes, as small as 84 inches diagonally.
In all sizes, it has a wide 160° viewing angle, so you'll get the same high picture quality no matter where you're sitting in the room. Once installed, it raises and lowers silently, making it unobtrusive in every sense of the world, and has convenient features like an RF remote and smart opening that synchronizes with your projector.
Another great feature of this VIVIDSTORM screen is its installation flexibility. It's perforated to let sound through, meaning you can install speakers behind the screen without impacting the sound quality.
Along with this, it supports wall, ceiling, or suspended installations, expanding your options for how and where to install it compared to other screens.
As far as the picture, the screen itself is made of cinema-quality material that faithfully recreates the color, contrast, and details of projected images from standard-throw or short-throw projectors.
Since it rejects ambient light, it can make projectors with a brightness as low as 1,800 lumens look bright and vibrant. The only downside of this is, that same screen design means it won't work well with ultra-short throw projectors.
Pros
Acoustically transparent for behind-screen speakers
Easy to clean with just soap and water
Synchronizes with projector to open automatically
Moisture-resistant steel housing
Multiple installation options
Locking height adjustment
Cons
Not compatible with ultra-short throw laser projectors
Some users report flaring and wrinkling around the edges
---
VIVIDSTORM PRO Slimline Motorized Projector Screen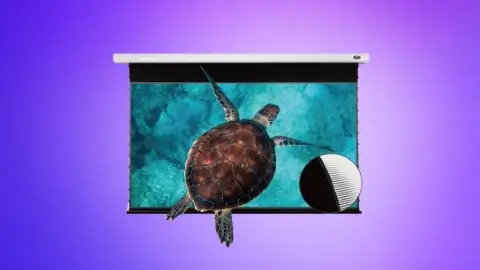 Here's another top screen from VIVIDSTORM that's ideal for those with ultra-short throw laser projectors. The VIVIDSTORM PRO Slimline uses a screen with a sawtooth surface structure and light-suppression technology that blocks or absorbs ambient light from above.
This means exceptional contrast and brightness from ultra-short throw projectors. The only downside of this is it will also filter out light from ceiling-mounted projectors, the main reason it's not suitable for standard-throw models.
Paired with the right projector, the VIVIDSTORM PRO Slimline produces an incredible picture for all kinds of content. It gives the full detail for content up to 8K resolutions and can handle any kind of 3D content, as well. With a 120" screen size and wide 170° viewing angle, it's perfect for viewing parties and other large group uses, giving everyone the same great viewing experience.
Like other VIVIDSTORM screens, the Slimline is easy to install and use. It can be suspended or mounted to a wall or ceiling. Along with a wireless remote, it comes with a projector trigger for automatic screen lowering and raising. However it's installed, the gravity shaft and stay wire keep the screen flat and wrinkle-free while you're watching.
Pros
Sawtooth screen structure absorbs light from above
Wide viewing angle
Supports active 3D and resolutions up to 8K
Suspended or mounted installation
Includes remote and wireless trigger dongle
Flat, smooth surface when in use
Cons
Can't be used with ceiling-mounted projectors
---
VIVIDSTORM Deluxe Motorized Projector Screen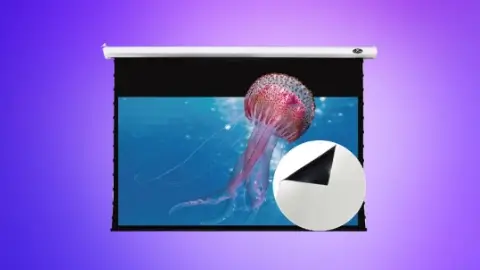 For dedicated home theaters, the VIVIDSTORM Deluxe is an ideal choice. Its image surface is 150 inches on the diagonal, about 50% larger than most motorized projector screens. Along with that, its wide 160° viewing angle means everyone will have the same great view, even if you're watching with a large group.
The VIVIDSTORM Deluxe has a flexible installation. It works with both wall-mounted and ceiling-mounted setups, with an acoustically transparent screen that won't block sound from speakers installed behind it. While there is some wrinkling along the image edges, the overall contrast and color production are high, and it does full justice to Ultra HD resolutions.
The reason we recommend this screen mostly for dedicated home theaters is that it doesn't use the ambient light rejecting technology employed by other screens on this list. Because of this, it's at its best in a completely dark room.
It will do justice to the picture produced by any standard-throw projector, but can't enhance or improve the contrast and image brightness, and is prone to wash-out from ambient light sources.
Pros
Ideal for dedicated home theaters
Perforated for acoustic transparency
Wide viewing angle
Works with ceiling or wall mounted installations
Slim and unobtrusive when screen is retracted
Cons
Some wrinkling and distortion at the screen edges
Not ideal for well-lit rooms or dim projectors
---
Aoxun 120" Motorized Projector Screen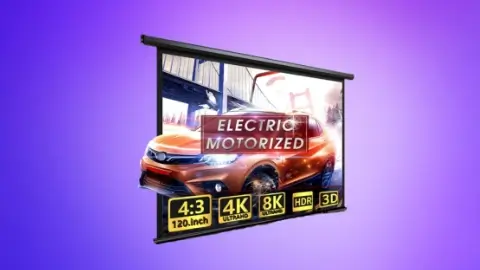 You don't need to spend a fortune to get a motorized projector screen. The Aoxun 120" Motorized Projector Screen is a versatile way to get big-screen entertainment on a budget. It can be installed on either the wall or ceiling, and comes with a motorized control panel you can also mount to the wall, as well as a wireless remote.
The surface is also moisture-resistant, meaning you can use it outside if you want and can clean it with plain soap and water if it gets dirty.
When fully extended, this Aoxun screen has a 4:3 aspect ratio suitable for many older shows and movies. For more modern content, you can retract the screen slightly to adjust the ratio to a modern 16:9. With support for 3D content and faithful reproduction of resolutions up to 8K, it can handle any type of content you want to play on it.
As far as projector compatibility, the Aoxun 120" Motorized Projector Screen works best with standard-throw and short-throw projectors. While it can be used with ultra-short throw models, as well, this will likely cause visible wrinkles and lines in the image since it's not a fixed-tension screen.
Pros
4-layer screen limits light bleed
Control with remote or wall-mounted control panel
Wipes clean with soap and water
Can be mounted on the wall or ceiling
Supports resolutions up to 8K
3D ready
Cons
No ambient light rejecting features
No automatic control option
---
Most Important Features to Consider When Choosing Motorized Projector Screen
Installation Ease: A Vital Aspect of Motorized Projector Screens
Typically, motorized screens descend from above, necessitating their installation on a wall or ceiling before utilization, similar to traditional screens. Many of them, such as most VIVIDSTORM screens, come equipped with various mounting options. They can be either wall-mounted, ceiling-mounted, or suspended, thereby offering you substantial flexibility with your installation.
The VIVIDSTORM S Pro emerges as the undisputed champion when it comes to effortless installation. Unlike traditional screens that extend downwards, this model rises from the base. Consequently, you can conveniently place it on a table or entertainment center and plug it in, bringing the setup time down to a minute or less.
Easiest installation: VIVIDSTORM S Pro
Viewing Angle: Essential for Quality Viewing Experience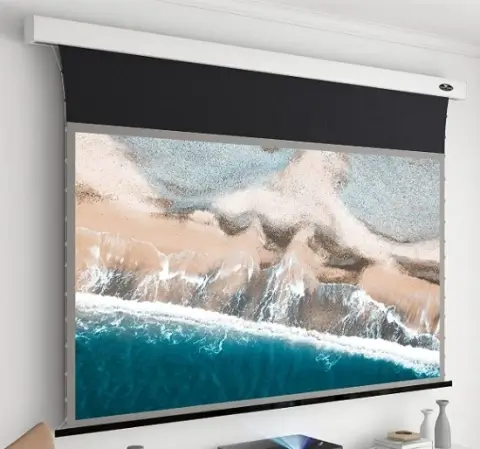 The viewing angle of a motorized projector screen refers to the maximum angle at which you can view the screen with maintained image quality. This factor holds utmost significance for large gatherings or viewing parties, where it's not always possible for everyone to sit directly in front of the screen.
Ideally, a 180° viewing angle is the broadest possible, offering even viewers at the extreme edges of the screen the same image quality. Although none of these screens fully achieve this coverage, the VIVIDSTORM S Pro and VIVIDSTORM PRO Slimline do offer a wide 170° viewing angle.
Widest viewing angle: VIVIDSTORM S Pro, VIVIDSTORM PRO Slimline
Screen Size: The Bigger, The Better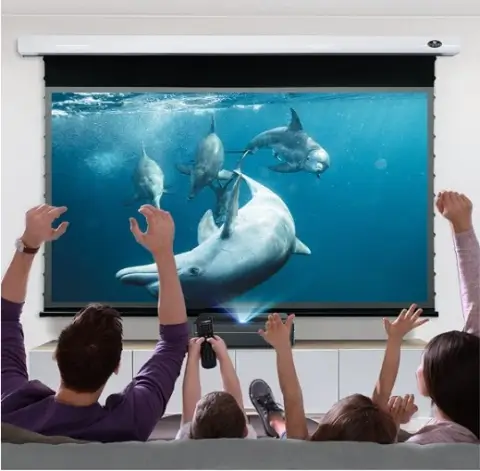 One of the main reasons people opt for projectors is the lure of the big-screen experience. While many projectors can generate images as large as 300", screens of this size are more suited for outdoor environments or large auditoriums, and may be excessively large for a home theater. For most home theaters, the ideal screen size is around 100"-150". All the screens on our list fall within this range. The VIVIDSTORM Deluxe, boasting a diagonal measurement of 150", is the largest motorized screen on our list.
Largest screen: VIVIDSTORM Deluxe
Screen Material: The Canvas of the Image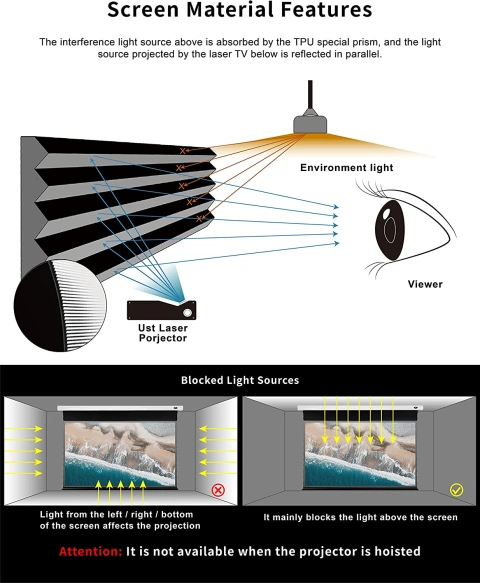 The screen material is what the image from the projector is projected onto, so containing detailed reply.
It is crucial that it delivers a high-quality image. Ideally, the screen material should have good color accuracy, black levels, and a smooth surface to prevent any distortion. Furthermore, it should be durable to withstand the rolling and unrolling action, and resistant to creases and wrinkles.
Most modern screens use fabric materials treated with various coatings to enhance image quality. The coatings often control the reflectivity and gain of the screen. Gain refers to the measure of reflectivity of light compared to a standard white magnesium oxide board. A gain of 1.0 is equivalent to the reflectivity of the standard board.
The VIVIDSTORM Deluxe Tensioned Screen and VIVIDSTORM S PRO use CineWhite UHD-B material, which offers a gain of 1.3. This material delivers a bright, accurate image and resists hotspots while maintaining a wide viewing angle. The tensioned design also prevents the formation of creases or wrinkles.
Best screen material: VIVIDSTORM Deluxe Tensioned Screen, VIVIDSTORM S PRO
Noise Level: A Silent Operator is Preferred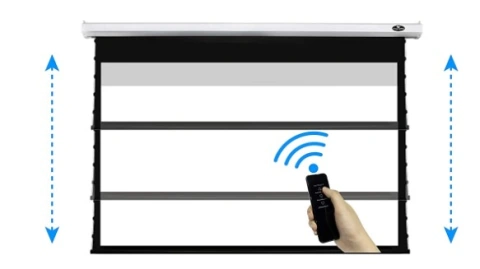 The noise level of a motorized screen might not be an initial consideration but it becomes crucial if you plan on using it frequently. A quiet motor not only enhances the longevity of the product but also provides a more immersive and uninterrupted viewing experience.
VIVIDSTORM motorized screens are known for their silent operation, with the VIVIDSTORM S PRO and VIVIDSTORM PRO Slimline particularly standing out. They boast of a silent tubular motor that smoothly operates at less than 30 decibels.
Quietest operation: VIVIDSTORM S PRO, VIVIDSTORM PRO Slimline
Price: Quality Comes at a Cost
While price shouldn't be the only consideration, it often becomes a deciding factor when choosing a motorized projector screen. Prices vary considerably, with high-end models offering superior image quality and a wider range of features.
That being said, the Aoxun 120" Motorized Projector Screen offers a decent mix of quality and affordability. It provides an acceptable image quality, ease of installation, and silent operation, making it a good budget pick for those looking to upgrade their home cinema experience.
Best budget pick: Aoxun 120" Motorized Projector Screen
Conclusion: The Best Motorized Projector Screen of 2023
Based on various factors such as ease of installation, viewing angle, screen size, screen material, noise level, and price, the VIVIDSTORM S PRO emerges as the top pick for the best motorized projector screen of 2023. Its unique rising design, wide viewing angle, superior screen material, silent operation, and hassle-free installation make it a leading choice for home cinema enthusiasts. (>>> Check on Amazon)
However, it's important to consider your specific requirements and budget before making a decision. While the VIVIDSTORM S PRO excels in all areas, other models like the Aoxun 120" may suit your needs if you're on a budget. Check the Latest Price on Amazon Now!
REFERENCES AND FURTHER READING: