Tired of your projector screen taking up an entire wall of your living room? A motorized screen is an excellent alternative, keeping the screen out of sight when it's not in use and quickly extending it when it's movie time. Choosing the right model can be tricky, however. Most screens are designed to work in a certain light level, or with specific styles of projector, so there's no one best motorized projector screen for everyone. That said, there are some universal factors that you should consider when you're screen shopping. Let's take a quick look at how these models stack up before getting into the full reviews.
Best Motorized Projector Screen – Top picks in 2022:
| | VIVIDSTORM S PRO | VIVIDSTORM Slimline | Elite Screens Starling Tab-Tension 2 | VIVIDSTORM Deluxe | Akia Screens |
| --- | --- | --- | --- | --- | --- |
| | | | | | |
| Screen size | 100" | 120" | 120" | 150" | 104" |
| Aspect ratio | 16:9 | 16:9 | 16:9 | 16:9 | 4:3 |
| Viewing angle | 170° | 150° | 80° | 160° | 180° |
| Ambient light rejecting | Yes | Yes | Yes | No | No |
| Projector compatibility | Ultra-Short Throw laser projectors | Standard-throw lamp-based projectors | Standard-throw projectors | Standard-throw/short-throw projectors (not UST) | Standard-throw/short throw projectors (not UST) |
| Price | Check on Amazon | Check on Amazon | Check on Amazon | Check on Amazon | Check on Amazon |
Installation Ease
Most motorized screens extend downward. This means you'll need to mount them to the ceiling or wall before you use it, just like with a traditional screen. Many offer multiple mounting options, such as the VIVIDSTORM Slimline that can be wall mounted, ceiling mounted, or suspended, so you'll still get some flexibility with your installation.
For the absolute easiest installation, the VIVIDSTORM S Pro is the top choice. It rises up from the base instead of extending down. Because of this, you can simply set it on an entertainment center or table top and plug it in, giving it a setup time of about a minute.
Easiest installation: VIVIDSTORM S Pro
Viewing Angle
The viewing angle of a screen indicates how far from center you can be and still get the same great picture. This will be of most concern for large groups like viewing parties, where it's not possible for everyone to sit directly in front of the screen.
A 180° viewing angle is the widest possible, giving even viewers at the very edges of the screen the same image quality. The Akia Screens Motorized Electric Screen is the only one on the list with this full coverage for any angle, though the VIVIDSTORM S Pro (170°) and Deluxe (160°) come close.
Widest viewing angle: Akia Screens
Screen Size
Most people go with a projector because they want a big-screen image. While many projectors can generate images as large as 300", screens this large are best in outdoor settings or large auditoriums, and will likely be overwhelmingly large in a home theater. Our top screen pick for outdoor can be found here.
For most home theaters, a screen around 100"-150" is the ideal size, and all of these screens fall within this range. The VIVIDSTORM Deluxe is the largest motorized screen on the list, with a diagonal measurement of 150".
Largest screen: VIVIDSTORM Deluxe
---
VIVIDSTORM S PRO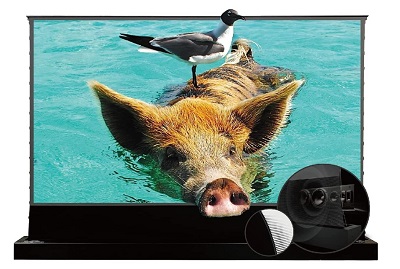 The VIVIDSTORM S Pro is an ideal choice for home theaters built around an ultra-short throw laser projector. Its flexibility is its main advantage. The screen material has a sawtooth structure that allows sound waves to get through without impacting the quality of the image, allowing for speakers to be installed behind the screen.
This unique screen material is also good news for the picture quality. It rejects ambient light, especially light that comes in from above the screen. Thanks to this, you'll see improved color and contrast even when it's used in well-lit rooms. It's also capable of supporting the latest in home theater technology, like 8K resolution and 3D content.
Setting up the VIVIDSTORM S Pro is easy. Just put it where you want it and plug it in—no need for screws or other hardware. While this gives it excellent versatility in terms of where you use it, it's not as versatile when it comes to your projector. It's made to use with ultra-short throw laser projectors, and its light-rejecting design can cause image issues with traditional lamp-based projectors or ceiling mounted setups.
Pros
Excellent image contrast and color
Perforated design is sound transparent
Easy setup with no required hardware
Wide viewing angle
Works well with 3D content
Silent motor operation
Cons
Use is limited to laser projectors
Can't be used in ceiling-mounted setups
---
VIVIDSTORM Slimline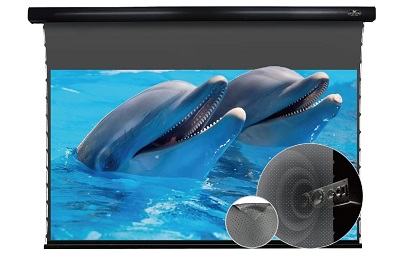 The VIVIDSTORM Slimline is an ideal screen for use with lamp-based, standard throw projectors, especially in rooms where ambient light is an issue. Its screen surface repels light pollution, making the projected image look brighter and more vibrant. It's at its best used with projectors whose lumen rating is 2,500 or lower—you can use it with brighter projectors, but you won't get the same picture enhancement.
Like other VIVIDSTORM screens the Slimline uses a perforated design that makes it acoustically transparent, so you can install speakers behind the screen with no loss of sound quality. The screen material does have limitations, though. Most notably, it can't be used with laser projectors, which may cause a rainbow eye effect on the screen.
The Slimline does need to be installed using hardware, though you'll get a lot of options for how you install it. It can be mounted directly to a wall or ceiling or hung from ceiling hooks, all without adding additional brackets or parts. Since the screen retracts into a slim bar, it won't ruin your room design when you're not using it.
Pros
Maximizes projector brightness and rejects ambient light
Acoustically transparent
Ideal for ceiling-mounted projectors
Flexible installation (wall bracket, ceiling bracket, or suspended)
Unobtrusive when not in use
Cons
Not suitable for use with laser projectors
Requires hardware to install
---
Elite Screens Starling Tab-Tension 2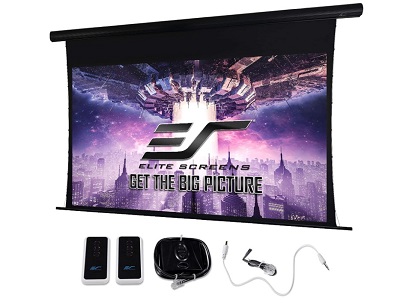 This option from Elite Screens is an ideal choice for any high-tech home theater. Its low-energy tubular motor extends and retracts the screen quickly and silently. The built-in radio and infrared receivers and RJ45 port expand its control options, letting you synchronize the screen to extend when the projector's turned on, or manually control it using a remote or wall switch.
The tab tension design used by Elite Screens ensures a flat, smooth screen in every set-up. It also uses hidden wall mounts that let the screen shift horizontally, making it easier to align the projected image. While you will need to install the screen before use, it comes with all the parts you need to do so, letting you get up and running quickly.
As far as the screen material, it's ideal for standard-throw projectors. The reflective ALR surface is perfect in rooms where you can't control the light level, and it maintains the integrity and contrast of video resolutions up to 8K. Its only limitation from a viewing perspective is its fairly narrow 80° viewing angle. This is fine if you usually sit right in front of the screen but limits its use for viewing parties or other large-group settings.
Pros
CineGrey polarized screen material
Compatible with 8K and 3D content
Flat screen surface with enhanced image contrast
Fast screen drop and retraction
Mounting hardware kit included
Built-in trigger to synchronize projector with screen
Cons
Narrow viewing angle
Not compatible with ultra short-throw projectors
---
VIVIDSTORM Deluxe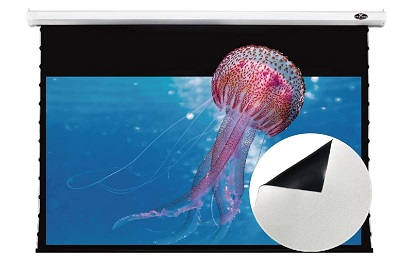 For dedicated home theaters, the VIVIDSTORM Deluxe is an ideal choice. Its image surface is 150 inches on the diagonal, about 50% larger than most motorized projector screens. Along with that, its wide 160° viewing angle means everyone will have the same great view, even if you're watching with a large group.
The VIVIDSTORM Deluxe has a flexible installation. It works with both wall-mounted and ceiling-mounted setups, with an acoustically transparent screen that won't block sound from speakers installed behind it. While there is some wrinkling along the image edges, the overall contrast and color production are high, and it does full justice to Ultra HD resolutions.
The reason we recommend this screen mostly for dedicated home theaters is that it doesn't use the ambient light rejecting technology employed by other screens on this list. Because of this, it's at its best in a completely dark room. It will do justice to the picture produced by any standard-throw projector, but can't enhance or improve the contrast and image brightness, and is prone to wash-out from ambient light sources.
Pros
Ideal for dedicated home theaters
Perforated for acoustic transparency
Wide viewing angle
Works with ceiling or wall mounted installations
Slim and unobtrusive when screen is retracted
Cons
Some wrinkling and distortion at the screen edges
Not ideal for well-lit rooms or dim projectors
---
Akia Screens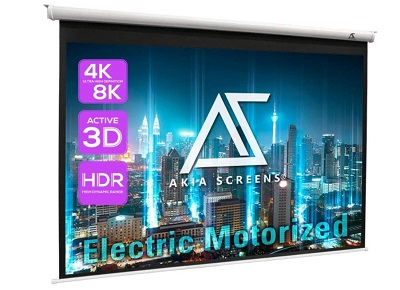 Last but not least, the Akia Screens Motorized Electric screen is the perfect choice for anyone setting up a home theater on a budget. At less than $200, it's one of the most affordable motorized screens on the market. It still does justice to 3D and 8K content and can be synchronized with a projector through the wireless 12V trigger, so you don't need to sacrifice convenience or quality for the low price.
The 180° viewing angle of this Akia screen is great for viewing parties and large groups, maintaining a consistent image quality no matter where you're sitting. It's also easy to clean, so you can use it during parties worry-free.
This Akia screen comes with an installation kit, with everything you need for either ceiling or wall mounted set-ups. It's also relatively unobtrusive when retracted, suitable for common areas like living rooms. Keep in mind, though, it doesn't have any ambient light rejection, so you'll need to keep the light level low (or buy a 3,500+ lumen projector).
Pros
Supports 3D and resolutions up to 8K
Wide viewing angle
Installation kit included
Wireless trigger for automatic synchronization
Exceptional value
Cons
Not compatible with ultra-short throw projectors
No ambient light reduction
---
So What's the Best Motorized Projector Screen?
Any of these screens can be an exceptional choice paired with the right projector. That's the first thing you'll need to consider as you're shopping. For an ultra-short throw projector, the VIVIDSTORM S Pro is the best option (>>> Check on Amazon), designed to support laser-based light sources. Standard throw projectors are more common, and will work with a wider range of screens.
The light level in your viewing area is something else to consider. If you have a dedicated home theater, the VIVIDSTORM Deluxe is an excellent choice, but it will struggle in brighter rooms where the VIVDSTORM Slimline or Elite Screens Starling Tab-Tension 2 is a better option.
The bottom line is to remember that the screen is just one piece of your home theater setup, and the best option is the one that works well with your other equipment. We hope this comparison has helped you figure out the best choice for you!
REFERENCES AND FURTHER READING: