Do you want to get the maximum picture quality out of your projector? Pairing it with the right screen is a big part of that equation. To choose the best 120 inch projector screen, it's important to first think about your viewing area and the type of projector you use. Let's take a closer look at some of the best options on the current market so you can decide which one's an ideal fit for your home.
Best 120 Inch Projector Screen – Top picks in 2023:
| | Vividstorm S Pro | Elite Screens ezCinema 2 | EluneVision Aurora 8K | JWSIT Portable | Akia Screens AK-FF120WH2 | QualGear 120-Inch Fixed Frame |
| --- | --- | --- | --- | --- | --- | --- |
| | | | | | | |
| Screen size | 120" | 120" | 120" | 120" | 120" | 120" |
| Aspect ratio | 16:9 | 4:3 | 16:9 | 16:9 | 16:9 | 16:9 |
| Viewing angle | 170° | 180° | No data | 160° | 180° | No data |
| Ambient light rejecting | Yes | Yes | Yes | No | No | Yes |
| Projector compatibility | Ultra-Short Throw laser projectors | Ultra/Short Throw Projectors | ultra-short throw projectors | Standard-throw/short-throw projectors | No data | Ultra/Short Throw Projectors |
| Price | ProjectorScreen.com | BHPhotoVideo.com | Check on Amazon | Check on Amazon | Check on Amazon | Check on Amazon |
Projector Throw Ratio
Not all projector screens will work with all projectors. Especially when screens use ambient light reduction technology, it can disrupt the picture from certain styles of lamp and lens.
Screens like the Vividstorm S Pro and EluneVision Aurora 8K are specifically designed for ultra-short throw projectors, and won't work with standard throw models. The Elite Screens ezCinema 2 is the opposite, optimized for standard-throw lenses and not ideal for use with ultra-short throw models.
Some screens do have universal versatility and will work with all styles of projector. These typically don't have any ALR technology, so may not be the best choice in a brighter room. On the plus side, they also tend to be a bit cheaper than their more sophisticated and specialized counterparts.
Ultra-short throw only: Vividstorm S Pro, EluneVision Aurora 8K
Standard throw only: Elite Screens ezCinema 2
Works with any projector: JWSIT Portable Projector Screen, Akia Screens AK-FF120WH2, QualGear 120-inch Fixed Frame
Ambient Light Reduction
The brightness of your projector is the main factor in how well it will perform against ambient light. Choosing a screen with ambient light reduction (ALR) can help with this too, though, absorbing light from lamps or windows to give the projector image better contrast and saturation.
The Nano Lens Technology used on the EluneVision Aurora 8K is impressive, blocking about 90% of the room's ambient light and massively enhancing the image contrast. That said, it's a close second to the Vividstorm S Pro, whose serrated screen design blocks up to 97% of ambient light.
Best ambient light reduction: Vividstorm S Pro
Installation Ease
Fixed-frame screens need to be assembled and mounted before you can use them, and this is often a time-consuming process. It also means measuring and planning ahead to make sure the screen is aligned with the projector—and more work if you don't get it exactly right the first time.
Stand-alone floor-rising models get around this problem. With the motorized Vividstorm S Pro, you don't even need to extend the screen yourself. Just place it, plug it in, and turn it on—the entire installation process takes less than 1 minute.
Easiest installation: Vividstorm S Pro
Portability
Wall-mounted screens can be a great option in permanent installations like home theaters, but they're a hassle to take down and move (and, in some cases, doing so can even damage the screen). The portability of motorized floor-rising models is also limited since they're heavy (typically 50 pounds or more) and require an outlet.
There are two screens on this list that get high marks for portability. The Elite Screens ezCinema 2 uses a manual floor-rising design, giving it a fast, easy set-up as well as great portability.
That said, it's not stable enough for outdoor uses, which can limit its versatility. The free-standing frame of the JWSIT Portable Front Projection Screen takes a bit longer to put together, but can be used in both indoor and outdoor applications, and is still relatively quick to assemble.
Most portable screen: JWSIT Portable Front Projection Screen
---
Vividstorm Projector Screen S Pro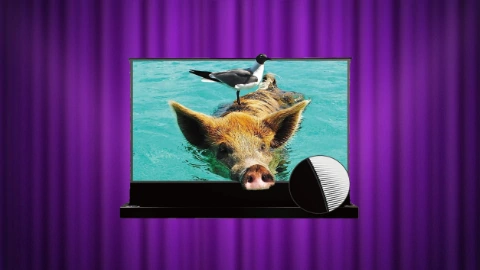 Pros
Supports 3D content and resolutions up to 8K
Fast setup, no hardware required
Silent motor
Retracts to be unobtrusive when not in use
Wide viewing angle
Resists 97% of ambient light
Cons
Takes up an outlet
Costs more than most screens
The motorized Vividstorm S Pro is an ideal screen for use with ultra-short throw projectors. Its unique serrated TPU prism design absorbs ambient light from above, ideal for spaces with lots of artificial lighting, and it rejects 97% of ambient light from all sources.
It's also equipped to do justice to the latest video formats, including 8K video resolutions and active 3D.
You couldn't ask for a faster installation than what you'll get with the Vividstorm S Pro. Just set it on your floor or entertainment center, plug it in, and turn it on. The turbine motor raises the screen in less than a minute.
Once the screen's up, it's self-supporting, and you can even turn the power off until you're ready to lower it. When it's not in use, it retracts into the base, protecting the screen and preserving your room's décor.
While a motorized screen is a convenient choice for many, there are also a couple of downsides. The S Pro is very heavy, for one thing, at more than 70 pounds.
It also requires electricity to raise and lower, which can be an issue if outlets around your home entertainment system are already at a premium. For our more in-depth review of this screen, click here.
---
Elite Screens ezCinema 2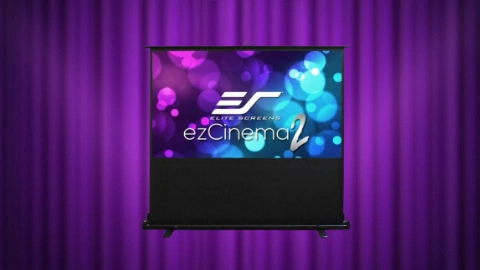 Pros
Portable with included case
Crisp 4K resolution
Free-standing, no-hardware installation
Scissor-backed rear frame
Easy to clean and maintain
Ultra-wide viewing angle
Cons
Not as effective at rejecting ambient light
Some wrinkles on screen when fully extended
If you need a portable screen for presentations or other on-the-go uses, the Elite Screens ezCinema 2 could be your answer. The frame is made of lightweight aluminum, and it raises and lowers manually rather than using a motor, dropping its weight to a reasonable 40 pounds.
The included case keeps the screen safe and contained during transportation or storage.
The fast, hassle-free set-up of the ezCinema 2 is a plus for home theater uses, too. The frame is sturdy, with scissor-backed rear supports for the screen, so you don't need to set it up against a wall, and there's no need for brackets or other mounting hardware.
Not only does this make it a breeze to set up, it gives it excellent flexibility, allowing for fine adjustments to align with the projector image.
The Elite Screens ezCinema 2 is designed for use with standard-throw projectors up to 4K resolutions and is active 3D ready. Its wide viewing angle covers every seat that's in front of the screen, great for viewing parties and other large gatherings.
That said, you will need to use a fairly bright projector for lights-on viewing since it lacks the light-rejection technology employed by other screens on this list.
---
EluneVision Aurora 8K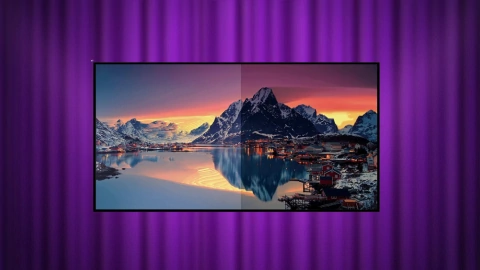 Pros
True 8K performance
Exceptional contrast and sharpness
UST material rejects 90% of ambient light
Ultra-thin frame with LED backing
Smooth, flat surface with no wrinkles or creases
Cons
Installation can be time-consuming
Takes up an outlet for the LED lighting
For bright spaces, the EluneVision Aurora 8K is the screen you want. Its Nano Lens Technology uses reflective particles to filter out ambient light, enhancing the image contrast by up to 900% compared to other screen designs.
One thing to bear in mind: this system will also filter out the projected light from standard-throw projectors, limiting this screen's use to ultra-short throw models.
The frame of the Aurora 8K is only .4" thick, with a color-changing LED light surround to make the image pop. While it will need to be plugged in to use the LED frame, you can also use it without the lights if outlet space is at a premium.
The thin frame and screen material ensure a consistently high-quality image from anywhere in the room.
Assembling and hanging the EluneVision Aurora 8K is a two-person job for most, and can take a while even with extra hands.
The included instructions are clear and easy to follow, however, and once the frame is assembled it's easy to get a flat, wrinkle-free look to the screen thanks to the twin tension spring system and stabilization layer, which protects from creases and other damage.
---
JWSIT Portable Front Projection Screen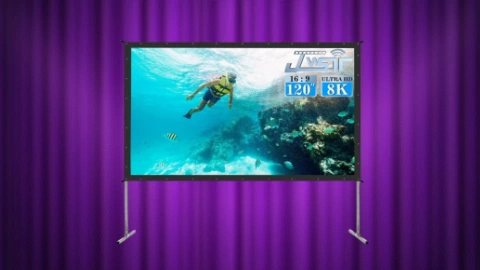 Pros
Wrinkle-free foldable screen
Supports resolutions up to 4K
Portable, lightweight stand-alone frame
Frame assembles quickly with no tools required
Easy to transport in included carrying bag
Comes with stability kit for outdoor use
Cons
No ambient light rejection
Some users have issues disconnecting the snap buttons
The JWSIT projector screen can be used in any environment, indoors or out. It's made of polyvinyl chloride that can be folded without creasing and is easy to clean and maintain.
Once it's secured onto the frame, the screen is free of wrinkles, providing a perfectly flat surface for your movies and shows.
The frame included with this JWSIT screen uses metal snaps for the assembly, letting you put it together or take it apart without the need for tools.
It also includes stakes and cords to give it extra stability when you're using it outside, though the frame is sturdy enough to stand up to light wind even without tying it down.
The JWSIT has broad projector compatibility, working equally well with laser and lamp-based projectors, and providing a clear picture for both standard and ultra-short throw models. It also supports 4K resolutions and active 3D.
That said, the reason for this versatility is that it doesn't have any extra ambient light rejection features, so you'll need to use it with a relatively bright projector if your space has a lot of ambient light.
---
Akia Screens AK-FF120WH2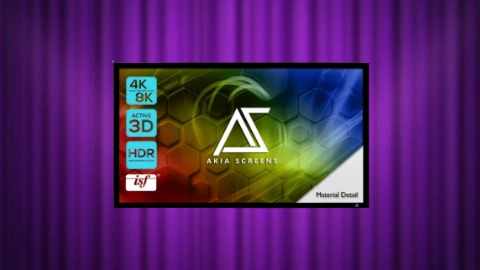 Pros
Excellent color performance and contrast
Cleans easily with soap and water
Tensioned springs for smooth viewing surface
Lightweight aluminum frame with black velvet coating
Includes mounting hardware
Great value
Cons
Some users report streaks and hotspots
Assembling is time-consuming and tedious
If you're on a tight budget but still want a high-quality screen, this 120-inch fixed-frame screen from Akia Screens is a great option. It's 8K and 3D ready, with a CineWhite material that's certified by the ISF to accurately reproduce colors.
The black velvet frame absorbs overshoot light from the projector, giving the image a clean, professional look.
All the hardware you need to mount the Akia Screens 12" Fixed Frame projector screen comes included in the box. It uses a spring tension design to attach the screen, giving it excellent smoothness, though some users do report noticing uneven gain across the image.
Assembling the frame and screen is a simple but time-consuming process, and like other fixed-frame screens it's easiest with two people (though not impossible with one).
The only sacrifice you'll make for the low cost of this Akia Screens model is that it doesn't have any ALR technology. This can be an advantage too, though, since it makes it usable with standard and ultra-short throw projectors.
Still, those sensitive to streaks, creases, or brightness spots may be disappointed by the screen's performance.
---
QualGear 120-Inch Fixed Frame
Pros
Washable PVC fabric
Black velvet border
Acoustically transparent material
Mounting hardware included
Easy, flexible assembly and installation
Affordable price
Cons
Central brace may be visible through the screen
Some users report pieces missing on arrival
Here's another solid option for those who need a large screen on a small budget. This fixed frame screen from QualGear uses an aluminum frame with a black velvet screen border to catch overflow light.
The screen itself is an acoustic white PVC material that can be cleaned with soap and water, and maintains the accuracy and saturation of colors in your content.
All the hardware you need to assemble and hang this QualGear screen comes included with it. It's also light enough to hang on drywall using a wall anchor if you don't have access to a stud.
It's also acoustically transparent, letting you place it in front of speakers without dampening the sound. The only downside of this transparency is that you may be able to see parts of the support, like the central bar, through the screen when you're watching your content.
For a fixed-frame screen, installing the QualGear 120 inch screen is fast an easy, taking around 30-60 minutes on average with a single person. The sliding rear holes gives you some wiggle-room for making fine alignment adjustments, helpful for getting an exact placement with mounted projectors.
---
So What's the Best 120 Inch Projector Screen?
The answer to this question won't be the same for everyone. If you use an ultra-short throw projector, the Vividstorm S Pro and EluneVision Aurora 8K will give you the best picture quality, especially in well-lit spaces (>>> Check on ProjectorScreen).
For those who need portability, the free-standing JWSIT Portable Projection Screen and manually raising Elite Screens ezCinema 2 give you quick, easy big-screen entertainment wherever you are.
For those on a budget, the affordable price of the QualGear 120-inch Fixed Frame screen or Akia Screens AK-FF120WH2 give you more screen for your money. We hope this comparison has helped you identify the perfect screen for your home and projector!
REFERENCES AND FURTHER READING: