Most people focus on the projector when they're setting up a big-screen home theater, but the screen itself is an important part of the equation, too. For those seeking the ideal screen to pair with an ultra-short throw laser projector, this Vividstorm S Pro 120 review will delve into all the details of this easy-to-use motorized screen so you can see why it's a better choice in a high-end home theater. (>>> Check on Amazon)
Vividstorm S Pro 120 Review of Main Specs:
| | Vividstorm S Pro 120 |
| --- | --- |
| | |
| Screen size | 120" |
| Aspect ratio | 16:9 |
| Viewing angle | 170° |
| Ambient light rejecting | Yes |
| Projector compatibility | Ultra-Short Throw laser projectors |
| Today's Best Price | ProjectorScreen.com |
Design and Installation
Most projector screens need to be mounted to the wall with hardware, or involve a time-consuming frame construction before you can use them. That's not the case with the Vividstorm S Pro 120. It instead uses a motorized base that the screen rises up from when you're ready to watch. Just put the base where you want your screen and plug in the power cord, and you're good to go.
When you're done watching, you can retract the screen back into the base, keeping it from muddling your room's décor and protecting it from dust or damage. The base housing is made of durable aluminum that's moisture resistant, extending the life of the screen and reducing the risk of damage while it's retracted, too.
Since the base needs electricity, you will need to have a spare outlet to get it set up. It does. have a lock height setting, however, so once the screen is raised it won't need power. That both saves electricity and lets you use the outlet for other devices if you have limited plugs in your viewing area.
We also appreciate the motorized pop-up support system on the back of the screen. The brackets that support each side keep the screen perfectly flat once it's raised, preventing wrinkles that can impact your viewing experience.
Remote and Use
There are two ways to control the S Pro 120. Switches along the side of the base let you control the height lock and turn it on or off. It also comes with a remote control so you can raise or lower it right from your couch. Bear in mind you will need a sight line to the IR sensor to use the remote, which may be an issue if you plan to nest the base into a cabinet.
Pros
Fast, easy setup
Supports projector resolutions up to 8K
Ideal for ultra-short throw laser projectors
Sawtooth screen structure reduces ceiling ambient light
Enhanced contrast and color performance
Screen retracts to be unobtrusive when not in use
Cons
Doesn't work with ceiling-mounted setups
Heavier than most projector screens
Projector Compatibility
The Vividstorm S Pro is an ideal pairing with an ultra-short throw projector. It does full justice to the latest image resolutions, too, providing crisp details for 4K or 8K resolutions and enhancing the color and contrast of all types of content. It's compatible with active 3D formats, as well, making it an ideal screen for modern home theater spaces using the latest technology.
On the flip side of this, the screen design of the Vividstorm S Pro blocks light that comes in from above. That's bad news if you're using a ceiling-mounted setup, making it a poor choice for use with most standard throw and lamp-based models.
Contrast Enhancement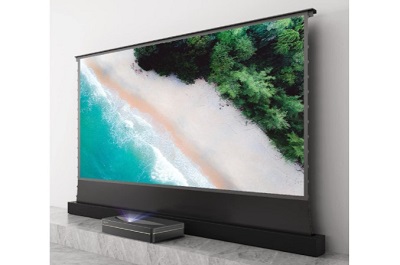 The S Pro 120 is designed to maximize the brightness of your projected image and enhance the picture contrast. The screen material has a unique sawtooth structure which reflects the light directly to the eyes of the viewer. Combined with the light suppression filter, this means most ambient light in the room is absorbed, preventing it from lowering the picture quality or causing washout. This is great news in rooms where you can't control the light level, or use with projectors that don't have a powerful lamp.
Along with its ambient light reduction, the screen surface of the Vividstorm S Pro uses a high-contrast gray material. This further enhances its color performance and black levels, making your movies, shows, and games look better than they would on other styles of screen.
In Summary: Vividstorm S Pro 120 Review
Not every user will want to use the Vividstorm S Pro 120. If you use a ceiling mount, for example, you'll want to look for a different screen material. It also may be out of the budget range for some, with a cost higher than many mid-range projectors. For those who want the absolute best picture quality and a fast and easy set-up, though, the Vividstorm S Pro 120 is an ideal choice. (>>> Find on ProjectorScreen)
REFERENCES AND FURTHER READING: