The screen might seem like the simplest part of your projector set-up, but which one you choose can actually make a big difference in how your movies and shows look.
A screen that works well with a mounted standard-throw projector won't always be the best fit for an ultra-short throw model, and the light level of your space matters as much as the projector's lens design.
If we had to pick the best screen for laser projector set-ups, the Vividstorm S Pro would be our top choice thanks to its super-simple installation and excellent light reduction (>>> Check on Amazon).
For those who prefer the permanence of a fixed-frame screen, the Elite Screens Aeon is the top option for image quality, while the Delux Screens model is the best for buyers on a budget. Let's take a closer look at the key differences!
Best Screen for Laser Projector – Top picks in 2023:
| | VIVIDSTORM S Pro | Elite Screens Aeon | Grandview PE-L120DY5 | Akia AK-NB103H-CLR3 | Delux Screens 135" | Vividstorm VDSTUST92H |
| --- | --- | --- | --- | --- | --- | --- |
| | | | | | | |
| Screen size | 120" | 103" | 120" | 103" | 135" | 92" |
| Aspect ratio | 16:9 | 16:9 | 16:9 | 16:9 | 16:9 | 16:9 |
| Viewing angle | 170° | 170° | 140° | 180° | 160° | 170° |
| Ambient light rejecting | Yes | Yes | Yes | No | Yes | Yes |
| Projector compatibility | 4K Ultra Short Throw Laser Projector | Ultra Short Throw Projectors ONLY | Ultra Short Throw Projectors | Standard throw as well as short throw projectors | 4K/8K Ultra HDR Projectors | Ultra Short Throw Projectors |
| Price | ProjectorScreen.com | BHPhotoVideo.com | ProjectorScreen.com | Check on Amazon | Check on Amazon | ProjectorScreen.com |
Screen Size
In most rooms, a screen around 100 inches will be plenty big enough to give you that movie theater experience. For larger spaces, the 135" diagonal of the Delux Screens projector screen is plenty big enough for any indoor home space, and is even large enough for use in spaces like classrooms or meeting spaces.
Largest screen: Delux Screens 135" Projector Screen
Ambient Light Reduction
In a completely dark space, you could project right onto a white wall without much loss of picture quality. This will make the image prone to washout from ambient light, however, especially if your projector lamp is rated for 2,000 lumens or less.
All of the screens on this list have some kind of ambient light reduction technology to maximize the brightness of the projected image.
The grid texture of the Grandview Dynamique does an excellent job maintaining contrast and detail in rooms with large windows and natural light.
Ultimately, though, it's a close second to the Elite Screens Aeon CLR3, which absorbs 90% of light from overhead sources and has a contrast-enhancing gray-on-black material for rich black levels and saturated colors in any light environment.
Best ambient light reduction: Elite Screens Aeon
Installation Ease
Fixed frame screens need to be assembled and mounted before you use them, and this can be a time-consuming process.
The mounting process usually also involves putting holes in the wall large enough for an anchor, and require fairly precise measuring to make sure the screen is level and aligned to your screen.
A floor-rising screen saves this hassle (and spares your walls). Both the Vividstorm S Pro and the 92" Vividstorm VDSTUST92H can be installed in any space in about a minute, requiring no tools or frame assembly.
Easiest installation: Vividstorm S Pro, Vividstorm VDSTUST92H
---
VIVIDSTORM Projector Screen S Pro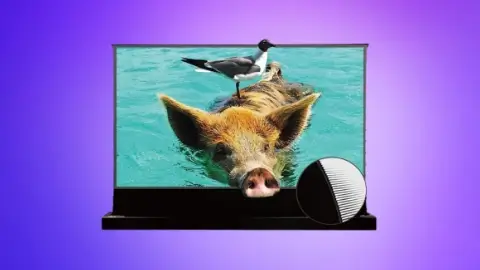 Pros
Wide viewing angle ideal for larger groups
Supports 8K resolutions and 3D content
97% ambient light resistance from any direction
Install in 1 minute with no hardware required
Retracts into base when not in use
Rear bar support ensures a flat surface
Cons
Brackets for wall installation must be purchased separately
Higher weight than most screens
The Vividstorm S Pro is a top choice if you want ease and convenience from your projector screen. The motorized base can be placed directly on the floor or an entertainment center, no need to install any hardware or screw anything into the wall.
When you're ready to watch, just use the included remote the raise the screen. You can retract it back into the base when you're done, protecting the screen from dust and damage and making it unobtrusive to your décor.
The main downside of the S Pro's motorized base is that it's quite heavy—over 70 pounds all-told. It also requires outlet power to function. That can add logistical challenges in more complex setups where outlets are already taken up by your projector, speakers, receiver, and other devices.
The S Pro screen material uses a sawtooth structure that filters out ambient light from overhead light sources. This is perfect for using with an ultra-short throw laser projector since most users will be placing these on a tabletop rather than mounting them.
The 120" diagonal and wide viewing angle make it an excellent choice for viewing parties and other large groups, and it will work for any type of content, including 3D movies and the latest 8K resolutions.
---
Elite Screens Aeon CLR 3 Series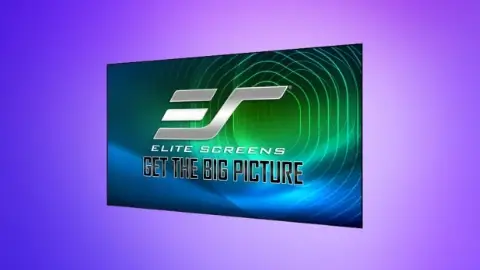 Pros
Enhanced contrast compared to matte white screens
Immersive edge-free design
Absorbs up to 90% of overhead ambient light
Black backing reduces light penetration
Lightweight aluminum frame
Cons
Assembly is complicated and time-consuming
Some users report receiving the wrong screen size
The gray-on-black screen of the Elite Screens Aeon CLR 3 is ideal in spaces with lots of ambient light, rejecting up to 90% of light from overhead as well as eliminating light penetration.
This doesn't just maintain the saturation of the colors but also enhances the image contrast, with up to 75 times better contrast than a typical matte white screen.
The aluminum split-frame is lightweight with wrap-around edges, and that's good news for its installation versatility. Having said that, however, it does take a while to assemble it, and attaching the screen to the frame using the springs is a two-person job.
The set-up video that comes with the screen also is a bit confusing—most users find the written instructions are easier to follow.
On the plus side, the frame design gives the Aeon CLR 3 a Zero Edge look similar to flat-screen TVs, widening the viewing angle and creating an immersive experience.
It's designed for use with table-top ultra-short throw projectors, and it's ready for the latest in visual technology, compatible with resolutions up to 8K. This makes it an ideal choice for those who want a full cinema experience in their home theater.
---
Grandview PE-L120DY5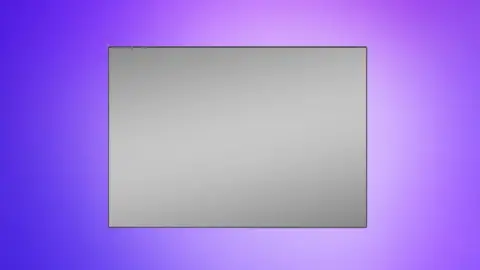 Pros
Rejects light from lamps and windows
High-contrast gray screen material
Excellent clarity for 4K resolutions
Lightweight frame
Slim profile thanks to beveled design
Cons
Difficult to assemble
Narrower viewing angle
The Grandview Dynamique screen uses optical physics to resist ambient light, with a micron-scale light grid structure ideal for 4K resolutions.
The fine toothed grid maintains rich black levels and saturated colors even when you're watching during the daytime, no need to close the windows or turn out the lights.
The aluminum frame of the Grandview PE-L120DY5 is sturdy and does a good job maintaining a smooth, flat surface for the image.
Putting it together and mounting it can be tricky, however, especially for projector novices, and the included instructions aren't very clear. While it's not particularly heavy, mounting it is still a two-person job for most.
The PE-L120DY5 is ideal for home theater spaces with central seating. The ideal viewing angle is narrower than other options on the list, which can limit its use for entertaining and large viewing parties.
---
Akia Screens AK-NB103H-CLR3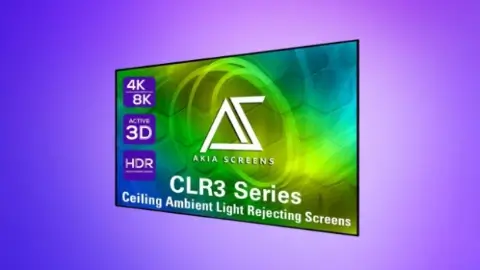 Pros
Supports 8K resolution and active 3D
Rejects 90% of overhead light
Easy installation with sliding wall mount brackets
Full installation kit included
Wide viewing angle
Immersive Zero Edge design
Cons
Included tools are low-quality
Some light bleed from brighter projectors
The edgeless frame of the Akia Screens CLR3 uses a thin bezel design for a wide 170° viewing angle that mimics the experience of watching a flat-screen TV. Its advantage over the similar screen designs on the list is installation ease.
It comes with everything you need to assemble and mount it, and uses a sliding bracket mount system that makes it much easier to hang and align to the projector. The only complaint most users have is that the included screwdriver is poorly made so you'll probably want to use your own.
This is a ceiling ambient light rejecting screen, which makes it perfect for an table-top ultra-short throw projector. Its black screen backing and gray projection surface perform well in rooms with no light control, so it's a smart choice for multi-use spaces like living rooms.
From a content perspective, you can watch it all on the Akia CLR3 screen. It displays the full detail of videos up to 8K resolution and is compatible with active 3D formats. Your movies and shows will look great, too, thanks to the contrast-enhancing design.
---
Delux Screens 135" Projector Screen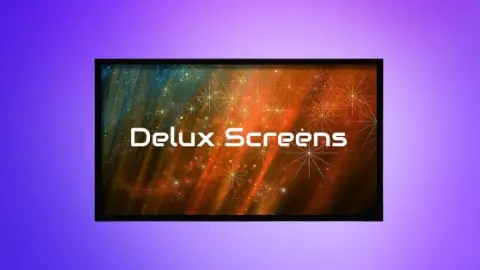 Pros
High-contrast screen ideal for bright spaces
Installation kit and detailed instructions included
Sliding wall brackets are easier to hang
Velvet edge prevents light bleeding
Cleanable with soap and water
Excellent value
Cons
Not as much ceiling light reduction
Some users report missing pieces on arrival
If you want a larger big-screen experience, the 135" diagonal of the Delux Screens ALR projector screen gives you more screen space to work with. It's a great value, too, and the most affordable screen on this list, so buyers on a budget can still get the large screen they're looking for.
Assembling and hanging this Delux screen is relatively easy. The instruction video walks users through the assembly step-by-step, and it comes with all the hardware you need to mount it. It's helpful that it uses a sliding wall bracket for mounting, taking a lot of the hassle out of the process.
The frame of the Delux ALR screen provides excellent support but is still lightweight. The double support bars keep the material flat and wrinke-free, and it feels secure once it's installed.
While it doesn't have the CLR texture of more expensive screens, the reflective resin coating keeps the image sharp and saturated in most light environments.
---
Vividstorm VDSTUST92H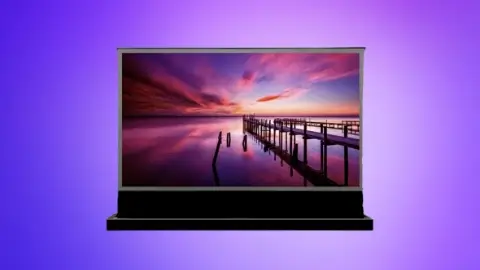 Pros
Prism design reduces light interference
Compact floor-rising design
Fast, simple installation
Supports 8K and 3D formats
Silent motor raises screen in 30 seconds
Cons
Heavier than wall-mounted screens
Requires power during use
Last but not least, here's a great option for smaller home theater spaces. The 92" diagonal of the Vividstorm Motorized ALR Projector Screen is the perfect size for a bedroom, studio apartment, or other smaller spaces.
When you're not using it, the screen retracts down into the base, making it even more compact and unobtrusive.
All you need to do to install this Vividstorm screen is set it on the floor or table and plug it in—no need to drill holes in the wall or spend hours assembling a frame.
Lifting the screen only takes about 30 seconds once you're ready to use it, and it stays nicely flat and stable while in use.
This Vividstorm screen uses their DY3 screen material, with a high-contrast microstructure design that eliminates 90% of ambient light from all sources.
The wide viewing angle means you don't need to sit right at the screen's center to enjoy a high picture quality, another reason it's a smart choice for smaller or oddly-shaped spaces.
---
Choosing the Best Screen for Laser Projector
All of these screens will work well with ultra-short throw laser projectors, and all have some measure of light reduction and contrast enhancement.
Choosing between them really comes down to your space and budget. If you want the ease and flexibility of a floor-standing screen, the Vividstorm S Pro (or the smaller VDSTUST92H) is the best choice (>>> Check on ProjectorScreen).
These motorized screens don't come cheap, though. If you're looking for something a bit more affordable, the Delux Screens 135" projector screen is an exceptional value.
Consider the light level in your home theater, too. For bright rooms with lots of windows, the ambient light reduction of the Grandview Dynamique or Elite Screens Aeon CLR3 will maximize the brightness, contrast, and saturation of the image.
We hope this side-by-side comparison has helped you find the perfect screen for your projector and space!
REFERENCES AND FURTHER READING: