Projectors can deliver a massive picture at a great value compared to televisions, but they do have some restrictions—namely, they usually need a dark room with a lot of space. The Optoma GT1090HDRx removes those restrictions, bringing users a Full HD display that's equally suitable for watching movies or gaming, with a bright lamp and flexible set-up that let you use it in a wide range of spaces.
Of course, no projector is perfect, and the GT1090HDRx does have its weaknesses. Let's look at what it does well (and what it doesn't) in this Optoma GT1090HDRx review so you can decide if it's a good fit for your home (>>> Check on Amazon).
Optoma GT1090HDRx Review of Main Specs:
| | Optoma GT1090HDRx |
| --- | --- |
| | |
| Resolution | 1920x1080 |
| Brightness (Lumens) | 4,200 ANSI |
| Contrast | 300,000:1 |
| Input Lag | 8.2ms |
| Throw Distance | 1.3' - 10.9' |
| Screen size | 37" - 301" |
| Speakers | 10.0 Watts × 2 |
| Today's Best Price | BHPhotoVideo.com |
Design and Installation
The Optoma GT1090HDRx is a compact and user-friendly laser projector. While it's not quite small enough to be called a true "portable projector", it weighs around 12 pounds and is less than 5 inches tall. That's small enough to carry easily outside for movie nights, or take with you to the office or on a road trip. It's also rugged enough to take with you on the go, with features like a recessed lens and IPX6 dust protection to keep the projector in perfect working order no matter where you take it.
We also appreciate that the GT1090HDRx can be used just about anywhere. It uses a short-throw lens that fills a 100-inch screen with less than 4 feet of distance. Paired with its powerful, 4,200-lumen laser light source, that gives it excellent space versatility for a variety of environments. Adjusting that image is simple, as well, with an automatic vertical keystone correction and 4-corner adjustment that let you quickly and easily align the image to your screen. The Optoma GT1090HDRx is among our top picks for bright rooms.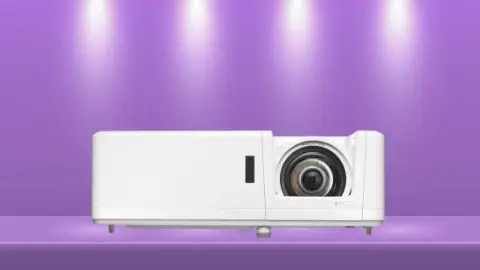 Pros
Realistic and colorful full HD image
Short throw distance
Powerful lamp works in any light level
Great choice for gaming
Supports multiple 3D formats
Easy and flexible to install
Cons
No wireless connectivity
No 4K resolution
Connectivity
The rear panel of the Optoma GT1090HDRx has dual HDMI inputs for content, along with dual USB ports for peripherals. You can also connect external speakers through the 3.5mm mini jack and there are RS232, RJ-45, and 12-volt trigger inputs for more complex home automation and remote control setups.
Unfortunately, you'll need to physically connect whatever content sources you plan to use. There is no wireless capability built-in, nor does it have features like voice control and direct streaming that you'll find on other modern projectors. You can add wireless streaming by connecting an optional WHD200 transmitter, but this is something you'll need to purchase separately.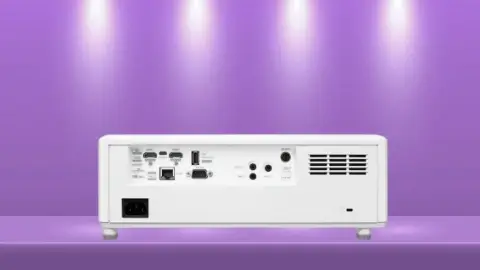 Image Quality
Let's start with the bad news: the GT1090HDRx has a 1080p (full HD) display, and cannot accept or play content with a higher resolution than this. That could be a deal-breaker for some home theater owners considering the wide availability of 4K projectors.
While the image isn't as detailed as with many projectors, it does perform well when it comes to the image color and contrast. It covers the full 1.07 billion colors of 10-bit color processing, with a fairly high dynamic contrast ratio that keeps the dark screen areas as detailed and realistic as colorful scenes. You can also use it to watch 3D content, with support for the 3 major formats (Frame Packing, Side by Side, and Top/Bottom).
Gaming
Here's another area where the Optoma GT1090HDRx excels. Its measured input lag is down in the single digits, plenty low enough for even serious and competitive gamers. The high contrast helps here, too, ensuring you'll see every detail of your in-game worlds.
Optoma GT1090HDRx Review In Summary
The versatility of the Optoma GT1090HDRx is really its main strength (>>> Check the current price on Bhphotovideo). This applies to both where and how you use it, with adaptability for both different spaces and different types of content. Thanks to this, it's an ideal all-purpose projector, suitable for indoor and outdoor use and capable of gaming, playing movies, or even making work presentations.
Related Guides:
FAQs
Does the Optoma GT1090HDRx have built-in speakers?
Yes, it comes with two 10-watt speakers built in. This gives it a sound quality and output comparable to a standalone Bluetooth speaker. You can also connect external speakers easily through a 3.5mm audio jack.
What type of 3D glasses should I use with the Optoma GT1090HDRx?
It's designed to be paired with DLP-link 3D glasses, which are an active-shutter style of glasses.
What type of screen should I use with the Optoma GT1090HDRx?
You don't need a special screen for this projector. Thanks to its brightness, it doesn't need features like ALR or contrast enhancement (though it won't hurt the image if your screen has these). You can even project it straight onto a white wall or sheet if you don't want to buy a screen without losing a ton of picture clarity, another factor that makes this such a versatile option.