Welcome to our comprehensive buying guide, where we explore the world of projectors for larger-than-life, 200-inch screen experiences. If you're an avid home theater enthusiast or planning to create a cinematic ambiance in your home or office, choosing the right projector is crucial. The projector must offer high-quality images that do justice to the scale of your 200-inch screen.
Our dedicated team of experts has put six top-notch projectors under the microscope. We've thoroughly tested and reviewed models from leading manufacturers, such as BenQ, Optoma, and Epson, evaluating each for performance, specifications, and price.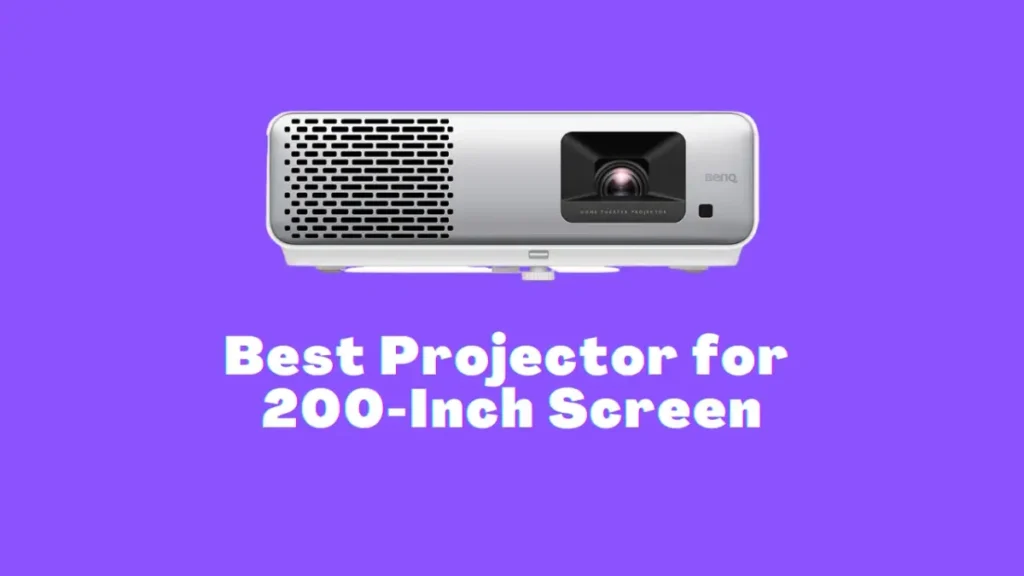 After rigorous testing, we're excited to reveal that the BenQ HT2060 has emerged victorious, claiming the title of the best projector for a 200-inch screen in 2023. Its excellent performance, advanced features, and the impressive specs-to-price ratio offer outstanding value for those seeking to enhance their large-scale viewing experiences. Check the Latest Price on Amazon Now!
Stay with us as we delve deeper into our meticulous review process, revealing why the BenQ HT2060 stood out among its competitors, and offer a detailed analysis of the other five projectors we evaluated. Whether you're a first-time buyer or looking to upgrade your existing setup, this guide is designed to assist you in making an informed purchase decision.
Best Projectors for 200-Inch Screens:
| | BenQ HT2060 | Optoma GT1090HDRx | Optoma UHD35x | Optoma GT1080HDRx | Epson 2350 | Epson EpiqVision Flex CO-FH02 |
| --- | --- | --- | --- | --- | --- | --- |
| | | | | | | |
| Resolution | 1920x1080 | | 3840x2160 | 1920x1080 | 1920x1080 4K w/pixel shifting | 1920x1080 |
| Brightness (Lumens) | 2300 ANSI | 4300 ANSI | 4300 ANSI | 3800 ANSI | 2800 ANSI | 3000 ANSI |
| Contrast | 500,000:1 | 300,000:1 | 1,000,000:1 | 50,000:1 | 35,000:1 | No Data |
| Lens | 1.3x manual zoom, manual focus, no shift | Fixed focal length, manual focus, no shift | 1.1x manual zoom & manual focus, no shift | Fixed focal length, manual focus, no shift | 1.62x manual zoom, manual focus, Vertical +/-60% lens shift | Fixed focal length, manual focus, no shift |
| Throw Ratio | 1.15 to 1.5:1 | 0.5:1 | 1.50:1 - 1.66:1 | 0.49:1 | 1.34:1 - 2.17:1 | 1.19:1 |
| Screen size | 30" - 300" | 36" - 300" | 33" - 300" | 36" - 300" | 40" - 500" | 34" - 390" |
| Speakers | 10.0 Watts | 10.0 Watts × 2 | 10.0 Watts | 10.0 Watts | 10.0 Watts | 5.0 Watts |
| Today's Best Price | | BHPhotoVideo.com | BHPhotoVideo.com | BHPhotoVideo.com | BHPhotoVideo.com | BHPhotoVideo.com |
BenQ HT2060 – Top Pick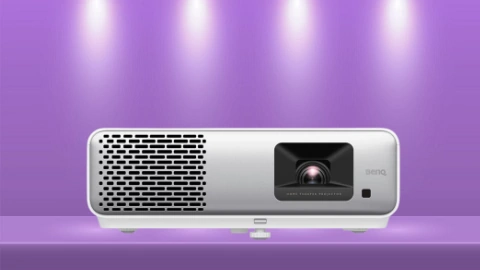 Pros
Bright display and dynamic contrast offer vibrant, crisp visuals.
Fast boot-up time enhances the user experience.
Wide range of connectivity options for versatile use.
Built-in geometric correction for perfect alignment.
Integrated speakers provide a complete viewing experience.
Cons
Sometimes struggles to provide clear image in bright daylight conditions.
The BenQ HT2060 is a projector that seamlessly blends superior performance and simplicity. Having used this device extensively, the quality and ease of use it provides are astounding.
The HT2060 has a brightness of 2,300 ANSI lumens and a dynamic contrast of 500,000:1, which make visuals crisp and colors remarkably vibrant, a characteristic highly appreciated by users upgrading from older models. The Full HD resolution and the 10-bit color processing create stunning images, whether you're watching a movie or presenting a report.
One aspect that we particularly admired was its fast boot-up time – it's nearly instantaneous, significantly faster than many other projectors on the market. This is a small yet essential detail that streamlines the user experience.
As a fan of evening screenings, the HT2060 excels in lower light conditions. The image quality remains fantastic on various surfaces, from dedicated screens to plain painted walls, which makes it versatile and easy to use in different settings.
Pairing the HT2060 with various devices, like Fire TV HDMI sticks or Apple TV 4K, was a breeze. The simple connectivity, which includes HDMI and USB, allows you to set up your home theater system or outdoor screening experience without the usual hassles. I was able to get a 150″ image effortlessly, giving a sense of real cinematic immersion.
Despite its many features, the HT2060 remains user-friendly. The projector's geometric correction feature ensures perfect alignment every time, while the in-built speakers provide decent audio if you don't have an external sound system.
Although you may notice the rainbow effect, particularly with white text on a black background, it is easy to overlook during movies. In our view, the overall superior image quality and impressive feature set of the HT2060 more than make up for this minor distraction.
The BenQ HT2060 is a fantastic option for those seeking a high-quality, user-friendly projection experience. It offers a delightful blend of convenience, performance, and value for money. Find our more in-depth BenQ HT2060 review.
---
Optoma GT1090HDRx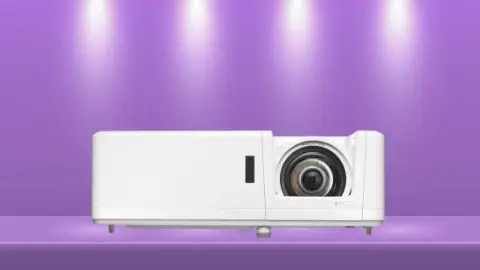 Pros
Short-throw lens delivers large images in compact spaces.
High brightness (4,200 lumens) ensures vibrant visuals.
4K UHD and HDR compatibility enhances image quality.
Long-lasting DuraCore Laser light source.
Comprehensive connectivity options for convenience.
Cons
Lacks physical lens zoom, limiting installation flexibility.
Absence of a detailed user manual may confuse some.
After spending considerable time with the Optoma GT1090HDRx, our impressions are rather mixed, heavily dependent on specific user needs.
In our experience, the GT1090HDRx truly shines when delivering on its promise of creating cinematic experiences in space-limited settings. The 0.50:1 short-throw ratio, in tandem with the projector's 4,200 lumens brightness, makes for vibrant and sharp 200″ images even in rooms with modest dimensions. The integrated speakers offer adequate audio quality for casual movie watching, but dedicated external speakers would enhance the experience.
The projector's 4K UHD and HDR compatibility indeed ensures crisp, bright, and colorful visual output, as one of our customers attested. The images seemed to "pop" right off the screen, giving us the immersive experience we crave in a home theater setup.
However, the GT1090HDRx has its fair share of shortcomings. The absence of a physical lens zoom is a notable drawback, as it reduces flexibility in installation. The digital keystone adjustment can be challenging to get right, as mentioned by another user, affecting the shape of the projected image.
We were also a bit taken aback by the lack of an official user manual. While the setup is relatively intuitive – plug in your device, switch on the projector, and navigate the settings – some customers may find the omission of a comprehensive guide disconcerting.
The Optoma GT1090HDRx, while impressive in specific aspects, seems to cater to a niche audience, those seeking a compact, short-throw projector with strong brightness and excellent color rendering. Those requiring more flexibility in their setup, however, may need to look elsewhere. The projector offers solid performance in certain scenarios, but for the price, one may expect a more well-rounded package.
In conclusion, the Optoma GT1090HDRx has commendable merits but falls short in areas that might be essential for certain users. Therefore, our recommendation is to thoroughly understand its features and limitations before deciding if this projector suits your particular needs.
---
Optoma UHD35x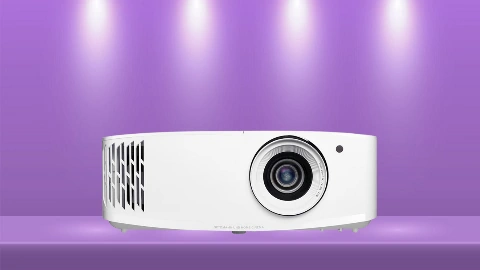 Pros
True 4K UHD resolution delivers crystal clear visuals.
Low input lag and high refresh rate optimize gaming experience.
Dual HDMI inputs enhance versatility and connectivity.
High brightness ensures vibrant visuals in well-lit environments.
HDR compatibility provides stunning contrast and depth.
Cons
Lack of lens shift might limit setup flexibility.
Internal speaker performance is mediocre, external audio recommended.
Our team had the pleasure of testing the Optoma UHD35x, a truly immersive 4K UHD projector. Right out of the box, the UHD35x's stylish design was striking, promising a blend of performance and aesthetics. During setup, we appreciated its two HDMI 2.0 ports, offering versatile connection options.
For movie nights, this projector offered an authentic cinema experience at home, illuminating the room with vivid, true-to-life visuals thanks to its 3,600 ANSI Lumens brightness. The impressive resolution of 3840×2160 allowed us to marvel at ultra HD shows with exceptional detail and clarity. The High Dynamic Range (HDR) and HLG compatibility further enhanced the contrast, resulting in sparkling picture quality.
One of the most distinguishing features was the low input lag of 4.2ms, coupled with a 240Hz refresh rate. We hosted a gaming night and were astounded by the seamless, ultra-responsive gameplay. It's no exaggeration to say that the enhanced gaming mode gave us a competitive edge, truly transforming the gaming experience.
The 10.0 Watts Mono internal speaker performed adequately, but for the best audio experience, an external sound system would be a wise choice.
The UHD35x was impressively quiet in operation, emitting a noise of just 28 dB. The lamp life of up to 15,000 hours in Eco mode ensures long-lasting performance, making this projector a sound investment.
In conclusion, the Optoma UHD35x outshines in both gaming and home cinema settings, delivering bright, crystal clear images with minimal lag. It's a reliable, high-performance device that offers superb value for the price. Find our more in-depth Optoma UHD35x review.
---
Optoma GT1080HDRx
Pros
Good image clarity with a 50,000:1 dynamic contrast ratio.
Short throw lens allows flexible setup in small spaces.
Enhanced Gaming Mode delivers quick, blur-free visuals.
Robust input connectivity including HDMI 2.0 and USB.
Long-lasting lamp life reduces maintenance and costs.
Cons
Audio out function suffers from crackling, affecting audio quality.
Setup instructions lack clarity, causing initial setup challenges.
The final pick from Optoma on our list – the GT1080HDRx, features definitely live up to the expectations. The device stands out for its high resolution and its brightness, boasting 3,800 ANSI Lumens. The image clarity is unrivaled with a resolution of 1920×1080, providing sharp and detailed images without downscaling or compression. This, coupled with a dynamic contrast of 50,000:1, gives us vibrant and clear visuals that elevate the viewing experience to a whole new level.
The short throw feature is a game-changer. In our test run, it perfectly catered to both home theater and presentation needs. This projector gives you the flexibility to setup in a smaller room yet still provides a large, immersive picture. Setting up the device can be a bit challenging, as it seems the provided instructions are somewhat sparse and non-intuitive, but once you manage to get it running, it operates smoothly.
One outstanding feature we experienced was the Enhanced Gaming Mode with an impressive response time of 8.4ms at 1080p and a refresh rate of 120Hz. This delivered blur-free visuals, giving us a clear advantage in high-paced gaming sessions.
The internal speakers are decently powerful, yet we found some issues with the audio out function that led to crackling sounds when connecting to external devices. It seems to be a persistent issue and might need some workaround if you want to enhance the audio experience.
In conclusion, the Optoma GT1080HDRx projector offers excellent visuals, impressive gaming specifications, and a considerable lamp life. Despite some challenges with the audio output, this projector can be a great addition to your entertainment setup or professional space, particularly if you value high-quality visuals and an immersive viewing experience. Read our more in-depth review of the Optoma GT1080HDRx.
---
Epson Home Cinema 2350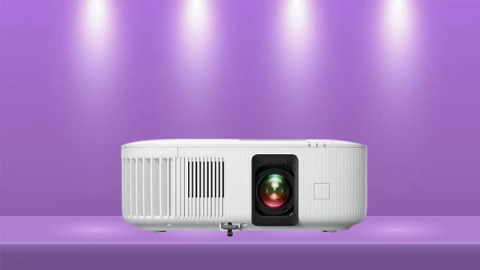 Pros
Low input lag times, perfect for gamers.
Bright display with flexible installation options.
Affordable replacement lamps extend projector lifespan.
Integrated Android TV for easy streaming.
Cons
Minor focus issue at the bottom right of the screen.
Requires manual HDMI selection upon startup.
After rigorously testing the Epson Home Cinema 2350 projector, we were genuinely impressed with its performance, especially at its price point. As a centerpiece in our media room, it provided a fantastic big-screen gaming and home theater experience.
Equipped with proprietary 4K PRO-UHD technology and an impressive 35,000:1 dynamic contrast ratio, this projector delivers outstanding visuals with remarkably vivid colors. The 3-chip 3LCD technology ensures color accuracy, displaying 100% of the RGB color signal for every frame, which we found quite outstanding. HDR10 and a smooth 1080p at 120 Hz refresh rate offer a truly immersive gaming experience, especially with input lag times under 20 ms, which is quite satisfying for even the most demanding gamers.
We appreciated its smart streaming capability, courtesy of Android TV, for easy access to various streaming platforms, making our movie nights a delight.
The projector's throw distance allows for flexible installation, a feature we utilized to position it over 15 feet away from our screen. Despite its relatively loud fan noise, it was easily drowned by our surround sound system.
We did experience a minor focus issue at the bottom right hand of the screen, but it wasn't a dealbreaker. We also noticed that it always starts on its home screen, but this can be resolved by removing the Google module or switching to your preferred HDMI output.
The projector uses an affordable ELPLP97 / V13H010L97 replacement lamp, extending its life beyond what a fixed light source projector offers.
In terms of drawbacks, the limited number of HDMI ports and the integration of Android TV could have been executed better. Still, we found the Epson Home Cinema 2350 projector to offer excellent value for the money. It's a sound choice for any media room, given its flexibility, high brightness, excellent contrast, and overall performance. The potential annoyances can be mitigated with some minor tweaks and adjustments, making it a worthy investment for your home theater or gaming setup.
---
Best budget option – Epson EpiqVision Flex CO-FH02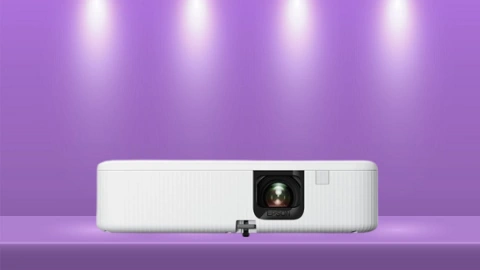 Pros
High brightness offering vivid and sharp images in various light conditions.
Integrated Android TV interface for vast streaming options.
Excellent Full HD 1080p resolution supporting up to 300″ screen.
Portable design for convenient setup and movement.
Includes high-quality bass-reflex speaker for audio needs.
Cons
Bluetooth devices require manual disconnection and reconnection.
Limited audio output options, only offering a 3.5mm output.
The Epson EpiqVision Flex CO-FH02 is a powerful contender in the projectors for 200″ screen landscape. Having tested it thoroughly, it sets itself apart with its impressive specs and features that cater to various user needs, from work to leisure.
Boasting a white and color brightness of 3000 ANSI lumens, the EpiqVision Flex offers vivid and sharp images in any lighting condition. We had it running a movie marathon in the living room with daylight streaming in, and the quality remained impeccable. Moreover, the Full HD 1080p resolution is stunning, especially when projected on a screen up to 300 inches.
The Android TV interface is user-friendly and rich in content, streaming from a vast array of platforms like Netflix, Amazon Prime, and more. But, it was during a Microsoft Teams conference where this projector really shone, providing clear visuals and decent audio via the integrated high-quality bass-reflex speaker.
Despite its many upsides, it wasn't without some downsides. The lack of automatic connection to Bluetooth devices, forcing manual disconnection and reconnection, felt inconvenient. Also, although the picture could be adjusted vertically and horizontally, we observed some black light bleed when shrinking the image. The HDMI input placement could have been better for easier access.
We also missed a higher quality audio output option, with only a 3.5mm audio output available, somewhat limiting for an otherwise high-spec device. Finally, the zoom capabilities could have been more flexible for different setups.
Overall, the Epson EpiqVision Flex CO-FH02 is an excellent choice that delivers value for its price. It's a versatile projector, combining the conveniences of portability, excellent brightness, and smart features with few minor drawbacks. The experience was enjoyable, and we recommend it for various scenarios, be it working from home or enjoying home cinema experiences. Click here for our full Epson EpiqVision Flex CO-FH02 review.
---
Conclusion
After an exhaustive exploration of various projectors designed for a whopping 200-inch screen experience, we're convinced that the BenQ HT2060 stands a cut above the rest. With its stellar performance, advanced features, and unbeatable price-to-specs ratio, it's an investment that is sure to enhance your home or office viewing experience.
However, it's worth noting that Optoma and Epson also offer compelling options that could be more suitable depending on your unique needs and preferences. The key is to understand what you value most in a projector – be it brightness, contrast, resolution, or connectivity options – and choose accordingly.
To summarize, while the BenQ HT2060 is our top pick for the best projector for a 200-inch screen in 2023, the other five projectors we reviewed are also worth your consideration. We trust that our extensive testing and comprehensive reviews have equipped you with the insights needed to make an informed purchase. Discover the Best Price on BHPhoto Today!
Remember, the best projector is the one that suits your individual requirements and provides the most immersive, larger-than-life cinematic experience you're seeking. Happy viewing!